Black Sabbath Concert Reviews
December 5, 1999
Astoria
London, England
THE BAND
Ozzy Osbourne - Vocals
Tony Iommi - Guitar
Geezer Butler - Bass
Bill Ward - Drums
Geoff Nicholls - Keyboards
CONCERT PHOTOS
Just this one by Steve Olley.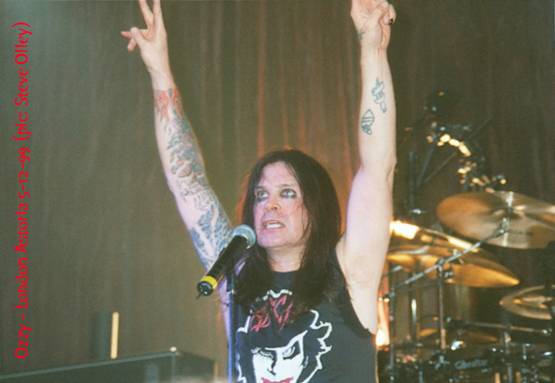 TOUR REVIEWS & REMARKS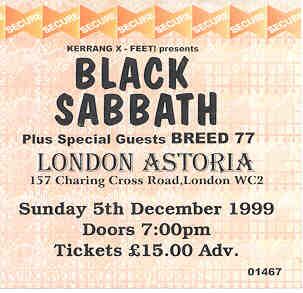 From: "Steve Longdon" <dinsdale@dins.freeserve.co.uk>
To: <siegler@black-sabbath.com>
Subject: London Astoria show December 5th
Date sent: Thu, 9 Dec 1999 14:10:51 -0000

Thought you might be interested in a review of the London show.


Here's what they played at the Astoria. I'm sure I've missed some stuff out, after the excitement of a good gig I always seem to forget a few songs that were played!

Needless to say that the band were excellent. Ozzy was on fine form and he was great at working the crowd. Bill's drumming was loud and powerful. Tony was excellent and Geezers bass sounded great. It was a great show. My first time seeing the original line up.....amazing!

They were on for an hour and forty five minutes. I got my ticket as soon as the show was announced for £18 and stood in the middle of the floor. On the night ticket touts were charging £50 seating and £60 standing.

Support band Breed 77 were ok but nothing special.

Before Sabbath came on they played a tape of small parts of all their classic songs, this got the crowd even more worked up as we waited for them to appear. The stage just had a plain burgandy backdrop. There were a lot of lights and they were used to good effect, they were used a lot on the crowd as Ozzy got us to " go fucking crazee! " and hurled buckets of water at us. At the end of the show loads of black confetti with the bands name on it was launched from the balcony. ( Got a couple of pockets full! )

Anyway, here's what I remember. Sorry, but it's not in order.

Black Sabbath
N.I.B. ( Amazing bass intro by Geezer )
War Pigs
Paranoid ( They finished with this )
Iron Man
Electric Funeral
Fairies Wear Boots
Supernaut
Snowblind
Symptom of the Universe
Sweet Leaf
After Forever
Children of the grave
Into the void
Dirty Women

Looking forward to Birmingham on December 22nd,
Steve

P.S. Sorry this wasn't sent sooner, been having computer problems. This message was also posted on alt.music.black-sabbath.
---
From: "Fabio Guadagnuolo" <marcopolo.pretender@virgin.net>
Subject: Concert in the Astoria, London, 5.12.1999
Date: Mon, 6 Dec 1999 00:45:17 -0000

Hi Sabfans!

I haven't contributed to this list for a long time, but I feel I have to do
it now, sorry for being long-winded and boring. I have just come back from
the Astoria, a small venue where Black Sabbath finished a performance just
about 2 hours ago. I live here in London since the beginning of this year
and till now I have done all the possible to see live, here in their home
country, as many of the mythical old and young British bands as possible. I
saw Kula Shaker in March, the Rolling Stones (my favourite band) and the
Pretty Things in June and Jethro Tull just a few days ago. Those concerts
just amazed me, and today's Black Sabbath's performance just confirmed me
in my opinion that this strange island has given us just about the best
music in the course of the last decades.

The first shock was the price of the ticket: I had to get rid of 80 Pounds
to get one, but the emotion to see Black Sabbath in such a small venue was
so great that I soon forgot about this hurting aspect. I do not remember
the name of the guest group, but they were not bad. Then the big show
started: Black Sabbath came in and delivered about 100 min. of powerful and
great music. I liked this concert much more than their performance of 1994
in Switzerland (with Tony Martin on vocals) and 1998 in Italy (Reunion
without the "heart attacked" Bill Ward). They played the following songs (I
do not recall the exact order):

- War Pigs
- N.I.B.
- Fairies Wear Boots
- Electric Funeral (Tony screwed up a bit at the beginning)
- Sweet Leaf
- Snowblind
- After Forever
- Dirty Women
- TOMORROW's DREAM (welcome surprise)
- Into The Void
- Iron Man
- a solo with Tony Iommi
- Children Of The Grave
- Black Sabbath
- Paranoid

I am very happy to inform all the readers that Ozzy was in quite good shape
(was he on Viagra?) and his voice, although far from his friend's Dio
voice, was quite allright. He used the word "fuck" in all its possible
forms, as adjective, adverb, verb, noun, etc., but (I think) less often
than in the REUNION double live album. As regards Bill Ward, well, the guy
is 20'000 lights years far from a heart attack: he was great! It's just a
shame that the guy does not take the microphone at least once and delivers
a song such as "Solitude" or "It's Allright". Tony screwed up a bit at the
beginning of "Electric Funeral" and the solo was quite cacophonic and
meaningless, but the rest was great. I do not recall anything particular
about Geezer, he played well to me. I was surprised to see Geoff playing
not only keyboards, but also guitar, apart from singing backing vocals. All
in all it was a great performance and it was worth the 80 Pounds I had to
pay for the ticket and the 15 Pounds for the T-shirt.

Some highlights:
1) The song Tomorrow's Dream was one of my favourites, along with After
Forever, Snowblind and Dirty Women;

2) There were a few situations where young people managed to come on stage
and embrace Ozzy, in one case I even feared the worst, since one guy just
did not want to let him go and it needed a fight with two body guards to
get Ozzy rid of his fellow madman. I say the truth, for a while I feared
the worst for Ozzy.

3) The last song was a great disappointment: it started with the riff of
"Supernaut" but went soon into "Paranoid", a song that makes me sick.

4) Geoff was not invited to take part to the final bow, his name was not
even mentioned by Ozzy;

5) My English may not be perfect, but Ozzy said clearly at the end of the
concert that they would come back "next year to kick (our) asses again":
Maybe we can hope for a new album, which would bring some ... er ... fresh
air!

On 22.12.1999 I am traveling to Birmingham to see them at the NEC, where
I hope to get another little surprise in the form of some "newish" song
such as "Tomorrow's Dream" or (which would be great) some song of the
1976 and 1978 albums.

Regards
Fabio