Black Sabbath Concert Reviews
February 18, 1999
The FU Center
Philadelphia, PA
THE BAND
Ozzy Osbourne - Vocals
Tony Iommi - Guitar
Geezer Butler - Bass
Bill Ward - Drums
Geoff Nicholls - Keyboards
CONCERT PHOTOS
I was sent this picture by a Carl Atwell - this is him wearing a shirt he wore to the Philadelphia & Pittsburgh shows in an attempt to find other people who were on the mailing list. Thought it was funny, so I put it online..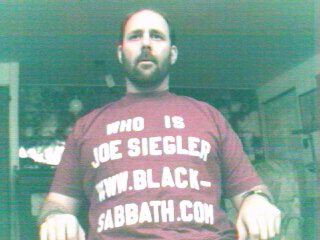 TOUR REVIEWS & REMARKS
From: "Timothy Mooney" <moonfrog69@hotmail.com>
Subject: i went to the Philly show tonight
Date: Fri, 19 Feb 1999 03:29:26 PST

1. War Pigs
2. After Forever
3. Into The Void
4. Electric Funeral
5. Dirty Women
6. Black Sabbath
7. Faries Wear Boots
8. N.I.B.
9. Embyo
10. Children of the grave
11. Snowblind
12. Iron Man
13. Paranoid

i know i don't have the set list in order, and i may be missing a song, but that's basically it.

after waiting in traffic for almost 2 hours to move 2 blocks, then get stuck in a parking lot, blocking in other cars because the people in the cars in front of us just turned thier cars off, and got out. i don't know what happened, but Philly is THE worst city yo see a show. the crowd sucked too. the crowd was ever gleeful for the name tunes, but when ozzy said this one's called "after forever", you could hear me, my friend, and the crickets cheer. the same happened with dirty women. we got in to hear 2 songs by pantera, and they crowd was estatic! i never seen an opening act get such a standing ovation. the crowd was there to see pantera, and ozzy.

ok the show. on a scale from 1-10, i do give it a 10. they were so on it. so tight, every note hit just right. i haven't heard ozzy sound so good in years, and if he didn't shout to the crowd so much during the show his voice could probably hold up much better. the mix sounded great, i could really hear each instrument so clearly, they had album preciseness. the sound may have gotten muddle in later songs a bit, with ozzy jumbling the words during iron man of all things, but for such a high decibel show, it came out quite clear, my ears are still ringing hard, 7 hours later. i was so glad to see bill ward, he sounded great, although he looked 20 years older then the rest of the band, who all looked great. bill handled the drums well, god, that was a religious experience. geezer as always, pounding away not looking a day over 35, and my personal highlight, Tony. growing up on that guitar, and being left handed, he was my guitar god, and did he ever live up to it. that sound, those jazzy fast fingers, no slop, every riff performed to perfection. Man, that man has tone. it was a relatively short show, but it was the original sabbath, and they sounded great. sure i would have liked to hear supernaut, national acrobat, symptoms of the universe, sweet leaf, etc..etc.. i hope they come again next year, and pack some suprises, that is my only complain, predictability, but with such a stupid crowd, what do you expect.
---
From: Sabbath141@aol.com
Date: Fri, 19 Feb 1999 04:59:39 EST
Subject: Black Sabbath Takes Philly

Great performance, a show that will be with me for a long time & I'm sure for the rest who have attended this show & others. To see Ozzy, Geezer, Iommi & Bill Ward : ) is nothing more you could ask for. "The Originals" it doesn't get better than that. All 4 gave it their best & it showed. I was damn happy to see Bill Ward & of course the other's! The stage was scaled down, the Spectrum was just to small for the original stage. There were no screens. The videos I have, the stages are huge. But I was there to see the original 4. I enjoyed every damn minute of it!!!!! I wish them the best of luck & I hope they do get into the studio to get a Black Sabbath album out. (CD) I guess we'll have to wait to see if this does happen, but I wouldn't hold my breath on that one. On to the soundboard man, I like to slice his ears off, Geezer's bass should of thundered through that Spectrum, also Bill's drums sounded as if he was drumming from South St. Also I believe someone else posted that Ozzy's vocals were fading in & out, that fuckin mixer man just didn't give a fuck. Tony Iommi's sound was perfect. Now on to a lighter side, I did record this show. Give me a day, I have to put it through my mixer.

Take Care Everybody,
"Gary's Black Sabbath"
http://members.aol.com/sabbath141/index.html
---
From: "Todd Kennedy" <rkennedy@delanet.com>
Subject: Reunion Tour Report
Date: Fri, 19 Feb 1999 02:07:25 -0500

Just got back from the re-scheduled Philadelphia, PA show and was it worth the wait. After close to 20 years, three more weeks was nothing. Pantera opened up and whipped the crowd into a frenzy with a blistering 70 minute set. After the shortest stage turnaround in rock `n roll history (14 minutes!) Ozzy, Tony, Geezer, and Bill brought down the house. Whoever said these guys were to old to rock better do a little bit more research. 90 minutes of non-stop, ass kicking metal proves that Sabbath is still one of the greatest bands to ever take the stage. The boys did a twelve song set (seems like thirteen would have been more appropriate) consisting of War Pigs, NIB,Fairies Wear Boots,After Forever, Electric Funeral, Into The Void, Snowblind, Dirty Women, Black Sabbath, Iron Man,Children Of The Grave, and Paranoid for an encore. Awesome!!!! I hope the boys come back to Philly much sooner next time. Todd Kennedy, Newark,DE
---
From: "christine kronmiller" <crazysexy13@hotmail.com>
Subject: Philly Show
Date: Fri, 19 Feb 1999 11:51:19 PST

I went to the Philly Show and it was the Best concert I've ever seen. Sabbath really rocked the Spectrum last night it was unbelievable...The only downfall they didn't play "Sweet Leaf" I was really surprised...I had the time of my life.

I was standing on the seat jump up and down and fell off guys were helping me up, flashing the guards, flashing everyone, it was a really crazy time. Sex, Drugs, and Rock and Roll....lives on!

At the end of the concert Ozzy said Don't worry we will definetly be back, God Bless, & I love you.

OZZFEST 99'

See you then!!
---
From: "rich" <dubprophet@erols.com>
Subject: Reunion Tour Report
Date: Fri, 19 Feb 1999 12:19:53 -0000

First off I've waited since 1982 to see the original line-up and it was well worth the wait. They rocked in Philadelphia(2-18). We drove from Washington D.C.(twice, We didn't realize the first show was postponed until we got there(oops). Sabbath seemed real tight and the sound was a pretty good mix(I think Bill's drums could have been louder thought. Ozzy was real energentic and should put out a workout video having been doing jumping jacks and jumping the whole show. Geezer was incredible jamming on the bass(though his bass solo was sounded muddy on N.I.B) Tony was on it, and paced the stage like a panther. The setlist was:

War Pigs, N.I.B, Fairies where boots, After Forever, Electric Funeral, Into the Void, Snowblind, Dirty Women, Black Sabbath, Iron Man, Children of the Grave. Encore was Paranoid.

The show was sold out and a loud crowd(especially when Ozzy got em going. Well worth the wait, wish I had tickets to the Pittsburgh show. Ozzy at the end said to get home safe so we can come back and kick your asses again, which I hope they do.

Rich S.

P.S. Great site, Keep ROCKIN'
---
Date: Fri, 19 Feb 1999 09:41:26 -0500
Subject: Reunion Tour Report
From: zerbe@devondirect.com (Eric Zerbe)

February 18, 1999 -- First Union Spectrum, Philadelphia, PA

After a 3 week postponement from their original January 28 show at the Spectrum (Ozzy apparently had the flu), Black Sabbath put on their show in the City of Brotherly Love. I went with a friend of my wife's and her husband (my Mrs. isn't exactly a huge Sabbath fan). Parking was a nightmare, and we wound up missing almost all of Pantera's opening set. From what little I heard as we entered the arena, they sounded great (would've loved to see them do their cover of Sab's "Planet Caravan," but oh well).

In just 20 minutes after Pantera finished, Sabbath took the stage (kudos to the road crew!). Our seats were just behind the stage on the far left,stage level. While we didn't see much of Geezer Butler during the concert, we had great views of all four guys taking the stage, and Tony Iommi and Bill Ward were in full view the whole time, with Ozzy giving us attention at a pretty steady pace. They opened with "War Pigs" and chugged through about a 100-minute set. Poor Bill Ward -- after every song the crew had to drape him in a blanket so his sweat wouldn't cool and give him another heart attack. Also, Bill cut off all his hair; he looks like a big burly Irish uncle or something. But he was having a blast, pumping his fists to us peons behind the stage and toasting us with his gallon jug of water. After every song, Tony would walk over to his sound guy and discuss something, usually in pleasant tones, but one time -- about four or five songs in -- he was really ticked about something and gave his sound guy "what for" before starting the next tune (he quickly was enjoying himself again once the next song began). Ozzy was his typical manic self, dunking his head in buckets of water, throwing water on the audience, leap-frogging around the stage, etc. Pyrotechnics were reserved for the first song and the encore. Cool red lighting and corner posts with burning flames brought the song "Black Sabbath" the ominous feel it needs. Songs included the ones mentioned earlier plus "Iron Man," Fairies Wear Boots," "Children of the Grave," "Snowblind," "N.I.B.," "Dirty Women," "Into the Void," and "Electric Funeral." No Ozzy solo tunes. Before they came back out for the encore, the crowd was screaming for about 3 minutes, whereupon Ozzy said on the mic from beneath the stage in a playful voice, "I can't HEAR yooouuuu ...." Back out they come, one song for the encore ("Paranoid"), and a final arm-in-arm bow to the crowd. Ozzy was limping mildly as they went backstage; one too many leapfrogs, I guess. :)

Biggest Disappointments: No "Sweet Leaf," "Sabbath Bloody Sabbath," or either of the two new songs, "Psycho Man" and "Selling My Soul." And since Metallica decided to cover it on "Garage Inc.," it would've been cool to see Sabbath do "Sabbra Cadabra" so we could hear it from the original "auteurs."

Overall, I'm glad I went. I've been into Sabbath since my neighbor was learning "Iron Man" on his guitar back in the early 80's. Quick rating: 7 out of 10.

Eric Zerbe
New Castle, DE
---
From: "Jennifer" <sweetleaf@icdc.com>
Subject: Sabbath cocert in Philly
Date: Fri, 19 Feb 1999 14:27:38 -0500

Hi, this is my first time contributing to the list.

I was at the Sabbath conert lastnight in Philly and let me tell you it was great!!!!! It was a nightmare getting there, but when we finally did we found our seats just in time to see Pantera. I didn't like them at all. I thought they were too loud and i couldn't understand a word they said. Anyhow, the highlight for me was when Sabbath did Black Sabbath. The lights were red, they had the thunder and lightning. And also the torches!! It was the best show i've ever seen and Ozzy sounded just as good as always!!!! Keep Rockin'!!! JEN~~~~
---
Date: Sat, 20 Feb 1999 09:53:07 -0500
From: Keeton <ondeck@erols.com>
Subject: Philly at last!

Hey Gang -

We were at the Spectrum three weeks ago when Sabbath cancelled. My disappointment was tempered by the opportunity to see them in the Meadowlands a week later. My boys however, were on pins and needles, anxious that their chance to see the original Black Sabbath might not happen.

By the time we arrived back at the Spectrum Thursday night (once again driving up from D.C.) and got a parking spot right next to the building, our excitement was boiling over. "Symptom of the Universe" was playing as we drove up, and when we leaped out of the car, Ozzy's YEEAAHHHHs" were matched by our own screams into the night.

There were a lot of things that did not happen at this show. The Deftones did not play. There were no video screens (but cameramen filmed anyway). They did not rise from underneath the stage. There was no smoke for "Black Sabbath". They did not play "Sweet Leaf".

The band, however, sounded GREAT! Better than in the Meadowlands from where I was sitting. They sounded very tight and were VERY LOUD! We were on the extreme right side of the stage, about 20 feet from Geezer Butler - my God!, he was fun to watch throughout. Although, stage monitors obscured some of the action, we could see everything that was going on and more.

Some observations from (almost) back stage: The interaction of the band members made me believe that they were enjoying themselves thoroughly and that they felt good about their performance that night. Throughout, they exchanged nods, winks, smiles, etc. When Tony was doing the intro to "Children of the Grave", Ozzy exchanged a mischievous look with Geezer and started doing a little two-step to the music. Someone on the floor close to the stage held up a sign at one point that said "Blue Suede Shoes". Between songs Ozzy saw it and said, "No fuckin' way, man." Then after a pause he (sort of) sang, "One for the money. . .", laughed and walked away.

We saw Dave Grohl (Nirvana, Foo Fighters) come backstage. He waved at us when we called out to him. I saw him at one point "air drumming" to Bill Ward's beat - very cool. And Geoff Nicholls was directly in front of us. He played keyboards only on the obvious songs, sang sparingly (mostly on the "fadeaway" type stuff, like in "Faries Wear Boots" - Ozzy sounded real good), and he played guitar on three songs - rhythm during the solos on "Snowblind", "Dirty Women" (Tony, by the way, absoulutely RIPPED UP that song!) and "Paranoid".

I've seen Sabbath now nine times over the years, and I'd never had the chance to be so close to the band. And although we lost a little of the staging effects from the side, and missed seeing some of the other things they've done throughout the tour, it will be a night I will never forget. My sons were ecstatic. They didn't know what they missed and they didn't care. Early in the show, my one boy turned to me and exclaimed (about Ozzy), "He's like a little KID!" That sense of fun carried through the whole night.

My lasting impression will be of the four of them at the end, confetti filtering through the air, embracing one another, exchanging words of congratulations, blowing kisses to us; Bill Ward pumping his fists time and again with a look on his face like that of a great fighter who has beaten the odds and triumphed again. Fittingly, as they walked off for the last time, a roadie covered Bill with a robe, again like a fighter - but one who will come back and fight another day.

"Peace and happiness in every day . . .yeah!"
Craig
---
From: "Kris Schafer" <kris@ccomm.com>
Subject: Philadelphia story
Date: Sat, 20 Feb 1999 13:59:06 -0500

Holy Hell, Sabbath blew me away at the philly show on the 18th. They were tight and their performance was better than on the reunion cd. Come to think of it, it was better than Live at Last too. Same setlist as everywhere else, except Sweat Leaf got left out.

I had a rear view seat and I was afraid it would suck but it actually turned out to be a good seat. I had to watch everbody's back, but I could see what was going on backstage. And I had an excellent view of Bill Ward, this man was kicking ass. I can't imagine anyone being down on him and his playing. There is no Sabbath without Bill Ward, just like there is no Sabbath without Tony.

I also had an excellent view of Geoff Nicholls off stage. This is one lucky bastard. He was head banging and dancing to every tune. He didn't look like a typical salaried musician, he looked like a guy who was having a good time. He was singing into a mike for every song except "Black Sabbath." It is obviously Ozzy singing, all this lip synching crap is nonsense. It seems Geoff is adding a harmony vocal into the mix, something Ozzy usually does himself with a harmonizer.

As usual ozzy had his monitors to help with the lyrics, but he wasn't locked in front of them for most songs. The monitors were only on the center of the stage, there were none on the sides. When I saw Sabbath at Ozzfest he was reading most of the lines off the monitor, but not so here. And during Paranoid, right after the solo the monitor blanked out and Ozzy did remember that last two verses correctly(as well he should by now, brain damaged or not). When Ozzy left the stage and came around back he had an assistant with him but he didn't need to be helped off or back on for the encore. In fact he jogged back out for the encore and poked his head around the amps to tease the crowd.

The band looked like they were enjoying themselves. Lots of laughter and smiles. I was nearest to Tony and Bill. Tony gave us a wave every time he changed guitars and Bill was always waving and even blew some kisses. When they came back out for Paranoid, Bill stood behind his kit and beat his chest like tarzan. That was hilarious.

For some reason, the band didn't use the platforms to come up through the stage. I saw the platforms drop down, but they came up empty. Then the band came to the back and walked out from behind the amps. Must have had some problem.

Sorry to ramble so much but this fucking show blew my mind.
---
Date: Sat, 20 Feb 1999 14:22:26 -0500
From: Murray Swim <macks@epix.net>
Subject: Reunion Tour Report

Saw the Feb. 18 show in Philadelphia. Was the first time I've seen the original lineup since 1978. (or maybe 1979 - I don't quite remember.) The last time I saw Ozzy was on the Blizzard tour with Randy Rhoads. The Philly venue was changed to the old Spectrum because of the earlier cancellation and a conflict with the Flyers at the new First Union Center. The originally scheduled opening act -The Deftones - did not play and I did not hear any explanation. Pantera played approximately an hour which, despite an enthusiastic response from the mixed-age crowd, was about 45 minutes too long for me. I'm not dissing Pantera but they are not my cup of tea. They did however pay verbal tribute to Sabbath near the end of their set. They played musical tribute to them for an hour.

Sabbath came on at approximately 9:45 to the thunder of "War Pigs." The first thing I noticed was that Ozzy looked very pale, and appeared at times to be unsteady on his feet. Having been a fan since 1973, I know that Ozzy hasn't always been the picture of health but he looked decidedly frail from my vantage point in the third row on the floor. Wonder if the length of the tour is taking its toll or if there is something more serious?

The band played for 90 minutes, essentially following the "Reunion" playlist minus "Behind the Wall of Sleep', " Sweet Leaf", and "Spiral Architect" but including "After Forever". The sound was first-rate. Tony Iommi has never played better and appeared to be truly enjoying himself. My seats were right in front of him and he seemed to be digging the wild crowd response. Geezer was his usual self, slapping the bass with abandon. He hasn't seemed to have changed much in 20 years. What caught me offguard was the fantastic job done by Bill Ward. With his recent history I didn't know what to expect, but he gave a tremendous performance and hardly missed a beat. In fact, he sounded much better at this show than on the "Reunion" cd. Ozzy's voice was fine and he didn't mess up too many lyrics (thank God for the prompter) but, again, he was not on his best game. I've seen him at his madman best when he could hold 20,000 people in the palm of his hand. But at least on this night he kept the jumping around and craziness to a bare minimum. The minimal stage set seemed appropriate for this kind of best-of show and the fireworks and confetti at the conclusion of "Paranoid" did not seem out-of-place. The show ended with the four of them, arm-in-arm, smiling, and taking deep bows to the roar of the sold-out crowd.

The moment for me was bittersweet. Having first seen Sabbath on December 3, 1975 at Madison Square Garden (Aerosmith opened), and many times since, I couldn't shake the feeling that this was probably the last time I would see the world's best heavy metal band intact. With the tenousness of their current situation and assorted health problems, I was sure glad to have seen them on this tour. My advice to anyone who has wanted to see them but hasn't, don't miss this tour.
---
From: ZoSo982@aol.com
Date: Mon, 22 Feb 1999 17:30:51 EST
Subject: Reunion%20Tour%20Report

2/18/99
the Spectrum
PHILLY, PA

This was my first big-time concert I've ever been to & I have to say it, " IT WAS FUCKING AWESOME!!!!!!!!!!!!!!" Pantera rocked for being the opening band and took time to talk with the crowd(that was pretty cool). Then it was time for SABBATH!!!!! Ozzy & the boys were great!!!! "War Pigs" got everyone in the place going wild, the light show in the opening of "Black Sabbath" was like nothing I've ever seen before, "Iron Man" had the roof rattling, and when Sabbath left the stage then came back to end the show with "Paranoid" the place absolutly went SHITHOUSE!!!!!! I LITERALLY LOVED EVERY SECOND OF THE SHOW!!!!!!!!!!!!!!!!!!!!!!!!!!!!!!!!!!!!!!!!!!!!!!!!!

THANX SABBATH FOR LETTING ME STAY HOME FROM SCHOOL ON FRIDAY!!!!!!!!!!!!!!!!!!!!!!!!!!!!!!!!!!!!
---
From: B66G68@aol.com
Date: Thu, 25 Feb 1999 19:31:51 EST
Subject: philly show

WOW what a fuckin concert. me and my brother-in-law got to the Spectrum around 8:30 so we could drink some cold brewskis before the show thank god for the bar downstairs because they were not selling beer on the main concourse. I guess it was because of the 2 warmup bands were for the young guys. I am 44 years young and i had not seen sabbath since 1978. it had to be the loudest fuckin concert i have ever been to. our seats were 2 rows from the floor about 20 rows from the stage on Tony's side. GOD, he is simply awesome. Geezer bass was pounding in my chest. Bill was tearing it up like it was twenty years ago. Ozzy's voice had it's weak moments at time but who gives a shit. It took 4 fuckin days for my head to stop ringing but it was worth it. I can worry about being death in my 60's. I found out later that they left out dirty woman and sweet leaf because of Ozzy's throat problems and i had to take a piss during Snowblind but you could still hear deep down in the cauldrons of the Spectrum. my personnel highlight had to be After Forever and Into the void. Tony just standing in the middle of the stage draped in blue and white lights will live with me forever.For the people who missed them because of the tour being cancelled, i am sorry for you, but lets hope they start it back up again, i know i will be there. Thanks Joe for having this site i have enjoyed since new years eve. I will be checking in every day from now because i love SABBATH FOREVER.