Black Sabbath Concert Reviews
February 19, 1999
The Igloo
Pittsburgh, PA
THE BAND
Ozzy Osbourne - Vocals
Tony Iommi - Guitar
Geezer Butler - Bass
Bill Ward - Drums
Geoff Nicholls - Keyboards
This was the final show on the tour, although it wasn't supposed to be, originally.
CONCERT PHOTO GALLERY
You can view the photo gallery for this concert here.
TOUR REVIEWS & REMARKS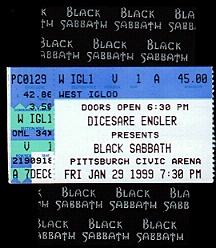 From: "sabbath" <sabbath@neo.rr.com>
Subject: Pittsburgh 2-19-99
Date: Mon, 22 Feb 1999 07:08:44 -0500

"BEHIND THE WALL OF STEEL"
Review by Wicked World
THURSDAY, FEBRUARY 18, 1999
---------------------------
"THE ARRIVAL"
---------------------------

This was it! I checked the newsgroups and a couple of web sites before I left and it appeared that the show is on in Pittsburgh. I left my house at about 6:15pm to pick up my friend, John, to go to the Black Sabbath show with me and arrived at his house by 6:30pm. He is a native of Pittsburgh and was anxious to not only see Sabbath and Ozzy for the first time, but to return to his old stomping grounds and see some old friends. I was more excited to be seeing the original four Sabs for the first time after seeing many different line-ups since 1992 and also Ozzy's solo tours.

We made good time by getting on I-76 east to Pennsylvania by 6:45pm and obviously managed to beat all rush hour traffic by 30 minutes. We arrived in the vicinity of our motel by 8:45pm, circled around the area for a while, and did not check in to the Days Inn until 10:20pm. Now, this is where it gets confusing with the large time span in between. If you are going to go to Pittsburgh in the near future, let me suggest that you have an excellent navigational plan, or go with someone who used to live there. Unfortunately, the area of town we chose to stay in was unfamiliar with John, so we had a few problems getting around. The Pittsburgh map was out for the majority of the trip while we tried to figure out all the twists and turns in the roads and tried to determine why the small map I copied from Yahoo had the wrong directions on it (west should be east, etc.). Anyhow, in the end, we managed to come out on top of things and continue on with our plans.

It didn't take us long to drop off our stuff and get out and hit the town for a few beers to start enjoying an extended weekend. We hit the Strip District by 11:00pm and it was pretty crowded for a Thursday night. The area reminded me of the Flats in Cleveland by how they made bars and nightclubs inside the old warehouses.

We started off at Banana Joe's. I wanted to check this out first because there is one going to open in Akron very soon and I wanted to get a feel for the place to get an idea of what I might expect out of the futurefranchise in Akron. The music being played was mostly early to mid 1980'shits and it made me feel 14 again. There was a local band, Buss Post,playing in the next room over and it was pretty packed in there. There were quite a few women to go around for all the single guys (like us) and I would definitely make a stop back in there again.

Our next stop was at Whiskey Dick's. I was told this place was supposed to be happening! Not this night. We were the only ones in there and no bartenders were to be found. Needless to say, we only stayed for about one minute. Basically long enough to look around. Maybe next time it will be happening.

We passed up Rosebud, which looked to be crowded, and made our next stop in Bar Pittsburgh. I would definitely suggest going there if you are venturing into the Strip District. Next time I am in town, this will be on the top of my list as far as bars and nightclubs are concerned. These guys really know how to mix a drink too! They had the strongest Whiskey Sours and Jack and Cokes I have ever tasted! Keep up the good work guys! The crowd was excellent, music was varied, the drink prices were reasonable, and the ladies dressed in black who were dancing on the bar counters were awesome! No, it is not a strip or topless club, they were just up there having some fun and so were we by watching them. Of course, we slipped them a couple of dollars for their efforts and I think we were the only ones who had the nerve to do so.

FRIDAY, FEBRUARY 19, 1999
---------------------------
"BLACK SABBATH RETURNS!"
---------------------------

This is the day. We have a lot of time to do some running and what ever we want before the show. Since the day didn't start until about 10:30am for us, we decided to skip on breakfast and head straight to Station Square and start with lunch at Hooters. On our way there, we spotted several tour busses at the Hilton but did not stop because our stomachs needed attention at the time.

Of course, Hooters is always awesome, but I haven't been to an establishment in quite some time where the employees were so friendly. We had about four girls just come over and sit down and talk to us while we were there and they really made sure we had the best service available. I would definitely suggest stopping back in here too if you are going to visit the Pittsburgh area in the near future. Oh, and get something with the shrimp sauce, it had quite a kick to it!

Our next order of business was going to John's old neighborhood. We didn't see anyone that we hoped to see, so we stopped by a popular hang-out for the area called the White Hawk and had a couple of beers there.

Well, the time was getting close to show time and we hit the road back to the motel to get the stuff we needed for the concert - tickets, money, etc. We parked the car at the Civic Arena at 5:00pm and walked around the side of the Civic where the busses are. We couldn't get down there, but there was a ramp directly above them so we could see what is going on when we walked over them. Well, we timed that walk just right because as we were rounding the side of the building, out of a bus comes Tony Iommi, Bill Ward, and Geoff Nicholls! We wished Tony a happy birthday and continued over to find a place to eat that was close. Not much in the way of non-expensive places to eat by the Civic, but we didn't care, we were on a spending spree for the weekend anyhow.

We decided on the Steelhead Grill to grab a bite to eat and it is located at the Marriott in downtown which is directly across the street from the Civic. Again, we had the best of service here as well and the food was excellent! My recommendations go out to the Steelhead Grill too. I had quite a surprise while I was there because our very own Mike Armstrong from the newsgroups recognized me and I met him and his wife and we talked for a little bit.

We went back over to the Civic about 6:20pm because the doors were "supposed" to be opened at 6:30pm and we wanted to hit the merchandise booths early. Well, they decided to let us all freeze and not open the doors until 7:00pm. One suggestion to anyone who operates a venue, do not do this to people! You will only have more problems after you open the doors when you lie about the opening time. Although, if it was 70 degrees, I wouldn't have had a problem with it, but I was freezing my ass off out there!

The show started pretty close to 8:30pm like it was scheduled to, but should have started earlier to allow Phil Anselmo to do his speeches early instead of boring us with them in the middle of the set. Overall, Pantera sounded pretty damn good (barring Phil's speeches) considering I haven't seen them since Ozzfest 1997. They still cranked out all the fan favorites like "Walk," "Becoming," "Cowboys From Hell," and "This Love." Phil acknowledged Tony Iommi's birthday and the band did a round of shots in his honor. The highlight of their set for me was when Phil spotted a guy going completely crazy during their set and brought him up on stage. Phil asked the guy how old he was and he said, "44." Phil said, "44? You look like 104!" The guy stayed up on stage for a beer and a shot and was part of their next song by doing some screams into the mic at certain parts of the song. They ended his stay up on the stage by letting him jam on Dimebag's guitar for a little bit. Phil asked him in the end if he did some acid in the old days and the guy replied with a definite "Yes!" Pantera did a Ted Nugent jam near the end with "Cat Scratch Fever" that sounded great.

Now we are awaiting Black Sabbath to play and I observed two cauldrons on the stage, one on each side, and I pretty much assumed that these would be including fire during the song, "Black Sabbath" based on what I have read in all the reviews so far. I also was approached by another internet person, Barb, from Jacksonville, Florida during this break. She is a regular over at the Epic Black Sabbath site and got my information from there. It was pretty neat running into people and meeting them in person after all this time.

---------------------------
"THE SHOW"
---------------------------
Here is the exact set list, with notes, in order that was played by Black Sabbath on Friday, February 19, 1999:

1. VIDEO INTRO - same as the one played before Black Sabbath hit the stage at Ozzfest 1997 at the Blossom Music Center in Cuyahoga Falls, Ohio.

2. WAR PIGS - Ozzy, Geezer, and Tony are dressed in all black as they rise up from a smoke-filled stage as the sirens fill the arena. Bill is shirtless and set to play. The sound mix is great from the start and I can hear keys, bass, drums, guitar, and vocals clearly from the start. The song ends with an explosion that projected heat that could be felt where we were sitting.

3. BASICALLY/N.I.B. - Ozzy had a little trouble with the "I'm going to feel" parts but otherwise kicked some serious ass on this one. This was one of the highlights of the show for me.

4. FAIRIES WEAR BOOTS - Ozzy was pointing to the side of the stage prior to starting this song and it may have just been a request to turn up the mic a bit. That is a classic signal that I have seen at all the Ozzy shows I have attended. Bill Ward was excellent on this song! For those who think he should retire need to dig up the old videos of him in the 1970's and then make your decision. This night he was stellar and was back to beating the drums with full force like he did in the early years. After this song was over, Ozzy had the whole Civic sing "Happy Birthday" to Tony Iommi, who celebrated his 51st birthday on this night. He even threw in one of his laughs in there as we were singing to Tony.

5. AFTER FOREVER - Again, great mix on all the instrumentation and of course this was the biggest surprise for most of the 18,000 people who packed the Civic Arena to see the show.

6. ELECTRIC FUNERAL - Prior to starting this song, Ozzy cussed out some idiot in the second row who was apparently either throwing objects at him or making gestures at him. He basically told the guy that his presence was a waste of our time and if he didn't like it to go and get his money back. Ozzy also told him to put his shirt back on because his general appearance was a disgrace and indecent. Ozzy got the whole arena to do a "Fuck you!" chant to this guy and he was apparently involved in some sort of scuffle mid-way through this song and was removed from the arena. This happened a little bit after Ozzy picked up a bucket of water and aimed the whole thing in this guys direction. It was funny, because during this action, I could hear Ozzy say, "Yeah, get him the fuck out of here!" as the song was playing. Truly a classic moment! Hell, I would have given anything to sit where he was at!

7. INTO THE VOID - Ozzy acknowledged the fans in the back side of the stage during this powerful selection from the "Master of Reality" album.

8. SNOWBLIND - Musically, this song was excellent. Geoff Nicholls didn'tseem to be doing too much in the way of backing vocals all night but most of them were during this song. He did play a little rhythm guitar, but this was the only time I caught it. Ozzy started to experience a lot of problems with this one, but he got through it OK.

9. BLACK SABBATH - Definitely the highlight of the show. The chandelier appears, the thunder rumbles, the bells toll, and the torches fire up around the perimeter of the smoke-filled stage. The cauldron on stage right went out about 1/3 into the song, so we were left with only the one on stage left burning. From where I was sitting, the vocal monitors looked like tombstones through the fog and added the effect of a graveyard for the setting of this song. One thing that caught my eye right as the song started was the camera man over on stage left, by our area. He seemed to be suspended in the air above all the fog and was completely still throughout the song. It almost looked like he was hanging there like a dead body or floating through the air like some sort of zombie or ghost. We were also treated to some chick around our area doing some sort of 60's "love and peace" dance shit during this song. It was quite amusing to say the least.

10. IRON MAN - It seemed to be keyed down one from the normal, but still sounded pretty evil. I think it may have been an attempt to help save on ozzy's voice from the problems experienced in "Snowblind."

11. EMBRYO/CHILDREN OF THE GRAVE - Ozzy really lost it on this song. Luckily for him, he only had one more to do after this because at this point his voice was gone. Hopefully he gets the surgery to remove the nodules on his throat because I would love to see Ozzy going back to doing more than 11 songs in a night. I really think that Ozzfest 1999 could be in danger if he cannot hold out for more than 10 songs without losing it. It's either that or doing only two or three shows a week at the most and spreading the tour out over a longer period of time. But I have to give the old "Wizard of Ozz" credit. He has been touring for almost 30 years and he always gives his 100% to his fans. You can tell he puts himself in a lot of pain and stress to make sure we are all happy. Believe it or not, Ozzy really cares for his fans.

12. PARANOID - Encore! Confetti filled the arena at the conclusion of this song and the Sabs took their bows up on stage. I did not see Geoff get up there with them like he did in the other line-ups of Black Sabbath. Well, the spotlight was on Geezer, Tony, Bill, and Ozzy for this tour and he respects that.

13. CHANGES - Played over house PA as we left the arena.

SATURDAY, FEBRUARY 20, 1999
---------------------------
"GOING HOME"
---------------------------
Well, the best concert of my life has ended and we are going back to our home territory. We are now talking about Ozzfest 1999 (hopefully) and the Iron Maiden reunion. Since I have never seen Maiden in concert yet, that should be a treat. We decided to make our last stop at Quaker Steak and Lube in Sharon, PA for some more beer and a bite to eat. And, yes, I DID get the atomic wings.

"THE END"

--
sabbath@neo.rr.com
---
From: Hail2ozzy@aol.com
Date: Sat, 20 Feb 1999 01:54:10 EST
Subject: pgh review

Oi sab fans-

I attended the Pittsburgh Sabbath show last night...It was great!! however, Ozzy was still having throat problems and cracked alot during Iron Man, Snowblind and Children of the Grave. It was so sad because as his voice was cracking you could see the frustration in his eyes.....he screamed once after a line and after another turned around and yelled "Fuck!" :( as a fan, you feel ozzy's pain, ya know? They ended up cutting "dirty women" and "sweet leaf" which sucked! I think, as much as it wouldve pissed everyone off again,(including me..the double wait was agonizing!) that they shouldve postponed our show again till ozzy's throat recovered...i wouldve waited longer to have the opportunity to hear the other songs. I just hope it gets better...

His throat did sound great the first few songs though and that was tremendous. Definately the best show i've ever been to. I give ozzy so much respect-- he still kicks ass and is what makes the original sabbath the "godfathers of metal."

On another note.....I was GOING to buy a program but read that in other shows people got their programs ruined by the end of the show so I waited...and at the end of the show of course they were sold out. So, if there is anyone out there going to the buffalo show who would be nice enough to pick me up one (I'll pay you the 15 beans plus shipping and all that)....plus I'll send you something of value.....exz- i got a pick that "dimebag" from pantera threw out at our show ..ill toss in that also. (i know most hate pantera on this list but hey...) so please...email me..anyone going to bufffalo show!

later-- sabbath is and always will be #1

Tracey
---
Date: Fri, 19 Feb 1999 23:03:42 -0500
From: "John \"ReNo\" Brighenti" <lucidia@westol.com>
Subject: Reunion Tour Report

BLACK SABBATH, FRIDAY FEB 19th PITTSBURGH PA... HAPPY BIRTHDAY TONY!!!!

Deftones (Cancelled)
PanterA
SABBATH!!!!

Just got back from the Sabbath Concert at the PACKED civic arena a lil more than half an hour ago. Pardon my forgetting the order of the songs, it was too damn great to remember ;)

We got there a little early cuz we were actually counting on getting lost so we alotted the extra time. We didn't of course cuz we planned on it... We got there around a little before 6. The Gates didn't open till 6:30, so we just walked around and bulshitted. Around 6:30 we started lining up and waited in line. Then this security dude, with a megaphone came out and made an announcement that the Deftones weren't going to play (Oh What a shame...) but also that the doors werent going to open to.. ohh I forget like 7:30. That stared rousing chants of "BULLSHIT!!!" and "FUCK YOU!!!". After a long wait we got in, got our T-Shirts, Programs and other goodies and sat down for the show.

At 8:30 Pantera came out, They rocked, but it wasn't on the level I enjoy, it was too much screaming for me to get the full effect, plus the sound system just sucked, WAY too much Trebble, so alot of the singing just sounded like Hissing from where I was Although they played Ted Nugent's Cat Scratch Fever and got some 45 year old guy to come on stage and scream alot :)

They played a good hour or so, Dunno, I lost track of the time. Then After a quick wait to set up the stage for the Sabs, they Finally came out, and did what they did best... Played heavy fucking metal and kicked ass. They mostly kept to the older stuff, sticking to songs off the first four albums. They played Sweetleaf, Children of The Grave, N.I.B (My Personal Fav of the Night) etc. Then Ozzy announced that February 19th just happened to be Tony's Birthday, It was the coolest thing seeing thousands of people sing happy birthday, and Tony seemed really touched. Then some guy was flicking off ozzy and he said that this guy follows him from town to town so he told the guy to go Get his money back (Only not so politely). and told the arena to tell him FUCK YOU!!! then he doused him with a bucket of Water :) Ozzy's Voice was really going. Prolly still suffering symptoms from that Nodule that postponed this concert in the first place. But dispite that, he gave it his all. The torches for "Black Sabbath" gave a great touch, and finally they played Iron Man, CLASSIC it kicked so much ass it wasn't even funny. When Ozzy went off stage we cheered our asses off and after about 3 minutes he came back up and of course topped the night off with Paranoid. There was only one song missing according to me and my friends taste and that was Symptom of the Universe. But I am not complaining one damn bit, all in all I give the show an A+
---
Subject: Pittsburgh Show
From: Frank J Morea <largokhan@juno.com>
Date: Sat, 20 Feb 1999 09:36:38 EST

The thing that struck me most about the show was the sheer energy and ferocity put out by Sabbath. Ozzy Had severe voice problems, but I thought he was doing OK until the beginning of Snowblind. After that it was a struggle for him, but he gave it his best shot. Ozzy apologized numerous times for his voice. Same set list as everyone knows except they left out Dirty Women. Speaking of the set list, quit complaining about what they didn't play, and enjoy the ones they did. As I said before, the sheer power of the set was amazing. It would have been better if Ozzy had been in better voice, but it didn't detract much from the show for me. Saw legends play last night. Think any bands just starting out today will still sell out arenas 30 years down the road? Tony, Geezer and Bill are master musicians at the height of their powers. If you hold a ticket for one of the remaining shows, keep your fingers crossed, because I would be surprised if there aren't more cancellations. I think Ozzy might be coming to the end of the road, but what a ride he and the boys took us on last night.

The confetti during Paranoid was something to see. I knew what to expect and was still surprised at the sheer volume of the confetti.

One last comment. The less said about Pantera the better. I have seen hundreds of bands and Pantera had NO business sharing the stage with Black Sabbath. Actually, they should be ashamed. Their vocalist is unintelligible and if that isn't bad enough, he has the WORST stage presence of any vocalist I have ever seen. Do your selves a favor and stay at the bar a little longer and just get there in time for Sabbath. Be warned, though, there was only about 20 minutes between the end of Pantera and the start of Sabbath. Last night, the Deftones weren't there, Pantera came on at 8:30, ended at 9:30 and Sabbath came on at about 9:50.

Enjoy the show folks, I hope I'm wrong, but I don't think we'll see them again.
---
From: Peaked420@aol.com
Date: Sat, 20 Feb 1999 13:05:59 EST
Subject: Reunion Tour Report

I attended the show in Pittsburgh on the 19th of febuary. Well what could I say if you were there you know the show didnt comeoff like it should have. Over all it was good. The deftones canceled for reasons unknown. Pantera was tight and throwing beer into the crowd. They even had some guy come on satge and drink some beeer and play guitar and sing. Now for Sabbath, The show starts out just like the rest of the cities with War Pigs. Some time between that and the encore of paranoid Ozzy's voice was almost killed. He kept appologizeing all night for it. It had to be the absolute worst version of Children of the Grave I have heard him sing. But I give him credit for marching on with the show. This may be the reason the crowd slowly seemed to fade away untill paranoid. They did not play sweet leaf wich bothered me a bit. Oh like the other cities they had the confeti and torches and such (wich also cut out the one on the right side of the stage kep going out). I dont think that Black Sabbath was fully recovered from what all the ailed them prior to the postponement. I dont understand why the crowd was so lame...I had gone to the ozfest of 97 and people were like mad. Unfortuetly for me and the band it wasnt such a thrill I suppose this time around.
---
From: Damien3738@aol.com
Date: Sat, 20 Feb 1999 14:55:34 EST
Subject: Reunion Tour Report

dude, black fuckin' sabbath!!!!!!!!!!!!!!!!!!!!!!! even though oz was having throat trouble and had to quit early, it was still the greatest show i've ever been to in my life!!!!!!!pantera opened up and rocked like a motherfucker, even bringing a guy onstage out of the crowd to feel the power of vinnie paul up close. but they were still no match for sabbath. and get this. because it was postponed from an earlier date, we were incredibly lucky that it was the man, mr. tony iommie's birthday!!!!!!!!!!! my only complaint was that they didn't play the new ones or sweet leaf, but who cares? it was sabbath and i thought i'd died and gone to either heaven or a birthday party in hell. rock on forever!!!!!!!!!!!!!!!!!!!!!!!!!!!
---
From: "Kelly Thompson" <ktrouble@pathway.net>
Subject: Pittsburgh Show
Date: Sat, 20 Feb 1999 12:13:17 -0500

My review of the Pittsburgh show:

6 of us went to the show in a limo for the hour and 15 min ride to Pittsburgh. Met alot of fans at the Steel Head lounge in Marriott Hotel across from the Civic Arena. We had the best seats in the house - front row center.

Pantera put on a good show as usual, Phil is heck of a frontman. There was this older fellow in the front row who looked 70 years old and Phil got him on stage. He turned out to be 44. This guy was up on the outside of the drum riser playing air drums like mad. Then Dimebag put his guitar on this guy and he started banging the strings like mad. We got two Dimebag guitar picks.

Sabbath came up out of the stage as in past shows. At about the 3rd song Ozzy stopped the show and pointed to a guy in the audience right behind us in the 3rd row and asked him what his problem was. Apparently, this guy was continously giving Ozzy the finger. Ozzy really tore into this guy: "Hey everbody see this guy with the long hair in the 3rd row he keeps giving me the finger. This guy keeps following me around to all the shows and flips me off for the whole show. I've had it with him He's an asshole, Get him the f*** out of here and give him his money back, why the hell do you even come here?? I have one thing to say to you f*** you!!!. Come on everyone what do we want to tell this asshole?? The hole place let out a huge f*** you. Needless to say this guy didn't last long, a few guys were beating on him and Ozzy loved it when he saw him leave "yeah, get him the f*** out of here he pisses me off!!"

Back to the show, Ozzy had a lot of energy jumping and running. Bill Ward beat the crap out of the drums all night and looked relaxed and smiled alot. Ozzy apologized a few times for "singing like an asshole, I have some throat problems tonight" I thought Ozzy sounded real good (He did have a little trouble with Snowblind, but I'd expect that). Ozzy wasn't very happy with himself for the way he thought he sounded. But I thought it was fine.

We took balloons and a banner that said "Happy Birthday Tony" . Only one balloon made it on stage. When Ozzy saw our banner he stopped and announced Tony's b-day & led the audience in singing happy birthday to Tony.

The overall sound was good, I could pick out all four members individually in the mix. But very loud.

They didn't do Sweet Leaf or Dirty Women. Took 27 pictures. Got a trash bag full of the streamers and confetti. My wife got a Iommi guitar pick.

When the band came back on stage for the encore Ozzy asked" Do you really want to hear me sing another pile of shit for you? (refering to his self-proclaimed vocal problems).

I thought the show was great but too short.

Steve Thompson
---
From: "William J Dierling" <voodoo@bedford.net>
Subject: Reunion Tour Report for Feb. 19th
Date: Sat, 20 Feb 1999 14:22:25 -0500

This show sounded really good. The only problem was Ozzy starting losing his voice so they had to cut the set short. His voice gave out before Sabbath starting doing "Children Of The Grave". The stage was really cool. During "Black Sabbath" the stage was covered in red smoke and they had 6 torches lighted up. They were about 12 ft high. They had one torch about 15-17 ft tall. The line-up for the songs were

War Pigs
N.I.B.
Fairies Wear Boots(Ozzy told some guy in the crowd off during this one.
He drenched him with a bucket off water.)
Ozzy told the crowd to sing Happy Birthday to Tony Iommi
After Forever
Electric Funeral
Into The Void
Black Sabbath
Snow Blind
Iron Man
Ozzy starting losing his voice here.
Children Of The Grave
Encore

Paranoid

After they left a tape of "Changes" played while everybody left. This concert sounded really good. After Forever, Black Sabbath, and Into The Void sounded killer.
---
From: DonWGrimm@webtv.net (Donald Grimm)
Date: Sat, 20 Feb 1999 17:12:42 -0500 (EST)
Subject: Sabbath Rules

I went to the Pittsburgh show and got blown away. Black Sabbath was my favorite song of the show . Even though Ozzy was having trouble with his voice It still kicked. The highlight of the evening was when Ozzy had us sing happy birthday to Tony. I think he enjoyed it. I've waited my hole life to see the original lineup and even though Ozzy was having trouble it lived up to my expectations. If you haven't seen them and you get the chance don't miss it . They really are the fathers of all metal.

BLACK SABBATH RULES
---
From: Iamsiam@aol.com
Date: Sun, 21 Feb 1999 02:54:08 EST
Subject: Reunion Tour Report

Joe, hope all is well, here is my review of the Pittsburgh show:

Six of us made it from Southern Virginia to the Pittsburgh show. We originally had nine, but a couple guys could not make it after the first show was postponed. We checked into the wonderful Marriott Hotel across from the arena only to find it packed with leather-clad sab fans, aged from 16 to 60.

The pre-show stuffed sucked the big one. From our hotel room we saw long lines to get in, and it seemed that nothing much was happening. After sipping a few more beers we finally headed over to the arena. We were patted down and then allowed in.

The first two things that I noticed were that the warm-up acts had not started, and that the main arena lights where still bright. I then noticed that the fucking pussies at the Civic Arena decided not to serve any beer. What a bunch of fuckers! (fuck them, I made it in with my flask and "whatever else").

After a while they announced that the Deftones would not play. Not a big loss, but it still took a while for Pantera to start.

Pantera was good. Pretty much what I expected, loud. aggressive, and rude. They need to do less talking and more rocking!!

And then the real concert started.

The Civic Arena has a hanging scoreboard with 4-way video screens that they used for the cam-shots. It was "ok", but the picture was not very clear.

But we came for the music, and that is what we heard! The band was tight and the music was clear ( although the sound was not super-loud ). Ozzy still had throat problems but did his best. He apologized a couple of times because he said that his throat hurt, but no apology was needed, he was in shape and rocked the house the entire night!

They opened with "War Pigs," and nailed it to the wall. I did not write down the set list, but there were no suprieses. "Into the Void", "Black Sabbath", and of course "Paranoid" were my favorites. <<< NO "Sweet Leaf" :( >>>

Right before Electric Funeral, Ozzy pulled a "AXL ROSE" and went off on a fucking tirade. Some jagoff in the front row was giving him the one finger salute during the first five or six songs. Ozzy went after him with a barrage of obsenities. and then urged the crowed to chant "FUCK-YOU, FUCK-YOU, FUCK- YOU" to the "offender". At the end of "Electric Funeral", Ozzy nailed the wussy with a big bucket of water. It then appeared that security escorted the brainless idiot out of the arena. Although Oz seemed a little moody at that point, he seemed energetic and was joking around with Iommi despite his obvious throat pain that he was suffering from.

It was Tony Iommi's 51 first birthday, but he played like he was 29. He was the showman of the night! Geezer Butler is my favorite of the four, but he seemed to stay back from the front of the stage and a little laid-back, although his playing was energetic and he could not have played better. Bill Ward was on top of his game, and was having a great time!

The crowd enjoyed the show and partied all night. I saw no fights or topless girls ( "probably due to the lack of beer!" ), although the crowed looked like they were ready to kick ass, and the arena was full of pot smoke!!

Ozzy was definitely a bit under the weather, and was not as energetic about"going crazy". At one point he said "hey man sorry, my throat really hurts and I am doing the best that I can". His wavered a couple of times and during "Children of the Grave", he sounded like he was the one going to the grave!!! But as always, "Ozzy Rules", this guy was not going to cancel the second Pittsburgh date, I think that he would have kept singing even if he was spitting blood (yuk :) ).

I would not have missed this show if I had to travel 3000 miles, these guys were better that the 70,s. I though that this might be my only chance to see them play again, but now I expect an Album and many more tours. When the Rolling Stones announce their retirement, these guy will still be laying down heavy tracks.

For all of you going to see the last few shows, I hope that Ozzy's voice holds up.

SABBATH RULES!!!!!!!!!!!
---
From: Mrdelish@aol.com
Date: Sun, 21 Feb 1999 04:28:29 EST
Subject: Reunion Tour Report

I just attended the Sabbath concert in Pittsburgh on Feb.19th and these are my comments/review. First off Deftones didn't play.No big deal.Second-Pantera.Just let me say,THEY SUCK.They are the biggest sexist dirtbags. Phil the singer needs to get a life.This guy comes off as a total asshole.I know I'll probably get flamed for these comments,but so what.I can voice my opinion. They have to be the worst band ever. I swear the only word he knew was Motherfucker this and Motherfucker that. It gets kind of annoying after the 8 million times he said it. Sabbath could have picked a better opening act(Neurosis,Sleep,or maybe the Melvins.)But I guess anything to bring in a younger crowd. Enough about the shitty band. On comes Sabbath. They opened with War Pigs.I'm not going to do a song list.The best part was when the whole crowd sang Happy Birthday to Tony. He seemed a little embarassed but the man had a huge smile on his face. The Stage set kicked total ass,with the dry ice and them coming out of thestage. The set started out killer and about mid way through the show Ozzy just lost it. His voice was blowing out. He totally slaughtered Iron Man.Not singing the right words and such. Ok, here is another bad point in which I will probably get flamed for. I think Ozzy should hang it up,I really do. He just don't have it anymore. I mean I've seen Ozzy four times dating back to Bark at the moon. Never disappointed me until Ozzfest '97. I don't know if the drugs and drink have finally caught up with him or what.He needs to take a long hiatus to get healthy. He just doesn't look good. I mean Bill Ward looked sharp for a man who battled addiction and suffered aheart attack not to long ago. Enough about that.Sabbath kicked ass for the short timed they played. Even though a lot of the people there really didn't know After Forever(one of the all time great Sab songs) All in all Sabbath are still the kings. That's all folks. PANTERA SUX
---
From: "Ben Andrews" <bandrews@csonline.net>
Date: Sun, 21 Feb 1999 22:44:57 -0000
Subject: Pittsburgh Show

Joe,

Fantastic site!!! Didn't have time to check out everything, but what I looked at was super!! Saw Sabbath on Friday night, 2/19/99 in Pittsburgh. Tony was fantastic, Geezer and Bill were great, Ozzy SUCKED!!! Ozzy's voice gave out on him and he was staggering around like he was all fucked up.

GREAT SABBATH SITE.
THANKS!!!
---
From: "Hollinshead" <tracy@mail.cvn.net>
Subject: Reunion Tour Report
Date: Sun, 21 Feb 1999 21:17:57 -0500

Hey, i was just at the Pittsburgh Civic Arena and saw Black Sabbath the 19th. Ozzy's throat was getting a little rough toward the end of the concert, but they still kicked some major ass. The whole crowd got to sing Happy Birthday to Tony, because it was his birthday!! After the last song, they came back to do the encore and Ozzy said "your gonna fucking kill me," then they jammed out to Paranoid. It was a really awsome show. Hopefully Black Sabbath will continue to tour forever. Just thought I would give you a little bit of a review. Awsome page!!
---
From: "gerard pratt" <snowblind13@hotmail.com>
Subject: Pitt Show
Date: Mon, 22 Feb 1999 12:56:47 PST

Hey i was just going to give my opinion on the pittsburgh show on february 19th. This was my first concert and it was a good one to have as your first. i am not a big panterra fan and i thought that they stunk. i couldnt tell what the heck the lead sing was saying and all of the songs sounded the same to me. the only highlight of panterra had to be the 44 year old man that went onto the stage and went nuts. sabbath is one of my fav bands and they came out to war pigs and they rocked. since ozzs throught was bothering i think that they cut it a few songs short. they didnt play dirty women and a few others i thought that they would play. Black Sabbath was awesome and i hope that they stay together.
---
From: BJA0234@webtv.net (David Charlton)
Date: Mon, 22 Feb 1999 14:12:23 -0500 (EST)
Subject: Pittsburgh Review

Just a quick note to let all know how the show went. Deftones cancelled so we all thought we'd get to hear more of either Pantera/ Sabbath, but no such luck. Doors were to be open @ 6:30, but no one got in till almost 7:30. Pantera shreded through their set and sounded tight except for Phil who's vocals were lost in the mix. Sabbath came on 20 mins. later. We were all floored. I never heard guitars so loud. Geezer's bass was so dynamic,ie:/ intro to NIB, Bill's trap sounded awesome and he never missed a beat. Tony came through so clear, especially his leads, they pierced through you to your soul. Ozzy started out in top form , but by Electric Funeral started to give way. A roadie ran hot tea up to him after every song. I've seen Ozzy like a dozen times and his voice was the worst that I have ever heard it. I FELT SO SORRY FOR HIM. You could tell he was dissapointed that he couldn't give it 100%. He even said something to the effect" I'm sorry my voice sounds like shit, I've been singing like a fucking asshole all night." Probably the reason Sweet Leaf and Dirty women were ommitted. But he gave it his best and this concert will go down in my memory as the best concert ever as I have waited for that show for years. By the way, does anyone know anything abouth the guy Ozzy had ejected for freaking him out and following him. Ozzy had the whole Civic yell fuck you at him! One last note, after the concert we we're all talking about the performance and we all agreed that Ozzy needs to take some time off, I would like to hear other's opinions about this. Since the first Ozzfest, he has been non-stop on the road for months at a time and in the studio and with the whole reunion and the meet and greets, I think Ozzy deserves some time off to recouperate. I have heard rumours of Sabath headlining Ozzfest'99, if his voice is that bad now how will he sound months to come if hedoesn't take some time off. Maybe he thinks that if he stops he won't get it back at all??? I just don't want to see him do permanent damage. How much money do you need to make Sharon??? Let Ozzy take care of himself so that he can continue to kick our ass in the future. YOU GUY'S KICKED ASS. I will never forget the show!

" 'coz smokin and trippin is all that you do!"
Dave in PA
---
Date: Mon, 22 Feb 1999 14:23:43 -0500
From: "Bart Talbert" <BRTALBERT@ssu.edu>
Subject: Pittsburg Show

Saw Sabbath at Civic Arena in Pittsburgh on Feb. 19 - already had tiickets, but bought excellent seats two days before concert through ticketmaster on the web (lucky) - drove 4 hours without incident with 3 of my best buddies - parking was easy, walked right in & saw end of Pantera & within 20 minutes - Sabbath comes up out of the floor of stage - they were powerful - the place went crazy. It was great - intense. Lighting, fireworks, pyrotechnics, fire-torches, confetti - good stuff. Geezer, Bill & Toni were flawless - as was Ozzy for first 2/3s, but he was obviously feeling the effects of a lingering cold/flu - worked on voice between songs etc & seemed tired - but that made the whole thing better. I have seen him at his best front-row center on two previous occasions, once in 1979 & once in 1991? - but this effort, when he was ill but kept hammering away & giving it his all, meant more - he was mad at himself & kept apologizing to the crowd - but he gritted it out - like the hard man that he is & like the man who cares about his admirers - the going got tough & he didn't run away. It's easy to look & sound good when you've got it all going for you - but to be physically spent in front of many thousands and power through on grit & to be apologetic in his position - that I respect. I didn't hear one complaint from anyone. When is the next tour? & I hope they come to DC or Baltimore.
---
Date: Mon, 22 Feb 1999 14:48:28 -0500 (EST)
From: "PATRICK H. HARMAN" <phharman@uncg.edu>
Subject: My Pittsburgh Experience

I thought I'd relay my not so wonderful adventure to finally see the original line-up. Because of the postponement, I ended up with a potential conflict. On Friday the 19th, I would be in Atlanta on business (I'm from NC). No problem, I thought. I'll just fly from Atlanta to Pittsburgh and have my brother pick me up and we'll go to the show. So $215 later, I have my plane ticket. On Friday, I leave my meeting two hours early to catch my 3:42pm flight. I get to the airport and find out the flight has been cancelled because it got struck by lightning(!) flying out of Charlotte. No problem, I thought. I'll take the 5:42 flight and still get to the concert. Well, that flight gets cancelled because it can't fly out of Charlotte because it's now snowing,icing, etc! Yes, the same city which had a thunderstorm two hours earlier.

Things are now looking grim. There's a line of people trying to get re-directed and I haven't moved but 3 feet in an hour. I find out there's a 7:30 flight to Pittsburgh so I cajole the ticket agent to give me my ticket and now I'm on stand-by. I call my brother's answering machine relaying my problems and that if I don't call back I'll be in Pittsburgh about 9:15. To my amazement, I make the 7:30 flight. No problem, I thought. I'll be able to see almost the whole set.

I land in Pittsburgh at 9:15 and rush down to baggage claim. I can't find my brother. I have him paged but I still don't see him. Thinking he misunderstood my message and went on to the concert, I take a $35 cab ride to the Civic Arena. It's about 10:30 and here I am looking really cool with my suitcase and my Perry Ellis attache case. I talk to a security guy who doesn't want to let me in and explain my hard luck story. He lets me in and I go off to find my seat thinking my brother's there. With the help of an usher, I find my seat and find my brother's not there.

Needing to find my brother because I have no other way home, I call our mother who tells me my brother was at the airport! She tells me he's now on his way to the Civic Arena. Of course, he doesn't know how to get there so it may take awhile. So, I go stand outside for about an hour and freeze my ass off. About 11:30, he finally arrives. I find out he did misunderstand my message. He thought I had made it to Charlotte so he was waiting at the gate for the Charlotte to Pittsburgh flight.

To top all this off, I get sick as a dog on Saturday and spend half the day throwing up. Ain't life grand?
---
Date: Mon, 22 Feb 1999 22:53:44 -0500
From: ron macdonald <macdon@sgi.net>
Subject: Reunion Tour Report

From: Ron MacDonald, Wexford, PA
macdon@sgi.net

Friday, February 19, 1999
Pittsburgh Civic Arena.
Opening act: Pantera

Pantera's monotonous opening perfomance couldn't have ended sooner. Black Sabbath came to the stage at about 9:45. After a brief video montage from over the years, broadcast over the Jumbo Tron, the boys took the stage. They led off with "War Pigs," then followed with "Basically/N.I.B." and "Faeries Wear Boots."

The band played as hard as they could until Ozzy's voice started to go. By the time they got to "Snowblind" (about the fifth song), Ozzy started to have some real problems hitting the notes. Up to that point, I felt he sounded great. Although he was drinking quite a lot between songs (water?) from the beginning of the show. So it appears he felt it quite a bit earlier than it showed. Subsequent songs still sounded good as long as they didn't force Ozzy to push himself. "Black Sabbath" was GREAT!!! I've never heard Tony play the guitar part for so long! I'd swear he jammed for three solid minutes! "After Forever," one of my personal favorites, was also great, along with "Electric Funeral" and "Into the Void." Seeing these songs performed by the original band was a dream come true. But by the time they got to "Children of the Grave," Ozzy really struggled to muster anything in tune. He was very apologetic to the audience between songs, saying things like, "Hey man, I'm really having problems with my throught, but I'm trying my hardest, because we love you man." (Paraphrased, of course) He was really feeling bad about it.

Meanwhile, the band really played great. (They still can outplay just about anybody out there.) Tony was in top form. One flaming solo after another. And flawlessly done. Geezer played his ass off!! His opening riff ("Basically") to N.I.B. was one of the highlights of the show. And he didn't let up during the whole show. Bill's playing was more than strong. He rocked!! Don't be fooled by the heart attack. This guy's probably in better shape, just from playing regularly, than he's been in years. He certainly looks his age, but he als looks like he'll easily last the tour.

After one hour and twenty minutes of great music, they ended for the night. Their encore was "Paranoid" (of course) and that was it. My bet is that they ended the show with about three songs to go. I don't recall hearing anything about the shows being that short. I guess Ozzy couldn't go any longer.

To Ozzy's credit, he still put on a great performance. His voice may not have been with him, but his antics were still there. He stayed active (running, hopping, satanic facemaking, etc. Same old Ozzy.) One highlight of the show was when Ozzy started laying into this asshole in front of the stage who was apparently flipping him off. In between two songs, he yelled out (paraphrasing again), "Hey this guy up front is an asshole. Hey! Fuck you, asshole! Why don't you just do everybody a favor and fuckin' leave?! Fuck you, buddy! This guy's a real asshole. . ." Then after the next song, Ozzy ran in from stage right and threw a bucket of water on the guy. (The jerk was later carried off by security.) It seemed to bother Ozzy more than I would expect, but he did subsequently joke with Tony about it between songs. That was right before his voice got real bad.

The other highlight of the show was when Ozzy announced that it was Tony's 51st birthday and got everybody to sing "Happy Birthday" to him. Tony seemed genuinely flattered by it.

In spite of Ozzy's voice problems (let's face it, his voice is always a question mark.), this was a great, great show. A dream cone true. And well worth the wait. A bit short, though.

But, in my opinion, I think the rest of the tour is in jeopardy. If Ozzy's problems persist (and it appears there are more postponments), I can't see him going on much longer. It seemed too frustrating and painful for him. I hope I'm wrong.

Songs played (as well as I can recall)
War Pigs
Basically/N.I.B.
Faeries Wear Boots
Electric Funeral
Snowblind
Into the Void
After Forever
Black Sabbath
Embryo/Children of the Grave
Iron Man
Paranoid

Potential songs missing
Sweat Leaf (!!)
Killing Yourself to Live
Dirty Women
Spiral Architect
Sabbath Bloody Sabbath
Behind the Wall of Sleep
---
Subject: Pittsburgh show
From: Frank J Morea <largokhan@juno.com>
Date: Tue, 23 Feb 1999 07:54:23 EST

There is NO WAY that the Pittsburgh crowd was lame or lost interest when Ozzy started having his vocal problems. I stood the entire time Sabbath played as did 90% of the crowd. Just to set the record straight. Someone out there wasn't paying attention.
---
Date: Tue, 23 Feb 1999 17:00:43 -0500 (EST)
From: JAMES BATES <jbates2@gl.umbc.edu>
Subject: Philly Show

The show in Philly was great, more than I ever expected. They all sounded great and looked great. Ozzy was all over the stage and seemed to me that he never onced looked at the telepromptor, I was looking for this. Ozzy's leapfrog's are not as high as they used to be, but he still did a lot of them. His voice started to crack a little during Children of the Grave.

Geezer sounded awesome, except for that stupid wah-wah effect during Bassically. That really made it sound horrible. I couldn't believe that he would trash his own song like that. Besides that he was great. Although I wish the mixers turned up his volume more.

Bill was incredible. He looked great and sounded great. Did not have any troubles whatsoever, but I didn't expect any either. His heart attack was a long time ago and he should be fully recovered, WHICH HE IS, so I had no doubts as so many of you did.

Tony was fantastic. He ripped through songs. The only weird thing I saw was that he kept walking in the same way. He would go forward three steps, then sidestep to the left a few steps, then go back to his original spot the same way. He did this all night and it seemed weird. Is there a purpose for this or does Tony have no imagination when on stage besides his playing, which is awesome?

JAMES
---
From: "Jimmy H." <jimbo_here@hotmail.com>
Subject: PITT SHow and PANTERA comments.
Date: Wed, 24 Feb 1999 11:18:49 PST

Joe and Sabbath Fanz,

1st off I have to say how much PANTERA kicked ASS. They played all the good songs I wanted to hear. For all those that said they sucked and were to loud, well if the music is too crazy or loud then you are to OLD!! WHo is too old to Rock 'N ROll? Anyway before the concert I was standing out in line Freezing my buttocks off. I wanted to see how good a crowd these Pitt fanz would be. I started yelling and screaming my head off about Black Sabbath and little response followed. Right then I knew that these fans were not REAL SABBATH FANS! I wish I went to a better show where the audience really gets pumped before, during, and after the show.

Well, once inside the usher took my friend and I to the side stage seats that we acquired before the show. We were so close that if Ozzy spit, he would have hit us. Pantera came out and rocked. Vinnie Paul throwing Drum sticks in to the audience making us all go mad. I missed the drum stick that was thrown at me. Too bad. Pantera tried to pump up the crowd by saying that the Fathers of Heavy Metal were next. Much to my amazement the audience did not respond in the manner I would expect from TRUE Ozzy fans. Pantera finished up and the lights came on.

The anticipation crept over me. THen the lights went out. Sabbath came out fired up and blaring. Ozzy started Jumping around as if SATAN had possessed him. Looking our way for feedback, we were jumping and headbanging to the hellacious groove. Ozzy's voice, one word, AWESOME. Who cares if it squealed, lets see someone else do what Ozzy does. He is a true showman. This is the second time seeing Ozzy and he took it to the next level each time. This is the second on my list of best concerts. Number one being Page and Plant. But Ozzy has my soul.Pantera is the Black Sabbath of my generation. Long live Black Sabbath.

On a final note, Thank you Joe for a wonderful site dedicated to the music that lives in us all.