Black Sabbath Concert Reviews
January 5, 1999
The Forum
Los Angeles, CA
THE BAND
Ozzy Osbourne - Vocals
Tony Iommi - Guitar
Geezer Butler - Bass
Bill Ward - Drums
Geoff Nicholls - Keyboards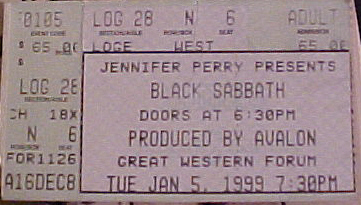 CONCERT PHOTO GALLERY
You can view the photo gallery for this concert here.
TOUR REVIEWS & REMARKS
Date: Wed, 06 Jan 1999 00:49:03 -0800
From: Mindoggo <mindoggo@gte.net>
Subject: Set list and show at Los Angeles Forum

This was the best show I have ever seen. I went to the show with high expectations and what I got was even better then anything that I could possibly imagine. Bill Ward blew me away. This show was like watching the early 1970's all over again. Every song was tighter then a 10 year old virgin pussy. Here is the set list that they played but not sure of the order:

War Pigs
Basically/N.I.B
Fairies Wear Boots
Sweet Leaf
After Forever
Electric Funeral
Snowblind
Into The Void
Sabbath Bloody Sabbath
Dirty Women
Black Sabbath
Iron Man
Embryo/Children Of The Grave
Paranoid

The show lasted about 1 hour and 45 minutes
---
From: Hodgeite@aol.com
Date: Wed, 6 Jan 1999 11:42:33 EST
Subject: 1st Show In LA

Alright, My ears are still ringing. I'll post the set list after this post so if you don't want to see it you are warned, heh heh. Let me first say that I expected a lot from this show...and didn't get all of it. Ozzy sings from a TelePrompter!!! What a fucking joke, if you don't know the songs DON'T SING 'EM!!! Secondly, a few songs were just bad choices...example being DIRTY WOMEN...nobody was rocking to this besides a few diehards, brought the show down. On the good side, Ward played well, Ozzy sounded great and Tony and Geezer were spot-on!!! I don't mean to say it was a waste of time/money...just that my expectations were too high, I guess. Best part was the whole BLACK SABBATH song...the atmoshpere was great!! I'd give it a 7/10. Paul

Not exactly in order but:
WAR PIGS
NIB
FEARIES WEAR BOOTS
AFTER FOREVER
ELEC. FUNERAL
SWEET LEAF
SNOWBLIND
DIRTYWOMEN
INTO THE VOID
BLACK SABBATH
SABBATH BLOODY SABBATH
IRON MAN
CHILDREN OF THE GRAVE
Encore:
PARANOID
---
From: spiderhug@aol.com (SpiderHug)
Subject: Review of the LA Forum 1-5-99
Newsgroups: alt.music.black-sabbath

Just got back from the concert, it is now 1:50 AM. The show was great. I'll try to remember everything and be as detailed as possible.

Arrived at about 7:30 or 8pm and the first band was already on (Incubus?). They were alright, but played to a mostly empty arena. Next came Pantera who were very, very good. They played for about 30 to 45 mins. Then came BLACK SABBATH!!!

When the lights went out they showed a video of some old live footage of the band. It was very cool. Then a bunch of smoke rolled out onto the stage and air raid sirens began to sound. I'm telling you, the excitement rose to fever pitch right then and there. Geezer, Ozzy and Tony appeared on the stage through some kind of hydrolic lift under the stage. Then they dove right into War Pigs.

They were all dressed in black with the exception of Bill who wasn't wearing a shirt and I couldn't tell what kind of pants he was wearing. Geezer wore a black shirt with a black coat and black pants. Ozzy wore a cool black shirt with black pants and running shoes. Tony wore a black leather trench coat which he did not take off during the whole night!

There's only one word I can think of to describe Tony's guitar sound: MONSTER! Nobody has a sound as heavy as Tony's. Even Dimebag of Pantera. His sound is one of the heaviest around yet Tony's still seemed to be much bigger. He looked like he was having fun especially with Bill. He turned around often to look at him and smile.

Geezer looked like he's looked for the last 10-15 years. Hair going up and down and right hand pumping away at his bass. Very solid and played all those little bass licks in all the right places.

Bill was fucking great! He sounded awesome, didn't miss a beat looked comfortable. He was sporting a very short hair cut.

And Ozzy. Well, Ozzy is Ozzy and will always be Ozzy. The master of getting an audience into a frenzy. Running back and forth across the stage, dousing the first few rows with buckets of water, screaming "I can't hear you". In between songs some people sitting behind me were actually chanting "Ozzy, Ozzy, Ozzy, Ozzy".

The set for the most part I must admit was a bit dissapointing. As in the
other shows they did not deviate from the "Reunion" album songs. They
started with "War Pigs" complete with air raid sirens. "N.I.B." complete
with bass solo "Bassically" intro. Geezer used a wah wah pedal on his bass
for this ala Cliff Burton's "Anasthesia (Pulling Teeth)."
"Fairies Wear Boots"
"After Forever" which was awesome! The only tune not from the "Reunion" album.
"Into the Void"
"Sweet Leaf" complete with coughing intro.
"Snowblind"
"Electric Funeral" This one rocked hard!
"Sabbath Bloody Sabbath" which proves to me that there was no offstage singer
singing instead of Ozzy as some people have rumoured. Ozzy did not get the
higher notes and sang it exactly like on "Reunion". They also omitted the
second half of the song, which in my opinion is the best part, presumably
because Ozzy can't get to those high notes . Anyway, it was definitely Ozzy
singing.
"Dirty Women".
"Black Sabbath" complete with rain and thunder sounds and light show to
simulate lightning. Was one of the hightlights of the show for me. Ozzy
seemed to really get into this one. He seemed very serious and looked like he
was in pain while he was singing even holding his forehead at times. The had
some torches lit on the stage as well to add to the atmosphere.
"Iron Man"
"Embryo/Children of the Grave"
And as an encore (big surprise) "Paranoid".

Maybe I was expecting too much. Aside from "After Forever" no other obscure cuts. They didn't even do the good ones from Reunion like "Spiral Architect" or "Beyond the wall of Sleep" which would have been worth it. They did NOT do "Killing Yourself to Live" which I think they did at the Pheonix gig. They did NOT do "Psycho Man" which is okay. I would have rather heard some more stuff from "Sabbath Bloody Sabbath" or "Sabotage" instead of "Iron Man" or "Children of the Grave" or "Dirty Women". I guess we could all go on and on about which songs we'd like to hear them do but....

The concert ended with some explosions and fireworks and black streamers being shot onto the floor area from all parts of the arena. The four of them stepped out to the front and bowed together. Then they left the stage and "Changes" began to play over the P.A. system.

Overall it was a great fucking concert. The sound was incredible. They were tight. Ozzy, although not in top shape, got the crowd going "fuckin' crazy!!" I'm so glad that they came to LA this early in the tour because, to tell you the truth, I don't know if Bill can last through a whole tour. Don't get me wrong. He did a fantastic job tonight. He didn't miss any fills and he played the songs like only he can play them giving them the sound of authentic Sabbath. But, if I'm not mistaken, the last time he lasted through an ENTIRE tour was probably 1979 for "Never Say Die". He's started several but never finished them due to medical problems. They even have Vinnie Appice on stand-by for this tour, just in case! In any case I feel privileged to have seen a concert that I can tell my grandkids about. Seeing the four that started it all-Ozzy, Geezer, Tony and Bill. BLACK SABBATH!!!!!!!!!!
---
From: DODEGUY@webtv.net
Subject: L.A. Forum Show Rocked!
Newsgroups: alt.music.black-sabbath,alt.music.ozzy

Just got back from the first L.A. show and I was VERY happy with the show. I don't have time for an in depth review but here's the quick version:

Overall performance: Outstanding!!! After reading the AZ review about Ozz sounding crappy I was thrilled to hear Ozzy tonight. He was darn near perfect. He sang very strong tonight, missed very few notes, and had killer tone....chorusy at times, pleasantly piercing at others, clean, dirty, he had it all and was in top form : simply outstanding. It's been many years since his voice has been so polished. I'd say his voice was in much better shape tonight than on the Reunion album. He had minor problems with SBS but outside of that, he was ON. Ozzy, YOU are Black Sabbath.

Bill did a great job. Yes, he was quite tame and hit pretty light overall. Of course there were times when he really punched it but it was quite obvious by watching his arms that his "range of motion" was generally low in his stroke (I'm not a drummer but what I'm trying to say is he didn't really whack the set all that hard). The fills were great but not overly aggressive. Don't get me wrong though, just because Bill didn't slam doesn't mean he didn't play well. Quite the opposite, he was intricate, well versed, and made it feel like "SABBATH". I will say that his drum kick was as loud and powerful as it ever was. Killer kickin' Bill! It was a pleasure to see Bill. I spent the 2nd half of the show behind the stage and admired and appreciated Bill's talents. (By the way, from this angle I could see that Ozzy was using telepromters). If I had the balls to jump on that stage and could only shake one of the member's hands I would have definitely chosen to approach Bill. Thank you Bill for being there for us! You are a legend! It was an honor. Bill, YOU are Black Sabbath.

Geez was all over the neck as usual. He is a precision beast and kept it all together. Unfortunately he was very low in the mix. He played his ass off the whole night, and I'd say that he played more notes in lead breaks than Tony. Now that's an aggresive player! Bass guitar sounds are usually pretty un-distinctive at the LA Fourm though, even Geddy's sound is muffled in this arena. I happen to be a bass player, and I was in awe all night watching one of my greatest influences. Geezer, YOU are Black Sabbath.

Tony was picture perfect. His tone was unreal. His playing was absolute precision. He nailed it all flawlessly. But having said this, it was actually slightly dissapointing in a way. Here's what I mean. For the most part, he played the shit note for note, not a note more, not a note less. There was absolutely NO improvision on Tony's part (except for a cool blistering lead in Dirty Women). Come on Tony, you're a God, you can do no wrong. Take chances, fly around the fretboard, play a sour note once in a while, go nuts here and there. Nope, didn't do it (except in Dirty Women). Classic note for note solos...brilliant, well executed lead masterpieces.... but no left field runs. Tony, you're a perfectionist, the creator of all that is heavy, and you are loved. Tony YOU are Black Sabbath.

I did notice that during Snowblind there were backup vocals by someone behind the stage. The funny thing is that Ozzy was in key and singing right on but the backups were off. Why would someone want to harmonize, and harmonize poorly when the master was in full control? This was kinda wierd, did anyone else hear this? One other funny thing was twice during the show Ozzy ran around the stage singing with a mask of some cartoon chick on his head. They all had a lot of fun and played around throughout.

So did I get my $70 worth? Fuck yeah! Don't tell management but I would have paid $700 for such a privlege. Set list was the same as the AZ and NV shows. Very cool to hear After Forever added to the set list, and I'll forever remember the night that the fabulous four rocked my world.

JOE
---
Date: Wed, 06 Jan 1999 17:26:16 -0800
From: Edward Mracek <edmracek@willisallen.com>
Subject: L.A. SHOW 1/5/99

Do whatever you can to see the show. It was epic. The setlist focused on the first 3 albums with one cut from Vol. 4 and one from TE. Ozzy's voice was great. Tony and Geezer just rocked the house and Bill Ward pounded the drum kit. My old college roommate was real impressed with how powerful Bill was behind the kit. He left with a tremendous appreciation of Sabbath. I'd been telling him for years. He could not believe Ozzy's stage presence and how radical Tony Iommi shredded and Geezer's finesse and power on base. It was an awesome show. I wish it never ended. Every song was incredible and they seemed to really be enjoying each other on stage and entertaining the crowd. It was an unforgettable evening in my life. I hope to see them again soon. The best song/ peak of the show was the song Black Sabbath. Paranoid sounded the best that I have ever heard it, too. Black Sabbath was awesome!!! Go see them at all costs.

Ed
---
From: "Gene Trosper" <trosper@ez2.net>
Subject: Los Angeles review
Date: Wed, 6 Jan 1999 17:55:53 -0800

After waiting nearly 20 years for this event, Nothing was going to keep me away..not even my car, which broke down on the way to work that morning! I rented a car around 6:00 p.m. last night, having minor panic attacks that I would be late (The doors opened at 6:30). Well, after leaving FINALLY at 6:20 p.m. Me and the wife began our 75 mile journey and finally arrived at 7:40 , just ten minutes after the opening act "System of a Down" began their brief set. Not too thrilled with their style of music, but it was cool.

Next was Pantera. never saw them live, but they were okay. Too many of their songs sounded alike though. That limited my interest to an extent. Dimebag Darrel kicked ass on guitar and the band was in a groove, but again, the seeming lack of sonic differentiation between songs made it sound like one long thrash song.

Pantera's singer (I forgot his name) called Sabbath the "true Kings". I agree!

Sabbaths stage setup was rather sparse, but then, Sabbath doesn't need to rely on flash and sparkle to draw the audience in.

Then it began, the house lights dimmed, red and purple lights illuminated the stage while massive amounts of fog enshrouded the stage. An approximately three minute video began playing which provided a brief retrospective of Sabbath's career with Ozzy.

Immediately after the video ended, Geezer, Ozzy and Tony appeared rising from underneath the stage. The house went absolutely wild! In all of my years of attending concerts, I have NEVER seen such an audience reaction to performers.

It was a love thing!

The vibe went back and forth from the band to the audience. Totally amazing!

The setlist follows:

War Pigs
Bassically / N.I.B.
Fairies Wear Boots
After Forever
Electric Funeral
Sweet Leaf
Into The Void
Snowblind
Sabbath Bloody Sabbath
Dirty Women
Black Sabbath
Iron Man
Children Of The Grave
The encore was (what else?)
Paranoid

As mentioned in another e-mail on this list, Changes was played over the P.A. after the concert.

Ozzy was hilarious, especially during Iron Man, when he wore an outrageous mask. Buckets of water kept flying into the audience on a very regular basis.

What struck me about the concert was how it seemed almost everyone in attendance knew the lyrics to each song, word-for-word. Everyone was singing right along, whether or not the band was aware of it. A Black Sabbath sing-along party! This really demonstrates what kind of fans Sabbath attracts: Loyal!

The whole band was in a very happy mood...Tony in particular. The man was all smiles throughout the evening. There was good rapport between him and Ozzy. One reviewer stated that Tony seemed more interested in talking with his guitar tech. Not so at this gig.

Tony also blew me away with his effortless guitar playing...just wandering back and forth on the stage, smiling, and shredding the most unbelievable riffs known to rock and roll. He hardly even looked down at his fretboard! Folks, this is a master guitarist.

Bill pounded away like a trooper. I was pulling for him all night long. He still has what it takes and makes it known to all. The band is obviously concerned with his health, because listed as an additional musician in the tour book is Vinnie Appice. He is listed as a "Backup drummer (just in case)". Bill had my support and I suggest everyone reading this to start chanting "Bill Ward"... Make it known we appreciate his effort!

Geezer was locked in a groove all night, standing still and playing the bass for all it's worth. His updated version of Bassically rumbled the whole building. You could feel it in your chest!

I won't cover everything here cause I want there to be some suprises for fellow list readers. Suffice it to say: if you have a chance at attending any of their upcoming concerts, please do so! It's the chance of a lifetime to see such legends display their magic.

While there, I also suggest purchasing their tourbook. It cost me only $18 and is well worth the price. It has old, rare photos and old news articles reprinted inside.

There is so much more to say, but I don't want to ruin it for others. Just get yer asses out to see Black Sabbath. You'll forever regret it if you don't. Believe me!

--Gene Trosper
---
Date: Wed, 06 Jan 1999 23:29:36 -0800
From: Eric & Susan Hokenson <hokenson@earthlink.net>
Subject: LA Show review

Hey,

I saw the show at the LA Forum yesterday and had a great time. I went with three good friends who are also huge Sabbath fans. After the traditional pre-concert beer bash, we got into the Forum in time to see a few songs from Incubus. They were OK, however, the place was still pretty empty. The place starting filling up about the time Pantera started.

Pantera was rather disappointing for me. They started out strong, but their music doesn't really hold my attention very well. I thought they were pretty decent on the Ozzfest tour, but I was probably more stoned then. One thing I did think was kinda funny was when the singer said that metal fans appreciate bands that don't have an "image". Excuse me, but any band who puts a chain link fence with barbed wire in front of their amps is definitely fronting an image. I really wish that Slayer and/or Megadeth could have supported last night's show, that would have been awesome!

After a rather long intermission (ample time to get more beer) Sabbath finally hit the stage. They opened with their video which is basically old pictures of them with various Sab tunes played over them. Then finally they started into War Pigs. I fucking love the way the audience sings all the lyrics to that song. What sounds better than 10,000 fans screaming "Oh Lord Yeah!".

Their set list was the same as the Vegas show:

War Pigs
N.I.B.
Fairies Wear Boots
After Forever
Electric Funeral
Sweet Leaf
Into The Void
Snowblind
Sabbath Bloody Sabbath (cut)
Dirty Women
Black Sabbath
Iron Man
Children Of The Grave
encore:
Paranoid

Of course the set was mostly standards, but we all love those songs don't we? Cornucopia and Under the Sun would have been nice though. I really liked After Forever and Dirty Women. I also really liked Electric Funeral - Tony had that cool effect going and it sounded awesome!! The song Black Sabbath was also very powerful. That is definitely one song that I felt Tony Martin couldn't do justice. As many times I have listened to the album and played the song on guitar, nothing can compare to the eeiry feel you get when they do it live with Ozzy. They also had some cool visual effects to make it even creepier.

Not wanting to be too critical but... the sound could have been alot better. Let's face it, hockey arenas are great for hockey, not for concerts. I have seen them twice at the Universal Ampitheater and at the Pacific Amphitheater and their sound was alot more clean the previous times. There definitely should have been some speakers in the back of the arena to provide a better sound mix. In my opinion, Ozzy got the worst of the sound mix (at least in our area). Geezer was also a bit drowned out. Tony of course sounded great - definitely no complaints there. Bill was also great, love that double bass.

Previous reviews mention flaws with the band, I personally didn't notice them, but then again I always thought songs should sound a bit different live. However, I do wish they would improvise some - I would love to hear them jam out a 10 minute ending to Children of Grave with Tony pulling off a ripping solo. Hey come to mention it, Tony DIDN'T play a solo last night (I thought he played a great one on the Forbidden tour).

I had a great time at the show, but I guess I was hoping for more. I have seen Ozzy and Sabbath several times and last night's show was definitely as good as the previous ones, but I wouldn't say it was a great deal better (In spite of the fact that it was the original four). Since this tour was rather hyped up I think they should have played a longer set, they definitely have enough material and God knows none of the fans weren't going anywhere.

I really hope to see them again SUPPORTING AN ALL-NEW ALBUM. The Reunion tour is great and I hope you guys can all check it out, but I really hope they come back with a strong album and tour in the near future.

Later
Eric Hokenson
---
From: Sleewtoh@aol.com
Date: Thu, 7 Jan 1999 16:10:19 EST
Subject: Observations on the Reunion show - Los Angeles

Here's some info on points of the reunion show at the Forum on 1/5/99 that some well seasoned Sabbath followers may find interesting, funny or useful. You already know all the songs played were on "Reunion " so I wont bore you with those details. This is a nostalgic show so don"t expect to hear or see something new and revolutionary. Just let yourself go back to 1978 , listen and enjoy. Hell, these guys are 50 years old, but they still put on a great show. OZZY: You'll notice he's no longer stage left, but center stage now. He's back to hanging on to the mikestand(for the most part) and obviously looking at his video prompter for lyrics.( Heck, I'd forget what verse I was on too if I'd been through as much as he has in the last 20 years) He still takes his jaunts across the stage and his trademark leaps are still there (although not as high as they used to be). He is the clown that gets the bandmates laughing as on the intro to "Iron Man" he donned a "Bozo the Clown" mask and had Geezer laughing so hard I didnt think he'd be able to start playing. Ozzy's voice was in great shape once he got warmed up, but this is early in the tour so I hope it holds up for those of you on later stops. You'll notice too he's added a LOT of jumping jacks to his repetoire but it must be paying off, cause he looks in pretty good shape......relatively. GEEZER: still the same, his playing and moves havent changed at all. I hope you all get a better mix in the sound though, his bass got kind of lost at the Forum. His lines are still all over the fretboard and he doesnt stop the entire show. TONY: The riff master. Playing was exeptional as was his mix,his solos and riffing cut right through and were very clean. What can you say about him, he never really did much in the way of showmanship, and still doesnt, just pacing back and forth stage left between Ward and his guitar tech, exchanging glances with Ozzy and usually walking away laughing at Ozzy's antics. He broke a string on his solo in Sabbath Bloody Sabbath but only missed a beat or two after dropping down an octive and finishing the song with no high E string, most people didnt even know the difference. He and Bill were laghing back and forth, they were genuinely having a good time. BILL: God Love Ya ,Bill. Youre still there. Ive read people complain on his lack of intensity. Well yea, the guy had a severe heart attack a year ago and yea, he's not in the best shape, But he still held the band together with a solid beat. Sure , all his fills and pounding are gone, and yes ,they do have Vinnie as a backup ( just in case), but lets remember, If Bill werent doing these shows it wouldn"t really be what it is....a REUNION. Lets just hope he holds out the entire tour for the rest of you to enjoy.

You may want to know about merchandise available. It wasn't very extensive. There are several syles of tour t-shirts to choose, at $30 Long sleeve Henley with logo on the left chest(same as the stage crew wears) $45 Hooded sweatshirt $85 Tour Program $18 Baseball cap $28 Knit stocking cap $35 I wish I could say there was a tour pin, but there isnt. no pins or crosses of any kind

GO TO THE SHOW. If youre an older sabbath fan, you will enjoy it, just let yourself go back in time and take for what it is, a nostalgic reunion of the originators of todays heavy metal.

Rock on CAZ