Black Sabbath Concert Reviews
June 9, 2005
Westfalenhalle 1
Dortmund, Germany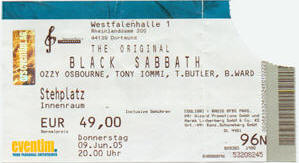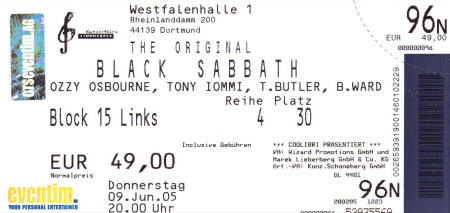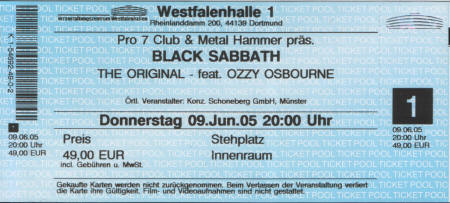 THE BAND
Ozzy Osbourne - Vocals
Tony Iommi - Guitar
Geezer Butler - Bass
Bill Ward - Drums
Adam Wakeman - Keyboards
SET LIST
NIB
After Forever
War Pigs
Dirty Women
Fairies Wear Boots
Symptom of the Universe / Sweet Leaf / Electric Funeral
Iron Man
Into the Void
Black Sabbath
The Wizard
Sabbath Bloody Sabbath / Paranoid
Children of the Grave (as encore)
CONCERT PHOTO GALLERY
View the photo gallery for this gig here.
FAN SUBMITTED TOUR REVIEWS & REMARKS
Click here to read a review of the concert in German from popfrontal.com.

---
From: maximilian krumm <ozzfan_max@web.de>
To: siegler@black-sabbath.com
Subject: concert review Dortmund 9.6.2005

Hi Joe!

That was it. My dream is fulfilled. After years of waiting, I had the chance to see Sabbath in Dortmund, what I did. I never thought I would see Ozzy (whom I really like most) in my life and when when I heared that Sabbath are about to come to Dortmund (where I live), I thought I was the "choosen one". This concert was just for me.... :-) So here is my review, hope you like it!!!

I think I was at the hall about two o'clock with (only) eleven other guys, waiting for the start at eight. When I got in, I could reach a place in the second row, straight in front of the mic., where I was waiting with a few other really nice guys for the first band "Soulfly". When Soulfly came on stage about eight o'clock the crowd wasn't really reacting. There was just a few Soulfly fans in the middle of the hall who looked kind of ridicolous, because they were the only ones who moved. I don't like Soulfly myself and I don't understand, why Sabbath let Soulfly tour with them, although they have a total different sound! When Sabbath came on stage about quarter past nine the crowd went nuts. Ozzy screamed "Oooohooohoooohoooo..." and "Ai, ai, ai..." and all people, were screaming with him. Sabbath started with NIB (at the end is a setlist) and everybody was singing. There were no songs on that the crowd wasn't singing, which makes Ozzy really happy, because he was laughing and smiling all the time and said several times that he really, really loves us. Other highlights were, that Ozzy showed us is ass (!!!), made a mistake at the start of "The Wizard" on the harmonica and he throwed his buckets of water over the security guides, which was really funny. They were playing about 12 songs and a few riffs without the rest of the songs. 105 minutes of Sabbath. The 105 best minutes of my live!

SET LIST

1. NIB
2. After Forever
3. War Pigs
4. Dirty Women
5. Fairies Wear Boots
6. Symptom of the Universe / Sweet Leaf / Electric Funeral
7. Iron Man
8. Into the Void
9. Black Sabbath
10. The Wizard
11. Sabbath Bloody Sabbath / Paranoid
12. Children of the Grave (as encore)

---
From: "Gerritsen, John" <John.Gerritsen@nl.hjheinz.com>
To: <siegler@black-sabbath.com>
Subject: Black Sabbath - Dortmund - June 9, 2005
Hi,

Last night I saw Black Sabbath at the Westfalenhalle in Dortmund, Germany. It was my third Sabbath gig with original line-up. The concert was not completely sold out (standing area was), second ring at the arena was not used. But it was very busy. Support act was really a "throw-away" band, I really don't like Soulfly.

Sabbath played the same setlist as at the warm-up gig earlier this week, with exception of the Sleeping Village part at the encore. I have to say that Symptom..., Sweet Leaf and Sabbath bloody Sabbath were really only snippets that were played (sadley). During Into The Void Ozzy sang a part of Electric Funural, Geezer sarted laughing immediatly, that was really funny, Ozzy was looking as if he wanted to say "What's wrong"... During the concert there was a photographer running around and shooting pictures, these will show up in the future Ozzfest tour program I think. Was a very good show! The band looked good. 90 minutes show (including intro tape).

setlist Dortmund:
1. NIB
2. After Forever
3. War Pigs
4. Dirty Women
5. Fairies Wear Boots
6. Symptom of the Universe / Sweet Leaf / Electric Funeral
7. Iron Man
8. Into the Void
9. Black Sabbath
10. The Wizard
11. Sabbath Bloody Sabbath / Paranoid
encore:
12. Children of the Grave

Best regards,
John Gerritsen
Netherlands

---
From: bernd.buetec@freenet.de
To: siegler@black-sabbath.com
Subject: Concert- review Dortmund, june 9th 2005
Date sent: Sat, 11 Jun 2005 17:20:01 +0200
For me it was a historic, special day- I"ve been waiting to see Sabbath in the original line-up for 26(!!) years. Saw Ozzy on his first solo-tour in 1981, Sabbath with Ian Gillan on vocals in 1983, but never before Sab with Ozzy! So I went to Dortmund with excitement and greatest expectations: My first impressions were how young Black Sabbath- fans can be - unfortunately my place while the concert was on a chair at the tribune- a chair!!! (sitting on a fucking chair while watching a concert is not what I call rock"n roll!!) Nevertheless, I was happy when Soulfly finished their set and the lights went out for Sabbath fort he next 90 mins.

I was completely blasted away; the sound was good and the band played as they were a young school-band, full of enthusiasm. Now, the setlist is already known, so what more can I say? It was the concert- highlight for me this year, nonsense, this life!!! I only missed a full played version of Sabbath bloody Sabbath and maybe one or two more encores.

Greetings from Cologne,

Sabbath never dies!!!
---
From: DanielMoschner@aol.com
To: siegler@black-sabbath.com
Subject: Ozzfest 2005 Tour Stuff, Concert Review Dortmund, Germany 9.6.05
Date sent: Wed, 15 Jun 2005 10:26:34 EDT
Hi
I am 19 years old and a total Black Sabbath fan since 2003. (What a waste of time before..J). In 2003/04 I wanted to go to the European Ozzy tour, but it was cancelled several times, the last time because of Ozzy's quad accident.

Because of that accident, and Ozzy's bad condition seen on the stupid TV Show, I didn't expect to see Ozzy or even Sabbath life anymore. But when I read reviews from Ozzfest 04 there was a little hope again. Finally in 2005 my dream came true. Dortmund is the nearest venue of the Tour to my hometown Mainz. So I bought the Ticket for Dortmund. Sadly Black Label Society didn't open in Dortmund, just Soulfly. Black Label are not that often in Germany, too , so I was a little pissed. But fā??k it, I was about to see my favorite band of all times. After a three hour drive my dearest friends, two other cool guys and me arrived at the Westfahlenhalle. We went inside and separated, because I was the only one with a inside standing (don't know the right term J) ticket. So I went as near to the stage as possible: center, about the 5th row or so. Soulfly were ok. Not as powerful as you might expect but definitely worth to see. The only Sepultura Song I recognized was Roots Bloody Roots. Furthermore Prophecy, Seek n Strike, Bleed with Cavaleraā?? Son on the Fred Durst Part, Jumpdafuckup, some new songs and so onā?▌ Then it was time. After a too long break we could hear Ozzys voice, when the lights were still on. The it was dark and there was an intro with a mix of the best Sabbath songs along with a nice lightshow. The they entered the stage. I expected War Pigs but they started with N.I.B., and the crowd totally got crazy. I got squeezed like an orange, I certainly did not expect that on such on ā??old menā?? concert. So I escaped to the side and a little back. Then I got a perfect view on Tony. The first surprise was the second song, After Forever. Really didn't expect to hear that. The Band was in an awesome mute and in a surprisingly good condition. Ozzy's voice was way better than on Live at Budokan and the other guys had lots of energy ,too. Ok Tony just walked from side to side and grinned all the time, but he played awesome and without any mistake. Ozzy jumped, threw water and banged like he was 30. The riff from Symptom Of The Universe was fantastic but I was a little disappointed that they made a medley out of that song and sweet leaf. Other surprises where, that they played The Wizard with Ozzy on the harmonica, great performance!!, and that the Encore was Children Of The Grave, also totally awesome!!, and not Paranoid, which was the End of the regular Show and started with the opening riff from Sabbath Bloody Sabbath. When the lights went on again there was Changes on the PA. I bought a Tour shirt for 30 Euros (expensive but sadly normal) and told my friends again and again, that it was the best concert of my life. Maybe Iā??ll see them again maybe not. Maybe there will be a new album maybe not. But something is sure, that the highlight of my life is past. Never say Die! Greets Daniel