Black Sabbath Concert Reviews
June 11, 2005
Donington Park
Download Festival
Derbyshire, UK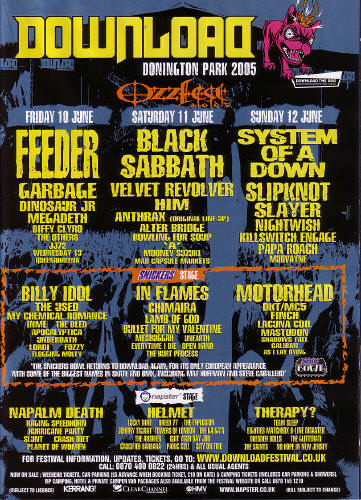 THE BAND
Ozzy Osbourne - Vocals
Tony Iommi - Guitar
Geezer Butler - Bass
Bill Ward - Drums
Adam Wakeman - Keyboards
SET LIST
NIB
After Forever
War Pigs
Fairies Wear Boots
Dirty Women
Sweet Leaf/Symptom of the Universe(Instrumental)
The Wizard
Iron Man
Black Sabbath
Into the Void
Sabbath Bloody Sabbath(Intro) / Paranoid
CONCERT PHOTO GALLERY
You can view the photos we have for this gig here. Have any more? Submit 'em!.
FAN SUBMITTED TOUR REVIEWS & REMARKS
From: "i am" <i_am_living@hotmail.com>
To: siegler@black-sabbath.com
Subject: Download/Ozzfest
Date sent: Sun, 12 Jun 2005 11:55:26 +0000
Hi,

You probably have a million of these already so I'll keep it short.

Sabbath's set for 11th June was much the same as the Aylesbury and Dortmund gigs as far as I remember - with 3 different medley-type intros to songs (including Sleeping Village/Children of the Grave as an encore).

Ozzy was in tune througout and the band were ludicrously good, especially Iommi's solos.

They played a tape of Sabbath riffs as an intro to the show and the original version of "Changes" as an outro.

There was no special stage set or fireworks or anything, like there was in 2001.

Velvet Revolver were cool too especially when they played Pink floyd's "Wish You Were Here".

Ta,
Matthew Evans

---
From: "Ben Foster" <thepiemancometh_13@hotmail.com>
To: siegler@black-sabbath.com
Subject: Black Sabbath Donnington 2005 Concert Review
Date sent: Sun, 12 Jun 2005 15:22:29 +0000
We arrived just as the gates were opening and me and my friend malachy made our way straight to the front, since the crowds were quiet dispersed. First on were Trivium, who were quite good, seeing as I don't like nu metal normally. Next on were the Dwarves, Nick Olivari's new band, who were absolutely awful. Next up were the Mad Capsule Markets, very original band. Apparantly they're very big in Japan. Then A came on, much to my annoyance. Then came on Bowling For Soup. I don't actually like their music, but they were very entertaining. My god that guitarist is HUGE! But he seemed a cool guy and kept dancing to everyones apparant delight. Next on were Alter Bridge, who did a quite good cover of Led Zeppilin's Kashmir. At this point many tributes were made to Dimebag Darrel. It's sad to think he was only performing there a year ago. Then the big bands started to show up. First in the form of Antrax's original line up. They were not as heavy as I was expecting, very Iron Maiden like, only not so crap. Then the low point of the entire festival, HIM. My god, doesn't that guy take a hint? Everyone around me was shouting "Get off the Stage", "You Suck" and "No one wants you here!. They finally came off after what seemed an age. Before Sabbath came on Velvet Revolver. They were amazing, and their lead singer really knew how to get the crowd going.

Then they was Sabbath. They seemed to take forever to come on. Tension mounted as more and more of the trademark items came onto the stage: Bill Ward's Drum kit with double bass drums baring the sabbath winged demon logo, Geezer and Tony's trademark wall of Laney and Ampeg amps, Ozzy's personal assistant from the Osbournes was walking around. Then smoke came down from the ceiling. And then DUN!!!! as the first jagged chord of Black Sabbath came blaring out from backstage. This was the beginning of the intro music which I couldn't quite work out if it was recorded or just being played from backstage. As it went through such songs as The Wizard, Sabbath Bloody Sabbath and Paranoid, our anticipation grew. And then they came on from backsatge to roars from the crowd, Bill behind his drums, Geezer and Tony standing defient to the sides and Ozzy with his characteristic football style chant penned from the Reunion "OOOoOoOoOOOO, OZZY!OZZY!" The line up went like this:

NIB
After Forever
War Pigs
Fairies Wear Boots
Dirty Women
Sweet Leaf/Symptom of the Universe(Instrumental)
The Wizard
Iron Man
Black Sabbath
Into the Void
Sabbath Bloody Sabbath(Intro)/Paranoid

I'm fairly sure thats the order. I was too ecstatic at the time to remember exactly, but I'm sure of the songs. They were all on top form, Ozzy looking the fittest I'm seen him in years, Bill still thundering out his great drum beats, Geezer still providing great rhythm support and Tony still being his rigid but highly skilled self. Ozzy was jumping about all over the place, looking a lot better than in any of the DVD's I've seen in recent years. It was if they had even more energy then they did 8 years ago in Birminham at the beginning of their Reunion. After Paranoid they went off, only to come back with as grand finarly of Sleeping Village/Children of the Grave. After they left, the crowd, still cheering from the great performance, were treated to Changes, again, uncertain whether it was played from backstage or just a recording. Either way, it was the most awesome festival I've been to in my entire life. Screw Glastonbery, at least Download had some half decent bands. I have to say, just to see Sabbath, it was worth the relentless crushing, the 12 hours waiting and the almost fainting from dehydration.

There have been rumours that this will be Sabbath's last ever tour together. Somehow, I doubt it.
---
From: "Simon Newby" <simon.j.newby@btinternet.com>
To: <siegler@black-sabbath.com>
Subject: Sabbath @ Download!!!!!!!!!!!!!!!!
This is the 1st time i've seen sabbath as i've only been a fan for 3 years (im only 17!!!!!!!). They played the same set that was used earlier at the warm up gig. They kicked everyones ass that night. They blew away bands such as Velvet Revolver, Anthrax and Him. Ozzy was insane and certainly didnt show signs of a 50 year old, he leapfrogged, headbanged, ran around the stage, chucked water. He seemed really happy to be back playing in Britain! He got the crowd worked up even before he came on stage yelling at us calling us all his babys!! Everyone around me went insane singing along to every song headbanging and jumping. Dirty Women was incredible Tony Iommi extended the solos whilst Geezer and Ozzy headbanged together, The Wizard was my highlight of the set its so heavy when played live!!!!!!!!!!! I think Ozzy only sang one word out of tune in Sweet Leaf and he hit all the right notes especially in Black Sabbath. At the end when taking a bow Bill was jumping up and down they all looked like they didnt want to end their set, It took ages for Ozzy to leave the stage!!!!!!!!!!!!!. Changes was played once they had left (the original of course) and everyone sang along. It was a fuckin incredible night!!!!!!!!!!!!
---

From: "Lurkio D. Lurker" <lurkiomeister@gmail.com>
To: siegler@black-sabbath.com
Subject: Black Sabbath Concert Review (Donington 11th June 2005)
Date sent: Wed, 15 Jun 2005 11:04:38 +0100
No beating about the bush - Sabbath were absolutely astonishing on Saturday. I might be a true believer but I'm not averse to criticising them when they're below par, when Ozzy's voice is shot or when they still stick to that same old set list. I watched that old Paris '70 show before I travelled down from Glasgow and wondered if they could ever live up to that magnificent standard now as four men in their mid/late fifties. I'd seen them five times after the Reunion and they have always been generally good but nothing like the beast they were...however, at Donington that old black magic was really back!

The set list was :

Intro : Riff medley tape

NIB
After Forever
War Pigs
Fairies Wear Boots
Dirty Women
Symptom of the Universe / Sweet Leaf (Instrumental medley)
Electric Funeral
The Wizard
Iron Man
Black Sabbath
Into the Void
Sabbath Bloody Sabbath(Intro) / Paranoid

Encore: Sleeping Village / Children of the Grave

Outro : Changes

Ozzy was in great voice, especially on "Black Sabbath". He was in tremendous form and enjoying himself more than I've ever seen him. His harmonica playing on "The Wizard" was very, very cool (yes it was definitely him, not the tape) though he had a hilarious look of panic on his face on the big screen as he was playing it. He threw it into the crowd afterwards and some lucky sod was playing it beside me as we filtered out at the end.

Bill was very cool. They only really /feel/ like Sabbath when he is there. It seems that he's growing his beard back and letting his hair grow long again so he's looking like a white haired version of his hairy monster seventies self - and he played like that, too. Awesome power.

Tony and Geezer were...well, Tony and Geezer. Unbelievable players, super tight and bang on the money. Same old same old for thirty-seven years. When they crushed through that heart-stopping instrumental version of "Symptom..." they coruscated every other heavy band on the bill or, indeed, the planet. True metal gods.

The crowd reaction was terrific, they knew that they were getting the real deal and they certainly appreciated it. I had heard that there was over 100,000 people on the day and it certainly felt like that. The communal singing of "Changes" as we all left was very funny and a sign of how good everyone felt about the show we'd just seen. It was glorious.

---
From: garyforrester15@aol.com
To: siegler@black-sabbath.com
Subject: Ozzfest@Download Review
Date sent: Thu, 16 Jun 2005 16:40:30 EDT
Over the years I have seen Ozzy live many many times, dating back to October 1980, mostly solo, but recent years with Sabbath, and I can honestly say that last Saturdays concert at Donington Park was probably my favourite gig ever. Over the past few years Ozzy gigs have been O.K. but I think they have fell short of his usual standard, and Ozzy himself has been struggling a bit, I honestly thought Ozzy's days playing live were just about over, but last Saturday was unbelievable. I went to Donington to pay my last respects to my hero,thinking that the concert would be average but it would be my last chance to see him before he gave it up altogether. Well I apologise for doubting you Ozz, you were fucking brilliant. Everything about it was great,the sound, the atmosphere,the fans, the energy,and the enthusiasm(especially from Ozzy).

I would have loved to have heard the full versions of Symptom of the Universe and Sleeping Village but I did'nt even expect the bits we got so I'm not too dissapointed. I'm not a big fan of outdoor gigs usually,they often lack atmosphere, so this was a major suprise. Overall, the best night I've had in years. Roll on next time. P.S. Sabbath should be added to the Live8 concerts.

---
From: MartynFreak@aol.com
To: siegler@black-sabbath.com
Subject: Download 2005
Date sent: Fri, 24 Jun 2005 10:17:32 -0400

Hi All,

Strolling around Donington on Ozzfest day waiting for the mighty Sabbath to take the stage seemed to go by so slowly. I'd sat and watched various bands, Trivium and Alter Bridge and actually stood up for Anthrax. Then after a really good all girl combo called Crucified Barbara on the Napster stage I knew I had to get to the main stage to get a good vantage point for the main event. Velvet Revolver came and went, a great display, could Sabbath top it? The answer was a very definite yes!

Eventually they came out to a deafening din from the near 100,000 souls and struck up with NIB. It took me a while to notice it but suddenly it hit me- the sound was f***ing brilliant! All day the mix had been poor, the wind was whipping around the amps and it sounded distinctly tinny and wishy-washy. But whoever was twiddling the knobs on the mixer certainly did a good job.

Now Tony has always been my favourite in the band so I took up a position stage right. Boy can that man play a guitar! Just as one blistering solo came there was another from the fantastic Dirty Women to my personal fave Into The Void. Theres no flair to him, he stands and plays faultlessly with Bill matching him stride for stride.

Ozzy was on form, his voice seemed at one point to give out but after a swig of water he was OK. He had the crowd in the palm of his hand at one point as his request to see some lighters was answered with thousands held aloft in worship to the great man.

It was all over too quickly but I'm pretty sure this isn't the last we'll see of them. Great show lads, see ya soon.

Martyn Freak
London
England