Black Sabbath Concert Reviews
June 16, 2005
Olympiahalle
Munich, Germany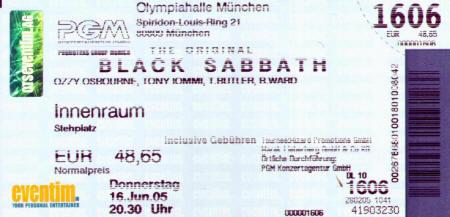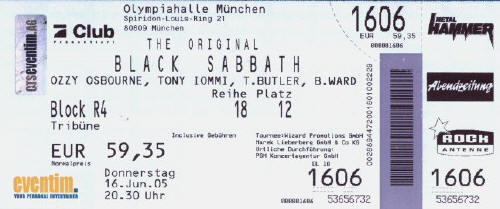 THE BAND
Ozzy Osbourne - Vocals
Tony Iommi - Guitar
Geezer Butler - Bass
Bill Ward - Drums
Adam Wakeman - Keyboards
SET LIST
NIB
After Forever
War Pigs
Dirty Women
Fairies Wear Boots
Symptom of the Universe / Sweet Leaf / Electric Funeral
Iron Man
Into the Void
Black Sabbath
The Wizard
abbath Bloody Sabbath / Paranoid
Sleeping Village / Children of the Grave
CONCERT PHOTO GALLERY
View the photo gallery for this gig here.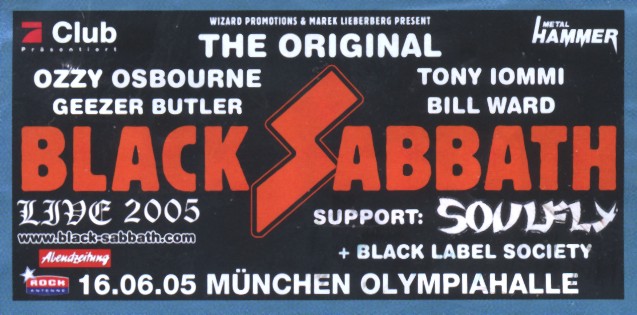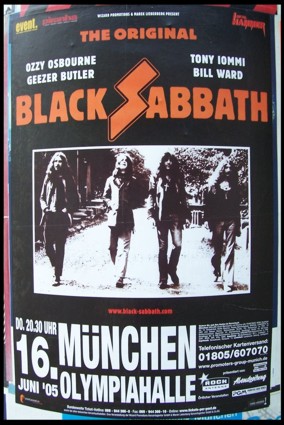 FAN SUBMITTED TOUR REVIEWS & REMARKS
From: "Hans-Ulrich Krell" <hukrell@t-online.de>
To: <siegler@black-sabbath.com>
Subject: GIG "Olympiahalle München", June, 16th, Munich , Germany
Date sent: Fri, 17 Jun 2005 12:22:05 +0200

Yesterday, I visited the "Olympia Halle" in Munich in order to experience BLACK SABBATH.

This is my short review about the gig (June 16th 2005 Germany).

I have seen them 6 Years ago. It was a big surprise to me that they were in much better shape than back in the late 90's. Especially Mr. Butler did a hell of a job. The set list was some kind of unusual, because they put those songs at the beginning of their show, that are usually placed in the final part of a Black Sabbath' gig. Sorry folks, I can't remember the whole play list, because I was busy with nodding my head off. As far as I remember, they started with N.I.B., After Forever, War Pigs and Dirty Women. All in all, the gig lasted 85 minutes. They started right in time at 8.30 pm. After having played Paranoid, they gave one encore, which was Children Of The Grave. They also included Fairies Wear Boots, Iron Man, Electric Funeral, an absolutely stunning version of The Wizard, Into The Void and Black Sabbath. They even included the first part of Sleeping Village into their set list (up to the line ".feel at ease"). I've also heart the beginning of Symptom Of The Universe., melted with other famous songs as some kind of medley.

They haven't used pyros or anything that could be called "outstanding" but the lightshow was very well done. It supported and emphasized the spirit of the songs. Ozzy's stage acting was surprisingly great. I expected the old man behaviour that he has shown on his TV-series. But he was very.let us say: flexible. He did what he always does. This evening, not only water buckets were thrown into the audience. After having played The Wizard, Ozzy also threw his mouth harmonica into the audience. Unfortunately, I was too far away from the stage to catch it.

As I said before, all of them were in a good shape. It really rocked! Nevertheless, some weaknesses could be noticed. As far as it appeared to me, Tony had some difficulties during the fast part of Into The Void and Bill had difficulties with holding the beat during Black Sabbath. Especially at the beginning of the final part of the song, he simly lost it for some seconds.

I was not completely satisfied with the sound. Ozzy, Tony and Geezer were incredibly loud. So far, so good! But I had problems with the drum sound. Basedrum, snare and hi-hat were ok. But whenever he played one of his famous breaks, I had difficulties to hear the toms and some of the cymbals. But as we all know, the sound quality is always dependent from the listeners position in the concert hall.

All in all it was a great experience and worth the money I've payed for. Whenever they tour again, I will be there!

In the end three unsatisfying things should be mentioned:

1.Do not invite Soulfly again. They have nothing to do with Sabbath! Therefore they absolutely do not fit into the picture. Moreover, they do not make music, they produce noise.

2. BLACK LABEL SOCIETY did a stunning job. They could have done all the warming up on their own.

3. The sirens of War Pigs would have been a much better intro than a mix of songs you'll hear again during the show.

---
From: "Rene Schon" <Rene@fachinformatiker.biz>
To: <siegler@black-sabbath.com>
Subject: Black Sabbath Concert 2005-06-16 Munich
Date sent: Sat, 18 Jun 2005 15:26:33 +0200

Black Sabbath Concert Reviews
June 16, 2005
Olympiahalle
Munich, Germany

Hi,

I want to give you some more information about the Sabbath concert two days ago in Munich Germany.

Sorry, for the bad quality of the pictures, but they were made with my mobile Phone.

Even there was no pyro, laser or video show, the concert was great. I guess three generations on people were there inside the hall.

Ozzy was like a young god within the 20s. Jumping, running?.

There must be a great heat on stage, that's why Bill was drumming in short trousers and without a shirt.

Geezer and Tony ware like every time. Straight and fabulous.

concert was about 1,5 hours.

Kind Regards

Rene Schon (a great Sabbath fan from Germany)
- Keep on rocking-
---