Black Sabbath Concert Reviews
June 18, 2005
Evenemententerrein Goffertpark
Fields of Rock Festival
Nijmegen, Netherlands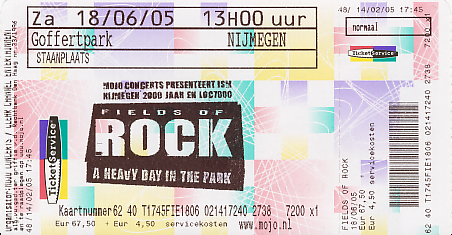 THE BAND
Ozzy Osbourne - Vocals
Tony Iommi - Guitar
Geezer Butler - Bass
Bill Ward - Drums
Adam Wakeman - Keyboards
SET LIST
Unknown
CONCERT PHOTO GALLERY
View the photo gallery for this gig here.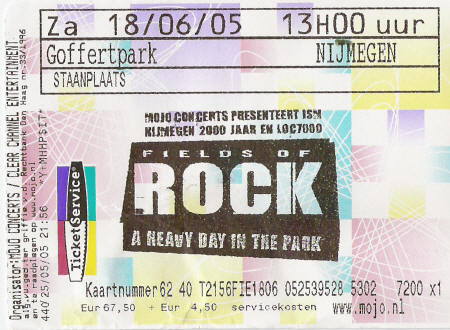 FAN SUBMITTED TOUR REVIEWS & REMARKS
From: Armijn Hemel <armijn@uulug.nl>
To: siegler@black-sabbath.com
Subject: review nijmegen
Date sent: Sun, 19 Jun 2005 13:40:27 +0200
OK, I've waken up a bit, so it's time for a more thorough review of Sabbath's set. The set list was the same. The "medleys" that were mentioned on the page were mostly just intros ("Symptom", "Sweet Leaf", etc.). I thought Ozzy's voice was good. Geezer was banging away on his bass and Tony was his cool self. Probably Adam Wakeman was behind the stage somewhere, because he couldn't be seen anywhere. To be honest, I quite forgot about him, until I read other reviews and was like "Oh yeah, he must have been there too, but where?".

As usual, Ozzy warmed up the crowd during the intro tape before he got on stage. First, Bill came on stage, about two minutes before the others. They started with "N.I.B." towards the end of the song Ozzy showed us his behind.

It was pretty warm, so no one minded that Ozzy was throwing buckets of water. A funny thing happened when he was throwing one of the buckets. There were cameras all around to film it for the screens on the side. He threw one bucket right over the camera. You could see the cameraman was *not* amused (because it was the second time Ozzy hit him with water). As Ozzy was running back to the mike, he noticed what he had done. He turned around, shouted and "SORRY!" to the cameraman (obvious from his lips). I thought that was kind of sweet. I mean, there you have the "Prince of Darkness" apologizing for throwing water on a very expensive TV camera and actually feeling bad enough to apologize for it. Talking about the TV cameras, I don't know if they kept these recordings.

After "Dirty Women", they crashed immediately into "Symptom Of The Universe". Oh, if anyone doubts that if Ozzy played the harmonica, I'm really sure he did, because it sounded not at all like on record. They wouldn't have made mistakes in a sample, now would they? ;-) (This as a reaction to other reviews on sabbathlive and black-sabbath.com)

The heaviest songs were definitely "Black Sabbath" and "Children Of The Grave". There was no outro tape with "Changes". The sound level was loud. I was actually glad I was wearing earplugs (as I usually do). Afterwards, we were wondering if it really was 90 minutes, because it seemed a lot shorter. I really hope we don't have to wait another 5.5 years to see them again.

Because the festival was so massive, there were several barriers put in place. There was one right in front of the stage (as usual), then one about 10 or 15 yards in front of the PA, then there was another one. To be allowed in the part behind the 2nd barrier, you needed a special wristband. We were smart enough to get one during Motorhead, so during Black Sabbath we were at the 2nd barrier. We weren't right in front
of the stage, but still close enough to make it feel intimate for us. We saw a part of Motorhead and all of Slayer from the field and that just didn't make it feel right.

As for as the other bands... What other bands?

Bullet for my Valentine was replaced by Autumn on the day of the festival itself. I think they left the running order intact.

Motorhead was OK. My concert buddy told me this was the 13th time we saw them. They're always OK, as they were this time.

Slayer - Ah well. Tom Araya has a little goatee now (with gray hairs), which actually makes him look really friendly. Kerry King also has tattoos on the back of his head now.

Velvet Revolver - We liked the Guns 'n Roses songs they did.

Audioslave - Ah well.

Rammstein - Lots of pyrotechnics and I mean a *LOT*. They were supposed to play 15 minutes longer than they did and it was not clear were finished. We expected a huge grenade like thing as the final encore, with lots of fireworks , but a tape was played instead. Everyone was confused if it was the end and so it was more like a party popper.

That was all the bands we saw. We decided to leave a bit later. There were about 45,000 people there, and to be honest, they weren't all there for Black Sabbath. I got the impression that when Chris Cornell mentioned that the other bands that would
play on the main stage people were cheering louder for Black Sabbath than for Rammstein. But there were already quite a few people in front of the stage where Black Sabbath would play, including me, so it might have been just a matter of perception...

Quite a lot of people were there for Rammstein, nice weather, drinking beer, sitting in the grass and watching a few bands play. For us the prime thing is the music.

Merchandise was extremely expensive. I saw a pretty normal Motorhead shirt for EUR 45 (about $50). That equals fl 100. Back in 1998. I bought my Motorhead shirt for fl 35.

---
From: "Aime De Prost" <Aime.DeProst@millerlaw.be>
To: <siegler@black-sabbath.com>
Subject: Review Black Sabbath Concert on 18/06/05-Fields of Rock-Nijmegen
Date sent: Mon, 20 Jun 2005 09:44:29 +0200
Hi Joe,

First of all, many thanks to your excellent website. I really enjoy it ! It was the first time i ever saw Black Sabbath but, wow, what a blast ! I had a ticket for a Ozzyconcert in Ahoy (Rotterdam) in january 2004, but that concert was cancelled due to the accident Ozzy had in december 2003. But now, after 20 years of waiting, it was really going to happen. The sun was shining and it was a really nice day. The other groups ware good aswell. Motörhead was raw and very loud. Velvet Revolver even played 'Mister Brownstone' and Audioslave concluded with the powerfull 'Freedom'. Then Ozzy began shouting from behind the curtain. I can't f*****g hear you. The crowd was roaring. An introtape played some Sabbath Tunes and finally the boys came on stage. They loanched into a frantic N.I.B. They played the same set as their previous European gigs. The band had a nice time. Ozzy was always smiling and throwing buckets of water into the crowd. Tony and Geezer played perfect and Bill was starting his second youth. They played a full 01h30 minutes i was really amazed with the pace and the energy of the band. I hope to see the boys again someday but i'm gratefull to have witnessed this fantastic concert. Thank you guys !

Aimé from Belgium.