Black Sabbath Concert Reviews
June 20, 2005
Wiener Stadthalle
Vienna, Austria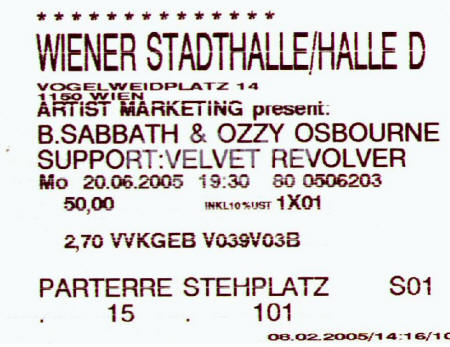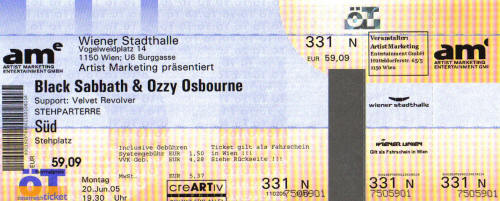 THE BAND
Ozzy Osbourne - Vocals
Tony Iommi - Guitar
Geezer Butler - Bass
Bill Ward - Drums
Adam Wakeman - Keyboards
SET LIST
NIB
After Forever
War Pigs
Dirty Women
Fairies Wear Boots
Symptom of the Universe / Sweet Leaf / Electric Funeral
Iron Man
Into the Void
Black Sabbath
The Wizard
Sabbath Bloody Sabbath
Paranoid
Encore : Children of the Grave
CONCERT PHOTO GALLERY
You can view the photo gallery for this gig here.
FAN SUBMITTED TOUR REVIEWS & REMARKS
From: "Marica Vlad" <Marica.Vlad@ais.at>
To: <siegler@black-sabbath.com>
Subject: Ozzfest 2005 Tour Stuff > Vienna Concert Review + Set list
Date sent: Tue, 21 Jun 2005 11:20:52 +0200
There are a few bands in the world like Sabbath, and you know that seeing them in the ?golden formula? (Ozzy, Iommi, Butler, Ward) is something that no one can miss. Personally, I?ve been waiting for this concert for the past 3 months, and I?m a normal fan of Sabbath, meaning that I?m not crazy about everything connected to them. Never mind, let?s talk about the music, that?s what Sabbath?s all about.

The concert took place at the Wiener Stadthalle in front of about 10-15000 people. It kicked off at about 7:25 with the first band was Black Label Society, with frontman Zakk Wylde giving us all that he?s got. They knew how to interact with the crowd, i.e. Wylde always showing people the bird and the second guitarist, Nick "Evil Twin" Catanese being a bit more friendly and interacting with the audience more. Overall, they were a very good opening act, especially through the fact that their style of music orbits black sabbath?s perennial metal. \m/

Next on the line was Velvet Revolver, with Slash and Duff McKagan from Guns?n?Roses. Even though they played very, very well, there was still a bit of a contrast between their somewhat powerful, modern ?rock?n fuckin?roll? and the metal we all expected to see. They were quite all right, and they, as well as BLS played for about an hour. VR interacted quite well with the crowd, thanks to Slash?s antiques such as playing his guitar behind his back (Wylde did that too, and they both did it with Les Pauls?.maybe it?s easier to do that with an LP than with a Flying V, hehe).

But now, after very good music from both bands was time for Sabbath.

I have to mention that I got to the concert two hours earlier than entry time, so I and my beer/metal buddy Daniel got to be in the FIRST EFFING ROW. 3 hours of waiting with 10.000 people pushing us from behind into the guardrail were now suddenly worth it. Ozzy, backstage started singing: Ai, Ai, Ai, with the crowd singing, mesmerized. They finally came on stage at about 10:15, with the crowd going literally ?Wylde? (or wild, if you so may want it.). Ozzy proved once again that he?s on of the greatest frontmen in the history of music. Ozzwater was abundant: the people in the front row, including I, got soaked many many times, and Ozz started soaking water on the Bouncers between the stage and the people, and that was funny. I can also tell you that Ozzy?s showed his ass a couple of times, to the delight of the whole audience, male and female?that guy rocks.

Now, the songs. Sabbath started with NIB, then After Forever. Next in line was War Pigs, and I could sincerely say that the crowd was louder than the PA system. Amplification? Hell yes. Ozzy pointed the mike at us and the crowd could hear itself singing in a heaven of metal, close to Sabbath. Fairies wear boots was next, followed by Symptom of the Universe / Sweet Leaf / Electric Funeral, a great 20 minute song, \m/. Ozzy was incredible, but it was once more our turn go wild when they started playing Iron Man, the next song. Everyone, absolutely everyone in my visual range was headbanging like a motherfucker. Yes, it was one of those experienced that one will never forget. Into the Void, Black Sabbath and The Wizard followed. Incredible. I think that words are unable to fully describe the awesomeness of these songs. Next were Sabbath Bloody Sabbath and Paranoid?sorry, no words for that either. You know, there?s an unwritten law amongst some metalheads such as I, and that law says that once a band?s reached a certain level, a band such as Sabbath, or Maiden, words to describe their songs performed live are simply useless. I can say that about the Maiden Concert in Graz three weeks ago too.

After Paranoid the guys went off stage and they came back for an Encore, Children of the Grave. Last night, that song was the perfect concert-ender. The pure energy and feeling of it make it one of the best I?ve ever heard.

Overall: First two bands rocked. Few things can be compared to Sabbath though, and that was most obvious last night. To quote Maiden?s frontman, Bruce Dickinson, Sabbath ?rocked like a bastard? last night, and everyone in the Stadthalle experienced it. Thank you, Black Sabbath, for such a great show and because you guys make kickass music. Ozzy loves us all. And we all love Sabbath.

- Vlad Marica,
21st June,
2005

---
From: "P@pY" <papy@rare-muzik.com>
To: <siegler@black-sabbath.com>
Subject: Black Sabbath setlist Vienna June 20 2005
Date sent: Tue, 21 Jun 2005 21:19:10 +0200

Hi!
Fuckin OZZY was great !!!!!!
---
From: "Gregor Hrubec" <a8971095@unet.univie.ac.at>
To: <siegler@black-sabbath.com>
Subject: Sabbath in Vienna
Date sent: Tue, 21 Jun 2005 21:37:20 +0200
Hi Joe! My Name is Gregor, but everybody calls me Grezzy (guess why?!?) and I'm from Vienna, Austria. I was at the Sabbath-Gig yesterday and it was so fuckin' awesome. Before Sabbath, there were The Black Label Society and Velvet Revolver; well, they were good, but then Sabbath kicked fuckin' ass! It was the first time, I saw them live, I don't think, that I'll ever forget it! It was so full of energy, so full of Rock, so full of everything. Wow, just great! By the way, vey good site, you have here!

Greetings from Vienna, Grezzy

---