Black Sabbath Concert Reviews
June 29, 2005
T-Mobile Arena
Prague, Czech Republic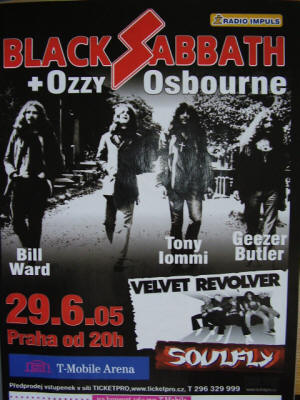 THE BAND
Ozzy Osbourne - Vocals
Tony Iommi - Guitar
Geezer Butler - Bass
Bill Ward - Drums
Adam Wakeman - Keyboards
SET LIST
NIB
After forever
Fairies wear boots
Dirty women
Symptomn of the universe, then they changed to sweat leaf and then they played the whole electric funeral.
War pigs
Into to void
Iron Man
Black Sabbath
Wizard
Here they played sleeping village(not the bit of finger)and they changed to paranoid
Children of the grave
CONCERT PHOTO GALLERY
The gallery for this concert can be viewed here.
FAN SUBMITTED TOUR REVIEWS & REMARKS
From: KoloyanA@rferl.org
To: siegler@black-sabbath.com
Subject: Ozzfest 2005 Tour Stuff, sad fillings...
Date sent: Fri, 1 Jul 2005 10:27:16 +0200
Hi, I'm Black Sabbath's devoted fan for decades. I was at Ozzy's concert here in Prague (Czech Republic) somewhere in 96 or 97. And before that in 93 I was at Black Sabbath's (but without Ozzy) show in Munich (Germany). I've been waiting for this reunion concert in Prague so much... And I regret to say ... it was disappointment. Ozzy's voice was quite weak, there was falseness, he was not in good shape. The band, Toni and others were great, but Ozzy's performance was failure. It was extremely painful experience for me. But anyhow I was I am and I will remain his fan, because he is GREAT MAN! I hope it was just not his day...

Armen Koloyan, Prague

---
From: michael vacha <vachamichael@seznam.cz>
To: siegler@black-sabbath.com
Subject: hi Im from the czech republic and Im sending you set list:-)
Date sent: Thu, 30 Jun 2005 22:36:01 +0200 (CEST)
Hello joe,
i was on Sabbath s concert in Prague at it was great. Here is my review of the performance:

The concert:

The concert was in the T-Mobile Arena. I was in a section under stage. The first band was Soulfly. I really dont like this music and it was too loud. I think they started about 19.10. They played about half hour. may be it was more i dont know it exactly. Then we had to wait 45 min. for velvet revolver. Many people wanted to see Slash. By my meaning the singer was too silent and guitars too loud. There were many people about 50 years old - they were teenagers in seventies and so they dont like this two bands. I dont like too, i listen only the seventies.Velvet played about hour.then the audience was hot.(The air was fucken hot too:-) Ozzy started to scream from the darkness and the program started by NIB. It was marvellous, amazing, fabulous, Ozzy, Geezer, Tony and Bill were in a top shape. People sing along especially in war pigs, iron man and in paranoid.When the paranoid finnished ozzy provoked to scream ONE MORE SONG. so we screamed and they played children of the grave. Tony threw the plectrums and it was the end.unfortunately.I know that this performance i will remember my whole life.

Please because I from the czech republic can you forgive me my mistakes?

I watched your site and I found out that you haven t got the set list of sabbath s concert.

So here are the songs but i don t know if they are in the right order:-(

But the first one was N.I.B. i know it exactly.

1.NIB
2.After forever
3.Fairies wear boots
4.Dirty women
5.Here they started to play sympton of the universe, then they changed to sweat leaf and then they played the whole electric funeral.
6.War pigs
7.Into to void
8.Iron Man
9.Black Sabbath
10.Wizard
11.Here they played sleeping village(not the bit of finger)and they changed to paranoid
12.Children of the grave was addition

Photography was rufused so i dont have any photos:-(

I hope that I shown you a little bit of the atmosphere of the prague concert. P.S. Ozzy was great. He sang much better than on Reunion tour.

I will try to send you some articles from our newspapers.

BYE and the original sabbath forever

Michael Vacha

---
From: "Davy P." <jpne08863@blueyonder.co.uk>
To: <siegler@black-sabbath.com>
Subject: Prague review
Date sent: Mon, 4 Jul 2005 14:15:14 +0100
BLACK SABBATH - T-Mobile Arena, Prague. Wednesday 29th June 2005.

I was in Prague on Wednesday for Black Sabbath, and it was absolutely marvellous!

The last time I saw Black Sabbath was back in 1999, at what was going to be their 'last ever gig'. That was in Birmingham, England, but that gig was spoilt by the crowd throwing the seat covers around like frisbees. Thankfully the band didn't call it a day, and are now touring again. But with only the Download Festival in the UK it was off to Prague to catch the greatest band there's ever been.

This concert in Prague was billed on the local posters as Ozzy Osbourne AND Black Sabbath. But that was not the true case. This was BLACK SABBATH...THE BLACK SABBATH as they sounded and are remembered from over thirty years ago!

Bill Ward pulsating on drums, Geezer Butler driving the band along on bass, and the one and only Tony Iommi playing as good as ever on guitar. Ozzy Osbourne was not 'Blizzard Ozzy' or 'Prince of Darkness Ozzy'. This was Ozzy back to his finest, and looking in the fittest shape, acting like he did back in the 70's, leaping around the stage, and getting the fantastic crowd singing along. The atmosphere in the T-Mobile Arena was electric from the moment the intro tape started. An intro tape of clips of classic Sabbath riffs brought the band on stage and the opening song 'N.I.B'. The rest of the setlist remains the same as it seems to have been throughout the tour.

'After Forever', 'War Pigs'. Ozzy then introduce the band, who had Adam (Son of Rick) Wakeman on keyboards. 'Dirty Women' followed by 'Fairies Wear Boots'. The atmosphere was very hot and sweaty, and for those people who were on the main floor of the arena it must of been suffocating, but for some slight relief with Ozzy drowning a good few of them in some welcome buckets of cold water! The opening riffs of 'Symptom of the Universe', and a burst of 'Sweet Leaf' kicked off 'Electric Funeral'. 'Iron Man' got the crowd involved singing along. Then came 'Into The Void'. The lighters were lit for 'Black Sabbath'. Out came Ozzy with harmonica for 'The Wizard'. With snippets of 'Sabbath Bloody Sabbath' and 'Sleeping Village', the last song of the main set was, of course, 'Paranoid', with the encore of 'Children Of The Grave'. A tape of 'Changes' played as the house lights went on and the 90 minutes of brilliance was over. It was my second visit to the T-Mobile arena for a concert, and again the sound was spot on. BLACK SABBATH were back to their best and the Czech crowd also played their part in making my trip from Newcastle, England, a night to remember.

Davy P.