Black Sabbath Concert Reviews
July 1, 2005
Roskilde Festival
Roskilde, Denmark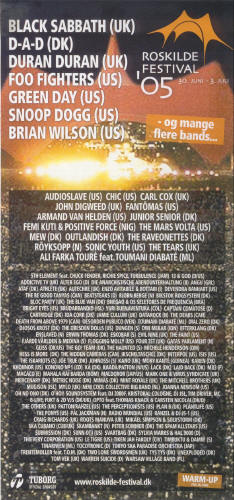 THE BAND
Ozzy Osbourne - Vocals
Tony Iommi - Guitar
Geezer Butler - Bass
Bill Ward - Drums
Adam Wakeman - Keyboards
SET LIST
NIB
After Forever
War Pigs
Dirty Women
Fairies Wear Boots > (part of) Symptom of the Universe > Sweet Leaf
Electric Funeral
Iron Man
Into the Void
Black Sabbath
The Wizard
(part of) Sabbath Bloody Sabbath > Paranoid
Children of the Grave
Outtro (cut short by the stage-presenters)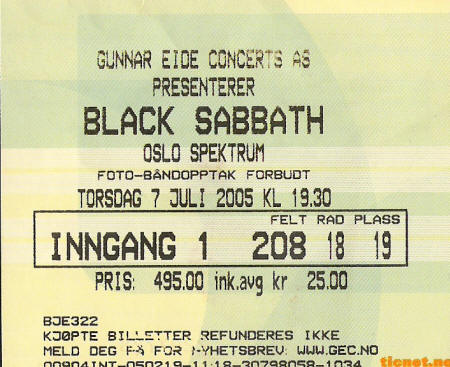 CONCERT PHOTO GALLERY
You can view the photo gallery for this gig here.
FAN SUBMITTED TOUR REVIEWS & REMARKS
From: DÝring.Lars Mikael LMD <LMD@kmd.dk>
To: <siegler@black-sabbath.com>
Subject: Ozzfest 2005 tour stuff/Roskilde Festival July the 1st 2005
Date sent: Sun, 3 Jul 2005 22:44:34 +0200
Hello Joe

To have a second chance/possibility to see the Original Black Sabbath was something I could/did not even dare dream about when the big REunion-thing didn't really happen at the Roskilde Festival back in 1998 where Bill Ward unfortunately became sick and was replaced by Vinnie Appice; and so I almost bought the ticket for this years festival immidiately after it got known that Black Sabbath would be headlining this years festival. This - the opportunity to see the original lineup which has meant so much to me and thousands and thousands of other fans/people all over the world - alone justifies their prolonged reunion-tour. And, though I have seen better shows with different incarnations of the band, I am happy, yes, even grateful to have got the chance.

I found the Intro a bit tacky, if you know what I mean ... not very well made and overall just a cheap trick ... just a very quick runthrough of parts of the soloes in the songs we were going to hear. I would much have prefered SUPERTZAR (which, by the way, the canadian band Dream Theater used at their show at Sweden Rock Festival 2005) to this mess.

Ozzy was not in as good shape as I had got to expect by reading some of the other reviews; I mean: He sure looked good and it was wonderful to see him but he voice seemed very frail and he was often way out of (his own) key ... worst of all during an otherwise stunning version of one of my own favourites Dirty Women where it seemed to me that he missed some lines but it was very difficult to hear what he sang. This was not bettered by the bad voice on the microphone. When he spoke he stumbled trying to find the words to say.

He DID an awesome job on The Wizard, though, playing a very, very cool harmonica ... I didn't think he could pull it off but he sure could and did.

The rest of the band was amazing, though. Unfortunately were the sound as the blasted through NIB and After Forever not very good ... this was corrected and soon to be nothing short of perfect. The band was tight, they were strong, they were heavy, they delivered with an amazing energy and conviction which younger bands only can dream of. Geezer was brilliant, calm, collected and crazy all at the same time ... and Tony was throwing solo after solo after solo ... the Orange Stage which they played at has three giant screens and every time Tony played one of his soloes it was thrown up on these screens which magnified the grateness of what we were witnessing. Awesome. But I thank my gods most of all for getting the chance, finally, to see the one and only thunderous Bill Ward who easily outshone every other drummer I have ever seen, even the late, grate Cozy Powell and Bobby Rondinelli whom I just recently saw with his teriffic band The Lizards. Bill Ward sat there, hidden behind that fucking huge drumkit of his, working his butt off. He is one hell of a drummer. WOW. There's just noone above him. There's just noone like him.

And with The Wizard everything and all fell into place, fitted ... I would say that this was the culmination of the show.

The Outtro was cut short by the stupid stage-presenters; I was so made I wanted to write the festival-administration about it. Now I have cooled somewhat down ... but I'm still going to write them.

But most of all I was dissappointed with two things, though: First of all was there no suprices to the song-selection if you have keeping just half an eye on your website ... it was - to say the least - pretty much the same as all the other shows they have been performing on this tour; only the order of their appearence had changed and that even just a tiny bit. This is a band with such a big history and they have so many songs to choose from ... why not change the setlist from time to time? Secondly was the show at least half an hour too short; this is partly to blame on the festivaladministration, I know, but the next band wasn't due until one o'clock and Sabbath finished at almost half past elleven. In both these aspects where the show better back in 1998.

Most of the audience loved what they got, and they got a terrific review in MetroXpress, though; the festival-newspaper gave them 5 out of 6 stars.

I love/loved them too, I only wish they ...

The setlist:

Intro
NIB
After Forever
War Pigs
Dirty Women
Fairies Wear Boots > (part of) Symptom of the Universe > Sweet Leaf
Electric Funeral
Iron Man
Into the Void
Black Sabbath
The Wizard
(part of) Sabbath Bloody Sabbath > Paranoid
Children of the Grave
Outtro (cut short by the stage-presenters)

Yours Sincerely

Mikael Doring,
Copenhagen, Denmark

---
From: "Trine og Gabbi" <agbuch@online.no>
To: <siegler@black-sabbath.com>
Subject: Black Sabbath at Roskilde festival July 1st 2005
Date sent: Tue, 5 Jul 2005 15:02:33 +0200
Hey, Joe.

This year I attended the Roskilde festival with one goal only. I wanted to see the best band in the world, Black Sabbath. I have been an Ozzy/Sabbath fan for many years now, and words can not describe how I felt having the opportunity to seeing them live in action for the first time. The festival itself was incredible. The Orange stage which all the headliners including Sabbath played on was huge, and really beautiful. Green Day, Audioslave, Turbonegro and Foo fighters did a descent job, but I will never ever forget the Sabbath concert.

Set list:
N.I.B.
After Forever
War Pigs
Dirty Women
Into The Void
Fairies Wear Boots
Electric Funeral
The Wizard
Iron Man
Black Sabbath
Children Of The Grave
Paranoid

I stood on second row in the middle, about five metres from Ozzy. The band sounded great, looked great and the audience went crazy right away. seriously, they could have played all Beatles songs and it would still be amazing. Bill, Geezer, Tony and Ozzy were all giving their best and I can't point out to you any problems or mistakes because there were none. I enjoyed all the songs enormously, but Dirty Women took my breath away. I have two really good pictures which i will send to you once they are ready. Including the set list below they also played some medleys containing Symptom of the Universe, Psycho Man, Sabbath bloody Sabbath, Sweet leaf and probably others as well. I know they played all the songs below, but if the range is a tiny bit wrong, I'm sorry.

Thank you for a great Sabbath page.

Julie.
Porgrunn, Norway.
---
From: lars kvernberg <larskvernberg@yahoo.no>
to siegler@black-sabbath.com
date Jul 17, 2006 11:54 AM
subject ticket picture and concert review
I saw that Black Sabbath was going to play at the roskilde festival i Denmark. I felt a strange feeling, I really wanted to go there, I was sure that this was my only chance in life to see them, but I was not allowed to go there! I was really angry and tried to convince my parents that all members Black Sabbath was going to die before they ever got to europe again, but still I could not go.. ..until one day. I heard someone talking at school, saying that Black Sabbath was going to play in Oslo. I felt the strange feeling again, this time I HAD TO go! My parents allowed me to go, and I was happy. I got up really early in the morning to get tickets, and I got it. For some really stupid reason, I bought seating tickets! i can't imagine why!

Anyway, the day of the concert was coming closer. I was really exited. I got to the concert hall (Oslo Spectrum). Outside, a lot of people were trying to sell tickets and cheap stuff, but I did not buy anything from them. I got inside, after being checked by police in the entrance. Inseide they were selling t-shirts, and i bought one, it had a picture of Sabbath and the master os reality letters on it. I went inside. A few people had entered the place, and sat on the floor in front of the stage. I found my place and sat down. I was really exited. More and more people came. After a long while, the lights went out.

The warmup band was named Soulfly I think. They played a noisy metal kinda thing. They introduced Sabbath between every song, and it was a bit irritating, but in the end, they finally came on stage!

The lights went out, and it was completely dark. Soulfly had just left the stage, and out of nowhere we could hear Ozzy sing some kind of cheering/football song (?) i don't know what it is called, and everyone started to yell and clap. They came on stage, and started to play. I can't remember the setlist, but it was great. On War Pigs, Ozzy let the crowed sing half the lyricks, it was really nice. Ozzy played harmonica on The Wizard. I think Ozzy threw the harmonica out to the crowd, but I did not see it very clear. Tony was as wild as always on stage (literally not moving at all). Bill was almost hard to see because of his drums. Ozzy of course threw alot of water at the crowd. When they left the stage, Ozzy sang the song he was singing at the start of the concert, only adding "Bill Ward" to the lyrics, and everyone sang along, that was fun. I was a bit disappointed because i was not in the front, and able to catch things that were threwn out though. But the concert was still the best thing I've seen in my life, and I will look back at this for a long time. When the concert was over, "Changes" (luckily without Kelly) was playing from a CD and we all went outside.