Black Sabbath Concert Reviews
July 5, 2005
Hartwall Arena
Helsinki, Finland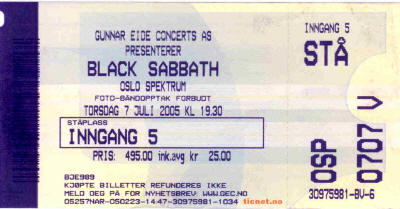 THE BAND
Ozzy Osbourne - Vocals
Tony Iommi - Guitar
Geezer Butler - Bass
Bill Ward - Drums
Adam Wakeman - Keyboards
SET LIST
N.I.B
After Forever
Fairies Wear Boots
Dirty Women
Symptom Of The Universe / Sweet Leaf / Electric Funeral
War Pigs
Into The Void
Iron Man
Black Sabbath
The Wizard
Sabbath Bloody Sabbath / Paranoid
Sleeping Village / Children Of The Grave
CONCERT PHOTO GALLERY
You can view the photo gallery for this gig here.
FAN SUBMITTED TOUR REVIEWS & REMARKS
Hi man

Here's the setlist for Black Sabbath show in Helsinki

1. N.I.B
2. After Forever
3. Fairies Wear Boots
4. Dirty Women
5. Symptom Of The Universe / Sweet Leaf / Electric Funeral
6. War Pigs
7. Into The Void
8. Iron Man
9. Black Sabbath
10. The Wizard
11. Sabbath Bloody Sabbath / Paranoid
12. Sleeping Village / Children Of The Grave

Review:

Support act was Soulfly, I didn't know much about the band nor about their songs but they played one Sepultura cover (Roots, Bloody Roots?) and one good song IMO, Moses, it was quite interesting song. Well then came Sabbath, Ozzy was in good mood and his voice was in excellent condition, he threw many buckets a water to audience and once when he emptied his bucket he put the empty bucket to his head for a short time, it was pretty funny. Setlist was quite short but I did enjoy all songs. All the other guys were on fire too. Highlights were After Forever, Iron Man and The Wizard.

---
From: juuso honkanen <honkanen_juuso@luukku.com>
To: "siegler@black-sabbath.com" <siegler@black-sabbath.com>
Subject: Ozzfest 2005 Tour Stuff
Date sent: Wed, 6 Jul 2005 14:40:42 +0300 (EEST)
Hey Joe,

I want to tell you some about the Black Sabbath gig yesterday on July 5 in Helsinki. It was amazing.

I was at the hall around 6 o'clock and they opend doors half past six. When we (me, my father and two friends of mine) got in we just wondered around 'cause we had the seating tickets so we had no hurry. Me and my father bought Black Sabbath t-shirts. Becasue I didn't have a place to put it I put it on so I had t-shirts. My friend has a school friend there who said that we (me and my friend) could get access to the field with his friends tickets. So we went to the field!

At 8 o'clock Soulfly started play. They played about 45minutes. And about quarter past nine we herad Ozzy screaming ai ai ai behind the stage. Every one went crazy. The he, Tony, Geezer and Bill came on the stage and started with 'N.I.B.'. Everyone went more and more crazyer. Ozzy smiled and jumped like a frog. He went on his knees and worshiped Tony and Tony started laugh :). Because I had two t-shirts on and the was like five people in a square metre I was soooooo sweaty that sweat ran like water. During the gig Ozzy threw about ten or fifteen buckets of water and few water or juice bottles at the audience. And after 'The Wizard' Ozzy threw his harmonica and some lucky bastard got it. Ozzy also showed his ass!! And when he took his shir off you could see also his stomach muscles!

The show was so great that I can't describe it. When Tony started to play 'Into the Void' chills went through my spine. Same happend when the played 'Sabbath Bloody Sabbath' intro. When they played 'Black Sabbath' Ozzy told every one to light their lighters. The show ended with 'Paranoid'. When Bill, Ozzy, Geezer and Tony had went off the stage everyone started to scream "We want more, we want more...". After few minutes of screaming Ozzy started to sing somewhere behind the stage 'Oooaaah oaah O ahh O ahh Oooaaahhh Bill Ward Biiill Waaaaaard..." and every one started to sing that also. Ozzy come back to stage and said that they gonna play one more song. They started playing 'Sleeping Village' or actually it was 'A Bit of Finger' and then changed it to 'Children of the Grave'. After the band was gone we sang 'Changes' along when they played it from cd.

It was so amazing to see the original line up. In the end when we took off my pants was glued to my legs from sweat so I could barely walk :)

Set List:

1. N.I.B.
2. After Forever
3. War Pigs
4. Dirty Women
5. Fairies Wear Boots
6. Symptom of the Universe (intro)/ Sweet Leaf(inro) / Electric Funeral
7. Iron Man
8. Into the Void
9. Black Sabbath
10. The Wizard (Ozzy played harmonica)
11. Sabbath Bloody Sabbath (intro)/ Paranoid
12. Sleeping Village (intro) / Children of the Grave (as encore)