Black Sabbath Concert Reviews
July 7, 2005
Oslo Spektrum
Oslo, Norway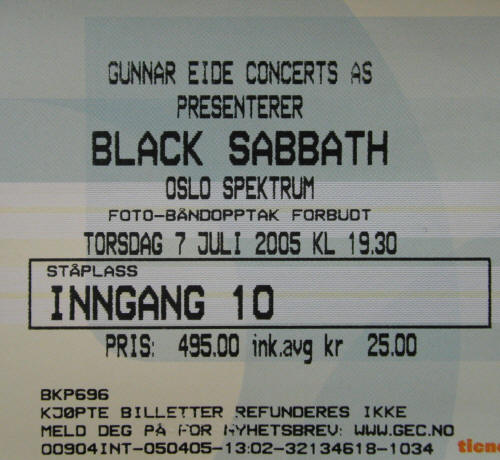 THE BAND
Ozzy Osbourne - Vocals
Tony Iommi - Guitar
Geezer Butler - Bass
Bill Ward - Drums
Adam Wakeman - Keyboards
SET LIST
N.I.B.
After Forever
War Pigs
Dirty Women
Fairies Wear Boots
Symptom Of The Universe / Sweet Leaf / Electric Funeral
Iron Man
Into The Void
Black Sabbath
The Wizard
Sabbath Bloody Sabbath / Paranoid
Encore: Sleeping Village / Children Of The Grave
Outro: Changes
CONCERT PHOTO GALLERY
No photos available yet. Have some? Submit 'em!.
FAN SUBMITTED TOUR REVIEWS & REMARKS
From: "Alexander Ullenes" <alexander384@msn.com>
To: siegler@black-sabbath.com
Subject: July 7 - Oslo, Norway - Oslo Spektrum concert review
Date sent: Sun, 10 Jul 2005 16:26:02 +0200
Here is my review of the concert:

Well, finally I got to see Black Sabbath live. I've been into Black Sabbath since 2002. In 2003 I was supposed to see Ozzy Osbourne with his solo band on the European Tour. But, as you already know, it got postponed two times, and then cancelled. So on July 7. I finally got to see them. Me and my friend waited outside of Oslo Spectrum from about 17:00 - 17:30. I'm not totally sure. They opened the doors at about 18:45. We got in and got a good place very near the front, in the middle of the stage. When the clock was 19:35 Soulfly entered the stage. Max Cavalera (the frontman of the band - guitarist and vocalist) threw two bottles of water at me. It helped much because of the heat. On one song they all got off stage and had some drums with them when they got back. Then they played very "jungle-like" music. It was very cool. And on one song a reaggea guy played on a trombone. It varied the music a lot and gave it a extra touch. Soulfly is really not my type of music, but they did a great show. I only reckoned one song that I had heard before, that they played. It was called Back To The Primitive, I think.

Soulfly left the stage, Sabbath's equipment got tested so everything was all perfect before the concert could begin. When they uncovered Bill Ward's drums everyone went crazy.

When that was finished the lights went out. Then you could hear Ozzy screaming from the backstage. The whole crowd started to scream and push very much. After that they played a medley of Sabbath songs. When that finally was finished, Black Sabbath entered the stage. Ozzy said "Let's go crazy!", and then they started to play N.I.B. It was an incredible feeling, but it's just a pity that Geezer didn't play the Basically solo.

Next song was After Forever. I've always liked the song. Actually it's one of my all time favourite songs by the big Sabs. It was even better live. And Ozzy did the "fast singing" part very good. His voice did not crack like it did on The Last Supper DVD.

Then Adam Wakeman started to play the air raid siren to War Pigs. Great sing-along song, I must say. Like usually, Ozzy sang one line, and then the crowd.

Dirty Women was also great to hear live. This was the only song I could hear Ozzy's voice crack. It cracked about four times. But no one seemed to care. It was wonderful just to see them.

Next up was Fairies Wear Boots. I don't know the lyrics so good to this song, but I actually remembered a lot when they played it. This song is also filled with Iommi's killer riffs.

When Iommi started to play Symptom Of The Universe I went crazy. It was so fantastic to hear Iommi play those riffs. And I've always admired Bill's drumming on this song. The instrumental version, which they played, ended after about 40-45 seconds. It slided well into Sweat Leaf. Sweat Leaf lasted for about one minute.

Again Iommi started to play some kiler riffs. This time it was Electric Funeral. Very evil riffs and lyrics in this song. And again, Ozzy nailed the "fast singing" part very well. On the last part of the song Bill hit his drums like a machine gun.

On Iron Man Bill kicked his bass drum for about two minutes before Iommi started to play the roof rattle. You could hear the crowd better than Ozzy on this song because everyone was singing along - very high.

Then Into The Void rolled in. Was, as all the other songs, great to hear live. Like on The last Supper DVD, Ozzy made many weird looks. Haha. Very funny to see.

Finally, I thought. Now you could hear the rain and the church bell to the song titled Black Sabbath. Ozzy introduced the song with saying that they wanted to take us back to the beginning. And that this song started it all. I started to shiver and I got chills all over. The rain and church bell made a great atmosphere in the hall. The lights were great on this song. Ozzy said "please light your cigarette lighters", or something like that. When Iommi played the first riffs, and Geezer his riffs, my chest shook because of the loud volume and the bass. It was wonderful. The song was evil to hear live. Ozzy looked like the Devil himself. He made many weird looks with his face.

Next song was The Wizard. Ozzy found his harmonica and started to play. After the song he threw the harmonica into the crowd. When he showed to us that he were going to trow it, everyone started pushing and tried to get as close to the stage as possible. A guy in front of me, under 1 meter in front of me, got it. I tried as hard as I could to get it, but never got it.

Then they played the beginning of Sabbath Bloody Sabbath, which turned into Paranoid. Now the crowd went totally nuts. They were nuts on all of the songs, but especially this one. Everyone jumped and sang the lyrics.

Black Sabbath then left the stage and people started to scream "We want more! We ant more!".

They came back and played Sleeping Village. It was fantastic to hear this special song live. Ozzy sang it just like on the studio version. Sleeping Village slided into Children Of The Grave. I was very tired, but managed to sing and jump through the whole song. On the part of the song where Iommi playes some slow riffs, and the keyboard comes in, the lights went up and down, as Adam Wakeman played. Great!

So... now the show was over. Ozzy and Iommi pointed at Bill Ward. Ward just looked the other way and smiled. They always do something funny with him. Black Sabbath thanked and got off stage. Then they played Changes over the PA.

I didn't manage to get any of Iommi's guitar picks, but atleast I got some of Ozzy's water on my body. And I got to see his ass.

After the show me and my friend met two guys from Soulfly. They were nice to meet. We took a picture with them.

It was a wonderful feeling to see the original Black Sabbath live in concert. This was the happiest day of my whole life. Hope they come back to Europe soon. And to all the ones who will attend Ozzfest 2005: Hope you have a great time. I'm sure you'll love it.

I bought a Black Sabbath t-shirt at the concert with all the tour dates on. I also bought a fake t-shirt with only the Norwegian dates on. Very cool.

---
From: Csulu <skaparen@gmail.com>
To: siegler@black-sabbath.com
Subject: Ozzfest 2005 tour stuff/oslo july 7
Date sent: Sun, 10 Jul 2005 18:32:38 +0200
Black sabbath played in oslo at the 7.7.05. A bit strange day for a UK bad to play on , but they did not show it. They strated with NIB and ended with Children of the grave , the rest i am not shure of but Iron Man , Paranoid,into the void,the wizard,black sabbath and a small part of sabbath bloody sabbath was also there. The sound was also fine but the wizard intro played by ozzy was a bit hard to hear. But overall a great concert , and I did not think that i would get the opertunity to see the original sabbath live. Now i have , and hope to do it again in the future.