Black Sabbath Concert Reviews
July 21, 2005
Darien Lake Arts Center
Buffalo, NY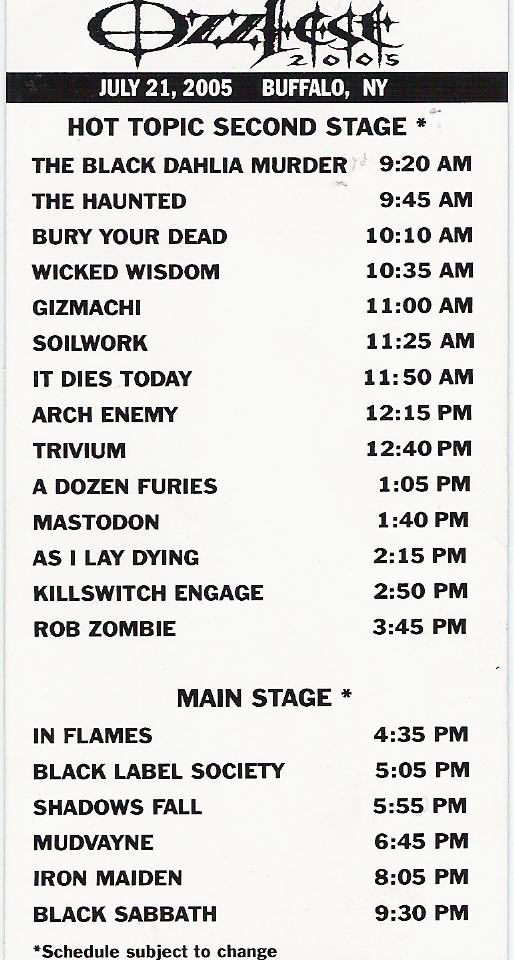 THE BAND
Ozzy Osbourne - Vocals
Tony Iommi - Guitar
Geezer Butler - Bass
Bill Ward - Drums
Adam Wakeman - Keyboards
SET LIST
N.I.B.
After Forever
War Pigs
Dirty Women
Fairies Wear Boots
Symptom Of The Universe / Sweet Leaf / Electric Funeral
Iron Man
Into The Void
Black Sabbath
Sabbath Bloody Sabbath / Paranoid
Encore: Children Of The Grave
Outro: Changes
CONCERT PHOTO GALLERY
No photos available yet. Have some? Submit 'em!.
FAN SUBMITTED TOUR REVIEWS & REMARKS
From: <Bardock876@adelphia.net>
To: siegler@black-sabbath.com
Subject: 7-21-05 Ozzfest review
Date sent: Fri, 22 Jul 2005 10:46:47 -0400

Hey, Joe!

I just thought that I would drop you a quick line about Ozzfest at Darien Lake and provide a review of the show. Last night's show overall... UNBELIEVABLE!! I'm not really one for all of the hardcore metal and the nu metal bands... but I will admit that some of the bands there seemed to play well together and knew what they were doing. Also, a side note, Wicked Wisdom's singer was Jada Pinkett, Will Smith's wife! That was kind of a shocker to hear. Mr. Smith was also at the show to support his wife, however I did not see him because I arrived about an hour after the fest kicked off. After waiting through a loooong day of intense heat and sun, watching mostly distasteful and repetitive sounding groups (my own opinion), main stage finally came on!

In Flames I had never heard of, and yet while the vocals were drowned out with incessant and unfavorable screaming, the other musicians I thought did quite well. Black Label Society I respect, but I am not a very big fan of them. They performed well, and Wylde did what he does best. I caught myself nodding my head to a few of their songs, but I didn't get too into them. Shadows Fall I won't say anything about really, because there is nothing for me to say! I drifted off during their set, mainly because to my ears because what the played sound just like everything else previously that day. Mudvayne... had no clue who these guys were, and same with In Flames, while their musicians were good...my God, is it really that necessary to scream until you give yourself a hemorrhage? What ever happened to singing, for a change? I guess that's just too old school... Finally, after waiting all day, the time came for Iron Maiden. It would have been worth the $112 I payed for the show just to see Maiden alone, I thought! Man, right when the band came out and started playing their gig, along with Bruce flying over the amps onto the stage, seemingly from nowhere, this band knows how to get the crowd going! I can't recall an exact set list because I was relatively busy rocking out and in awe for seeing Iron Maiden for the first time... but I know that they did play (not particularly in order) The Trooper, Revelations, Phantom of the Opera, Hallowed be Thy Name, The Number of the Beast, Run to the Hills, and I would say probably four or so more songs. I thought this band blew away Judas Priest last year, it's just fantastic to see such a powerful group who hardly ever comes to the U.S. Maiden had a stage set like Priest last year, and they also had some cool props, such as a giant demon head which rose from the back and sprayed smoke during Number of the Beast, and also towards the end of the show a Giant Eddie robot came on stage and walked around while the group played, it was really a cool tidbit added to the already awesome performance. After Maiden left, the wait began for Black Sabbath. The stage crew seemed to get things prepared easily, for not long after Maiden left the curtains opened up for Sabbath, and they jumped right into NIB. The set for Sabbath was as follows: 1. NIB 2. After Forever 3. War Pigs 4. Dirty Women 5. Fairies Wear Boots 6. Symptom of the Universe/Sweet Leaf/Electric Funeral 7. Iron Man 8. Into the Void 9. Black Sabbath 10. Sabbath Bloody Sabbath/Paranoid 11. Sleeping Village/Children of the Grave 12. Changes (outro)

I was quite disappointed when Sabbath did not play The Wizard, for I heard that's what they played over on the Europe tour and I was looking forward to hearing it live. Also, Iommi and Butler did not sign autographs at all yesterday, which was another let down. What can I say about Sabbath? They're like a fine wine, they only get better with age. Ozzy's voice was very good last night, he didn't crack during his songs at all I think. However, he did mess up the lyrics to a few of the songs, but it just wouldn't be Ozzy if he sang every song right during a concert :) . I am very glad I had the chance to make the show, it was worth every penny. My second year in a row seeing Sabbath play together, hopefully next year will be the third! Enclosed is a scan of the concert schedule and a shot of my ticket stub, I don't know if you could use them on the site or whatnot, but I figured it couldn't hurt to attach them anyways. Hope you get to enjoy the show as much as I did when it comes out your way!

---