Black Sabbath Concert Reviews
July 30, 2005
Tweeter Center
Chicago, IL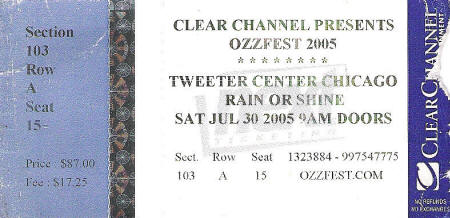 THE BAND
Ozzy Osbourne - Vocals
Tony Iommi - Guitar
Geezer Butler - Bass
Bill Ward - Drums
Adam Wakeman - Keyboards
SET LIST
N.I.B.
After Forever
War Pigs
Dirty Women
Fairies Wear Boots
Symptom Of The Universe / Sweet Leaf / Electric Funeral
Iron Man
Sabbath Bloody Sabbath / Paranoid
Encore: Children Of The Grave
Outro: Changes
CONCERT PHOTO GALLERY
No photos available yet. Have some? Submit 'em!.
FAN SUBMITTED TOUR REVIEWS & REMARKS
From: "Chris Faccaro" <birdman477@hotmail.com>
To: siegler@black-sabbath.com
Subject: OZZFEST 05 Chicago Black Sabbath Review
Date sent: Sun, 31 Jul 2005 22:50:08 +0000
Yesterday morning I woke up to make the drive to Chicago. (I live in St. Louis). I was very excited i had front row tix. I didnt care too much for any of the other bands so upon my arrival I just walked around waiting for the magical moment when sabbath would take the stage. I knew the show in NJ before this sabbath didnt play so i was wondering what kind of performance i would get.

The set change betweeen Maiden was only about 20 mins. At 9:15 sabbath took the stage. And Ozzy sounded great.

NIB
After Forever
War Pigs
Dirty Women
Symptom of the Universe / Sweet Leaf / Electric Funeral
Fairies Wear Boots
Iron Man
Sabbath Bloody Sabbath Intro/ Paranoid

They did play a shorter setlist, probably because of Ozzy's cold. He had some trouble with Dirty Women but that was it. Iron Man sounded amazing. I saw Sabbath last year Ozzfest 04 and that was a flat sounding Iron Man. But this year it sounded just as hardcore as the original and if rocked. The whole thing ended at 10:16. It was the quickest and most satsisfying hour of the day.

Being in the first row was the best. I kept giving the horns (rock n roll) to Tony during NIB. "Your love for me has just got to be real..." bam Tony gives the Rock n ROLL sign back and nods his head at me with a smile. The rest of the show every time Tony was in front of me I would play my air guitar note for note with him. He saw this and once again just smiled and nodded. Geezer sounded great on bass. Bills playing was amazing, he looked like he was gonna explode sometimes. Black Sabbath put every other band to shame. They rocked! It was a great show, probably the best 61 mins ever!

I hope to send some pictures i took with a disposable camera, but i bought the piece of crap inside the tweeter center and wasnt sure if it was working. I havent got the film developed yet but I hope it comes out.

---
From: ASHC14@aol.com
To: siegler@black-sabbath.com
Subject: Review for IL / Tinley Park's Tweeter Center show Jul. 30th (Actual Review)
Date sent: Mon, 1 Aug 2005 15:35:19 EDT
My friends and I went to our first concert and seeing the Sabbath at Tinley Park. We went over to second stage featuring Rob Zombie, Gizmatchi, and Arch Enemy just to name a few. The highlight of the show was Arch Enemy. I don't usually like the screaming vocals, but the vocalist was pretty good, and so was the playing. Rob Zombie was pretty funny, for he asked his guitarist to play a Wah pedal version of the Brady Bunch theme and everyone was laughing their butt off still screaming for "Thunder Kiss".

We all had time to kill during some of the second stage performances, so a few booths were visited. Five dollar a dart game was one of them, and I won Ozzfest's 2005 cd sampler. Nick wanted to get Ohmwork signed, so we promised him to go over there when it was time to meet Geezer. Tony didn't show up due to his press conference he had to go to, but I got his autograph anyway through pre signed Fused cd.

Onto the first stage. In Flames was up, Carter and I kind of missed them because we had to wait for Nick to get Geezer's autograph. We did see Black Label Society and Shadows Fall and they played spectacularly. The only draw back was Mudvayne. In my own opinion, I feel Arch Enemy should have been on first stage instead of them, but I digress. Iron Maiden rolled around afterwards. Fantastic showmanship from Bruce Dickenson, it kind a felt like Sabbath didn't really stand a chance against them going first. Really great show. Finally, the band we've been all waiting for: Black Sabbath.

Tape intro was a nice touch, great selection of clips including the underrated "Under the Sun/Everyday Comes & Goes". They played the usual hits, but the ones that stood out like a sore thumb (or thumbs) was "Symptom of the Universe" riff, "Dirty Women", and "After Forever". Tony was really awesome especially in Dirty Women, Geezer stood out with his haunting bass playing, Bill's drumming was ground crushing. And finally, Ozzy's vocals have improved, at least from where I stand after listening to "Live at Budokan" live album.

-John from IL