Black Sabbath Concert Reviews
March 11, 2007
Pacific Coliseum
Vancouver, BC Canada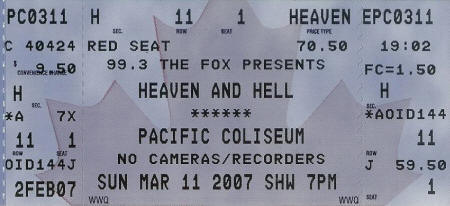 THE BAND
Ronnie James Dio - Vocals
Tony Iommi - Guitar
Geezer Butler - Bass
Vinny Appice - Drums
Scott Warren - Keyboards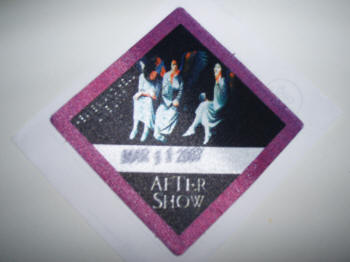 SET LIST
E5150
After All (The Dead)
Mob Rules
Children Of The Sea
Lady Evil
Ear in the Wall
I
Sign Of The Southern Cross
Voodoo
The Devil Cried
Drum Solo
Computer God
Falling Off The Edge Of The World
Shadow Of The Wind
Guitar Solo
Die Young
Heaven and Hell (extended)
Neon Knights (encore)
CONCERT PHOTO GALLERY
Click here to view the photo gallery for this show
TOUR VIDEO
FAN SUBMITTED TOUR REVIEWS & REMARKS
---
Click here for a large review with plenty of pictures at Metal-Rules.com
---
from Sean and Brenda Beston <beston@shaw.ca>
to siegler@black-sabbath.com
date Mar 12, 2007 4:30 PM
subject Vancouver H&H Show
Hi Joe:
Some notes on the show:
- Only caught the end of Down's set; they sounded great and the crowd was going nuts.
- Megadeth was good too, but their sound was as bad as I've ever heard at a concert; huge ear piercing feedback several times.
- Big crowd for a metal show in Vancouver, which is not necessarily always a good draw for metal bands. The building (in that concert configuration) was about 90% full; probably about 8,000 people.
- Great sound for Sabbath, I mean H&H
- Crowd was super loud and rowdy during H&H set. Big mosh pit. Lots of Devil Horn's hand signs from the crowd.
- RJD's vocals were perfect; stage presence amazing (I have never seen him live before and was extremely impressed).
- Tony's playing and sound was pure Sabbath heaven. My brother in law, who is a guitarist, was just drooling over some of the crunching chords.
- Tons of lights, but I was hoping for the big cross of lights too.
- A bra was thrown on stage at one point. Between songs RJD picked it up, looked over to Geezer's side of the stage to someone behind a partition, and asked "Pedro, is this yours?" RJD then walked to stage center and cheekily asked the crowd "Whoever's this is, can you please stand up?"
- NO concert program available for sale. At the age of 42, this is my standard concert souvenir. Tons of shirts, a couple of belt buckles, I can't recall if there were any hats. Hopefully a program is available for the US portion of the tour and I can get it on Ebay.
- Local promoting radio station CFOX DJ came on stage before H&H set; some quotes: "there was a problem at the (Canada-US) border, so there will be no dragon in the show tonight", "there are more stoned people here tonight than anywhere else in North America".
- Attached is a scan of a H&H card regarding a live CD and DVD that was being given away (along with a Megadeth one) outside of the Coliseum.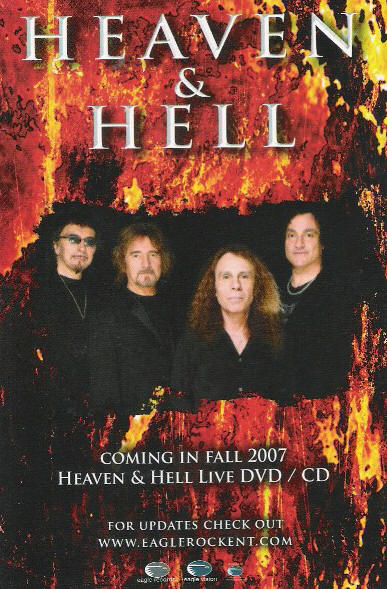 ---
from "David K. Barrett" <smooth_bonvivant@yahoo.com>
to siegler@black-sabbath.com
date Mar 12, 2007 11:34 AM
subject Heaven and Hell 3/11
Hey homies, just a quick note. You must see Black Sabbath, er Heaven and Hell, when they come to your town. I saw the band in a strange country on the norther US border called Canada.

Anyway, the opener, DOWN was fantastic. I forgot how good those guys were! Phil Anselmo seemed strangely coherant most of the show. They played one song I did not recognize, and it was sweet.

Megadeth normally puts on a great sounding tight set. Last night, however, they did not get their sound right until the last couple songs. They played two new jams that sounded vintage 80s thrash metal. Their new disc should mow.

Heaven and Hell. There must be some strange legalgism going on because the band never said "Sabbath", and the crowd did not know what to chant. There were some poseurs who chanted "Ozzy", but very few. I've cut fools for less; they were lucky to be in the Canada.

The set-list was awesome. No suffering though War Pigs, Iron Man, and Paranoid! Instead some gems like Falling Off the Edge of the World, Sign of the Southern Cross, I, Computer God, and Die Young. There were three new songs- all killer. The first newby "Ear on the Wall" is frantic. It slays. The next two newbys are crushingly heavy slow numbers.

The stage set was a cross between a cathedral or at times a dungeon. Cool. See the show while the tour lasts!

PS. Tony looked to really enjoying hisself. He was still stoic, however, that metal wiggle that pulses through his body when the metal is at critical was more apparant last nite.

Love,

Devastating Dave
---
from: "Cowie, Sean (Sylvan)" <Sean.Cowie@catalystpaper.com>
to siegler@black-sabbath.com
date Mar 12, 2007 11:17 AM
subject Heaven and Hell Pics & Mini-Review
All I can is WOW!!

Down was the biggest surprise, as they were friggin' H-E-A-V-Y!!! Philip sounded and looked awesome and the rest of the band really smoked.

Megadeth was very good but nothing remarkable or outstanding...just a solid Megadeth set. They had lots of audio problems, too. Backdrop featured the new CD cover.

As for H&H, Dio sounded nothing less than perfect. His highs were stunning and his growls were vicious. Some really cool lighting effects, too. The stage is a medieval castle with bricks, torch lamps and a big wooden door. Three small video screens project images up above the band members.

Here are the setlists and a few pics attached (see photo gallery)

Down Setlist (45 Min.)

Lysergik Funeral Procession
Lifer
Hail The Leaf
Underneath Everything
Stone The Crow
Bury Me In Smoke

Megadeth Setlist (45 Min.)
Sleepwalker
Wake Up Dead
Kick The Chair
Washington Is Next
Symphony of Destruction
Trust
A Tout Le Monde
Peace Sells
~ENCORE~
Holy Wars...The Punishment Due


Heaven and Hell Setlist (110 Min.)
E5150
After All (The Dead)
The Mob Rules
Children of The Sea
Lady Evil
Ear In The Wall
I
The Sign of The Southern Cross
Voodoo
The Devil Cried
Vinny Appice Solo
Computer God
Falling Off The Edge of The World
Shadow of The Wind
Die Young
Heaven & Hell
~ENCORE~
Lonely Is The Word (**dropped due to time)
Neon Knights
---
From: Ian Gregson <rocker1@telus.net>
to siegler@black-sabbath.com
date Mar 12, 2007 11:23 AM
subject Sabbath Tour Review
Hey Joe:

Having seen a number of bands on a "reunion" type tour this one ranks the highest, some of those other bands should really not be touring at all. The Heaven and Hell reunion tour started off with a bang, big stage presence, lots of energy and an audience starving for more.

Has it really been 13 years since these guys played together ? Musically the band was tight, lights and sound all were beyond compare If anything the vocals were a bit low in the mix.

I first saw Ronnie back with Rainbow in 76 at the Liverpool Empire, however it was my first time seeing the other band members live, so at long long last I finally got to to see the legendary Tony Iommi onstage, no disappointments there at all.

I often feel honoured when a band starts or ends its tour in Vancouver, I know its partly to do with geography, however I think there are a few thousand other headbangers in Greater Vancouver waking up with smiles on their faces this morning.

Keep on rockin'
Ian in Vancouver
---
from: Ken Stark <vkstark@yahoo.ca>
to siegler@black-sabbath.com
date Mar 12, 2007 3:09 AM
subject Heaven and Hell Concert in Vancouver

Hi Joe

I am a big fan of both Black Sabbath and your website, and have just returned home from the Heaven and Hell show that opened in Vancouver, B.C. tonight. Since I first heard about the tour dates from your website, I would like to give my thoughts on tonight's show.

I originally went out of nostalgia since I saw them during the Mob Rules Tour in 1982; however, I was very pleasantly surprised. In a word, they were awesome! The band sounded great and very tight. For me the following songs were show stoppers: Children of the Sea, Computer God, Voodoo, Die Young, Heaven and Hell, Mob Rules, Falling of the Edge of the World, and the new song Shadow of the Wind was very powerful. My favorite was Sign of the Southern Cross. The way they played it for the audience was amazing. The oncore Neon Knights sounded very heavy and fantastic as well. I have been a Sabbath and Tony Iommi fan since about 1974. To me, his live sound just keeps getting better with age. His sound throughout the show was very powerful and moving. To everyone who has not yet bought tickets for the Heaven and Hell Tour, go and you will not be disappointed.

Best Regards

Ken
---
From: Turners <a7a04454@telus.net>
to siegler@black-sabbath.com
date Mar 12, 2007 2:21 AM
subject Vancouver Canada Show March 11/07

Hi

I just got back from the Heaven and Hell show in Vancouver Canada. What a great show! The stage was done like the front of an old castle or church made of bricks with the drums about 4 steps up in the centre stage. On each side were brick pillars with iron rod type gates. The windows on the front of the building were video screens that showed different views depending on the song being played.

---