Black Sabbath Concert Reviews
March 13, 2007
Rexall Place
Edmonton, AB Canada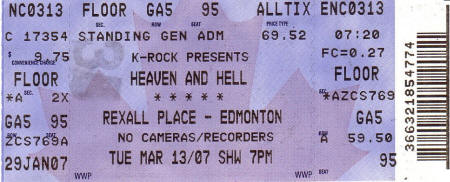 THE BAND
Ronnie James Dio - Vocals
Tony Iommi - Guitar
Geezer Butler - Bass
Vinny Appice - Drums
Scott Warren - Keyboards
SET LIST
E5150
After All (The Dead)
Mob Rules
Children Of The Sea
Lady Evil
Ear in the Wall
I
Sign Of The Southern Cross
Voodoo
The Devil Cried
Drum Solo
Computer God
Falling Off The Edge Of The World
Shadow Of The Wind
Guitar Solo
Die Young
Heaven and Hell
Lonely is the Word
Neon Knights
CONCERT PHOTO GALLERY
None yet. Have any? Submit 'em!.
FAN SUBMITTED TOUR REVIEWS & REMARKS
from Travis Currah <travisleecurrah@gmail.com>
to siegler@black-sabbath.com
date Mar 16, 2007 7:59 PM
subject Concert Review of 2007.03.13 - Edmonton, AB
Megadeth Setlist (60 Min):
Sleepwalker
Wake Up Dead
Kick The Chair
In My Darkest Hour
Washington Is Next
Trust
A Tout Le Monde
Hangar 18
Symphony of Destruction
Peace Sells
-----
Holy Wars...The Punishment Due

I was a little bit disappointed that I wasn't able to see Down since Phil was sick but I was ecstatic that Megadeth was able to play two more songs than they played in Vancouver. They put on a hell of a show. They were extremely loud and from where I was sitting (the upper deck), the sound was awesome. I could hear every instrument so what happened in Vancouver didn't happen in Edmonton. Dave Mustaine was on fire and was just as energetic as ever, his singing was on too. They were awesome!

Heaven & Hell Setlist:
E5150
After All (The Dead)
The Mob Rules
Children of the Sea
Lady Evil
Voodoo
Ear in the Wall
Sign of the Southern Cross
I
The Devil Cried
Computer God
Falling off the Edge of the World
Shadow of the Wind
Die Young
Heaven and Hell
-----
Lonely is the Word
Neon Knights

I admit.. I wasn't a huge fan of the Dio era Sabbath. I was there to see Megadeth, Iommi, and Butler. That has all changed. I am now a huge fan of the Dio era Sabbath and have gotten the Heaven & Hell, The Mob Rules, and Dehumanizer albums. They are awesome albums. A lot of the fans there seemed to expect the band to be playing Ozzy-era tunes and were left empty-handed but I was in awe of Tony Iommi and his unbelievably heavy live sound. Amazing! Dio is an amazing singer and did extremely well this night. I was in awe of these guys, they played amazing and no one should miss them.

All heavy metal fans, young and old, should not miss this tour by any means.

There are also some videos posted on YouTube from the show.

After All (The Dead):
http://www.youtube.com/watch?v=5b4fKVc4xR0

The Mob Rules:
http://www.youtube.com/watch?v=YSmaTcG3fak

Children of the Sea:
http://www.youtube.com/watch?v=jvRKEVo12bM

Ear in the Wall:
http://www.youtube.com/watch?v=xpblotmrBKE

Sign of the Southern Cross:
http://www.youtube.com/watch?v=k0LizK-tzOY

The Devil Cried:
http://www.youtube.com/watch?v=GeKfXwrntqA

Neon Knights:
http://www.youtube.com/watch?v=se_VwHM4r0Q

Lonely is the Word:
http://www.youtube.com/watch?v=hjOdwM8YZbE

Travis

---
from Richard Johnson
to joes@3drealms.com
date Mar 20, 2007 11:51 AM
subject edmonton review
Promptly on time tonight at 9:15 p.m. after a late 1st night, & after an extended Megadeth set, (Down cancelled due to Phillip Anselmos throat problems.)

The lights go down w/Only vague purple lighting & smoke.

The Silhouette of Ronnie James Dio appears on the drum riser, after the intro of "E5150" tricking even the most hardcore fans into thinking "Mob Rules" was up-Ronnie James Dio's voice breaks the silence as a spotlight illuminates Ronnie wearing a black long sleeved shirt w/ slightly oversized cuffs & the Dio or Celtic cross in mirrored rhinestone standing in a slightly crouched manner:

"Whaaat do you saaay to the deeeead?"

"Will you forgive me for Living?"

The audience goes wild as the band plows through their heavy hitter from "Dehumanizer"-"After All the Dead"

After forging through the 1st two songs of the night, the second being "Mob Rules" which was the 1st of two songs that Tony breaks out a spanking new cream colored Gibson S.G. complete w/a tremolo or whammy bar.(the other being "Voodoo" later in the set.) Mob Rules was fast paced & energetic, full of pent up energy which had found it's way out! The video screens flashed images from the Mob Rules LP cover as well as the words Mob Rules & images of fire.

Ronnie announced the next song as the 1st he had written w/Tony Iommi & "Children of the Sea" was next it was truly inspiring, w/the complete bass lines as Only Mr.Butler can play them, & the backing guitar tracks on the song intro done very nicely by Scott Warrens Keyboards.

Very visible was the giant "Angels" Backdrop prominent throughout most of the songs from the H&H lp.

Next up "Lady Evil" I have always disliked this song. It is the wart on the otherwise perfect & beautiful, Heaven & Hell Lp. I feel it's also RJD's worst lyrics ever, if I could change anything about this show it would be to drop Lady Evil & add Wishing Well.

I have to admit the Bass & Drum intro live seemed powerful though, RJD Introduced the song as being about a "Very Very Bad lady." The gothic church set was darkened for this number & the lights on the church walls flickered blood red, all in time. I tried to enjoy the song, if for no other reason these 4 people were the ones playing it.

Next up "Ear on the wall" Ronnie introduced the song & spoke of the band collaborating on 3 new songs all of which would be played tonight @ some point. RJD states:

"This is about a guy who sees some very strange things, the strangest being an ear on the wall" this was a fast paced Dioesque song; the crowd continued rocking hard to this new & unfamiliar song. devil horns high!

Next up "I" from Dehumanizer-I think this is one of the best tracks on Dehumanizer. Complete w/Tony's wah wah intro & head first into a hard rocking angry song RJD seemed convincing as he exclaimed "I'll smash your face in, but with a smile" great!

Up next was 2 songs more from the "Mob Rules" LP as RJD introduced this song as being requested all over the world & a song that people really seem to want to here everywhere he travels.

Tony Iommi then played the subtle delay drenched intro to "Sign Of The Southern Cross" once again being floored by the ability of this band to shift from the soft beginnings to an all out doom & gloom unforgiving heaviness .

The band were so into this song RJD kept adding verse after verse in the end & when Vinny did the final drum que Ronnie was only beginning to start the "Eight Miles High About to fall.." start of the last verse, The song ended even though RJD could have kept signing for an hour.


For "Voodoo" Tony returns w/his cream colored S.G. The song was off & powerful, Great until someone threw a shoe onstage that grazed Ronnie.

During the breakdown portion of this song when Ronnie is usually add libbing about sailing on a lonely ocean…he takes time out of the song to attack the shoe hurler & states "I wish you would find the idiot that threw this, so I could stuff this shoe up his ass!"

The song continued & Tony made his way to the drum riser where he & Vinny shared a laugh about the whole thing.

Next up another new number "The Devil Cried" a good song that didn't cause too much

Of the momentum to drop out, which is hard w/songs the audience doesn't know.

Then RJD announced Vinny Appice on drums & Vinny did about a 15 minute solo. Culminating in a weird triggered sequence w/ a mans voice & Scott Warren adding some gothic keyboards, something new & pretty cool. Which never had the chance to get boring & was a perfect segue into "Computer God"?

Next, another "Mob Rules" Classic: "Falling off the edge of the world."

Complete with almost ancient sounding intro & all of the bass synth from the lp which in my mind made this song an unfavorable candidate for a live choice. The band proved me very wrong It was my absolute favorite moment of the show.

The power this band has when Geezer kicks in after the fast part & joins Tony's guitar in unison is nothing short of amazing, after watching the band plod thru ozzfest the last few years I was in awe of this energy & power.

Next the 3rd & final new song Dio had promised & he reminds us that he's kept his promise. "Shadow of the wind" he states "It's a weird song"

But I think it's closer to what I had wanted from this band than the other new numbers & found the slow heaviness of it very much in good taste to my Sabbath pallet.

Now it's time for Tony Iommi's solo. The familiar strains of the bent notes & wah fed harmonies which to the trained Sabbath ear lead to "Die Young"

I never get tired of this mans guitar or this song which tonight was heavy & fast & complete! no medleys here! only complete songs in their entirety the way it should be.

And now to their namesake "Heaven And Hell" RJD says the name but never does he mention the band that recorded it Black Sabbath. As they launch into this powerful song it becomes clear it's also the pinnacle for the show theatrics

The light trusses bend in & descend, the neon along the church roof lights up in bright blue, & smoke burst from the stage as Ronnie exclaims "I'm gonna burn in hell w/you & you & you!" The video & lighting are also into overdrive w/flames & flaming images all over the back wall.

It also features the lighting you would expect white light from above, Red light from below, very complimentary of the song & the mood it evokes. All of this as well as the three "church windows" that double as video screens flashing different dark images, this is pretty much the one where they pull out all of the tricks. This song is timeless & powerful, it's easy to see why they chose this for their namesake.

Geezer Butler has been quoted as saying he would have never written such a simple bass line, but it's the song simplicity that's also its greatest strength I feel anyway-

Next was the surprise to most everyone "Lonely is word" one of my favorites from the lp & one I never expected to hear live they didn't even do this on the H&H tour.

So why break it out now? Because it fucking rules that's why!

Powerful drumming & loud bass dominated this song; also a highlight for Tony's jazz inspired solo's & fills.

As the song & show nears its end, the audience keeps getting wilder & wilder. as the song ends someone threw a homemade banner up to Ronnie It has a cross which reads Sabbath & Megadeth, Ronnie says "Oh ok lets sign the bloody thing" & proceeds to get a sharpie & lay it on the drum riser & signs it! Ronnie thanks the crowd repeatedly as the band exit the stage.

The stage is dark except for the 3 video screens (or church windows) each projecting one of the angels from the H&H LP cover. The band takes their brief rest, some of the crowd chant dio, others Sabbath no one knows exactly what to chant. w/ in minutes the band is back to very loud applause.

Ronnie thanks the crowd & speaks-

"This one is another great song from the heaven & hell lp, an lp w/ a lot of great songs, well at least we think so, well you must too or you wouldn't be here."

The band launches into "Neon Knights" as the 3 video screens project the knight from the Live Evil lp cover. Tonight's version is very tight very heavy,& a perfect show closer giving way to mosh pits & stage diving making the audience no doubt as tired as the band must've been by it's end. & Ronnie himself who held that last note right until the song arrived at its sudden conclusion all at once there is silence.

As the song ended & the bright white lights were brought up-Ronnie & the band make their way downstage to give thanks to the very appreciative crowd.

Tony & Geezer each therw out handfuls of picks waved, which started a frenzy like sharks feeding! The band members each take their bows & Geezer exits the stage,

Ronnie gets Tony & Vinny to sign the handmade banner & tosses it back into the audience hopefully to the kid that threw it up!

Vinny Appice gives his thanks, takes a bow, & throws out the sticks he'd been playing with just moments earlier,

Ronnie once again blows kisses, gives thanks with his hands & says "thanks for having us back after 15 years, we enjoyed being here for you & we'll be back."

Hopefully he's telling the truth!

---
from Glenn Usher <usherg@shaw.ca>
to siegler@black-sabbath.com
date Mar 22, 2007 8:58 PM
subject forgot to mention this review was for the Edmonton show....sorry
Just got back from the Heaven and Hell show and let me tell you it was an experience of a lifetime. My ears are still ringing and my voice is gone, but what a memory to have instilled for life.
I have seen a lot of shows lately but Tony, Ronnie, Geezer and Vinny set a standard that is hard to measure up to. The energy level of the band was great and the songs were tight.
Dio's voice was powerful and alive. Geezer and Vinny worked themselves to the bone and Tony was mesmerizing.
I feel sorry for those that missed it because they lost their chance to see these living legends work their magic. The stage itself was a sight to behold with different song based themes running on it. It was icing on an already perfect cake.
Also near the end Ronnie took a fan made banner and got the band to autograph it onstage and then handed it back. It's nice to see real class from these great musicians.
It put some life back in my soul. Thanks guys you inspire me.
Down did not play due to sickness and Dave from Megadeth seemed distant. They played a quick set and then left.