Black Sabbath Concert Reviews
March 24, 2007
John Labatt Centre
London, ON Canada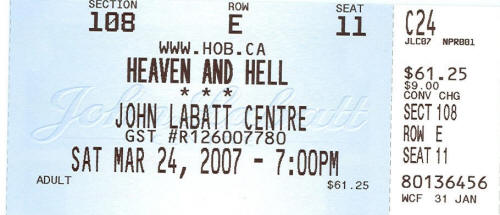 THE BAND
Ronnie James Dio - Vocals
Tony Iommi - Guitar
Geezer Butler - Bass
Vinny Appice - Drums
Scott Warren - Keyboards
SET LIST
E5150
After All (The Dead)
Mob Rules
Children Of The Sea
Lady Evil
I
Sign Of The Southern Cross
Voodoo
The Devil Cried
Drum Solo
Computer God
Falling Off The Edge Of The World
Shadow Of The Wind
Guitar Solo
Die Young
Heaven and Hell (extended)
Neon Knights (encore)
CONCERT PHOTO GALLERY
None yet. Have any? Submit 'em!.
FAN SUBMITTED TOUR REVIEWS & REMARKS
from Craig Hennessey <alloutno2@hotmail.com>
to siegler@black-sabbath.com
date Mar 25, 2007 7:51 PM
subject Heaven & Hell Review London March 24
Saw the Heaven and Hell show at the JLC in London last night, if anyone is wondering if they should see this concert on future dates, do so! Phil was on, Down were solid, a great opening band. Megadeth have never sounded tighter or better, in a word....ASSAULT. Heaven and Hell were awesome, their sound was great, Dio's vocals were near perfect, great song mix, visually spectacular.....buy a ticket.....see this f*ckin' show!

---
from "Benjamin, John D" <JDB11@alfred.edu>
to siegler@black-sabbath.com
date Mar 25, 2007 8:43 PM
subject London, Review
Yo, it's Athcear again. I went to the show last night in London, ON, and here's my review.

The John Labatt center was fairly small, but that's nice. It gives the whole atmosphere a more intimate feel, which I like. The first act, Down, took the stage only ten minutes or so after the doors opened, so I missed the first song they played. No big loss, I say. Down was nothing exceptional. In all fairness, they were better than I expected, but I expected them to be awful. I am not a fan of the newer death metal or black metal or whatever they call themselves. If you're wondering, I'm not one of those old guys who can't move on. I'm twenty years old. I just prefer my metal to be more interesting than tuned down power chords and gutteral screaming.

All that said, I was plesantly surprised with Down. Some of their songs had a good kick to them, without being over the top. One in particular, "New Orleans is a Dying Hole" was quite a bit of fun. They were very much a warm-up band, though. Nothing to really care about, and easy to move on from.

Megadeth took the stage next. They had a very interesting backdrop. I gather that it is the artwork for their next album, which I am hoping is better than "The System Has Failed", which had quite a lot of filler. From what I heard, however, it won't be a disappointment. This was the first time I had seen Megadeth live and I was very impressed. Dave Mustane wasted no time with idle chit-chat or banter (due to their fourty five minute set) and rocked steadily the whole time. They played a good mix of old and new songs, though I would have prefered at least one more from the first few albums. "Peace Sells" was a big hit with the crowd, and is one of my favorite Megadeth songs. They of course played "Symphony of Destruction", which is still pretty damned amazing live. One of the odder choices was "A Tout La Monde", which really got the crowd going. I definately think that Megadeth should have had a longer set, but they were very powerful, even without the benefit of a long show.

Black Sabbath / Heaven and Hell's performance was absolutely astounding. These men are absolutely the gods of metal. Dio's voice was solid and powerful, Geezer's bass was pounding (although a bit over-amp'ed at times), Vinnie Appice's drumming was excellent, and Iommi's guitar was masterful. What little of Scott Warren's keyboards were audible (why can't Sabbath ever put the keyboardist on stage?) were quite good as well.

The setlist was very interesting. After "E5105", they played "After All (The Dead)", which I have always thought would make a killer opener. Oh how much of an understatement that is. "After All" set the mood perfectly for the show; pounding, heavy, and eloquent. They played many of the H+H staples, including "computer God", "Sign of the Southern Cross", and "Children of the Sea". "Children", especially, was masterful and moving. It has always been one of my favorite H+H songs. One odd choice was "Lady Evil", which broke up the serious mood and was a roaring good time. I never knew how much fun that song was until now.

During the show, Sabbath only played two of the new songs, "The Devil Cried", and "Shadow of the Wind". I had been hoping to hear all three, but I guess I'll wait until the CD comes out. "I" was especially powerful, and Dio's voice was excellent on it. They closed with "Heaven and Hell", and played "Neon Knights" for the encore. I was especially pleased to hear "Falling off the Edge of the World" live, and I think it would have made a good close for the show. On the whole, the show was absolutely astounding, and ranks among the best I've ever seen.

---
from "Stonecoldspicer@aol.com" <Stonecoldspicer@aol.com>
to siegler@black-sabbath.com
date Apr 5, 2007 12:47 AM
subject Heaven And Hell Concert Review
Heaven And Hell/Megadeth/Down
March 24 2007
John Labatt Centre
London, Ontario
Canada

Down played about 40 minutes. I am not familiar with them so I have no setlist. They were alright. At one point someone gave Phil the finger and Phil said, "Real classy man, that's your IQ." And another guy tossed up a joint and Phil said, "Thanks for the weed." He also mentioned Dimebag Darrell. I think they played a Pantera song after that but I can't remember what it was. They weren't too bad. I've never seen Pantera so I was eager to see Phil and Rex. He mentioned that he still had a sore throat. They were off the tour for a bit because of that but came back on before this show.

Megadeth were great as usual. I saw them in '05 on the Gigantour so I really wanted to see them again but they only played 47 minutes or so. Hey, better than nothing. Dave didn't do too much talking because as he said, they didn't have a lot of time to play. And he even mentioned how Paul Stanley talks a lot during their shows and how they were laughing backstage. After Dave came back onstage for the encore, he said, "I think I like you." Because we were going crazy. Then he said, "The question is...do you like me? We'll see after this." Then they went in to Holy Wars... And they played it pretty fast too. Way too short of a show but they were pretty damn good.

Heaven And Hell were fantastic. I have never seen Sabbath at all but have seen Dio twice. The crowd roared when they started walking on stage. Couldn't see Ronnie but when he started singing, the lights came on and he was in front of Vinnie. Really cool. Iommi is a guitar god. He sounded great. Played pretty much exactly like the albums. The fact that he can even play is amazing. I was really looking forward to the Heaven And Hell songs and they played all my favs. They sounded great. The stage set up (a castle) was awesome and the backdrop pictures were cool. Just totally cool. At one point, there was an eye looking around. Pretty cool. Great lighting. Tony kinda did a little solo, really just an extended beginning to Die Young. Vinnie has a cool looking symbal. It is cut out in the shape of a cross. He did a little solo. Nothing too spectacular or long but pretty good. He really is a bit built too. Big arms on that guy. Nice drum set-up. All in all, great show and it was on my birthday. How awesome is that. The merchandise booths had autographed Down drum heads for $50 and signed drumsticks from Vinnie Appice for $25. Lots of shirts and nice ones too. Megadeth had better ones than they had in Toronto at Gigantour '05.

Megadeth Setlist

Sleepwalker
Wake Up Dead
She-Wolf
A Tout Le Monde (Set Me Free)
Hangar 18
Washington Is Next
Symphony Of Destruction
Kick The Chair
Peace Sells
Holy Wars...The Punishment Due (encore)

Heaven And Hell Setlist

E5150
After All (The Dead)
The Mob Rules
Children Of The Sea
Lady Evil
I
The Sign Of The Southern Cross
Voodoo
The Devil Cried
drum solo
Computer God
Falling Off The Edge Of The World
The Shadow Of The Wind
guitar solo
Die Young
Heaven And Hell
Neon Knights (encore)

---
from JOEL GERAGHTY <j.geraghty@rogers.com>
to siegler@black-sabbath.com
date Apr 5, 2007 2:38 PM
subject Heaven And Hell - 3/24/07 London, ON review
The Chrononaut Chronicles: Heaven And Hell - Saturday, March 24, 2007
- This took me a while to get out due to a bad case of writer's block caused by events beyond my control, so it might not be the greatest. Plus it's my first concert review.
- LIVE from London, Ontario, Canada!
- Preshow, it was the usual routine at my place with my buddy, which involved drugs and alcohol and was easily cooler than ANYTHING ANY OF YOU HAVE EVER DONE IN YOUR LIVES. I read somewhere it was cool to brag about stuff like that on the internet. Imagine how cool I must be now!
- We headed down to the John Labatt Center, where I foolishly gave up my cigar pack and surrendered my evil weed to some dude wearing baby-blue rubber gloves. I'm like triple-cool now. Seriously though, I've only been to two other concerts in my life and I had no idea they have this kind of security these days. So much for rock 'n' roll. Damn it, when did I start to sound like a dirty old hippie? Anyway, immediately after entering the building I destroyed my bank account and plunked down $140 for four t-shirts (one was a gift!) and ran into some friends I hadn't seen in a long time. Cool stuff. Then we took our excellent seats on the right of the stage up close, where we had a great view. So let the show begin!
- Down: Southern-stoner metal supergroup Down -- fronted by Phil Anselmo of Pantera along with Pantera bassist Rex Brown, guitarists Pepper Keenan (Corrosion Of Conformity) & Kirk Windstein (Crowbar), and Crowbar's Jimmy Bower behind the drumkit -- kicked ass. I love both of their albums and thought they rocked their 45-minute set, as did my buddy who was not familiar with them. Phil was still sick and you could tell his throat must be hurting like a bitch, but he persevered and gave it his all while the rest of the band cranked out their awesomely heavy pounding sound. Snatched from the Down message board to supplement my memory, the setlist consisted of:
1. Lysergik Funeral Procession: Heavy, loud, awesome.
2. Lifer: In a touching acknowledgment that shows metalheads have feelings too, Phil dedicated this underrated song off their first album NOLA to the late Pantera guitarist Dimebag Darrell who was gunned down during a concert in December 2004. Did they do this on the rest of the tour?
3. Hail The Leaf: Suspicious-looking clouds of smoke wafted from the floor as someone threw a (*GASP!*) marijuana cigarette on-stage and Phil thanked them for the weed. Where were security and their baby-blue rubber gloves now?! Bastards. One of my favorite tracks on the first album with some nice mellow parts, really wicked to hear live.
4. There's Something On My Side: Straight-ahead rocker off the second album with a shoutalong chorus that I shouted along to. Somewhere in here (or maybe earlier) Phil made fun of some dude who was flipping him off and telling him to go fuck himself. Then he called some people on the floor "pussies" for standing still during a song. Yeah, no shit, why buy a general admission ticket if you're just going to stand there?
5. New Orleans Is A Dying Whore: When Phil stated that the next song was about their hometown and I told my buddy they're from New Orleans, he was hoping they'd do "New Orleans Is Sinking" by the Tragically Hip. Typical Canadian. That would have been interesting though. Another great song from Down II and even better to hear live with the grinding guitar work. How can you not love a song with a chorus like "New Orleans is a dying whore/Naked she sleeps on my floor"?
6. Losing All: Solid heavy riffs and another singalong chorus. LOSING AAAAAAAAAAALLLLLLLLLLL, LOSING AAAAAAAAALLLLLLLLLLLL!
7. Bury Me In Smoke: This was my first time seeing them live, but what Down show would be complete without their trademark number off the first album? This song deserves its lofty status in the Down catalog and the band churned it out perfectly as the arena filled with smoke. Afterwards, Phil got the crowd pumped for Megadeth and Heaven And Hell as he led us in a "Black Sabbath" chant.
Phil and the band really seemed to appreciate the strong response from the crowd and the reaction when he asked if we'd come out to a Down show if they came back, so hopefully that means they will. Kick-ass performance and Phil is a fucking warrior, enough said.
- Megadeth: We immediately headed out for some much-needed fresh air as my buddy was becoming rather intoxicated. The added bonus was that we missed half of Megapoop's set, but the couple of songs we did hear were done well. I think one was "Symphony Of Destruction" but I'm not sure, and we left again before they were finished. Not a fan and this did nothing to change my mind, but they rocked in their own way and the crowd dug it.
- Heaven And Hell: And now for the main event! The eerie sounds of "E5150" from Mob Rules filled the arena and the crowd erupted as Vinny Appice walked out first and took his place behind the drumkit. The doomy opening riffs of Dehumanizer's "After All (The Dead)", cranked out by guitar god Tony Iommi and bass legend Geezer Butler, provided a unique choice to open the set. I've seen quite a bit of criticism about the decision to play a slower tune first rather than an uptempo number like "Turn Up The Night", but I think it was a great choice and really worked with some amazing guitar work from Tony and scary vocals from the man himself, Ronnie James Dio. You could even look at it as a nod to their Black Sabbath heritage as the track reminds me of the 1970 Black Sabbath title track, so it makes sense from an evolutionary standpoint to do it first. Then again, it was one of my favorite tracks on the album, so I might be biased. Dio was the perfect Master of Ceremonies for the evening between songs as well and has a classy, calm, and collected demeanor (the exact opposite of original Black Sabbath frontman Ozzy Osbourne and his crazed party-animal persona) but he emitted an ear-shattering scream as the band launched into the title track of their second album together, "The Mob Rules", and the crowd rocked along. It hits me at this point just how incredible Dio's voice is, especially considering it belongs to a man who will allegedly turn 65 on July 10. Yes, you read that right, and yes, I do believe he is some sort of supernatural creature because there is just no other explanation for the power and dexterity he still possesses within his vocal chords and somewhat dimunitive frame, as he hopped up on the speakers at the front of the stage like a dude less than half his age. I'm still blown away as I write this over a week later and this concert made me a huge RJD fan.
A beautiful rendition of "Children Of The Sea" off the Heaven And Hell album helped enhance that opinion as Ronnie deftly switched tempos from soft and sweet to nasty and growling throughout the song, while still hitting the higher notes and Tony worked his soul-stirring guitar magic with a great solo. Dio explained that the next song was about "a really mean, vicious person - of course, it's a woman" and immediately apologized tongue-in-cheek as the band rocked through the appropriately-titled "Lady Evil", which is a lesser-known song off Heaven And Hell that has grown to be one of my favorites so this was a highlight for me since it wasn't played live much in the previous incarnations of this band. The band followed with another rocker in the form of "I" from Dehumanizer, featuring some sweet solos from Tony and explosive drumming from Vinny as Ronnie even did the Ozzy-like "Nooo nooo nooooo" near the end and added some Gillanesque rock screams. Dio introduced "The Sign Of The Southern Cross" as one of their most-requested songs and they gave us an epic version of the Mob Rules track, highlighted with the almost-psychedelic guitar work of Tony augmented by the hidden keyboards of Scott Warren. "Voodoo" off the same album was next and as I mentioned in my Mob Rules review, I really like this song a lot better live (as on Live Evil) with an atmospheric slow part, a classic solo from Tony, and a driving bassline from Geezer giving it a '70s Sabbath vibe. I also dig Ronnie's "Evil lurks in the mind of the beholder" wind-down part at the end that gets criticized. Some people should just stay home and listen to their albums rather than attend a live concert where the songs MIGHT ACTUALLY SOUND DIFFERENT. OH NO!
There are three new songs included on the Black Sabbath: The Dio Years "best-of" disc and one of them is "The Devil Cried", which is a slow doomy number with a riff that is almost blatantly reminiscent of Electric Wizard's "Return Trip". I didn't care much for it upon my first listening of the studio track, but it's another one that's growing on me and comes alive in the live environment as a heavy-ass doom metal masterpiece with (yet again) classic solos by Tony and mournful vocals by Ronnie. This led into Vinny's pounding drum solo, which was much better than I'd anticipated and popped the crowd. A voiceover countdown from 5 to 1 took us into "Computer God" with more subdued vocals than the Dehumanizer album track and scorching licks from Tony after a beautiful slow part, during which the crowd held up their lighters as they did at other appropriate low-key moments. Next up was the rarely-performed "Falling Off The Edge Of The World", which Dio noted was a good description for the state of the world, as the band ripped through this underrated Mob Rules track and followed with "Shadow Of The Wind", another brand-new song available on Black Sabbath: The Dio Years that I hadn't heard. It's a cool slower-paced number with a soulful guitar solo, but it might have been a mistake to place it so closely in the setlist to "The Devil Cried" since both songs are unfamiliar and bring down the audience a bit, especially with a deep cut like "Falling Off The Edge Of The World" that isn't as well-known in between.
It doesn't matter though, because a classic Iommi solo led into the "Die Young" riff and Dio wailed like it was 1980 in this classic Heaven And Hell song, which featured the superb slowed-down "Someone stopped the fare" part from the album track that I don't think they usually did live back in the day. Ironically, "Die Young" brought the crowd to life and left us enthusiastic and energetic as we all wailed along when Tony played the iconic "Heaven And Hell" riff while Ronnie crooned his ass off and bled for the dancer. Not literally. Absolutely incredible to hear this thunderous title track performed live with the band hitting on all cylinders as the "Little white shape" slowed-down part in the middle was a thing of beauty with a heavenly white spotlight shining down on Dio before he turned into a growling demon and a hellish red light shone up at him. Seriously, this thing made him look scary. Stunning effect for the band's signature number and they finished off with more of Tony's scorching guitar and the crowd participation bit. Ronnie named off his bandmates and thanked us as they left the stage and many people filed out of the arena, but after a couple of minutes the fantastic four returned and Dio said they always had time for one more for us while promising us they would be back in the future. Interesting. A blazing rendition of "Neon Knights" was the encore song as Ronnie performed his amazing vocal acrobatics with the audience singing along and the band playing brilliantly in this aptly-titled number in the home of the Ontario Hockey League's London Knights. I don't follow hockey anymore, but they should adopt "Neon Knights" as their theme song and change the team colors to neon green, hot pink, and bright yellow. Anyway, this was the perfect nightcap to a truly unforgettable experience with a legendary band on possibly their last tour together ever.
1. E5150 / After All (The Dead)
2. The Mob Rules
3. Children Of The Sea
4. Lady Evil
5. I
6. The Sign Of The Southern Cross
7. Voodoo
8. The Devil Cried
9. drum solo
10. Computer God
11. Falling Off The Edge Of The World
12. Shadow Of The Wind
13. Die Young
14. Heaven And Hell
15. Neon Knights (encore)
- The Wrapup: In the interests of full disclosure, I must admit that I acquired a recording of this very Heaven And Hell performance and used it to jog my memory since my buddy became a wastecase and magged out on me halfway through the Sabbath set, screaming for Ozzy and "War Pigs" and telling Dio to fuck off while repeatedly poking me and a hot groupie chick in front of us. Not even that could detract from the magnificence of this show, but it was a bit distracting. Embarrassing too, since there was an 8-year-old girl sitting near us who was better behaved and more appreciative of the music than him as she let the devil horns fly a few times. That was cool. The concert was a very unique experience as this tour is the first time this lineup (or any Sabbath lineup) is playing only Dio-era material without doing any of the classic Ozzy-era tracks, which I believe is part of the reason they decided to bill the band as Heaven And Hell rather than Black Sabbath. I can't produce enough superlatives to describe how transcendent and awe-inspiring it was to see these true music icons performing live in front of me, so I definitely recommend it if this tour hits your area and you can go.