Black Sabbath Concert Reviews
March 26, 2007
Bell Centre
Montreal, PQ Canada

THE BAND
Ronnie James Dio - Vocals
Tony Iommi - Guitar
Geezer Butler - Bass
Vinny Appice - Drums
Scott Warren - Keyboards
SET LIST
E5150
After All (the dead)
Mob Rules
Children of the Sea
Voodoo
I
Lady Evil
Sign of the Southern Cross
Drum Solo
Computer God
Falling off the edge of the world
Guitar Solo
Die Young
Heaven and Hell
Neon Knights ( Encore)
CONCERT PHOTO GALLERY
Here and here are some pictures from the Megadeth & Black Sabbath sets (these are off site)
FAN SUBMITTED TOUR REVIEWS & REMARKS
from Jeff Martin <jeff_martin13@hotmail.com>
to siegler@black-sabbath.com
date Mar 27, 2007 4:29 PM
subject Heaven and Hell in Montreal
Hey I just went to see the Black Sabbath show in Montreal and they were amazing.The light show was incredible.

-Dio was incredible he's got an awesome voice.
-Geezer is the best bassist i've ever seen he just keeps going.
-Vinny was really good but I kinda wish his solo were longer.
-Tony Iommi what else could you say about him he was just lovin' it it looked like he was having such a great time.

Megadeth was awesome I think that anyways because i'm a big Megadeth fan.For a Thrash Metal band they really keep it together in a live show.

Down was good too.They got the crowd warmed up for Megadeth and Sabbath.

Jeffrey Martin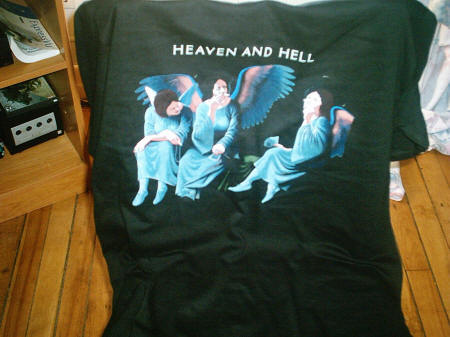 ---
from Emile & Micheline Lajoie <thelajs@unitz.ca>
to siegler@black-sabbath.com
date Mar 29, 2007 5:14 PM
subject Montreal review
Hi Joe

My son and I attended the March 26th show in Montreal and although my son was completely blown away by Down , Megadeth and Dio and the boys, I on the other hand left the concert a bit disappointed. Let me explain....
First: Down played a good set and did their job of getting the crowd excited and crazy (my son and I had floor tickets 30 or so feet from the stage) I stand 6'3" and 300lbs so no one pushed me into the mosh pit!
Secondly: Megadeth was awesome in delivering their tunes. A solid no break 55 minute set that completely exhausted me. I have a new found respect for Dave Mustaine and his band.
Thirdly : Heaven and Hell. Although their skills as musicians is unquestionable, I thought they delivered their set very predictably. Taking a pause after each song broke any type of momentum in a live show. I dont think it would have been too hard to pull into another song when finishing one. Example....Coming in with After All( the Dead) after E5150, To me it seemed natural to come at the crowd attacking with either Neon Knights, Mob Rules, TV Crimes or I ( minus that song' s intro). One pleasant surprise was Vinnie's drum solo which lasted longer than the Live Evil one. In all what mattered most was the fact my 16 yr old got to see them live.

Thanks
Emile Lajoie ( Sudbury Ont)

---
from Emile Mivnville <vive_le_punk321@hotmail.com>
to siegler@black-sabbath.com
date Apr 3, 2007 6:55 PM
subject Heaven and Hell in Montreal
Hi! ,
First of all, I just want to say that I live in Quebec, so my english is not
very good, so if there some mistake you can correct them.

I've been waiting 4 hours outside before I can enter in the Bell centre.

The Show start with "Down" but....I don't give a fuck.

After that we have MEGADETH, the sounds was very good in the front, but They
didn't play long enough. They give a very good performance with 2 new songs
and Megadeth classics. Here's the Set-list:
Megadeth

1. Sleepwalker
2. Wake Up Dead
3. Skin Oí My Teeth
4. A Tout Le Monde
5. Hangar 18
6. Washington Is Next
7. She Wolf
8. Symphony Of Destruction
9. Peace Sells
10. Holy Wars (encore)

AND AFTER ALL..AFTER ALLLLL!! HEAVEN AND HELL!!!

The immortal legend of metal was now on stage, Dio impress me, he's very in
good shape, his voice was really really good.The Sound was good too, but Dio
always look to the technician with a frustrated face (Probably because the
guitar was too loud and the voice not)
Tony Iommi was perfect, I heard no wrong note
Geezer Butler still Rock
And Vinny Appice is a greatest drummer that i was thinking (Especially with
his drum Solo)

The greatest moments of the night was during the Heaven and Hell song when
everybody was singing in Chorus, oooooooOOOOoooOOOOOOO!!

SET-LIST

Heaven and Hell

1. E5150
2. After All
3. The Mob Rules
4. Children of the sea
5. Lady Evil
6. I
7. The sign of the southern cross
8. Voodoo
9. The Devilís Cried
10. Vinnie Appice Drum solo
11. Computer God
12. Shadow of the wind
13. Falling off the edge to the world
14. Tony Iommi Solo / Die Young
15. Heaven and Hell
16. Neon Knight (encore)

Thanks, keep the good work