Black Sabbath Concert Reviews
March 27, 2007
Colisee Pepsi Arena
Quebec City, PQ Canada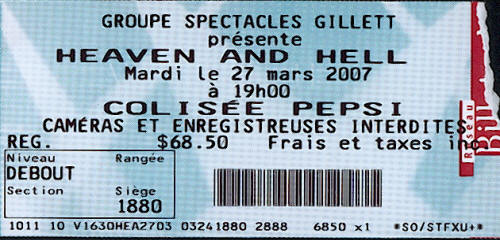 THE BAND
Ronnie James Dio - Vocals
Tony Iommi - Guitar
Geezer Butler - Bass
Vinny Appice - Drums
Scott Warren - Keyboards
SET LIST
E5150
After All (The Dead)
The Mob Rules
Children Of The Sea
Lady Evil
I
Sign Of The Southern Cross
Voodoo
The Devil Cried
Drum Solo
Computer God
Falling Off The Edge Of The World
Shadow Of The Wind
Guitar Solo / Die Young
Heaven and Hell (all the parts)
Neon Knights
CONCERT PHOTO GALLERY
None yet. Have any? Submit 'em!.
FAN SUBMITTED TOUR REVIEWS & REMARKS
from "Richard H." <bigrock93@yahoo.com>
to siegler@black-sabbath.com
date Mar 27, 2007 11:17 PM
subject H&H review, Quebec Cit
First of all, let me congratulate you on what is possibly the best fansite on the web, not just for Sabbath but for all bands.

I was very excited to go see this concert, because I've waited for 20+ years to have the chance to see Ronnie with Sabbath (the last time they were in Quebec City was in 1981). I was lucky to be about the 4th "row" from the stage (no chairs, first arrived, first in front), right in the middle.

About Down, I only knew that Phil Anselmo (ex-Pantera) was the frontman. They did a pretty good set anyway, and there was a lot of slammin', maybe too much for me...

Megadeth was awesome, but Dave almost said nothing between the songs. I wonder if he knows that we understand english here... he looked like he was in good spirits.

Megadeth setlist (not 100% sure of the order):

1. Sleepwalker
2. Wake Up Dead
3. Skin O' My Teeth
4. A Tout Le Monde
5. Tornado of Souls
6. Washington is Next
7. Hangar 18
8. Symphony of Destruction
9. Peace Sells
10. Holy Wars

About our main event, finally after 20 + years... H&H !

There were technical problems (with right side lights effects, I think) so the show began a little late. They had to skip Ear in the Wall and Lonely is the Word. I won't tell you about the stage, you saw the pictures from Vancouver and Calgary.

Ronnie was in great shape, both physically and vocally. His stage presence is still awesome, and his voice was wonderful. For those of you who have doubts if you saw "Holy Diver 2006", rest asure my friends. He is in great shape, his voice is great and the magic is there.

Tony was his usual self (not running around the stage, as you imagine...) but you could see that he was clearly enjoying himself. Geezer was absolutely brilliant. I knew that he's a hell of a bass player, but his playing mesmerized me. As long as you don't see him play live, you can't fully appreciate his playing.

There were very minor glitches, but they couldn't give justice to The Devil Cried. At first, I had problems recognizing Tony's riff, and later in the song Vinny changed his playing and it was kinda weird. They played Southern Cross entirely, it was so great. About Voodoo, they did it the same way that it is on Live Evil, rather that the Mob Rules version. Just so you know.

Here's the set list, in order.

1. E5150
2. After All (The Dead)
3. The Mob Rules
4. Children Of The Sea
5. Lady Evil
6. I
7. Sign Of The Southern Cross
8. Voodoo
9. The Devil Cried
10. Drum Solo
11. Computer God
12. Falling Off The Edge Of The World
13. Shadow Of The Wind
14. Guitar Solo / Die Young
15. Heaven and Hell (all the parts)
16. Neon Knights

If I think of anything more, I'll send it later. The show finished an hour ago, and I'm still all fired up.

If you have the chance to see this show, JUST GO ! It was an incredible night for me, and I'm sure it was the same for all of those who attended the tour so far.

Hope this review helps, cheers.

Richard
Quebec City.

---
from Eric Chiasson <e_ch@msn.com>
to siegler@black-sabbath.com
date Mar 29, 2007 12:40 PM
subject Heaven & Hell concert review March 27th, 2007 - Quebec City
Hey there,

I saw Black Sabbath back in August of 1999 & I fell quite blessed to have witness Ozzy, Tony, Geezer & Bill on the same stage. I said to myself that this was a once in a life time thing & that I could die happy. Needless to say I never even dreamed of attending a concert featuring a second classic Sabbath line up. But it happened. What a show it was. I was happy to see Down & Megadeth as well, but I was really there to see Heaven & Hell tear up the place. From start to finish, the atmosphere was almost unreal. Blazing through a set list of classic materials from the Dio-era albums, I think fans welcomed the change from always hearing War Pigs & Paranoid live. Can't wait for the DVD to come out this fall, & I sure wish I could see heaven & Hell on concert again. As I write this, trying to describe the show as best as I can, I realized that there are no words that can even come close to describe such an experience. You either feel it in your soul or you don't.

---
from Glen <caingc@nb.sympatico.ca>
to siegler@black-sabbath.com,
date Thu, Oct 11, 2007 at 7:15 PM
subject Heaven & Hell concert review March 27th, 2007 - Quebec City
I must say that I feel truly blessed to have witnessed Black Sabbath with Dio in Quebec City. It was without a doubt worth the 8 hour drive. I think we all agree this will probably be the last time you will see this line up on a tour of this magnitude. The whole show was amazing, including Down and Megadeth. The staff were awesome, the security was cool and didn't "sweat the small stuff" if you catch my drift. Ronnie's voice was unreal and what a showman!! I was lucky enough to see Sabbath in the opening show of Ozzfest 2005 in Mansfield, MA. Ozzy was... well, Ozzy. It was a my first time seeing Sabbath so I felt lucky to do so. But, to compare the showmanship of Ronnie James Dio to Ozzy is no contest. I've heard rumors that Dio is approaching 60. Whatever, you would never know it from his performance. It was also nice to see Tony able to play more challenging material than the typical Reunion Tour setlist. He truly seemed to be enjoying himself, as was all the rest of the band. Geezer was as brilliant as ever. Vinny was in true from with his "triplet run" technique. I loved the setlist but was a little disappointed it didn't include "TV Crimes". All in all, definitely one for the books. DO NOT MISS THIS SHOW!!
P.S. Great site Joe!
G.Cain