Black Sabbath Concert Reviews
March 30, 2007
Radio City Music Hall
New York City, NY USA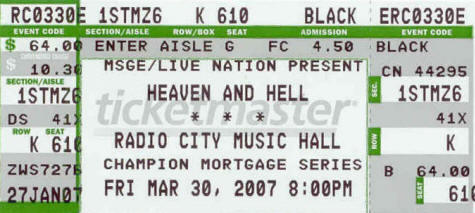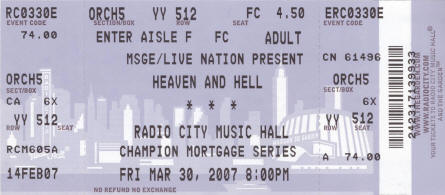 THE BAND
Ronnie James Dio - Vocals
Tony Iommi - Guitar
Geezer Butler - Bass
Vinny Appice - Drums
Scott Warren - Keyboards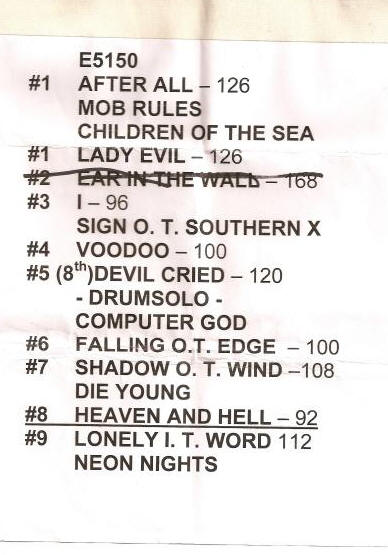 SET LIST
E5150
After All (The Dead)
The Mob Rules
Children of the Sea
Lady Evil
I
The Sign of the Southern Cross
Voodoo
The Devil Cried
Appice Solo
Computer God
Falling Off the Edge of the World
Shadow of the Wind
Iommi Solo/Die Young
Heaven & Hell
Lonely is the Word
Neon Knights
---
A NOTE ABOUT THE SET LIST
This show was recorded for a DVD release in August 2007. As has been widely reported, there were problems with the union workers in New York City, and the set list had to be cut short. Here is what Geezer Butler had to say about that when someone emailed him about the situation, and the possibility of refilming another show.
Hello Mark,
unfortunately Radio City was the only night we could have played the extended set, but as has been documented, the unions were so strict, we were only allowed 15 minutes for sound check- that includes all instruments, balances, monitors, p.a., lights, camera angles etc. We didn't actually have time to run through ear in the Wall, which was the only song missing from the final show. To include that at some other time would mean bringing the whole video crew, sound truck and engineers etc, which would be unfeasible for one track. Blame the unions, not us- at least we did an unrehearsed Lonely is the Word [and just in case you didn't know, its a federal offense to disobey the unions, because it comes under safety laws- which means we could have been arrested as well as fined millions of dollars-go figure!].
Unfortunately, i agree with most unions because they give workers rights, without which we'd all be working as slaves.

Geezer
---
CONCERT PHOTO GALLERY
Check out this fan link, it has over 200 pictures taken from this show.
Check out this fan link, it has about 75 pictures taken from this show.
Click here for the photo gallery from this website.
FAN SUBMITTED TOUR REVIEWS & REMARKS
from deeandsteve steele <steele.sanity@gmail.com>
to siegler@black-sabbath.com
date Mar 31, 2007 9:56 AM
subject Radio City Review
"What do you say to the dead?"

Am interesting question, posed by a man pushing pensioner age from the stage of New York's Radio City Music Hall.

Dio's age may have been a topic of much debate and curiosity in the bar beforehand but in person, the man delivered the goods in spades.

A few moments before due to the pat down lines outside I had just made it to my seat in the stalls as the last bars of E5150 sounded.

Iommi appeared stage left, highlighted by a white spotlight he eked out the funeral dirge intro of "After All (The Dead)"
Next Geezer Butler joined in.
Before Ronnie James Dio posed the aforementioned question from the drum riser.
It certainly was a strange choice of opener but for me worked perfectly with the staging and slow build up.
At songs close the crowds response was warm but reserved.
Dio introduced "Mob Rules" with a demonic scream

"Children of the Sea" was the first selection from "Heaven & Hell" Dio sang the opening verse plaintivley before his more aggressive vocal alterego took over rising to the evil "LOOK OUT" section at songs end.

A personal highlight for me was next, and my airbass got a serious pounding for the groovy "Lady Evil"
Back to '92's dehumanizer the riffmeister Iommi uncoiled the intro riff to "I" Dio shone on this delivering the lines with venom and power.

Since the announcemnt was made that this lineup would be touring I had hoped that the next song
would be included.
"Sign OF the Southern Cross" was everything I had hoped and more, Geezer's bass suprisingly provided the spooky accompaniment to the verse, Iommi's riff threatened to snap my neck on several occasions.
The band stuck with the "Mob Rules" album for the extended "Live Evil" rendition of "Voodoo"
Dio reminded the audience of the main reason this lineup was together and deliver the first of the new material a powerful "The Devil Cried"

An "Unnecessary (Live) Evil" of Vinne Appices Drum solo followed an provided me and several hundred other fans a much needed "Men's Longe' Break.
"Computer God" was the last visit of the night to 'Dehumanizer" Dio again delivering the vocals flawlessly.

"Falling Of The Edge of The World" was another true fans 'Deep" track, truly astonishing and another personal highlight.
Another new track "Shadow Of the Wind" proved that Iommi can still conjure up a classic riff.
Back to the "H&H" album for "Die Young" Iommi's intor solo, raising hairs on the back of many necks.

The ultimate title track 'Heaven & Hell" turned the near six thousand crowd into a football stadium, the audience needing little prompting from Dio to chant the riff and chorus.

"Lonely Is the Word" opened the encore and again exceeded and went far beyond my expectations.
Finally 'Neon Knights" closed out the show.
A truly amazing performance.

Cheers
Steve Steele

---
from "DiaryofAMadman81@aol.com" <DiaryofAMadman81@aol.com>
to siegler@black-sabbath.com
date Mar 31, 2007 2:58 PM
subject Concert Review and Pictures NYC 3/30/07
Heaven and Hell takes Manhattan

Last night's show has to be one of the most historical and powerful Sabbath events of all time. Thru out the day around New York City, one by one the DIO and BLACK SABBATH shirts started poppin up all thru the streets, and come around 7pm, New York City had been fully invaded by the Heaven and Hell army. Nice little old ladies in their Sunday best on the way to a mary poppins musical on broadway were overtaken by black on black and leather clad army that makes up the Sabbath army. Outside Radio City Music Hall, electricity filled the air as the throngs of faithful filled into the hall for what would be a night never to forget.

To see such a legendary band, in such a legendary venue, all in attendance were pumped and ready for the nights event. There was only one T-shirt stand open, and there was no sense of order or any formation of a line, basically if you were one of 6 foot tall, 300 pound zombies, you got thru quicker by pushing your way in, rather us normal size people who waited patiently like human beings. The shirt selection was incredible, no shortage of designs.....now onto the show...

Although the ticket said 800pm, the house lights went down around 820pm, to thunderous applause, from out of the darkness blasted the opening chords to E5150, the curtain raised to show a gothic graveyard scene......a lone spotlight lit the right side of the stage, and from the darkness emerged the Man, the Master, the Legend, the black heart that has kept sabbath's torch burning....Tony Iommi. The Set list consisted of ...

1. E5150
2. After All (The Dead)
3. Mob Rules
4. Children Of The Sea
5. Lady Evil
6. Ear in the Wall
7. I
8. Sign Of The Southern Cross
9. Voodoo
10. The Devil Cried
11. Drum Solo ( at this point Ronnie changed his shirt from white to black - Heaven and Hell)
12. Computer God
13. Falling Off The Edge Of The World
14. Shadow Of The Wind
15. Guitar Solo
16. Die Young
17. Heaven and Hell (extended)
18. Lonely is the word
19. Neon Knights (encore)

Ronnie had told the crowd that tonights show was being filmed for a live concert DVD that would be released later in the year. The boys were so into what they were doing, all were smiling during breaks, and truly seemed to be enjoying themselves, but on the more serious side, the band was also very powerful and aggressive...from every drum beat to every bass note, to every classic Iommi chord right down to Ronnie's amazing "giant" size vocals the band had the entire audience by the throat and only squeezed tighter and more louder with every song played. Heaven and Hell or Black Sabbath no matter what you call them, this band, this music this sound is the stuff of legends, if you werent at the show you missed history, if you have tickets for upcoming shows, no matter how pumped you are for it, you will be blown away beyond your dreams.

Rob Smith

---
from "deech61@optonline.net" <deech61@optonline.net>
to siegler@black-sabbath.com
date Mar 31, 2007 5:08 PM
subject Heaven & Hell review NYC
Hey Joe,
Saw Heaven & Hell at Radio City last nite ...or Black Sabbath II as I like to call them....phenomenal show....sound in that venue is superb. The entire band was at peak performance....one of the best sounding concerts II ever heard.

The set was almost the same...they dropped Ear in the Wall during the regular set, but added Lonely Is the Word as the first encore song. Tony's Guitar work was amazing. These 4 guys in their late 50's (Dio - 60s??) outplay groups of any age.

Personall, I think they should open with The Mob Rules and the follow it with After All (the Dead) just because of the song tempo. A fast openning song would get the crowd going from the first note. But believe me, every song was right on the money. They announced they were filming the show for a DVD.

One classy note on Dio......after Lonely is the Word and just before the closing Neon Knights....he thanked the crowd...then gave a special thanks or mention for Tony, Geezer, Bill, and Ozzy ( yes...he mentioned Ozzy !!) for re-uniting and getting another generation into heavy metal music and treating their fans to some great music.

After the show...i couldn't find one fan who was disappointed with the performance.....a great show.....and definitly a great venue to see a concert.

regards

Tony D.
NY
---
from mark storton <markstorton@hotmail.com>
to siegler@black-sabbath.com
date Mar 31, 2007 11:47 PM
subject radio city review
Well here we go. I got to NYC around 2pm. I found myself in a grotty metal bar called circus (43rd/44th street and 9th) with friends. The barmaid proceeded to remove her t-shirt and strip down to her bra giving everyone a real eyeful (ONLY in New York). The beer was cheap and we stayed there until 1 hour before showtime.

Well I get in and my seat in the pit is amazing,I was FRONT ROW and it was a presale ticket also. I was literally touching the stage all night. Couldnt take my union jack flag in as security confiscated it. Onto the show and the band were on fire, the sound was a bit screwy at the front but those at the back told me it was great. Shook hands with Dio during one song and Geezer came over at the end of the gig and shook my hand. How about that, and to top it all Vinny gave me his used drum stick. Plus it was filmed for dvd, so im sure you will see my ugly mug on the dvd.

Go see this show, they will blow you away, Dio and iommi are the real stars of the show, but you still gotta love geezer.
---
from Eric Goldberg <egoldberg@hubgroup.com>
to siegler@black-sabbath.com
date Apr 1, 2007 9:02 PM
subject Souvenirs & Updated review.
Joe,

The rumors are true: the NY City Heaven and Hell show at Radio City Music Hall on 3/30 was recorded for the new DVD of this tour. Ronnie mentioned it, and even if he hadn't, the 5 visible cameras and the multiple microphones over the audience were a dead giveaway before the show started.

When I bought the tickets on the pre-sale, I saw and confirmed my seats before my purchase, just like everyone else. Since it turns out that the tickets I was given were for seats that did not exist, I got other seats in that same row, and the ticket agency reimbursed me for all charges. That's right: not only did I see H&H on their first US show, and not only did I see a show that was professionally recorded, but I did all that free.

I drove from central MA to visit my friend in Manhattan so we could see the show together. We spent the day in the city seeing sites including Strawberry Fields, the tribute to John Lennon, in Central Park which is across from the Dakota where John and Yoko used to live, and where Yoko still resides.

At show-time we went into the legendary Radio City Music Hall. There was only 1 stand selling shirts, and there was one shirt that was specific for this show with a picture on the back of the Statue of Liberty with demon's wings giving Dio's "horns" salute. This was the shirt form me.

Our seats were on Tony's side of the stage so I tended to focus on him a little more than I did on Geezer. While Tony interacted with Ronnie, Vinny, and the audience, Geezer seemed a little more aloof and withdrawn. I'll try to pay more attention to him when I see them again in May. Tony and Ronnie were smiling at one another right from the start. I noticed that Vinny had these toms that were wobbling and expected to see a roadie come on and nail them down, but then I noticed that he pulled the tom stand close to him with one hand and hit it with the other. When he let go, to toms would rock back and forth for a little while. I've never seen any drummer do anything like that before.

Eddie Trunk gave a nice introduction to the band before the house lights dimmed and the curtain rose. The set list was strong, but the order of some of the songs was questionable to me:

E5150 (prerecorded)
After All
Mob Rules
Children of the Sea
Lady Evil
I
Sign of the Southern Cross
Voodoo
The Devil Cried
Drum solo
Computer God
Falling off the Edge of the World
Shadow of the Wind
Die Young
Heaven and Hell

Encore:
Lonely is the Word
Neon Knights

Opening with "After All" and starting the encore with "Lonely is the Word" instead of faster songs was an odd choice to me. Of the songs played I think "Mob Rules" might have been a better opener, and returning from the encore with "Falling off the Edge of the World" may have kept the energy at a higher level.

For "Mob Rules" and "Voodoo", Tony played a white SG with a tremolo arm. He used his old faithful deep red road SG for most of the rest of the show. "Voodoo" was extended with the same break that they did on the Mob Rules Tour. Break out Live Evil to hear a similar version. For "Heaven and Hell" Ronnie had the whole crowd singing "Oh" to the tune of the guitar riff. When he was ready to start singing the first verse, we wanted to keep on singing, and he allowed us to do so while he and Tony seemed to enjoy our performance if also being somewhat amused by our enthusiasm.

The crowd went particularly wild for Children of the Sea, Falling off the Edge of the World, and Die Young (which was played in its entirety as it had not always been done in the past). There were also huge cheers and "horns" salutes any time a camera turned towards the audience.

While I admit that I've never been a fan of the drum solo in general, I found it particularly odd that Vinny took a drum solo, and Tony didn't take a guitar solo. Granted the intro to "Die Young" was a little longer than normal, but the lack of a solo is something I can't understand, especially since this "evening with Heaven and Hell" was supposed to be a longer set than the other shows. From what little I've seen, it is essentially the same, if not shorter by the omission of "Ear in the Wall'.

It was a great show, although imperfect with a few flaws and miscues along the way (moments in "Voodoo" and "Die Young" stand out in my mind). Ronnie's voice was as powerful and melodic as ever. If any of you have seen him a number of times, you may have noticed that he sometimes tends to growl or yell more than he sings; this night was mostly singing with the growling and yelling reserved for appropriate affect. While they may not be as dangerous as they were in the early 1980's, they are as tight and powerful as they have ever been. I can't wait to see them again and again (in Lowell, MA and Uncasville, CT).

Eric Goldberg
---
from "Tungsten S." <tungsten12@msn.com>
to siegler@black-sabbath.com
date Apr 1, 2007 11:21 PM
subject Radio City Music Hall Review
Hi Joe Great site keep up the good work
I was lucky enough to tickets down by the stage and it was unbelievable to be so close!
Anyway here's my review: (Pics to follow soon)

I've been involved in music and a major fan of the Sabbath "Family" for over 30 years now. When I heard that they were coming to Radio City Music Hall for a special show I had to try to get there.
I wqs lucky enough to be down by the stage on Geezer's side and the Power and Intensity from this band would be very difficult to match. From the second the curtains went up and even till the end no one sat down because the energy level was so high. Dio's voice was powerful and still sounds the same after all these years. Tony (my guitar hero and idol) is the Master and sets the example for all Rock. One highlight for me was that they played Lonely Is The Word (as an encore no less) and Tony's solo was played with so much finese it was unbelievable. His jazz influence came out beautifully. Geezer pounded out rock solid bottom end just like the Master that he is. Vinny's drumming was right on the money and didn't miss a thing even on songs he didn't originally play. The chemistry between these four musicians is unbelievable and they sound even better now. The stage setup and light show was awesome (can't wait for the DVD to come out cause they filmed and recorded this show!). To experience the energy and chemistry will be a lifelong memory. If you can get to see Heaven and Hell do so because you certainly will enjoy the experience.
Arty
---
from Claudia Perafan <clauspattylin@yahoo.com>
to siegler@black-sabbath.com
date Apr 4, 2007 9:22 AM
subject Radio City
Siegler,

Hi, I just want to comment about Heaven and Hell concert at Radio City.
it was amazing!. I have always dream to see them together.

As everybody knows it was sold out!.... The band was perfect, the beginning was very cool, with a guitar introduction, following of bass and then Ronnie James Dio showed up!

It is unbelievable how full of energy Dio is! and his voice is still the same. Dio is my favorite singer, he has a particularly in the way he develops a song, he feels what he is singing so deep and it makes the best to enjoy Rock Music!

Tony is for me the personification of "elegance and classic style". They played several songs from all albums they did together, the songs that I have enjoyed the most are "After all", "Children of the Sea", "I", "Sign of the Southern Cross"," Die young", and of course "Heaven and Hell".

I have not grew up in this country, and I am not from that generation, but it does not matter the way I respect and feel about music, opposite it made everything more special for me.

PS;To be honest I wanted Dio to sing any of his "solo songs" like "Holy Diver"

Thanks for your time and keep Rock!!!

Claudia Perafan

---
From: Jesse@Myspace
Well it's on and on, on and on, on and on...
...andi it's Heaven and Hell!!!!!!!

Toni Iommi, Ronnie James Dio, Geezer Butler, Vinny Appice, need I say more? This line-up of Black Sabbath is, in my humble opinion, the greatest band of musicians ever assembled. They are absolutly legendary. My favorite line-up of my favorite band, and I got to see them @Radio City on my birthday!!!!! It was awesome!

The set list went as follows:

E5150-At this point, the fact that I'm about to see them perform starts to actually hit me....

After All (The Dead)-and then the band comes out and I hear Ronnie sing "What do you say to the dead?" and I stop breathing for a moment, this can't be real.... (a pleasent surprise, I didn't realize how amazing this song was!)

The Mob Rules-ah, but it is. Time to let loose to this headbangin' anthem! This song really brought the energy of the place up (my only critique would be that this probably would've been a better opener than After all, as it is a great crowd energizer with it's tempo, and the scream Ronnie delivered to start it off was enough to send chills down your spine)

Children of the Sea-the greatest Sabbath song ever, period. Nothing but SOTSC and H&H comes colse. Iommi's guitar solo was hypnotic and emotional, the drums beat your heart, Geezer's bass lines shook your skeleton, and Ronnie's vocals went straight to your soul on this one (he always seems to nail this song). One of the highlights of the night for me was hearing Dio sing "Reaching for the stars, we blind the sky..."

Lady Evil-Wow, I always liked this song, but it was never one of my favorites, but after hearing it live I must say, it kicks ass! A difficult task to follow COTS, but somehow, Lady Evil did as good of a job any song other than SOTSC or H&H could do.

I-Blew me away, the intensity of this song was astounding. I couldn't help but feel an overwhelming surge of power during this song.

The Sign of the Southern Cross-Finally!!!!! I've never heard a full live version of this song before, and I was not disappointed. This only made the decision between COTS and SOTSC as best Sabbath song even harder in my mind. Absolutly chilling, awe-inspiring. It really is not fair that these guys are so freakin good.

Voodoo-100x better live than on the album. Excellent. The band just cannot seem to miss a beat, other than a bit too much feedback on SOTSC and Ronnie showing some age in The Mob Rules, all the way to here these 55+ men (65 in Dio's case) all delivered superbly. Voodoo was no exception, I was just awe-struck.

The Devil Cried-Great song, Tony and Ronnie prove to still be one of the greatest songwriting combinations in all of Rock, let alone Metal, music to this day. I love the lyrics, so cool. Let me tell you, this is the one band so fucking awesome and so kick-ass, they could easily make the devil cry.

Vinny's Drum Solo-I didn't think I could sut through an entire drum solo, but I did. Even this hypnoized me, there is nothing boring about this band. Amazing, it's too bad more people didn't feel the same way (this kind of acted as "intermisssion" for people to take bathroom breaks).

Computer God-Has cemented itself, along with "I" as my favorite from Dehuanizer. Stunning. Such a forceful delivery, and the ending of this song made the crowd get right back into the groove after their disrespectful departure during Vinny's solo.

Falling Off the Edge of the World-Maybe Ronnie's best vocal performance of the night (idk, it's between this, Die Young, COTS, and I for sheer power). This song just kicked ass. It lulls you in with a soft introduction, performed masterfully by Toni and sung superbly by Ronnie, and then kicks your ass with up-tempo riffs and bass lines, crushing drums, and roaring vocals.

Shadow of the Wind-Impressive, I had never heard this song before, but it was certainly not filler. Excellent riff and solo from toni, and very intriguing lyrics. can't wait to get this song on the Dio Years album (although i doubt a recording will be as good as the live version, this concert proved that that is impossible).

Die Young w/extended guitar intro-Toni Iommi owns every single metal guiarist ever, and this is why. Wow, just, wow, and the song didn't even start yet! But when it did, omg was I blown away. I've heard that it is always one of the gems of this line-up's live set, and now I know why. The delivery of this song was amazing.

Heaven and Hell-ok, the place exploded as soon as Toni struck the first notes of the opening riff w/his pick. We all sang along w/o being prompted by Ronnie at all, much to his voiced surprise. The crowd could not sit during this one-the energy was intense. Mind-blowing, the best perfermance of the night-GREATEST LIVE SONG by any band EVER! (Ronnie tripped my up a bit by singing about the little white shape first, and then the big black shape. Usually they are devil first, then angel.)

Encores:

Lonely is the World-How the hell could this be an encore, it's can't stand up to H&H, Die Young, or COTS is what I thought to myself when Dio announced this one. Then they started the song-aha! Absolutly amazing, more than a pleasent surprise. i had no idea this song could be so awesome, but live, man, it just owned. Actually, this may have been Ronnie's best vocal performance of the night, but, w/e, every song was! The entire band just gelled so well together, and this song really summed it all up.

Neon Knights-Out with a bang! Damn, amazing! The energy for this one probably matched the intensity of H&H, this brought the crowd to a peak of Euphoria. then, they played the opening riff of H&H and it was like the arena had entered into Nirvana itself as they closed the show, thank us, and walked off the stage for the last time.

---
from "DioDisciple@aol.com" <DioDisciple@aol.com>
to siegler@black-sabbath.com
date Apr 20, 2007 11:04 AM
subject My Heaven & Hell review Radio City 03/30/2007
When I heard rumour of Ronnie James Dio and Tony Iommi writing new material for a new best of CD I knew it would lead to bigger & better things for us, the fans. Now reuniting with former Black Sabbath bandmates Tony Iommi, Geezer Butler, and Vinnie Appice our favorite frontman was about to hit the road yet again. Not as Black Sabbath but under the moniker of Heaven & Hell this time around, which is fine as we still know them as Black Sabbath! When the tour was announced we were shocked to hear no US tour dates until late fall. Then at last minute, a one nighter was scheduled for one of New York Cities most prestigous venues Radio City Music Hall. Selling out in 45 minutes all true Sabbath & Dio fans rushed out & bought their ticket to guarantee their chance to witness this night of magic. Even better it was to be filmed for a live concert DVD, and what better place, I dont mean Radio City Music Hall venue, I am referring to a crowd of over 6,000 die hard metal fans that came from all over the world, not being selfish this was to be our night. We have saw Ronnie several times & met him on most of those occasions since the Strange Highways tour, but never ever thought we would see Ronnie with Sabbath. We drove up from Kentucky to New York, about a 12 hour drive for us not counting the time that we were lost. We arrived a day early to get a room and shake off some of the road lag from the drive up. I was kind of bummed about not getting our regular aftershow passes for this tour after attempting several times. The same answer from different sources being there was no passes to give out for the Heaven & Hell tour, due to Ronnie's management not being involved. And seeing several people with passes before the show, mostly women we were wondering what was going on, what do you have to do to get to get some pics and talk to Ronnie on this tour? Anyway we were close enough to walk a few blocks to get to Radio City and headed down there early. The place didnt look as nice as I thought it might have been from the outside, but hey this is New York, all the buildings look the same. Something that was nice was the monitor on the outside playing live Sabbath videos's from the Heaven & Hell days. There was already a crowd hanging out front trying to get tickets & being turned away. There was a sea of fans of all ages wearing Black Sabbath and Dio shirts from all era's of the band including some Tony Martin fronted Headless Cross Shirts, Born Again, lots of Dio era Dehumanizer, Mob Rules, & Heaven And Hell shirts as well as the classic Ozzy tee's. The one I saw that caught my attention most was the guy wearing the Glen Hughes Seventh Star tour shirt, now thats a true Sabbath fan. After deciding to go and get a beer, we wound up at a place I think it was named Heartland Brewery or House Of Brews? Being basically right across the street from the Music Hall, I figured it was worth checking out. Saying that it had beers from all over the world, their beer was way over priced and I didnt even see a Bud or Bud Light on the menu. After getting something to eat we went to join the waiting line of fans beside the building waiting impatiently to get in. Doors open about 7:30 and after passing a metal detecting wand we rush inside to see how good our seats are, expecting 2nd row pit seating in BBB section, we were one better BBB was front row center. Hope & myself had the best 2 seats in the 6000 + seat house. The outside of Radio City dosent do the inside justice, excellent seating, carpeted floor, and huge stage. I was thinking in the back of my mind who booked Black Sabbath at a venue such as this, did they have any idea what could take place here. This wasnt Harry Connick JR, Celine Dion, Chicago, or any of a number of performers that I could imagine playing here, after all this was SABBATH! After checking out the tour shirts and inhaling a few beers we went to our seats. VH1 Classic host,Radio DJ, and long time DIO fan Eddie Trunk introduces the band, from where I was, directly in front of him I could see his hands shaking and he was trembling when talking about the band. The place was starting to fill up by this time and the lights started to go down. With the combined haunting sound of E5150 filling the air and the crowd chanting the fans came to their feet. The light goes to Tony first with his opening riff & then comes Ronnie out to show us why he is hands down the best vocalists in heavy metal music. Coming out in black pants & a white shirt with his usual cross on the front he launches into After All(The Dead) from the Dehumanizer album. One of my favorite songs but could have been easily replaced in the set & open with a faster pace song such as Neon Knights, or Turn Up The Night.
Next up was Mob Rules, and Children Of the Sea. By the third song the press were gone & we could take our usual front row center spot. There was actually a film crew recording this show with a camera behind us & we let the camera guy have the center spot, until he was eventually pushed back into the 2nd row by Zombie's. But we returned to our Front row center, keeping out of line of sight for the camera guy behind us. One of the best songs in the entire setlist was the addition of "I" from demumanizer. This song never gets played & is due its justice, one of my favorite songs from not only Sabbath but Ronnie's solo efforts as well. Tony was having some problems with his guitar & kept shaking his head at his guitar tech, you could tell he was very upset. He changed from his Signature model Gibson SG with the Silver crosses on the neck to a standard White SG, no crosses. His solos were amazing, this guy is as metal as they come. Its amazing what he can do with a guitar & looks as though it comes natural. Vinnie was having problems with his drum rig trying to turn over, but never missing a beat he pulled it off like the true professional that he is. Vinnie is a heavy hitter and in my opinion fits the newer Sabbath material better than if Bill Ward had went on the road with the guys. Not taking anything away from Bill Ward, he is just more suited to Ozzy material being more of a jazzy player. Ronnie sounded great as always, with only a few rough spots here and there, probably due to a cold. We have saw Ronnie about 30 times solo & he never lets one single fan down. Never cancelling a show regardless of his health condition at the time. Last but not least Geezer didnt move around much, he was planted & focusing on his talent. His bass runs are the backbone of this band, it just wouldnt sound the same with anyone else playing, not to mention he is a Hell of a song writer. We never saw Scott which was supposed to be playing keyboards, on what I dont know, these songs were so heavy I didn't even notice any keys being played if any.
The addition of the two new songs The Devil Cried & Shadow Of The Wind fit in perfectly with the set. Saw several fans singing the lyrics even though the Black Sabbath "The Dio Years" had not been released yet. Ronnie changes his shirt from White to black about half way through, I guess he wants us to see both sides of him, a little of Heaven & and a whole lot of Hell. Heaven & Hell was the highlight of the night as always at a Dio show. The red light was exceptionally red this time, Ronnie looked to glow, engulfed in the flames of sweet Hell. After Heaven & Hell the band exits the stage and a mixed message from the fans, chanting Sabbath/Dio filled the air & the band returned for an encore to do the last 2 songs of the night Lonely Is The Word and Neon Knights. The lights come on and Ronnie takes my usual Dio flag with Murray on the front & also my Black Sabbath Live Evil era flag and displayed them to the camera's and the fans. The show lasted about 2:30 hours and was supposed to be an extra long set due to no opening act, with the addition of the 3rd new song Ear In The Wall. But due to City Union issues it was cut short at several points during the show, not allowing any further time to be allowed. After the show the band was to be on the radio with Eddie Trunk to do an interview, I was awaiting anxiously to hear them but due to them being late & me being drunk, and hoarse from singing all night, and just plain dead to the world I passed out. If you get a chance to witness this for yourself, dont't wait, dont be The Last In Line, get your tickets. And now they plan to continue the US tour NOW, starting back again the 22nd of April due to the high level of excitement surrounding this reunion tour. I will see all you guys in Cincinnati, Cleveland, & Detroit and we will do it all over again.
Joe Rollins "DioDisciple"
www.templeoftheking.com

---
from Dom Pizzuto <dpizzuto@optonline.net>
to siegler@black-sabbath.com
date Mar 31, 2007 12:22 AM
subject Review March 30th Radio City Music Hall
Hey Joe:
Great site. First of all, the rumor that Sabbath would play an extended set proved to be false. Maybe it was where I was sitting (1st mezz right side), but the sound left somthing to be desired. Tony was too much in the background.- and if you go see Sabbath - Tony is the one you want to hear. Radio City is a great venue, but I don't think it was designed with heavy metal in mind. Anyway, the guys put on a good show. Highlghts included "I", "Falling Off The Edge Of The World", "Lady Evil"; "Heaven and Hell" and "Lonely Is The Word". "Lonely" is one of my favorite Sab songs with Tony's tasteful solo really showing his skill as a premier axeman - and he nailed it last night. I can't help compare this show with the reunion tour in 1999, and I have to say, the reunion show at the Nassau Coliseum was much more powerful. I understand the decision to not tour as Sabbath after induction into the hall of fame, however, it would have been nice if they could have thrown a bone to the crowd and belted out "War Pigs" for old times sake.
Dom.