Black Sabbath Concert Reviews
April 22, 2007
Dodge Theatre
Phoenix, AZ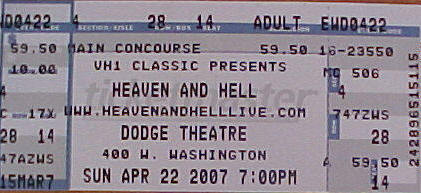 THE BAND
Ronnie James Dio - Vocals
Tony Iommi - Guitar
Geezer Butler - Bass
Vinny Appice - Drums
Scott Warren - Keyboards
SET LIST
E5150 (intro)
After All (The Dead)
The Mob Rules
Children of the Sea
Lady Evil
I
Sign of the Southern Cross
Voodoo
The Devil Cried
Vinny Appice's Drum Solo
Computer God
Falling off the Edge of the World
The Shadow of the Wind
Die Young
Heaven and Hell (w/ Tony Iommi's Gutiar Solo)
Neon Knights (encore)
CONCERT PHOTO GALLERY
None yet. Have any? Submit 'em!.
FAN SUBMITTED TOUR REVIEWS & REMARKS
from Ryan Nakhleh <black_beards@hotmail.com>
to siegler@black-sabbath.com
date Apr 23, 2007 10:29 AM
subject Set List and review for Phoenix AZ show 4/22/2007
The show was amazing!! Machine Head was OK, but I personally would have liked a longer Megadeth set and could have lived without Machine Head. Heaven & Hell kicked ass. They came out strong and just got better as the night went on. I saw Sabbath with Dio in Ventura Ca. during the Heaven & Hell tour and the show last night was defiantly better. My wife was in Heaven she had only see Die's solo band, playing the Sabbath songs. Now we're hoping they'll do a tour with Ian Gillan. Last, some people need to get some class; this is to the asshole that threw his beer all over Dio just before the song Heaven & Hell. DICK!! UNCALLED FOR, PULL YOUR HEAD OUT!! Man Ronnie got pissed. But he shook it off after some limited but I'm sure satisfying name calling, why waste your time and breath on an imbecile.

---
from "Helen C. Keister" <hkeister@cox.net>
to siegler@black-sabbath.com
date Apr 23, 2007 2:41 PM
subject Fan Review from Phoenix, Arizona show
If you havent heard from anyone on this show yet, I'll give you all some details. Sound was horrible, Ronnie got confused on set list, announcing Shadow of The Wind as next song, then after Tony said something to him, they played Falling off the Edge of the World, then after that they played Shadow on the Wind.

Some dude in first row of standing area threw some liquid on Ronnie and he threw the cup back at him saying "Here's your fuckin cup you asshole" (or something similar).

Vinny's Drum kit has some upright drums on the left/right side, and they nearly fell over no less than ten times while he was playing it

They hit the stage at 906pm and finished at 1050pm

They opened with E150 or whatever (first few songs are in order, but rest I can't remember in the order they played them)
After All (The Dead)
Mob Rules
Children of the Sea
Heaven and Hell
Lady Evil
Voodoo
Die Young
Computer God
Falling Off the Edge of the World
I

Only encore was Neon Knights

Take Care,
Jerry

---
from Ryan Witting <rywitting2003@yahoo.com>
to siegler@black-sabbath.com
date May 20, 2007 4:04 PM
subject Correct Set List from 4/22/07
Hello,

I just wanted to clarify a few things in regards to the previous two reviews from the Heaven and Hell show at the Dodge Theater in Phoenix, AZ on 4/22/07. First of all, the set list sequence that is listed is incorrect. The correct sequence of the set list is:
1. E5150 (intro)
2. After All (The Dead)
3. The Mob Rules
4. Children of the Sea
5. Lady Evil
6. I
7. Sign of the Southern Cross
8. Voodoo
9. The Devil Cried
10. Vinny Appice's Drum Solo
11. Computer God
12. Falling off the Edge of the World
13. The Shadow of the Wind
14. Die Young
15. Heaven and Hell (w/ Tony Iommi's Gutiar Solo)
16. Neon Knights (encore)

Their set ran 1 hour and 50 minutes. Trust me, these are correct details. As far as the sound quality goes...the sound quality was amazing! Then again, the sound quality is always amazing at the Dodge Theater. I was sitting in the 3rd row of seats (center section) behind the pit.

As to the flip-flopping of "The Shadow of the Wind" and "Falling off the Edge of the World"... "The Shadow of the Wind" was announced first. Then, Ronnie went to the edge of the stage to shake hands with a few fans. As Ronnie came back from greeting the fans, Ronnie and Tony whispered some words. Finally, Ronnie stated, "I'll tell you what, we're going to do something different than that. Just because I almost fell off the edge of the stage, we're going to do this one instead. This is called "Falling off the Edge of the World"." So, after they played "Falling off the Edge of the World," they played "The Shadow of the Wind."

Also, true is the rumor of Vinny's drum kit almost falling over (sort of). He had some vertical stacks of drums on his left side. As he beats them, they rock back and forth at bit. However, they are designed to do that. They weren't in any danger of actually toppling over, and it didn't affect his playing or the sound quality.

As to the the rumor of Dio getting "pissed" at a fan...it is true. At the beginning of "Heaven and Hell," some moron threw his beer cup on stage. Dio responded to this by stating, "I just love when you throw your shit up here. I wish you'd throw yourself up here, so I could throw your ass back to the fucking crowd. Well, excluding that asshole, I want you to sing this part with us, if you would. You all know how this goes. It goes like this...(everyone starts singing the OHHHH Ohh Ohh Ohh... part of "Heaven and Hell").

This is the best concent that I've ever seen in terms of "tightness" of an entire band. Dio was incredible....as were the rest of the "Sabs." I give this concert an 11 on a 10 point scale. I hope that this e-mail clears up some of the details of what went on during 4/22/07 at the Dodge Theater.