Black Sabbath Concert Reviews
April 28, 2007
Journal Pavilion
Albuquerque, NM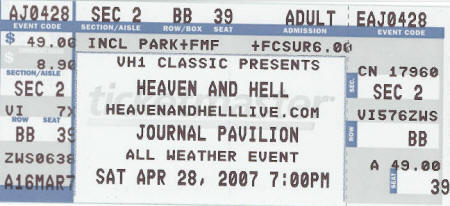 THE BAND
Ronnie James Dio - Vocals
Tony Iommi - Guitar
Geezer Butler - Bass
Vinny Appice - Drums
Scott Warren - Keyboards
SET LIST
E5150 Intro
After All (The Dead)
The Mob Rules
Children of the Sea
Lady Evil
I
The Sign of the Southern Cross
Voodoo
The Devil Cried
Appice Solo
Computer God
Falling Off the Edge of the World
Shadow of the Wind
Iommi Solo/Die Young
Heaven and Hell
Neon Knights
CONCERT PHOTO GALLERY
None yet. Have any? Submit 'em!.
FAN SUBMITTED TOUR REVIEWS & REMARKS
from "Rodrigo L. Eichwald" <drdrigo@yahoo.com>
to siegler@black-sabbath.com
date May 1, 2007 4:58 PM
subject Sabbath Dio Years Concert
This weekend was a Metal weekend. Friday night, my brother and I went to see Shadows Fall and Lacuna Coil. That was a good show. So, when Saturday came along, I already had a slight Heavy Metal hangover (just from rockin' the night before). When Journal Pavilion opened in 2000, everyone in New Mexico was excited because we finally had a good venue to see concerts, but as time went on, traffic getting to Journal Pavilion was a nightmare. I don't know how many opening bands I've missed being stuck in traffic. Anyway that problem has been solved because of a road extension that makes the site more easily accessible. We got to the show early and with plenty of time to get to our seats.

When I first heard of the Black Sabbath with Dio show, I was really pumped. The first time I saw the Original Black Sabbath at Ozzfest 1999 at the Nissan Pavilion in Bristow, VA, it was one of the best shows I had seen. Prior to that I had seen Ozzy play a bunch of times, but when they came out with the Song "Black Sabbath" I got the chills because it was so awesome. Now after seeing Sabbath at a few more Ozzfests, (don't get me wrong it's still a treat to see the band together) its gotten a tiresome because they don't change there set very much and they never play songs from SBS or Sabotage. So, to hear some of the Dio ear songs, I couldn't wait. I totally love Dio era Sabbath, and I think that Heaven and Hell is one of my favorite all time Sabbath songs.

So, Machine Head opened up the show, and at first I wasn't that excited about it, because for one my brother and I had just seen them a few months back when they were on tour with Shadows Fall and Trivium. Then I bought their album "the Blacking". That CD is so damn good. The opening track is a little over ten minutes long, but it's so good that time flies. Anyway, they only played for like half hour, but their set totally kicked ass. Next came Megadeth. Megadeth has gotten better every time I see them. I was skeptical at first with Junior was left out, but this new band is just awesome. They opened up with a new song that I hadn't heard before that was pretty good. They ripped through their set with minimal talking to the crowed since Dave said they wanted to play as much as they could during there short 45 minute set. They mostly played stuff from Rust In Peace and Peace Sells plus a few newer songs. So they were done a little after 8:40 or so, and I thought to myself it was sure early and that we'd be home really early.

The lights went off and the show began with E5150 and then "After All (the dead)" which sounded really good. The set list was similar to the one played at Radio City Music Hall.

The set was awesome. The band sounded really good. Ronnie's voice sounded great. Everyone in the band sounded great as a matter of fact. It was just as exciting as seeing the Original Sabbath in '99. I've seen Dio in concert several times in small venues, but this performance tops them all. I was awesome that this tour came to Albuquerque since lots of big tours miss us. The light show and the stage show were also awesome. While they played Heaven and Hell they had these black figures on the back drop that undulated with the music and every minute or so you could see a creepy face emerge, which was a perfect compliment to the show. Overall the show was great, and we had decent weather. If you get a chance to catch the show, you won't be disappointed!