Black Sabbath Concert Reviews
May 5, 2007
All State Arena
Chicago, IL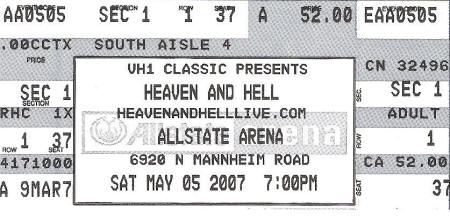 THE BAND
Ronnie James Dio - Vocals
Tony Iommi - Guitar
Geezer Butler - Bass
Vinny Appice - Drums
Scott Warren - Keyboards
SET LIST
Unknown
CONCERT PHOTO GALLERY
None yet. Have any? Submit 'em!.
FAN SUBMITTED TOUR REVIEWS & REMARKS
from eric Newman <goblindemoteam@hotmail.com>
to siegler@black-sabbath.com
date May 6, 2007 12:29 AM
subject Concert Review for Chicago
Hey Joe, I just got back from the Chicago show and I got a concert review for ya. The show was absolutley insane! I got pics to follow once my friend get's them developed. We were on the side around row 30, so they should be pretty good. And the setlist is pretty much the same except they dropped ear in the wall.

Alright, I just got back from the Chicago show and it was INSANE. Never in my life could I expect a group of 60 year old rockers to have so much energy and power! But i'm getting a little ahead of myself...

First up was Machinehead. In all honesty I've listened to their new album and don't really like it, but seeing them up close was a different experience. Vocally they were okay (I honestly couldn't understand a damn thing they were saying) but they played with alot of passion and energy, especially surprising because the arena wasn't even close to full. Not a bad opening act, but nothing rememerable.

20 minutes later: MEGADETH. I won't go into that much detail, but they are one of my favorite bands and live they are amazing! They played two new songs off UA which were good, but when they played the classics like Peace Sells and Holy Wars the arena was shaking! The sound was tight and they definetly had the crowd in a frenzy! A great act all the way.

And then it was time for the big ones: call them Heaven and Hell or Black Sabbath, the sound was still the same and literally GODLIKE. Dio's voice was in much better form then I was expecting, and he really put a ton of energy into the songs. Geezer, Toni, and Vinnie were all synched up and great, and their sound was DEFEANING! They hit most of the big ones, and they really nailed Children of the Sea, Computer God, Die Young, and (of course) Heaven and Hell. Only disapointment was they dropped Ear in the Wall from the list,and since it's never gonna be played again live it was kind of a letdown. But still, they were great, and the fans let them know how much they thought the show ROCKED.

And honestly, for a kid that was only 3 years old the last time these guys toured together, it was really a memorable experience to get to see these guys together. A great show all the way, and I hope they have many more!

EPN

"Sing me a song you're a singer, do me no wrong you're a bringer of evil..." Black Sabbath

EPN (The Original)

---
from Heath Zeller <zellerhc@yahoo.com>
to siegler@black-sabbath.com
date May 6, 2007 11:44 AM
subject Review of May 5th Chicago show
Last night at the Allstate arena was AMAZING. I never saw the Dio/Appice lineup before last night's show. Never had a chance to see RJD as "Dio" either. The quality of Ronnie's voice live is truly spectacular. The guy just flat out ROCKS. INCREDIBLE. As usual, Geezer and Tony were magnificent. BONE CRUSHING and beautiful at the same time...I don't know if that's how to explain it but, it's the best I can come up with. The guys looked great, sounded great, were great. I don't remember the entire set list. However, I think it replicated what has been posted earlier about the tour. After All (the Dead) really got the crowd fired up. The new tracks were played. They were phenomenal - the crowd seemed to love them. A new CD from this lineup would undoubtedly be unbelievable. Go to the upcoming show(s) when it hits your town. You will love it.

---
from "Conley, Patrick" <pconley@aitworldwide.com>
to siegler@black-sabbath.com
date May 7, 2007 12:38 PM
subject Chicago show/Allstate Arena
Hi Joe,

I wanted to give you an update on the show last Saturday night 5/5/07 here in Chicago.

We were running late and only caught the end of the last song for Machine Head.

They were hard and loud and that is about all I can say there.

Megadeth was awesome!

I have always liked Megadeth but never caught them live.

The guys were pretty tight and Dave did not speak much so he could keep playing and fit in more songs.

It was a pretty good list of songs but like any other they missed some I would have liked to hear.

Heaven and Hell were amazing!

The band was tight and loud.

Geezer was crazy on the bass, Vinny was pounding the hell out of the drums, Tony was the creator of Heavy Metal guitar as always and Dio was right on vocally and put on a great show.

This was a much better show than any of the Black Sabbath shows I have seen at Ozzfest with possibly the exception of the first one that Bill Ward was back behind the drums instead of Mike Bordin.

These guys should stay together and put out a couple of full length Heaven and Hell albums.

I love Ozzy and will continue to support him but I think it is time to put the dream of a Black Sabbath album behind us and go with Hea ven and Hell.

Dio Rules!!!

Thanks!

Patrick Conley

---
from Fred Fratto ES-CHI <Fred.Fratto@intertek.com>
to siegler@black-sabbath.com
date May 7, 2007 4:03 PM
subject Chicago show was absolutely AWESOME!
Being a guitarist and a Sabbath fan all of my life, I couldn't help but see this show...especially since I had no idea that Ronnie James Dio was ever even in Sabbath! I was just a smidge too young to know, mainly because of not being allowed to go to heavy metal concerts for a few years, yet, at the time....one of my first concert experiences was seeing Ronnie during his solo years (Last In Line tour, to be exact) and after not seeing him since I was a teenager, totally made me feel that young again. I'm a 38 year old / 25 year guitarist, who learned (what I thought) was every Sabbath song there was, until I heard "Heaven and Hell" and "Mob Rules" for the first time, only a year ago...it was like being a kid all over again! Learning what were brand new songs to me, on guitar, and then seeing them just two nights ago, it really was just like being a kid again...all the hype that comes from being so excited from hearing what is new to you, then seeing it done, and seeing your rock hero for the first time in so long, it really was an experience that I will remember for all my life...Tony Iommi was brilliant, seeing Geezer "finger" pick every note so good, and Vinnie's drumming was the best I'd ever seen live, and I've seen almost every hard rock band there ever was. Thanks, guys, for making an old man's childhood memories come back to life!

Freddy Fratto