Black Sabbath Concert Reviews
May 6, 2007
Theatre @ Target Centre
Minneapolis, MN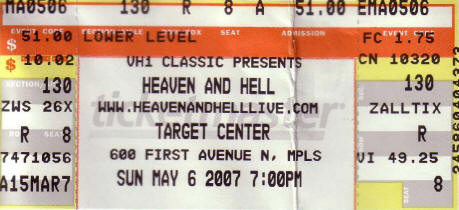 THE BAND
Ronnie James Dio - Vocals
Tony Iommi - Guitar
Geezer Butler - Bass
Vinny Appice - Drums
Scott Warren - Keyboards
SET LIST
After All (The Dead)
Mob Rules
Children of the Sea
Lady Evil
I
Sign of the Southern Cross
Voodoo
The Devil Cried
Drum Solo
Computer God
Falling off the Edge of the World
Shadow of the Wind
Die Young
Heaven and Hell
Encore: Neon Knights
CONCERT PHOTO GALLERY
None yet. Have any? Submit 'em!.
FAN SUBMITTED TOUR REVIEWS & REMARKS
from Jay Wilcox <JWilcox@twelve.tv>
to siegler@black-sabbath.com
date May 7, 2007 12:19 PM
subject Concert review/ Mpls, MN USA 5/6/07
I didn't see opener Machine Head. Megadeth was good, and drew a stronger crowd response than Sabbath. Arena was probably less than half full. Apparently not as many people love these guys as I do!
After All seemed an odd choice for an opener; too slow and unfamiliar to many fans.
Things picked up with Mob Rules and Children of the Sea. "I" is my favorite track on Dehumanizer and Ronnie delivered it with appropriate anger, perhaps because he was pissed at people who tossed a plastic bottle on stage. Sign of the Southern Cross was outstanding and Computer God as well. I was really happy to hear Falling off the Edge of the World; it gets my vote as underrated classic of Dio era. I don't really like how Ronnie sings Heaven and Hell; the original recorded version is too perfect to mess with and it never sounds as good live.
They played for just under two hours (about double what the shows with Ozzy have been lately). It was a very good show, just short of great. Not a whole lot of interaction between the guys or anything. They almost seemed like business partners instead of old friends. Unfortunately I couldn't see Geezer for much of the show because speakers were blocking our view of him.
Definitely a show worth seeing and the setlist was just about what I would have chosen for them (except a more up-tempo opener.)

---
from Robert Landvik <starwars_ww2@yahoo.com>
to siegler@black-sabbath.com
date May 7, 2007 3:24 PM
subject Concert Review May 6th 2007 MN, Target Center Heaven and Hell! With Ticket Stub
OH MAN!!!! DIO at the Minnesota Target Center once again on his Heaven and Hell 2007 Tour!! But we still call them BLACK SABBATH!!

Opening Acts where Machine Head and the great Megadeth!

Machine Head really got the blood flowing getting the crowed into a frenzy!!!! and they had paid a tribute to a dear friend of theirs Dimebag Darrell!

Megadeth on next really got us headbangers goin!!!! They got us standing and really warmed us up for the next band up!!! BLACK SABBATH!!

And right when those house lights of the Target Center went to black and the speakers blarred the first tone of E5150 sounded the Target Center was then in Hell!!!!! Dio then took us on a running riot round trip from Earth and to Heaven and Hell and back!!!! It was one of the greatest expirances i have had in my whole life!!!! The crowd participation in Heaven and Hell was just fantasic!!! especially in the begining! he did the OHHOHH ohh even when Ronnie never told us to do anything!!!!!!! It was one hell of a concert begining the night with After All (The Dead) and ending with Neon Knights!!!! It was just fenominal!!!!

Rob. L

---
from "Davis, Tony X (GE Money)" <Anthony.X.Davis@ge.com>
to siegler@black-sabbath.com
date May 10, 2007 4:11 PM
subject Heaven And Hell 5/6/07 Minneapolis, MN Target Center Concert Review
Wow am I sore right now and this is two days later! I'm pretty sure I did more headbanging Sunday night than I probably ever have in my life. My neck and lower back would surely agree. Three hours straight almost non stop! If I even came close to giving back half the energy that was coming off of the stage Sunday night I'd be happy though. If I had to do it all over again I can guarantee you I would too. Pain be damned!

I'm talking of course about the fact that I went to the Machine Head/Megadeth/Heaven And Hell show on Sunday night at Target Center. I can say without a doubt that this was the best show I've ever seen. I've been to hundreds of shows in my lifetime, but I have never once seen a performance as (hate to sound cheesy here but I'm going to anyway) magical as this one.

Ronnie James Dio is my all-time favorite singer. The minute I heard that the guys in Sabbath were reuniting with Dio to do a tour a few months back I nearly had a coronary. I stated then that I would have traveled to Guam to go see this show, and after Heaven And Hell's performance Sunday night, I can honestly say that it would have been 100% worth it even if I had been forced to go that far! So with my anticipation for this show well known I want to make it perfectly clear that I was slightly concerned that it might not live up to my expectations. Not because I have EVER been let down by Dio or the Sabbath guys even once live either. I've seen them all multiple times before this show (with Dio's solo band, and of course Sabbath with Ozzy) and they've always been nothing less than fantastic. No, it was because I had built this show up for so long in my head that I didn't possibly think it could live up to my godlike expectations. Thanks for proving my worries to be not only unnecessary, but also a little bit foolish guys...This band absolutely destroyed on Sunday night. To think that these guys are all in their late fifties, or in the astonishing case of Dio mid sixties, is truly fucking amazing! They played with a fire and level of professionalism that I would think hard rock/metal bands young and old would kill to have.

I've seen Sabbath with Ozzy many times, but after seeing this show there is clearly no reason that lineup ever needs to trot out the same stale 10 song setlist ever again. Nothing against Ozzy, but he's clearly lost a step and should just stick with his solo career. These guys should end Sabbath on a note as high as the one I saw on Sunday night. We all know that probably isn't going to happen because of the Ozzman's wife, but that's another issue altogether that I will not even bother with in this review. I want to remain positive here.

The bottom line is Tony "Riff God" Iommi and Geezer "Low End Lord" Butler were clearly enjoying themselves just as much as the rabid crowd that was witnessing this special event. I haven't seen them having that much fun at ANY of the Sabbath performances with Ozzy, and quite frankly, I as a member of the audience haven't either. The three studio albums worth of material with Dio (Heaven And Hell, The Mob Rules, and 1992's Dehumanizer) have been favorites of mine for many years now. Not a week goes by where I don't listen to at least one or all of these gems. I wondered how they would come across in a live setting, and I can tell you they sounded as monstrously heavy as they do on the al> bums to these ears. Dio was pitch perfect (as usual) and the band was extremely tight. Even though they were competing with Target Center's notoriously muddy sound, everything still sounded amazing. As I predicted to Brenda, I knew I would have tears in my eyes when they played "Children Of The Sea". This song has a very special meaning for me as it got me through a very tough time I was having with something many years back. It made me realize that I was not the only one who had ever felt that way (whether that was Dio's intention with his lyrics or not doesn't matter to me) so it was almost surreal for me to be hearing it live when I never in a million years thought I would. Dio has played snippets of it in a medley a couple of times when I've seen his solo performances, but to hear the actual Dio era Sabbath band playing it together was a whole different story. That is something I will never forget for as long as I live! It's not very often you get something that personal out of a rock show, and I can definitely appreciate that. Even though I know they'll never read this, I would like to thank Dio, Tony Iommi, Geezer Butler, and Vinnie Appice from the bottom of my black heart for delivering what will be the best ever live performance I ever get to see. This is how it's supposed to be done folks.

Heaven And Hell setlist:

* After All (The Dead)
* The Mob Rules
* Children of the Sea
* Lady Evil
* I
* The Sign of the Southern Cross
* Voodoo
* The Devil Cried
* Vinny Appice Drum Solo
* Computer God
* Falling Off the Edge of the World
* Shadow of the Wind
* Iommi Solo
* Die Young
* Heaven and Hell
Encore:

* Neon Knights

I definitely do want to bring one thing up that annoyed me when Heaven And Hell first started playing before I move on. During their opening song "After All (The Dead)", some moron who apparently doesn't have a brain in their head decided it would be a good idea to throw two plastic cups at Dio. Why people do things like this at rock shows never ceases to baffle and infuriate me. What purpose does throwing things at a performer serve? I've stood in front of many bands I don't like, and I wouldn't even dream of doing something so completely idiotic. If you don't like the band, than why (especially if they're headlining) are you still here you piece of garbage? Thankfully Dio handled it like a pro and basically said when the song was done that if anyone saw someone throwing something they should "take care of it for him". I never saw anything thrown up there after that, and if someone did try, I hope they got the shit beaten out of them. That would be the only bad thing that happened at the show and thankfully didn't ruin it in any way for me. It just caused me a few moments of anger at whatever fool it was that pulled that little stunt...

I haven't forgotten about Megadeth and Machine head opening this show either. I'm a huge fan of both bands, but the night was about Heaven And Hell for me! They were just cherries on top, but they both delivered solid performances.

Megadeth pounded through a blistering set with quite a few classic songs mixed in. They even played three songs from my favorite Megadeth album (Rust In Peace) so I definitely enjoyed their set. The new band Dave's put together is definitely solid, and I can tell he knows what a huge task he has ahead of him opening for the likes of Heaven And Hell! He's playing with a ferocity that I haven't seen out of him in a while. He hardly talked in between songs, and I'm sure this is because of the fact that it's obvious that they want the opening bands on this tour sticking with the set times. I have to admit to being curious as to why Dave decided to open the set with a brand new one (Sleepwalker) though. The album isn't even out yet so that seemed odd to me. I would think you would want to get the crowd pumped up with a fan favorite right out of the gate. I know there were a lot of Megadeth fans there, but I still thought it was kind of a strange choice. Still a gr> eat set though and I can't wait to pick up the new album next Tuesday. Brenda and I did have one odd thing happen during Megadeth's set that I should point out before I move on. Some guy (in a Megadeth shirt no less?!?!) had the audacity to attempt to ask us if we could "please sit down"...Before I could even get the full "YOU'RE AT A F'ING METAL SHOW, FORGET IT PAL" out he already retreated with a "never mind" and sulked back to his seat. I still can't believe the guy even bothered to ask that. I made sure to shoot him a couple deserved dirty looks after that. I understand this was an older crowd but give me a break! He has to know that was a pretty douchey move. Either way though Megadeth kicked ass as usual and that's the important part.