Black Sabbath Concert Reviews
May 11, 2007
Tower City Amphitheatre
Cleveland, OH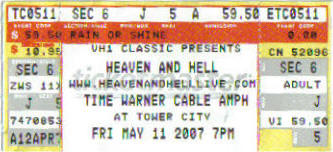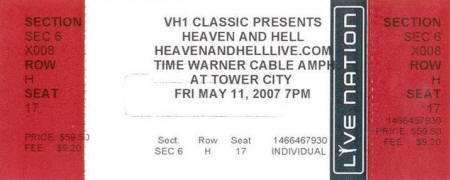 THE BAND
Ronnie James Dio - Vocals
Tony Iommi - Guitar
Geezer Butler - Bass
Vinny Appice - Drums
Scott Warren - Keyboards
SET LIST
Unknown
CONCERT PHOTO GALLERY
None yet. Have any? Submit 'em!.
FAN SUBMITTED TOUR REVIEWS & REMARKS
from Jesse Kepple <jkepple@adelphia.net>
to siegler@black-sabbath.com
date May 12, 2007 1:12 AM
subject Cleveland heaven and hell review (short)
Cleveland, Ohio – Heaven & Hell (Black Sabbath with Dio) May 11

The weather for this show was perfect and it was outside. I couldn't have asked for a nicer night for this concert.

Machinehead was good but they played a very short set. It seemed like they should have played at least one more song. They only played about 5 songs which lasted 30 minutes. Megadeth was really great. This was a great surprise. I was expecting them to be good but not this good. They were very tight and they played a nice selection of tunes including Peace Sells, Holy Wars, and Symphony of Destruction. They played about 45 minutes and were really amazing.
Heaven & Hell was truly great. Everything about the show was awesome. Dio's vocals were right on. He still has a really good set of pipes! The rest of the band was great too and everything sounded perfect. The sound quality / mix was superb. Very bass heavy but it was a good fit because there is only one guitar (Tony). The visual aspect of the show was cool too. The stage was setup like a graveyard sort of and the light show was kind of trippy and very fitting for the band.
Here is the setlist (in no particular order). I really feel like I am forgetting a song here but this is fairly complete. The show lasted almost 2 hours which was killer.

Children of the Sea
Computer God
I
Die young
Sign of the Southern Cross
Heaven and Hell
Mob rules
Voodoo
Drum Solo
Lady Evil
Falling off the Edge of the World
Shadow of the Wind
The Devil Cried
After All
Encore: Neon knights