Black Sabbath Concert Reviews
May 12, 2007
Cobo Arena
Detroit, MI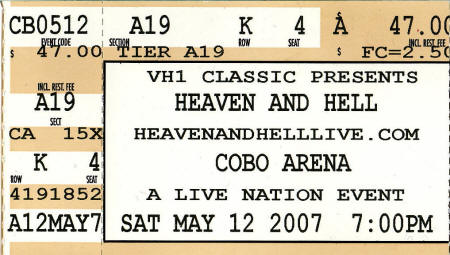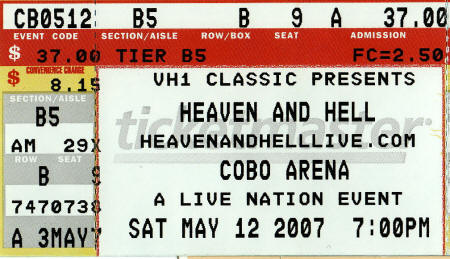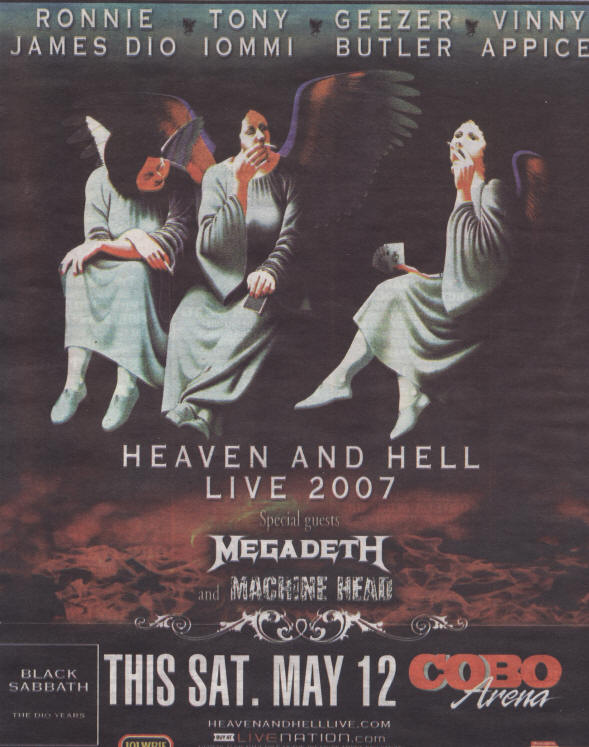 THE BAND
Ronnie James Dio - Vocals
Tony Iommi - Guitar
Geezer Butler - Bass
Vinny Appice - Drums
Scott Warren - Keyboards
SET LIST
E5150
After All (The Dead)
Mob Rules
Children Of The Sea
Lady Evil
I
Sign Of The Southern Cross
Voodoo
The Devil Cried
Drum Solo
Computer God
Falling Off The Edge Of The World (Falling Off The Edge Of My Chair - Intense!!)
Shadow Of The Wind
Die Young
Heaven And Hell (Extremly Long Version - Awesome!!)
Neon Knights (Encore)
CONCERT PHOTO GALLERY
None yet. Have any? Submit 'em!.
FAN SUBMITTED TOUR REVIEWS & REMARKS
from brett billedeau <bbilledeau@yahoo.com>
to Joe Siegler <siegler@black-sabbath.com>
date May 13, 2007 12:27 PM
subject Black Sabbath in Detroit, 5-12-07
Hi Joe,
Went to the Black Sabbath/H&H show at Cobo Hall in Detroit last night. It was simply AMAZING! The first Sabbath album I ever owned was "Dehumanizer", so I have always had a genuine appreciation for this line-up, no matter what moniker they are using these days.

We got there part way through Megadeth's set, and would have been earlier but for road construction at several points on our journey. Dave Mustaine appeared to have not aged, and the band sounded really good. I was sad we only got to see about 20 minutes of their show.

The arena was a little over half-full, which I think had to do with the fact that another major show was at the Palace of Auburn Hills just up the road (Hank Jr. and Lynyrd Skynyrd). All the same, the crowd was really into the show all night.

When the lights went down and 'E5150' began, the crowd went crazy, and when Tony Iommi stepped out onstage, they literally went insane. The set list was as follows:

E5150
After All (The Dead)
The Mob Rules
Children Of The Sea
Lady Evil
I
Sign Of The Southern Cross
Voodoo
The Devil Cried
Drum Solo
Computer God
Falling Off The Edge Of The World
Shadow Of The Wind
Die Young
Heaven And Hell (Extended)
Neon Knights (Encore)

Despite not playing a few of my favorites from this line-up, I don't have one negative word to say about this show. Each member of the band was in peak condition and played his heart out. Highlights for me were 'Children of the Sea', 'I', and 'Voodoo', but as I said, the whole show was stunning, and lasted just under 2 hours. Iommi did a slow, blistering solo leading into 'Die Young' and blew the roof off during the extended 'Heaven & Hell'. Vinny's solo was one of the most unique I've seen, Geezer's playing was the best of all the times I've seen him, and Dio... the man never ceases to amaze me. For being in his mid-60's, his voice is as great as ever. I noticed that with age, he sings in a slightly lower register than even ten years ago, but he still hit every note with ease.

The band seemed grateful for the crowd, with Dio saying so several times after every song. After 'Neon Knights', Geezer was the first off stage, the Vinny. Iommi and Dio stayed out for a couple more minutes waving and smiling, and actually walked out arm-in-arm. I say this with all due respect to Ozzy and the original Sabs: if they only ever tour as Heaven And Hell again, I would be perfectly happy to see them every time. :)

---
from Scott Setchfield <ozzysetch@yahoo.com>
to siegler@black-sabbath.com
date May 13, 2007 7:39 PM
subject Heaven and Hell 5/12/07 Detroit
When the I heard that Ronnie James Dio was getting back with Black Sabbath to do a tour, I knew this was a show that I wasn't going to miss if I could help it. Having seen Ozzy solo and with Sabbath and Dio solo, seeing Dio with Sabbath was just what I needed to see all four combinations of some of the greatest hard rock music ever produced. This time out they decided they weren't going to use the name Black Sabbath, but rather Heaven and Hell, taken from the first album that Dio did with Sabbath. The reason given for this was that especially since the original Black Sabbath has now been inducted into the Rock 'n' Roll Hall of Fame that they wanted to separate the two versions of Sabbath – something that probably should have been done in 1979. Another notable thing about this tour is that it comes as a response to the release of Black Sabbath: The Dio Years compilation so this tour was strictly dedicated to Dio-era Black Sabbath songs. That means that for one of the very few times in the last 35 years or so, Tony Iommi didn't play Paranoid for a show. I thought that was a great idea because although Dio is a wonderful singer, I much prefer him singing his own material rather than trying to do tracks like Paranoid and Black Sabbath, which are very well suited to Ozzy's haunting and slightly monotone voice whereas Dio tends to completely overdo them and make them a bit too dramatic.
It took quite a while for the place to fill up and for a while I was wondering if this was going to be a pretty empty concert. It was never packed by any means, but there was a good crowd turnout at the end, but we had no trouble getting right up to the front of the stage right from the beginning. Throughout the whole show I never had more than 3, maybe 4 people in front of me and I was more or less in the center.
I had heard of Machine Head but couldn't, and still can't, name one single song that they play. I didn't mind them but they didn't seem to be anything special. Since I don't know any of their songs, I can't comment on them much, but they were decent. Then Megadeth came on and the crowd seemed to get into them quite a lot. I don't know enough Megadeth material to put names with many of the songs either but I remember them playing "Kick the Chair", "Washington is Next", and "Symphony of Destruction". I had read some reviews of this tour saying that Megadeth's sound was really bad but at our show I didn't think it sounded too bad at all. Overall I enjoyed their set and wouldn't have minded if they would have had a bit more stage time.
We didn't have to wait very long after Megadeth's set until E5150 started playing and I knew it wouldn't be long until Heaven and Hell would hit the stage. They started with "After All (The Dead)", which I thought was kind of an odd choice for an opener but it sounded great. Then Dio said they were going to play the song that we all expected them to open up with, "The Mob Rules". The stage set was pretty cool, with gates that look like they could be in a cemetery behind Geezer and Tony and something that looked like it could be an old brick church in the background.
The band seemed to be in top form and the sound was really good. Everything seemed to be mixed well and everyone could be heard clearly but it wasn't too loud either. Ronnie's voice was excellent, pretty much just like the last time I saw him and his stage performance was also really great. Everyone was having fun on stage and it showed. At one point someone through up a Detroit Tiger's hat on stage and Dio put it on for a short time. Someone also through up a Live Evil tapestry that Dio held up when he got it and also at the very end of the show before they left the stage.
I started the show out with 3 people in front of me and pretty much in the center of the stage, but a bit to Dio's right, towards Geezer was. There was a guy in a wheelchair to the left of me and everyone was giving him plenty of room, which was cool but right before or maybe during Sign of the Southern Cross they lifted him out for some reason so I quickly grabbed onto the gate and got myself right in front. After SOTSC I was right up front for the rest of the show and maybe 2 or 3 people to the left of dead center. Basically out of the top 5 positions up front, I was definitely in one of them. I got this setlist from a review four days before and it seems to be nearly dead on. They definitely played all these songs, pretty much in this order, and I can't think of any songs they played that aren't listed. Overall I thought it was a damn good choice of songs from the 3 Dio-era albums plus the new ones.
E5150
After All (The Dead)
The Mob Rules
Children Of The Sea
Lady Evil
I
Sign Of The Southern Cross
Voodoo
The Devil Cried
Drum Solo
Computer God
Falling Off The Edge Of The World
Shadow Of The Wind
(Guitar Solo) Die Young
Heaven And Hell (Extended)
Neon Knights (Encore)
Geezer's bass was fairly loud in the set and not really distorted at all. It actually reminded me a bit of the mix on the Heaven and Hell album. I especially noticed it during "Lady Evil" where it starts off with kind of a funky bass line. Geezer played a couple different basses, both of them Fender style, which he seems to have gone back to in the last few years. Tony used his reddish SG with the bad finish for much of the set.
I'd say that for me "Children of the Sea" and "Sign of the Southern Cross" were highlights of the night since they are two of my favorite songs. "Heaven and Hell" was a really long extended version with Dio even adding in quite a few lyrics that aren't in the original and it was very cool. Stealing from a review of another show, Ronnie added "there's a little white shape looking down at me, he says I know where you ought to be." (as a solo white spotlight shines directly down on him.) And then the red spotlight flashing upward directly above him, ("theres a big black shape looking up at me...."). I had forgotten exactly how that went but I definitely remember it now and it was great. When the red light was on Ronnie he looked truly evil. Ronnie also sang something about burning in hell with "you, and you and you!!!" pointing out people in the crowd. "Falling off the Edge of the World" is one of my favorites as well and it sounded really great live with Dio and Iommi both sounding fantastic. "The Devil Cried" and "Shadow of the Wind", being the two new songs, blended right in with the old ones and "Shadow of the Wind" was one of the slowest, heaviest, most plodding classic Sabbath songs of the night. Tony's guitar solo going into "Die Young" was also very nice because of the 4 times I've seen him previously I don't know if I've ever really seen him do a solo like that. And although I'm not really a fan of drum solos, Vinny's solo was pretty nice and not too long. The addition of Scott Warren's keyboards also made it more enjoyable.
The show seemed pretty long to me (in a good way!) and ended up being almost exactly 2 hours long, finishing up around 11:00PM. I had a big grin on my face most of the night. After "Heaven and Hell", when the band left the stage before the encore, some people were shouting "Dio", I was shouting "Sabbath", and then we started singing the riff to "Heaven and Hell" again which I thought was really cool. After "Neon Knights" was over I certainly could have enjoyed a few more songs but I was left completely satisfied. To top it off, one of the security guards (who sang along to most of the songs by the way) ended up getting a few Iommi picks and handed them out at the end and I was lucky enough to get one, which definitely topped off my night. This is definitely one of the best concerts overall that I've seen, right up there with Sabbath at Ozzfest '04 and '05 and Ozzy at Ozzfest '02. It's amazing to think that "Heaven and Hell" was released about 25 years ago and that Ronnie, Geezer and Dio are well over 50 because they sure kicked ass in a way that I think can rival any band out there today.

---
from "Meleric99@aol.com" <Meleric99@aol.com>
to siegler@black-sabbath.com
date May 16, 2007 8:08 PM
subject Concert Review - Cobo Hall, Detroit Mi, May 12, 2007
Went to the show the other night. In one word, spectacular! Saw them during the Dehumanizer Tour. Can't believe they got back together again. What a treat! Have seen Ozzy and Sabbath and Dio many times. By far, this was probably the best show that I can recall. Almost got plane tickets to go to the show in Connecticut two nights later, as I saw there would be an album signing after that show, but the wife wouldn't let me! As far as the songs, everything was great. I especially enjoyed "Children of the Sea," which was very powerful. I also really enjoyed "Neon Knights," seeing it is one of my favorite songs of all time. I highly recommend seeing them if you get a chance, even though I believe they are headed to the UK now. And, one more thing, I also really enjoyed the new song, "The Devil Cried," which is really growing on me!

Really like the web site - good work! Have read all of the reviews. Good to see these guys back together again, because they really put on a great performance. Can't wait for the DVD to come out. Should be a real treat.