Black Sabbath Concert Reviews
May 15, 2007
Mohegan Sun Arena
Uncasville, CT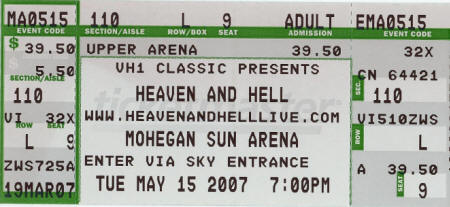 THE BAND
Ronnie James Dio - Vocals
Tony Iommi - Guitar
Geezer Butler - Bass
Vinny Appice - Drums
Scott Warren - Keyboards
SET LIST
Unknown
CONCERT PHOTO GALLERY
None yet. Have any? Submit 'em!.
FAN SUBMITTED TOUR REVIEWS & REMARKS
from Eric Goldberg <egoldberg@hubgroup.com>
to siegler@black-sabbath.com
date May 18, 2007 7:56 PM
subject H&H at Mohegan Sun Arena in Uncasville, CT on Tuesday, May 15, 2007
I left work early (all of my reviews seem to start with that phrase) to make the over 80 mile ride to Mohegan Sun in Ct, so I could try to get a pass to meet the band after the show. I had to buy another copy of the new "the Dio Years" CD, but if I was lucky, this one would be autographed by the time the night (or morning) was over. They said I could buy more (no limit on the number, so I would expect to see some on Ebay by now) than one copy, so I bought two extra copies to get signed and give to my two friends who would be joining me for the next show on Thursday at the Tsongas arena in Lowell. But back to the Mohegan Sun in CT... I grabbed dinner at a pub, and went into the show. No new shirts or merchandise since I saw them at Radio City Music Hall, so I showed my ticket and gota wristband so I could take my seat at on the floor. After going down the escalator and passing the concession stand, I reached the next set of security guards who checked my ticket a final time and actually escorted me to my seat. As I showed him my ticket, he commented that it was a very good seat. When he brought me to my fourth row seat right in front of where Tony Iommi would soon stand, I had to agree.

Machine Head went on about 5 minute before the scheduled start time of 7pm. The place was still nearly empty when the lights dimmed and their baroque and operatic intro tape began to play. Then they came on with fast, tight, and heavy music and the standard guttural vocals. This was my introduction to the band, and my initial opinion was not very high. Suddenly the music changed, and the vocals were quite melodic and good, but this was short-lived as the singer announced: "Everybody, it's time to head-bang like it was 1986!" I was laughing out loud. He then wet his head with a cup of water similar to Ozzy's habit. The drummer was phenomenal and had two high-hats, one on each side of him, and switched between them. They gave a long verbal introduction about the song, "Aesthetics of Hate" which was taken from an article written about Dimebag Darrell after his murder. While the singer was playing a red leucite BC Rich guitar, he and the lead guitarist were back to back and pushing one another having a good time on stage. Overall, they reminded me of a heavier an thrashier version of Monster Magnet.

Megadeth came on next, and this was my first time seeing them, too. The drummer wore a head-set microphone, but I don't recall him singing. He sat atop an individual little drum riser that was partially assembled during the break between bands. Between songs, Dave Mustaine gave a very quiet and unassuming "Thank you," and gave the audience a little "golf-clap." They played "Washington is Next" from their new disc (released that day) which Dave introduced as a "Happy political song." The regular set closed with "Peace Sells" and the encore was "Symphony of Destruction" and "Holy Wars". At one point he mentioned that he would not talk much because he did not have much time: he kept his promise, and remained all business.

Between sets, the stage was vacuumed in addition to Megadeth's gear being removed. Then the lights dimmed and it was time for H&H.. A taped version of E5150 began the show, before the band took the stage for "After All." The sound was perfect, with a CD quality mix. (I really hope someone recorded this show. Please let me know if you did.) In the dim light after the song, Tony's clothes looked more red than black, but this illusion disappeared when the lights went out.

Then Tony brought the White SG with the tremolo arm for "Mob Rules" about which Ronnie said that many people have been saying they should have used to open the show, but they were not. I guess he reads our reviews and opinions. When I thought about it I wondered if, since Ronnie supposedly doesn't warm up his voice before a show, he must use the first song to do that, so the lower register of "After All" warm him up to tackle the higher register of "Mob Rules"

Tony began "Children of the Sea" a hair more slowly than normal, but Vinny picked up the pace when he joined the song. Ronnie motioned to his monitor and then shrugged it off: I guess the sound was good enough. Tony began smiling at the crowd here, and didn't stop all night.

Ronnie introduced the next song as being about a "very bad female person" but said that would have been too long a title, so they changed it to "Lady Evil." Geezer was perfect. Ronnie and Geezer were enjoying this song together, until it came to a perfect ending. These guys are tight.

For "I", Tony was bobbing his head up and down and from side to side and seemed to be having a lot of fun. Geezer was into it, too, and Ronnie was even dancing a little as he bounced around the stage.

"Sign of the Southern Cross" was next, and it was then that I notice that Geezer had black tape on his right thumb. Tony seemed to survey the crowd during the first verse before going back to hang with Vinny during his relative long rest periods during the verse. In the second verse, Tony and Vinny were talking, and they actually missed the first punch. They caught it a half a beat late, laughed and went on with the song. Tony seemed to lose himself in the song, after which Tony gestures to the rest of the band as if presenting them for our approval, which they certainly received.

While Tony was wearing the white SG again, Ronnie introduce the next song as being "for Tony": "Voodoo." Tony seemed like a jazz or be-bop musician bopping his head and smilling. Ronnie reached out to the crowd at the sides of the stageand slapped some handsduring the extended mid section and extended closing solo. Ronnie and Tony traded vocals and guitar fills to close the song, after which Ronnie slapped some more hands at center stage, and told the lucky fans to "pass it back."

"The Devil Cried" found Ronnie bending notes and singing "ahh" over the riff before the solo. the closing solo was longer than on the CD.

Ronnie introduced Vinny's drum solo by calling his name with a devilish effect on his voice. Part of the solo featured Vinny using one stick to press a tom while he hit it with the other stick to change the pitch. He played part of the solo with his back to the audience while Scott Warren played some music under his solo.Vinny used sticks with red-lighted tips. After the solo, Ronnie returned wearing a black shirt as opposed to the white shirt he had been wearing up to this point.

"Computer God" was a rocker introduced by Ronnie saying that it was written asking what if computers took over the world and that they have since taken over the world.

"Falling off the Edge of the World" was a point where I could really hear the keyboards during the intro, as they had been (except as noted in the drum solo) much more behind the scenes. Geezer was wailing on his bass like a young Steve Harris, until the band ended the song perfectly tightly.

For "Shadow of the Wind," Ronnie had one of his microphone stands with the bottom that he likes to spin wildly. He spun it at and over the front of the crowd after the first chorus. He almost started singing the next verse when the solo began, but he caught himself just in time. He spun the mike stand over and around Geezer during the solo. After the end of the song, Tony motioned with his arm as if to present the band to us.

"Die Young" had a longer introduction with some very fast playing on Tony's part before the song erupted. Tony had a minor flub coming out of the solo in the middle of the song, but it was negligible for another stellar performance.

At the beginning of "Heaven and Hell," Tony motioned to someone in the audience as if he were offering that person to come up and play the song. Imagine actually playing "The Old Boy" on stage with that band! During the introduction to the song, Tony hit some harmonics before the vocals started. It was a nice, eerie effect. He also squeezed out a false harmonic after the first chorus, and Ronnie started doing some vocal improvisations then, too. The guitar solo built slowly, beginning with a lot of volume knob turning so the notes faded in and echo, with some finger picking. There was a little jazzy section, and then came the crunch of distortion and finally the moan of the wah-wah pedal. The whole song built up tempo to a crescendo, but somehow Geezer managed to look subdued except for his fingers which were moving with madness. The song slowed for some Brian May-style harmonies with echoes (as Tony has been doing in this section for years including on the original recording)
and the song was allowed to build again. When Ronnie finally came back and sang the "little white shape / little black shape" part of this song, Tony let out a chordal dive like at the beginning of "Iron Man". During the up-tempo closing, Iommi was nothing short of vicious. Geezer finally lifted his bass into the air while playing when the song returned to the opening riff to add punctuation.

The only encore was "Neon Knights", during which a fan threw an old "Sacred Heart" tour shirt onto the stage. Ronnie picked it up and smiled sheepishly. The song had a long closing solo and ended with one round of the "Heaven and Hell" main riff before the show ended.

The band did not lock arms and bow together. They simply waved good-bye as individuals. They are too cool to give into that "show": for me Black Sabbath has always been about the music, more than about image. Heaven and Hell has proven that by going out and playing these songs without worrying about using the Sabbath monicker. A rose by any other name would smell as sweet, and Black Sabbath by any other name will still impress and rock me.

After the show, I hurried to the line that I knew would be waiting to meet the band. I put on my laminate and waited. After about an hour, at around midnight, a cheer arose from the front of the line, and I assumed that the band had arrived; I could not see them or the front of the line. After slowly moving forward another hour, I got towards the front of the line. Security checked the little bag that was holding the CD case and told me that I had to take any pictures now; if I took any pictures from this point forward, I would be pulled out of line. I took the last legal picture and met Vinny Appice. I commented on his unique way of playing drums with the toms that he pulls close to himself with his left hand and hits with his right. I think it came off as an insult, but it was meant to be a compliment. I'm sure he shrugged it off, but I will be sending a note to his website to make sure the air is cleared. Next came Mr. Iommi, which is how I addressed one of my heroes. I told him that I had seen nearly every tour since 1982's Mob Rules with the same line-up, and I thanked him for keeping the Sabbath banner flying high and proud. I neglected to mention that in another 3 days (May 18) it would be the 25th anniversary of my first concert which was the Mob Rules tour with these same four heroes as I had just seen perform and who sat before me now. Geezer rather gingerly shook my hand, as I complimented his playing and shared my appreciation for him all these years. Ronnie Dio is a gentleman who seemed as alarmed as I when I thought for a moment that my copy of the CD for autographing had been lost. I thanked him for his years of performing and impressing me, and told him I would see him again in two nights, but until then, I would bask in the afterglow of this truly amazing evening.
---
from say amay <guitarhero213@yahoo.com>
to siegler@black-sabbath.com
date May 17, 2007 3:30 PM
subject May 15 Heaven and Hell Concert Review
Ey Joe

I went to the may 15 heaven and hell concert at mohegan sun arena in uncasville ct. It was my first concert that i have enver been to and it was great. Machine Head and Megadeth opened up for Black Sabbath and they did a great job. I only got to see the last song machine head played but i every song of megadeth. I dont know the names of the songs they played for their new album but they played peace sells but who's buying. When Black Sabbath came on everyone started screaming their heads off. They Started out with E5150 and played After All The Dead, The Mob Rules, Children Of The Sea, Lady Evil, Voodoo, Slipping away, The Devil Cried, Die Young, Falling Off The Edge of the World, Shadow of the Wind, And Heaven and Hell. For a encore they did Neon Knights. I Think the Show would have been better if they played Ear in the Wall and TV Crimes. The opening bands started at 7:00 and ended at 9:00. Black Sabbath started at 9:00 and ended at 1:00 am. I wasent able to get my album signed because there was at least half the people at the concert trying to get their album signed. This was the First concert I have ever been to ( Im only 13) and i think it will be the best concert i will ever see.

---
from Eric Kempter <kemptereric@yahoo.com>
to siegler@black-sabbath.com
date May 17, 2007 4:35 PM
subject concert - live cd number
I just saw Sabbath at their May 15th show at the sold out Mohegan Sun Arena - what a great show. Tony's guitar seemed a bit off until the song 'the devil cried', and from then on it was right on. Perhaps he needed a few songs to warm up. Overall, the guys looked tired, but gave a solid 15 song 2 hour great show. I wish I had better seats, but the fact that I have not seen them in 21 years made my seating irrevelant. In fact, that show was the one in New Haven from the 'seventh star' tour, so I was at Ray Gillians(?) first live show. I wish I remember that one, but I was 15, and had a terrible bug at the time. How I managed to miss school and yet go see Black Sabbath that night I'll never know. Take care - Eric

---
from "eggiesinthejuice@charter.net" <eggiesinthejuice@charter.net>
to siegler@black-sabbath.com
date May 18, 2007 10:37 PM
subject Mohegan Sun Show
Just wanted to send a note about tuesday nites show @ Mohegan Sun.(5/15)
I will be 39 in June, my son will be 15 in Aug., this was his first concert, as well as our first together. This show was AWSOME!!! I saw Dio back in "87" in New Haven CT.(solo). Obviously his voice was better back then, but he still sings extremely well. The guys the same age as my father(66) for crying out loud. For not being in thier 20's anymore, these guys STILL put on a (Heaven&) Hell of a show. I had an opportunity to see Sabbath in "86" for 7th star regretably I couldnt go. I am so glad I got to see Iommi live, especially this line-up. I would sure love to see Iommi play some solo stuff live. Dont drag the river, Dopamine, Dont you tell me.
Thanks for your time. Again, Terrific Site!!

---
from Scott Cumpstone <blizzardofozz80@sbcglobal.net>
to siegler@black-sabbath.com
date May 19, 2007 8:03 AM
subject Heaven And Hell 5/15/07 Mohegan Sun Arena Review
1 hour and 58 minutes past from the time 'E5150' started until Iommi walked off at stage left. I was expecting the show to run about 105 minutes. I knew they had dropped 'Ear In the Wall' earlier in the tour so I wasn't expecting almost 2 hours. They also didn't perform 'Lonely Is the Word'. They came on at 9:05pm. The Mohegan Sun Arean has 10,000 seats. The back and some of the side sections were empty. I'd guess there was about 8,000 people there. I thought I had read somewhere that it was soldout. I was seated all the way up on Geezer's side in the very last row. You can tell from the photos it was pretty high up. Ronnie certainly worked the whole stage from side to side and right up to the front. Most times getting down on his hands and knees to slap hands over the barricade with the crowd. Tony was his usual note for note self. It was odd to see him playing a white SG for some songs. Ronnie voice was fantastic, even getting out a couple of screams at the end of 'Computer God' and 'Neon Knights'. Geezer was steady as a rock. They really seemed to be taking their time with the songs. Dio was in no rush to sing when the words are supposed to come in. As was the case with 'Sign of the Southern Cross', 'Falling Off the Edge of the World' and 'Heaven and Hell'. I believe that 'Sign of the Southern Cross' was about 3 minutes longer than 'Heaven and Hell'. Ronnie changed shirts during Vinny's drum solo. It was really a great show. Having seen this lineup in '82 & '92. This was by far the best. This tour is everything that the 'Dehumanizer' tour should've been. It was nice to not have to sit through 'Iron Man' and 'War Pigs'. Although Tony did play the first couple of notes to "Children of the Grave' right after 'Neon Knights'. I'm not sure how many there noticed it. They also did a signing after the show. When we walked out of the arena the was already about 500 peopIe in line to meet them.