Black Sabbath Concert Reviews
May 17, 2007
Tsongas Arena
Lowell, MA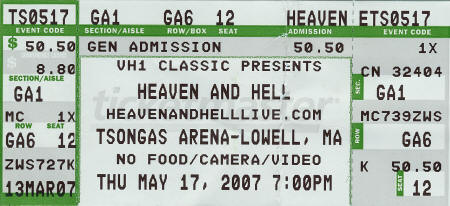 THE BAND
Ronnie James Dio - Vocals
Tony Iommi - Guitar
Geezer Butler - Bass
Vinny Appice - Drums
Scott Warren - Keyboards
SET LIST
E5150
After All (The Dead)
Mob Rules
Children Of The Sea
Lady Evil
I
The Sign Of The Southern Cross
Voodoo
The Devil Cried
Drum Solo
Computer God
Falling Off The Edge Of The World
Shadow Of The Wind
Guitar Solo
Die Young
Heaven And Hell
Neon Knights (encore)
CONCERT PHOTO GALLERY
None yet. Have any? Submit 'em!.
FAN SUBMITTED TOUR REVIEWS & REMARKS
from Eric Goldberg <egoldberg@hubgroup.com>
to siegler@black-sabbath.com
date May 18, 2007 8:25 PM
subject Review of H&H at the Tsongas Arena, Lowell, Ma on Thursday, May 17, 2007
Having just seen and met the band at the Mohegan Sun in Uncasville, CT just two nights before, I could not help but think that this night would be something of a let-down. It was not: this band never disappoints.

After meeting a few friends for dinner and a few beers at a local pub, we walked to the arena. They had what they said was a strict policy of not allowing cameras, so I had put my camera into my boot, and snuck it in. The photos I took this night are literally bootlegs.

Machine Head were almost done, but we heard all of "Let Freedom Ring" during which a roadie gave a cymbal tap while the drummer took a rest for a beat or two. It was really quite comical.

Megadeth were on fire. Mustaine was much more vocal and animated than he had been two nights before. Although he had run all over the stage then, now he was even more energized, perhaps because this was a general admission floor with no seats.

I was right up front for Sabbath / H&H when the lights went down after a roadie in the rigging had to change a malfunctioning light, but the band began nearly on time. This time, instead of being in front of Tony, I was much closer to Geezer, so I got a good show from him this time. Also, being in front of Geezer may have made Tony's guitar less present and articulate, sometimes even muddy. If anyone else saw this show form a different vantage point, please let me know what you though of Tony's and the band's sound that night.

The taped E5150 led right into "After All". Dio was in all black, as opposed to wearing the white shirt that he wore for the first half of the show the last two time I saw them on this tour (3/30 in NY and 5/15 in CT); he did not change his clothes once.During the show there had been sporadic chants of "Dio" , so I called out for "Tony", "Geezer" and "Black Sabbath" (Sorry, Vinny, but you were so far back....)

Ronnie mentioned that many people had expected them to begin the show with this next song: "The Mob Rules", during which tony and Vinny smiled at one another and Ronnie laughed visibly. How great to see such a powerful and tight band being relaxed enough while creating this music. "Children of the Sea" found Geezer right at home playing what are some of my favorite of his bass licks and fills.

"Lady Evil" (the song about the very bad female person) was next again with Geezer leading the way and carrying much of the rhythm of the song. Dio did his trademark spinning of the mike stand and during the solo seemed a little tired. It was an appearance that was very short-lived.

When "I" started rocking, so did the pit. After the song, Tony and Ronnie each pointed to the other in recognition and appreciation.

Ronnie introduced the next song as always being heavily requested, and "Sign of the Southern Cross" exceeded expectations. Tony went to the drum riser to hang with Vinny during the verses.

"Voodoo" was called the "pin cushion song" and brought along the night's first crowd surfers. Tony and Ronnie laughed together as Ronnie crossed the stage, and Tony went to Geezer's side of the stage to stand next to him and play. What a sight! Geezer's fills during the last extended solo were blistering and tasteful: he always knows exactly what the song needs and delivers it with passion, grace, and fire.

"The Devil Cried" was next, and again I noticed more bass fills that I hadn't noticed on the studio recording. I'll have to give it another listen.

"Vinny Appice", Dio exclaimed in a voice treated with heavy effects to sound like that of the Devil himself, and so began the drum solo which featured Vinny accompanied by Scott Warren on keyboards whom I could see at the front corner of stage right (nearest to Geezer). I think this was when I noticed that Vinny sometimes held the stick in his right hand between his middle and ring fingers.

"Computer God" followed the drum solo. I have really come to appreciate this song more, despite the lyrics which I had always thought were a little hokey. I think it was towards the end of this song that Ronnie was repeatedly singing "yeah" in such a way as to bring to mind Steven Tyler.

"Falling off the Edge of the World" was phenomenal. Could it possibly be otherwise?

"Shadow of the Wind" had funny almost sloppy ending, but was otherwise effectively and skilfully played. This slower heavy number has again come to grow on me more after hearing it live a few times.

During the extended intro to "Die Young", Tony played some fast licks and made faces that were reminiscent of BB King when bending notes and really feeling it. At the end of the intro, Tony nodded almost in pleased self-assurance. If that was the case, it was certainly well deserved. Vinny missed a punch during the song, but he was hitting the drums so hard it was unbelievable that he is able to keep this kind of power up every night. Ronnie waved to the fans up high and to one side, and seemed to enjoy the adulation he received in response. Why not? hasn't he earned it? (I know I would love to be able to be in his position for a night or two.)

"Heaven and Hell" began with us singing the riff before we were asked to. We were only too happy to continue to oblige Ronnie's request. Ronnie took a few minutes to ad lib some lyrics between the first and second verses. Before the third verse, Ronnie was standing behind Geezer, almost hiding behind him without his knowledge: it was strange and funny. Then Ronnie seemed to describe to Geezer how a crowd surfer had fallen into a gap in the crowd below him. (I've been there: it hurts falling on the concrete ground below.) During the solo, Ronnie left the stage for the second time (the first time being during the drum solo). The solo found Tony and Vinny syncopating together while Geezer held the song together and created counterpoint. The solo built using alternating high leads and then letting the open E string ring. (I believe it is tuned down a step to D.) This led to a wild Jam with Geezer playing like a madman and Tony getting some nice feedback before letting the music come crashing back to its slower pace. The echoing solo built again before punching to a climax with the fast section. One of my friends told me he preferred of the song just ended like it does on the studio version, without going back into the opening riff, but I like the sense of closure that comes with full circle.

The only encore was "Neon Knights", and that is such a great way to end the show. Vinny played his sticks with the flashing tips, at least one of which he threw into the audience after the show. Tony took hands full of picks from his pockets and threw them to us. My friend was lucky enough to get one and generous (foolish?) enough to give it to me.

As we walked to our cars, one of my friends said that he thought Ronnie sounded much better after the break he took during the drum solo. I didn't notice him not sounding so well before then, but I may have been a little too caught up in the excitement to notice.

I will send you some emails with pics from this show for your pleasure and posting (if you see fit).

Thanks again for keeping my favorite web site going so strong and for keeping me so well informed on my favorite band,
---
from john thomas <chowderheads316@yahoo.com>
to siegler@black-sabbath.com
date May 18, 2007 7:08 PM
subject may 17 review
Hi Went to tsongas arena last night. Awesome show !!! Set list same as most (no Ear in the Wall).

Machine head Sucks. As my son put it, loud for the sake of being loud. I'm not a big Megadeth fan, but they were good. Very tight as a band, Mustaine sounded great. Sabbath rules!!! Came on about 9:05pm, rocked til almost 11pm. Great set, lighting, sound. Dio proved he still has it, as loud as Sab was , he was still clear and strong. Geezer and Tony proved why they are rock majesty. And Appice's solo was only 3 minutes or so, which is just about enough. I thought Born Again was the loudest concert I had been to, But last night was right there. Just Awesome!!!!!

---
from William Bordeleau <b1essedwarrior@yahoo.com>
to siegler@black-sabbath.com
date May 18, 2007 9:39 PM
subject May 17th setlist and review
Here's my personal review for the May 17th Heaven and Hell show at the Paul Tsongas Arena in Lowell, Mass.
Despite the notoriously weak acoustics at this venue, (probably due to the flat ceiling) Heaven and Hell, and Co. pulled off a spectacular set to a nearly sold out crowd of ten-thousand. Dio appeared more energetic than I can ever remember; his interaction with Tony, Geezer, and Vinnie was awesome. They really seemed to be getting along well.
The stage was like an outdoor cathedral that sometimes appeared mysteriously interdemensional as the lighting only revealed selected dimensions for you to see. And the usage of holigraphic imagery was superb. The upcomming Live CD/DVD will be a must-have for the passionate, and passive Sabbath fan alike.

---
from "jamx67@comcast.net" <jamx67@comcast.net>
to siegler@black-sabbath.com
date May 20, 2007 12:54 PM
subject Concert Setlist & Review - Heaven & Hell (Live @ Tsongas Arena - Lowell, MA)(5-17-07)
This concert certainly lived up to the hype and then some! (Whether it be RJD./etc..) whatever historic version of this band actually plays in the Boston area, all the shows are usually superb and close to flawless INMOP! It was truly a pleasure to have the opportunity to finally go see this version of Sabbath history! Ronnie James Dio's voice was awesome throughout the show. His voice never faltered and he sang most of the songs as true to the studio versions as possible (Really nice to hear from the elder of the bunch)! Tony Iommi and and Geezer Butler never missed a beat, lick or rift throughout their A+ performances! Vinny Appice played great all night long and being a reactional drummer myself, it was a thrill to watch how he actually played all the songs from start to finish!

The audience was definitely into the show especially when RJD. called for the stage lights to shine out over the crowd (Let's see those faces out there!). The stage set itself definitely had that errie, gothic, live evil appeal that has been well documented throughout the tour. A couple of occassions during the show there was some fantastic dry ice effects that exploded upward, most notable after Vinny Appice's drum solo. Some of the Dehumanizer tracks seemed a bit unfamiliar to some, but most knew them. "The Devil Cried" appeared to be the weak link of the set for many this evening, but like the other songs was heavier and still enjoyable! The entire setlist was a highlight for me! Falling Of The Edge Of The World & Die Young w./Tony Iommi's guitar intro. got my vote for the must see favorites played! Of course, I can't speak for the other's who saw Heaven And Hell elsewhere, but if the Radio City Music gig sounded as awesome as this concert did, the DVD/CD set coming out soon will be simply tremendous!

Overall, thank you Tony, Geezer, Ronnie, and Vinny for yet another (A+) stellar performance for the fans of surrounding MA area. There is still no doubt in my mind that Heaven And Hell and the Sabbath legacy will continue and always give anyone in today's rock industry a major run for the money anytime, anywhere!