Black Sabbath Concert Reviews
May 18, 2007
Merriweather Post Pavilion
Baltimore, MD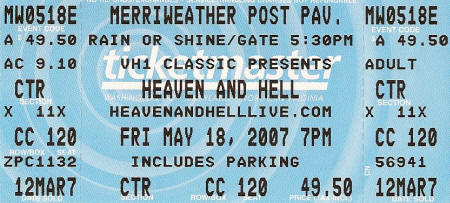 THE BAND
Ronnie James Dio - Vocals
Tony Iommi - Guitar
Geezer Butler - Bass
Vinny Appice - Drums
Scott Warren - Keyboards
SET LIST
E5150
After All (The Dead)
Mob Rules
Children Of The Sea
Lady Evil
The Devil Cried
Drum Solo
Sign Of The Southern Cross
I
Voodoo
Falling Off The Edge Of The World
Shadow Of The Wind
Computer God
Guitar Solo
Die Young
Heaven and Hell (extended)
Neon Knights (encore)
CONCERT PHOTO GALLERY
None yet. Have any? Submit 'em!.
FAN SUBMITTED TOUR REVIEWS & REMARKS
from "dandfholmes@comcast.net" <dandfholmes@comcast.net>
to siegler@black-sabbath.com
date May 19, 2007 12:04 AM
subject may 18, 2007
Just got back from the Baltimore show. Absolutely awesome. Had a friend, a freshman in college who has never seen Sabbath or Megadeth, totally blown away by the whole night . I go back to 1978. Crowd very jazzed up and into it, from the 9 year olds to the 90 year olds. A little trouble with feedback but otherwise solid production.

Machine Head - whatever

Megadeth - awesome! Never really paid much attention before. Got my attention tonight!
Dio and the boys - well worth the wait. I've seen Iommi and Butler 4 times since 1978. Including the Black & Blue Tour back in the day. They've done themselves justice by strictly doing their own material. Dio doing Ozzy, pass (despite having a collector edition of Hammersmith). The catalogue of Sabbath with Dio stands alone as metal history and this tour celebrates that awesome catalogue of work. Nice to have all the boys healthy (Ozzy in 1999 had his voice blown-out). They are a class metal act. Hoping this won't be the last chance to catch Sabbath live!

---
from Gene Dawson II <geneandjulie@verizon.net>
to siegler@black-sabbath.com
date May 19, 2007 9:26 AM
subject Concert Review May 18th Merriweather
Saw Heaven And Hell last night at merriweather post pavillian in baltimore MD. I have never been a really big fan of megadeth untill last night they kicked ass!They were very tight and right on the money.Sabbath was awesome i thought the first half of the show was the best after the drum solo and the die young solo the songs started to get a little lengthy with a lot of adlibs,but all and all the show was the best i have seen to date.Ronnie james dio really got into the crowd and had the whole venue up all night he's just a crowd pleaser who constantly smiled the whole show.We got to sit in the v.i.p. section right next to the sound board they were recording the show last night.I have to say that besides pink floyd it was the best stage show i have ever seen.This concert blew away sabbath when i saw them with ozzy at merriweather in 1999.Great show!
Gene Dawson
P.S. It was my 12 year old daughters first concert and she had a blast!
---
from Mark Byrne <absurdproductions@verizon.net>
to Joe Siegler <siegler@black-sabbath.com>
date May 21, 2007 11:04 PM
subject Black Sabbath Merriweather Post Pavilion May 18, 2007 Concert Review
Hey Joe. Love your site and wanted to submit my review to you for Merriweather!

Just got back from the Sabbath show in Columbia MD and the show absolutely rocked. Tony and Geezer put on a guitar clinic for anyone who dared watch! They proved just as they did in '83, when they put out Born Again, that they are THE heaviest ever. All others are wanna-be posers left in their dust. This was the best show since the first US Reunion tour with Bill, back in what, 2001? Before that show, which was my first time seeing Bill, I attended the Dehumanizer Tour in DC in '92. As good as that show was, this one was better. Why? No Iron Man, Paranoid, Black Sabbath! Just Dio-era songs including FIVE I had never seen live before. You'd have to attend 3 Ozzfests (at least) to hear the Sabbs do that many songs outside the standard set list. On with the review:

My seats were on the far left "loge" area, about 12 rows back. The loge sits back and to the left of the main area, so I was probably closer to 25 rows back from the stage. The sounds of E5150 began wafting through the air about 9:10. I kept hoping to see the Sabbs slip through the curtain behind the stage, but they magically avoided my gaze and charged into the opener AFTER ALL. To be bluntly honest, this was the only song I did not enjoy during the show, a song which makes as poor an opening case as any in the Sabbs repertoire. The song just doesn't grab you after the strong lead in that E5150 offers. I still wish they had swapped out AFTER ALL for TURN UP THE NIGHT. The song has only been played live four times in '81, so not only has noone seen it, every fan knows and loves that song. After the slow start, the boys launch into MOB RULES, a good song which you know this lineup will play every night. It wasn't until the third song, CHILDREN OF THE SEA, where things really started to click for me. CHILDREN is like the Ozzy-era's WAR PIGS, a song that will be played every tour that you never get tired of. Following CHILDREN, came LADY EVIL, the first of the five songs I'd never seen live. Tony started to rip it up on this one and I really started to get jazzed. Dio was very animated, pointing, flashing the sign and flailing his arms around like the elf he once was.

Next they launched into one of the best from DEHUMANIZER, I. This song always rocks and by this point Tony and Geezer were just tearing you up. No longer were you wishing for songs you know they won't play, you were just loving what was going on center stage. And just when you didn't think it could get better, the Sabbs rip into a classic of any era, THE SIGN OF THE SOUTHERN CROSS. Truth be told, this and FALLING were 2 of the main reasons I went to the show. Great songs they rarely played finally getting their due. As soon as the song opened, you knew you were in for something special. Ronnie was at the top of his game as he led you into the opening chorus, followed by the punching lead jam that permeates what is otherwise a quieter mystical song. In other words, a Sabbath song! Next came the fan favorite VOODOO. Does anyone NOT like this song? Ronnie and Tony personalized the ending by trading off between singing and guitar licks! Even if they do this every show, it's something that comes across as very spontaneous and fresh. Great ending to an awesome song.

Next the third new song for me, and everyone else, the new song DEVIL CRIED. I'm absolutely thrilled they played a new song, but this was the weakest of the three new songs and the second weakest song of the night. I'd have preferred my favorite new song, the jamming EAR IN THE WALL, but this is probably my only live chance with this song. Vinny took center stage with his drum solo, a spirited and dare I say interesting take on what is often a tiresome part of a show. At the end he stood and banged on a bunch of drums and gongs behind him, doing Bill Ward proud. Vinny knows these songs cold and deserves to be the drummer for this lineup. When the drum solo ended, everyone came back out onto stage rested and ready to rip your head off. Geezer had taken no prisoners thus far, and as the opening clanks of COMPUTER GOD indicated, he and Tony had no intention of stopping now. While LETTERS FROM EARTH is my favorite DEHUMANIZER song, none out rocks this heavy epic. So just as you are licking your wounds, thinking you've seen it all, the Sabbs hit you with the best of the night, the epic FALLING OFF THE EDGE OF THE WORLD. The tune stands up with any of the Ozzy-era classics from the MASTER era, from SABBATH BLOODY or SABOTAGE. A classic Sabbath song that ruled the night.

SHADOW OF THE WIND held up well considering the strong playlist it was mixed in with. Quite a heavy song. Hopefully this is not the only time it will ever be played. DIE YOUNG came next, a song I'd not only seen Dio play, but also Tony Martin and possibly Ray Gillan (my first Sab show!). A good song, like MOB RULES, you know will be played. Next came the extended version of HEAVEN & HELL, which signaled that the show was winding down. NEON KNIGHTS served as the encore, another song you can never tire of. Nearly 2 hours of the hardest rocking possible, with only 2 of the 15 songs seeming out of place. There were a couple kids next to me who couldn't have been over 16 and they knew every word to every song. My wife also, while disinterested initially, really grew to enjoy the show and was astounded by the depth of the talent on-stage. I'm so glad the Dio era is finally getting its due next to the Ozzy years. I like Ozzy, but when he's there, it's all about Ozzy. The crowd acts as if Ozzy is the only one on stage. Beyond never missing a note, Dio is more willing to step back and let Tony solo or let the 3 musicians take the lead. And Tony was more than willing to lead, with many more solos than I've seen at any show with either Ozzy or Dio.

So unlike Ozzfest, tonight there were four stars, not one. And all the stars were shining brightly. See the show if there's any possible way. Don't let the fact that you're sick of fighting the Ozzfest crowd to see them play an hour of the same songs deter you. That IS NOT this tour! So in the words of RJD, Long live rock'n'roll!!!!

P.S. There is only one new logo for this tour, everything else is rehashes of past albums. It's an angel that has crashed and is on the ground with the H&H logo above. This logo is only available on one t-shirt and as a part of a packet of stickers. Look for it!