Black Sabbath Concert Reviews
May 19, 2007
PNC Arts Centre
Holmdell, NJ USA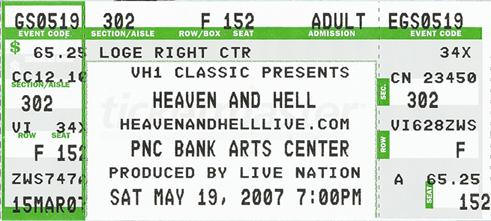 THE BAND
Ronnie James Dio - Vocals
Tony Iommi - Guitar
Geezer Butler - Bass
Vinny Appice - Drums
Scott Warren - Keyboards
SET LIST
Unknown
CONCERT PHOTO GALLERY
None yet. Have any? Submit 'em!.
FAN SUBMITTED TOUR REVIEWS & REMARKS
from Joe Karavis <jkaravis@verizon.net>
to siegler@black-sabbath.com
date May 20, 2007 9:33 PM
subject HEAVEN AND HELL Holmdel, New Jersey May 19, 2007
HEAVEN AND HELL Holmdel, New Jersey May 19, 2007

I was fortunate to be able to attend Heaven and Hell's last US date before the shows overseas at the PNC arts Center in Holmdel, New Jersey on May 19, 2007. I write a long review here, but even though it's a little long I don't think I can say enough about the show or this reunion. So, here I share my personal thoughts...

Originally I was trying to work out the details of how I was going to get to see one of the shows on the tour. Nothing seemed to come together, until an old friend of mine said he was going and I could go with them to the Holmdel show if I could get a ticket, even though I likely would not be able to sit near each other being he already had his tickets. Not a big deal - I just wanted to get into the show. I got a ticket in the first week of April so then it was the long month and a half wait until the show.

My seat was awesome! Right on the end, about halfway back, just right and behind a bit of the soundboard. Section 302, row O, seat 150. I could see and hear everything great.

The trip from Wilkes-Barre, PA to Holdel, NJ was just over 2 hours or so. We were early and got to the parking lot. People were all set up with food, drinks, bbq grills etc., it was a good scene and cops were not hassling people. The venue is very nice, and we found it to be a very good place to see a show, a far cry from our venue here in Northeastern Pennsylvania near Scranton which is not on par with Holmdel. Everything is better, from the layout of the seating area to the parking, accessibility, traffic, restrooms, and concessions.

I bought two very cool shirts. Now, I don't buy concert shirts very often, but could not pass these up. I did wear my Dehumanizer 1992 Tour shirt to the show, which I have kept in pretty good shape over the years because I never wear it - but this night called for it. However, it goes back in the vault now. The amazing thing about this was the show was May 19, 2007. The Mob Rules Tour show was May 19, 1982 - Kingston (Wilkes Barre) Kingston Armory, and I was there. 25 years to the day!

Machine Head was first up. Interesting, the intro they used was the same one Black Sabbath used on a few tours - Headless Cross, Forbidden, etc. It was I think the music from the film The Omen. This was the second time I saw the band, and they are a very good band live. Heavy, and lots of energy. They managed to get the crowd going and warmed things up.

Next up, Megadeth. Very solid band that had the crowd into it from about the second or third song in. The opening song was the first track from the new album United Abominations - which just came out a week or so prior - so most fans were not familiar with it, but I think it's the best Megadeth album in some time. They plowed through the usual favorites and had everyone on thier feet for almost the entire set. By now it was clear that there were no empty seats in the whole place. The place was packed, and the crowd was warmed up and ready for Dio-Iommi-Butler-Appice ...or Black Sabbath, as Dave Mustaine referred to them as - and I agree!

Between changeover I noticed a few rows ahead a dude with a Sacred Oath denim vest, so I introduced myself and I started to talk to him before Heaven and Hell during the changeover. Well, he is the singer from Connecticut band Sacred Oath - great band btw. Rob, and my band Beyond Fallen are doing a few dates in December here in the US with them, Anvil, and Attacker. But we were talking about Sabbath, Dio and the whole Heaven And Hell thing too, and were both totally pumped to see the show! Anyway, it's cool how music brings people together.

The only bad thing I can say is it was a light rain, and quite cold. The weather was more like early March than the middle of May. Not a big deal, we were under the roof, and I was dressed for it. People on the lawn must have been hating life. That would suck. I will never take lawn tickets, even if they are free. Not worth it, especially on a rainy, cold night like this.

The lights went down and the intro E5I50 played. They launched into After All, and even though I knew they'd likely open with that it just did not fit as an opening song. Great song, but seemed to not be an opening song, as the intro did not flow very well into it. Not a big issue, because they went into The Mob Rules after that.

I won't post the setlist here, as it's pretty much the same as previous recent dates. No big surprises, but some great songs I have never heard played live before. A perfect mix of the Dio era. I have never been a huge fan of the song Lady Evil, and was really the only tune I could have seen being replaced - perhaps with Turn Up The Night, Time Machine, or Master Of Insanity. The new songs - both were great live - The Devil Cried, and Shadow Of The Wind. During the song I (one of my all time favorites) Dio grabbed what looked like someone's big white framed sunglasses and wore them during most of the song. Ronnie's voice sounded a bit strained as he spoke between songs. Having seen Dio 9 times total, (solo and with Sabbath), I could tell he was losing his voice while speaking - but the amazing thing I thought was his singing was great. People commented how awesome Ronnie sounded, so he was able to still pull off the performance at a high level. At the very end, he looked like he may have said something to Vin like he was dissapointed in his voice or something, but it looked like Vinny was giving him praise and encouragement. While I could obviously not hear what was said the body language of Ronnie and Vin made this clear to me.

Tony, Geezer, and Vin all played great! Not much else to say there.

The stage and lights: Really cool. You can see pics from other shows, but even though I saw photos previous to this from other shows there were some visuals that were unexpected. Nicely done.

The most memorable songs for me - Sign of the Southern Cross, Falling Off the Edge of the World, Neon Knights, Heaven And Hell, and The Devil Cried. I mention these songs not only because they are great numbers, but the visual presentations and lighting during.

Being this was the last night of the current tour, Ronnie thanked everyone involved. He also confirmed that they'd see everyone again in August - September after they go to Europe. So be on the lookout for another US run, hopefully hitting some places they missed the first time around.

If you have the chance to see this show, do it. I can't wait to see the DVD. If the second leg of the US tour comes anywhere near me, I am there.

Fads and trends come and go, but it was clear on this special night that great music never dies. There were people from all ages and all walks of life at this show, joined together to celebrate the great music that these four rock legends have created. This tour is proof of the staying power of this music.