Black Sabbath Concert Reviews
June 6, 2007
KB Halle
Copenhagen, Denmark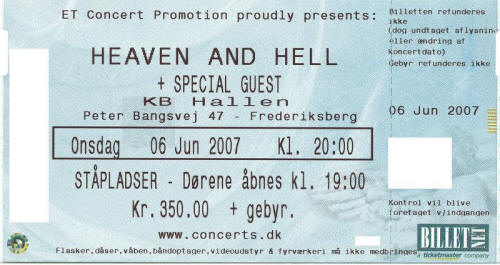 THE BAND
Ronnie James Dio - Vocals
Tony Iommi - Guitar
Geezer Butler - Bass
Vinny Appice - Drums
Scott Warren - Keyboards
SET LIST
E5150
Mob Rules
Children of the Sea
I
Sign of the Southern Cross
Voodoo
Computer God
Falling off the Edge of the World
Shadow of the Wind
Die Young
Heaven and Hell
Neon Knights
CONCERT PHOTO GALLERY
None yet. Have any? Submit 'em!.
FAN SUBMITTED TOUR REVIEWS & REMARKS
from Rasmus Heide <rasmusheide@mail.dk>
to siegler@black-sabbath.com
date Jun 6, 2007 5:39 PM
subject Heaven and Hell - Copenhagen set list
Hi Joe

From one fan site to another, it's the Highway Star calling. :-)

Just back from tonight's Heaven and Hell show at Copenhagen's KB Hallen.
Here's the set list:

-. E5150
1. Mob Rules
2. Children of the Sea
3. I
4. Sign of the Southern Cross
5. Voodoo
6. Computer God
7. Falling off the Edge of the World
8. Shadow of the Wind
9. Die Young
10. Heaven and Hell
- - -
11. Neon Knights

You're right if you think we felt short changed! The band had the venue
all to themselves (support Violent Wind were cancelled earlier today)
and yet they couldn't see it in their hearts to reward us with more than
a 90-minute bare minimum set.

Furthermore, the sound was an awful mess throughout - minimally improved
after Vinny's solo (after Voodoo) - but not enough to really inject
power and enthusiasm into the crowd.

The Dehumanizer tracks sounded best, together with a mesmerising Heaven
and Hell, but considering who was onstage, it was a right bummer.

Afterwards Geezer did a runner for the bus and Dio was nowhere to be
seen. Vinny and Tony paused to give signatures and pose for photos with
a few fans outside.

Basically the atmosphere was of a money grabbing reunion excercise. I'm
really sorry to have to give such a bad vibe, but as a long standing Dio
and Vinny fan I was mightily disappointed tonight.

Feel free to use my words if you like. :-)

Regards,
- Rasmus Heide

---
from Frederik Olsen <frederik.olsen@get2net.dk>
to siegler@black-sabbath.com
date Jun 7, 2007 3:41 AM
subject Review of Heaven and Hell at K.B. Hallen, Copenhagen 06/06-2007
First of all, the opener (Violent Storm) had been cancelled. This led to the doors opening about half an hour later and we had to wait for a bit before the doors to the hall itself were opened. When they were, I was quick to run upfront to get a nice spot right in front of Geezer. To say that my heart was racing would be a massive understatement...

And that's when it happened - the lights went down and E5150 made its entrance with the first piercing shrieks. But even though the sound was turned all the way up, the intro-tape couldn't compete with the roar of the audience as Ronnie, Tony, Geezer and Vinny appeared on stage and launched into a furious The Mob Rules!

I should mention that this is first time ever that I have seen Black Sabbath or even any of the members of the band, so I will likely be less critical than some. But there were a few bloopers here and there. Dio got some words wrong in Computer God, which he joked about just afterwards by pointing at an audience member and saying "YOU knew it was Computer God, cause YOU knew all the words!". Tony also seemed to hit some odd notes from time to time, but as I was standing awfully close to one of the speaker stacks, my ear may have been cheated by audio distortion. And that is likely where the only real problem with the show was - the sound was a bit uneven at spots, though not the fault of the band. K.B. Hallen is really not the best venue for a loud heavy metal show, but for the most part, everything went through loud and clear and hey, we all knew all of this stuff by heart!

As for the band members, Dio was exceptionally animated and he really seemed to enjoy the audience. I myself was taken aback by the level of enthusiasm in the audience - there were people of all ages shouting and headbanging and no one screamed for Ozzy once! But what took me by surprise even more was the quality of Dio's voice. This is one thing that age cannot wither and the man gave everything. The power of his voice was able to compete with Tony's guitar during the outro of Voodoo. Geezer and Tony were a little less crazy, but Tony did smile quite a few times!

As for their playing, they were both rock solid and powerful. Nobody can compete with these guys, absolutely no one! Vinny's amazingly heavy drumming almost seemed to benefit from the sound of the concrete block that is K.B. Hallen, which seemed to just make every hit more massive! The drum solo that some fans have described as boring, was a delight and the crowd licked it all up!

The setlist turned out to be the shorter version that we've grown accustomed to from the other European gigs, but what we got, was just enough! I was treated with epic renditions of pretty much all of my favourites and I was downright grateful for just being there! Being present at a gig with these guys makes it absolutely impossible feeling that you're missing something anyway!

After the literal show-stoppers Heaven and Hell and Neon Knights, I knew that what I had witnessed, was the stuff of legends. At least I was fortune enough to get one of Tony Iommi's picks! Heaven and Hell may just be a small side-project, but here's hoping that these guys keep playing together for a while, whether they call it Black Sabbath or not! I'll be there.

---
from Thomas Daugaard <thomas@daugaard.com>
to siegler@black-sabbath.com
date Jun 7, 2007 4:51 AM
subject Review of H&H, June 6th, 2007, Copenhagen
Heaven & Hell, live in the KB-Halle, Copenhagen, Denmark, June 6th, 2007

Being a fan of all Sabbath incarnations, I simply had to see the Dio line-up when chance came this summerday in Denmark. So I drove the 300 km (185 miles) to see them.

The support act (Violent Storm) cancelled for reasons unknown, so at 9 PM we we're ready for Heaven & Hell. At the start of the concert I was at 3rd row, center, and it was a very calm crowd with people of all ages.

The intro started (E5150 as usual) and the band came on stage starting out with "Mob rules". Maybe I'm imagining things, but I felt from the start that something was wrong. Iommi and Butler didn't look at all happy, and quite frankly it seemed like they didn't want to be there.

Dio was smiling, though, and although he wasn't too energetic at first, he seemed to lighten up as the concert proceeded. Only a few smiles from Iommi to the crowd, and I saw Geezer smile only three times - two of them when Dio was making jokes. I think it was a bit strange watching Geezer and Iommi play. Geezer looked very unhappy and uninterested ... Iommi also looked very introvert, but maybe he was just concentrating. It seemed like they had just had a very big fight backstage. If it wasn't for Dio, the band would have looked quite sad (note: I'm not a Dio-fanatic ... I love all eras of Sabbath).

Vinnie looked fine - like Dio - and he delivered a good and entertaining drum solo. The sound over-all wasn't too good - perhaps because the support hadn't been there to fine-tune things. Dio's voice was in good shape, as always ... I've seen him three times now and he always amazes me. Iommi's guitar was incredibly heavy, but Geezers bass seemed to be blended away in the sound.

For me the definite highlights was "Computer God" and "Heaven and Hell". In "Computer God" Iommis sound is awe-inspiring ... it feels like you're being hit with something very hard and very sharp!! "Heaven and Hell" was good mainly because of the audience being very enthusiastic about singing along.

I had been looking forward to hearing "Falling of the Edge ... " and "Die Young", but unfortunately they didn't sound too good - very flat and muddled. The closer - "Neon Knights" - also sounded muddled - almost out of key.

It was a disappointment that "Lady Evil", "After All" and "The Devil Cried" was missing from the set, and the band made only one encore. "Shadow of the Wind" was the only new track, but it was very heavy and well-played.

All in all, I was pleased with the concert - I got what I came for: The amazing heavy sound of Iommi. I think the band was having an "off-day" - and I guess that happens to everybody - it was just a shame it had to be on "my" stop on the tour.

The setlist:

E5150
The Mob Rules
Children of the Sea
I
The Sign of the Southern Cross
Voodoo
Computer God
Falling off the Edge of the World
Shadow of the Wind
Die Young
Heaven and Hell
Neon Knights (encore)

---
from jonas juul henriksen <jones.juul@ofir.dk>
to siegler@black-sabbath.com
date Jun 13, 2007 3:11 PM
subject KB hallen 6th of June
I saw you didn't have a set list for this evening, so I decided to give you "mine". I'm sure all the songs they played are listed but I was pretty drunk which means some of them are not in the right order..

1 Turn up the Night
2 Voodoo
3 Children of the Sea

Then it gets blurred with the order..

The Sign of the Southern Cross
Drum Solo
I
Guitar solo (followed by:)
Die Young
Computer God
Shadow of the Wind
Falling off the Edge of the World

And then they ended with:

12 Heaven and Hell (extended)
13 Neon Knights


Unfortunately, I have to start with a complaint. The sound was terrible! You couldn't hear what was bass and what was noise.. But worst of all Dio's voice wasn't loud enough. It was impossible to hear the words he was singing if you didn't know them. And when one of the best voices in rock history (maybe THE best) comes to Denmark I get disappointed when I can't hear him and his incredible range as loud and clear as I had hoped.

When that's said it was an honour to experience this line-up of Black Sabbath and a great opportunity for us who weren't born when those classics were written. They made a show worth any single penny. And just to experience Dio and Appice and re-experience Tony and Geezer was amazing.

Thanks for a great page.. I look for updates every time I turn on my computer..

Thumbs up my boy..

Jonas Juul (Odense, Denmark)

---
from Fam Schulz + Wolter <garamont@t-online.de>
to siegler@black-sabbath.com
date Jun 16, 2007 3:58 PM
subject Heaven and Hell reviews
Hi Joe, have just returned from a fortnight's holiday to Scandinavia planned around seeing Heaven and Hell. I was fortunate to eventually see two gigs , still will do them in one review for the simple reason that in this highly professional age there was barely any difference in the two concerts.

No. 1 was at KB Hallen in Kobenhavn / Denmark on 06.06. - no support (was to be some local Danish band that cancelled at short notice) the show starting at 21:15

No. 2 was at Sweden Rock Festival in Solvesborg / Sweden on 07.06. - the band headlining on the main stage at day two of the four day festival starting the show at 23:30 hrs.

The set list for both gigs was identical :
E5150 ( Intro)
The mob rules
Children of the sea
I
The sign of the southern cross
Vodoo
Computer god
Falling off the edge of the world
Shadow of the wind
Die young
Heaven and hell
Neon nights (encore)

The band were absolutely fantastic epecially Dio was in great voice (something I was worrying about after last years 25th year anniversary show for Holy Diver) and seemed to have a lot of fun.

His voice was just fantastic and he did some nice vocal improvisations during Vodoo especially.

Iommi was also in great form and did some lengthy guitar improvisations at the start of Die Young and especially in Heaven and Hell.

This being the only real difference that I recognised as that jamming bit in Heaven and Hell was at least three/four minutes longer in Sweden Rock than in Denmark.

Both nights also included Geezer "fingering away" HEAVYLY in this jam bit .. Besides both nights his bass was turned to Volume 10 or thereabouts . it was HEAVY .

Vinnie was no disappointment either he always was on the heavy side of drumming.

What was somewhat disappointing though was that only one of the (to me brilliant) three new songs was played and that the set was two/three numbers short to what you Yankey lot got earlier this year.. Than again you didn't have the jamming in Heaven and Hell...

Also in Copenhagen the crowd was a bit on the old side ( I am fifty next year so better shut up maybe . but I can still headbang with the wild bunch) and quite lethargic .

Obviously at the Sweden Rock festival there was a much younger and more vocal crowd which made it a better spectacle over all.

Both gigs we were near the front ten rows at a wild guess and if my old a trusted pocket camera did deliver (against better believe) I will send some pics in a week or so if worthwhile.

Still all I can see if this band of newcomers will be around your area ( make that within a couple of hundred miles) you have to go the are absolutely fantastic and sure a s hell can still deliver a shiver down your spine or a tear to your eye with some of those classic songs.

Cheerio
Ralf Schulz
Bargteheide / Germany