Black Sabbath Concert Reviews
June 17, 2007
Stadthalle
Offenbach, Germany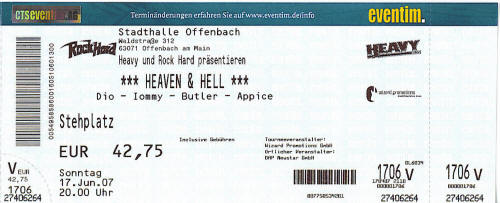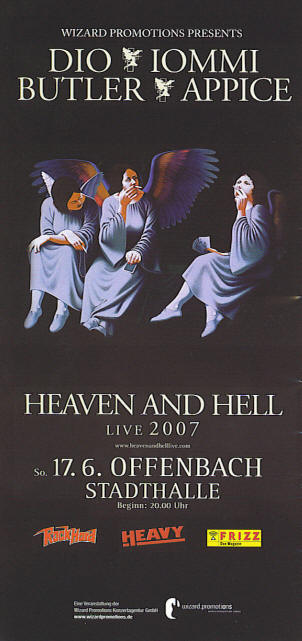 THE BAND
Ronnie James Dio - Vocals
Tony Iommi - Guitar
Geezer Butler - Bass
Vinny Appice - Drums
Scott Warren - Keyboards
SET LIST
E5150
Mob Rules
Children of the Sea
I
Sign of the Southern Cross
Voodoo
Drum Solo
Computer God
Falling off the edge of the world
Shadow of the Wind
Guitar Solo
Die Young
Heaven and Hell
Neon Knights ( Encore)
CONCERT PHOTO GALLERY
None yet. Have any? Submit 'em!.
FAN SUBMITTED TOUR REVIEWS & REMARKS
from FME <krasenkow@tiscali.de>
to siegler@black-sabbath.com
date Jun 18, 2007 4:24 PM
subject Black Sabbath Offenbach
Hi Joe, first of all thanks to you making such a great website about Black sabbath, I really enjoy it. Second, Born in 1968, I grew up with listening to Live evil first, then buying Never say die!, then maybe Black Sabbath up to Volume 4, Sabbath Bloody Sabbath, Sabotage and the weaker Technical Ecstasy. I bought all Albums of Black Sabbath, even if the Seventh Star years were somehow as if I'm a idiot to buy these albums. Headless Cross (Born Again is also very nice) was very good and I still like Cozy Powell. We all like Ozzy, but Black Sabbath is a band, and not stupid stuff that dies when Ozzy leaves. I went to a concert with Tony Iommi, Neil Murray, Tony Martin and Cozy Powell in Frankfurt years ago. Getting the chance to see Iommi-Butler-Dio-Appice in Offenbach was incredible, and it was amazing.

The venue in Offenbach wasn't sold out, I think, because it was no problem to get a ticket in the evening, but it was crowded with the typical mixture of Heavy-Metal-fans, a few kids and people, who really doesn' t look like as if they were going to a metal-concert. Maybe also people who are earning a lot of money in Frankfurt as broker or banker (sorry if I don' t get the vocabulary right) as well as people who were fucked up a long time. A lot of people were wearing Wacken-Open-Air-T-Shirts. As a longtime thrash- and deathmetal-fan it was funny to see the people, and because the whole idea of watching the concert was growing by talking to my former girlfriend, who is much more into techno, electrical stuff after being a long time into AC/DC or Accept/Saxon Style Metal in the eighties, she liked Dio, but don' t know much about Black Sabbath, except that Ozzy was a former member of the band, she was impressed and now would like to see another metal concert. Anyway, as expected, Heaven and Hell really kills. I think I can't get the whole setlist together, but they played Sign of the southern cross, Heaven and Hell, Neon Nights, I, Computer God, Falling off the edge of the world, Children of the Sea, Neon Knights, Voodoo, Mob rules, Die Young, Shadow of the Wind (not in the running order). Even if I love Tony Iommi' s guitar work, this day belonged to the the three other members. Because the venue was filled with people but not sold out it was an extremly relaxing atmosphere with the possibility to chant, shout, to be headbanging, playing airguitar, listen, and still to see the show, watching all 4 members of the band. The people loved Dio' s approach, there were Dio!Dio!- shoutings, much more because the crowd loved the performance of Dio with Black Sabbath and that they know that this is heavy metal as we like than that any stupid thought that it is a Dio concert. I enjoyed watching Geezer Butler working on his bass, this guy is heavy metal. Watching him, I reminded his statement " I hate every ballad, even our ballads" Really enjoyable watching him mistreating his bass. Geezer makes the difference, I have to admit, that I forgot about watching at Tony Iommi, who is the best metal guitar player anyway. I didn't thought that Vinnie Appicie would be in such a good mood, that he would impress me also, because I always thought that he maybe could be an exchangeable drummer, not that I am such a big fan of Bill Ward , who nethertheless has a very interesting jazzy drum style, but as a death metal fan knowing guys like Flo Mounier or Max Kolesne, Cozy Powell and John Bonham were the drummers I had to admire who doesn' t play double-bass-style. And knowing the record Live Evil I knew a drum solo is only the possibility for the other members of the band to drink some water and relax. But on this day, I caught myself being entertained by the thunderous drum solo. Really didn't expect that. The people highly enjoyed singing Heaven and Hell themself, up to the point that it was maybe scratching on Ronnies ego, but the same way as they were shouting Dio! Dio! it was somehow as if the people were glad to have their band Black Sabbath back on stage and their songs they want to hear and sing. A bombastic performance by the band, great to see, light and stage settings were as expected bombastic up to the point when Spinal Tap made a joke out of it, but I have to say this is it, the whole impression of musical skills, a fat sound, excellent songs, a charismatic singer, a brilliant guitar player, an extraordinary bass player, an unexpected good drummer, an extremly relaxed crowed that came to enjoy their heros and the music, a brilliant show, that made the event to an unforgetable moment. The "little white shape" stuff of Ronnie combined with death metal growls while the "big black shape" stuff was very nice. Children of the Sea was Amazing. I don' t mind if there were mistakes, and as a longtime Sabbath fan, there were some, but I hope Tony will take this with a smile, it was the night we got Black Sabbath back. An unforgetable moment. Die Young!

---
from hans-georg ziegler <hgz.1@web.de>
to siegler@black-sabbath.com
date Jun 20, 2007 5:35 AM
subject heaven and hell concert review stadthalle offenbach/germany 17.06.2007
Hi joe,

just wanted to drop you a note from heaven & hell s one and only indoor concert this summer at the stadthalle /offenbach (near Frankfurt) Germany.

We arrived at the stadthalle at 7 pm, had a few beers and enjoyed that special rock n roll feeling in the air...opening act for h & h was a german band called stone the crow...They did a good job, but could nt really get me off of my seat...

At 9 pm, the lights in the hall dimmed and the curtain rose, the intro e5150 blasted through the amps, wow!!!! I ve been waiting for this moment for about 25/27 years cause i didn t get the chance to see them perform live in in the early eighties...now 2 decades later, the dream came finally true...I had f****in goosebomps...they started the show with the powerfull mob rules, from that point, the crowd went nuts.... followed by all their classics as you can see below...instead of the drumsolo (i m not too much into drumsolo s) i would have prefered to hear lady evil, which is one of my favourite songs on the h & h album or tv crimes from the dehumanizer album...anyway toni s solo led to the brilliant die young, great song, in rock n roll history, followed by a tripple x extended version of heaven and hell (approx 15 minutes)

The chemistry between these four musicians is unbelievable and they sound even better now. (even though ronnie is in his mid sixties, he screams and yells the young bands of today to the wall, great singer and of course a genius concerning songwriting...)The stage setup and light show was awesome, what more to say???

After neon knights the crowd was roaring dio, dio, dio..., (i guess toni must have been a little pissed) as we left the hall with a smile on our faces...

The setlist was cut a little down to size, from what i heared about the famous nyc concert, anyway,,,thanx ronnie, toni, geezer & vinnie for a night to remember!!!!