Black Sabbath Concert Reviews
June 23, 2007
Graspop Festival
Dessel, Belgium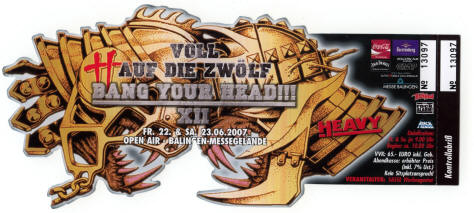 THE BAND
Ronnie James Dio - Vocals
Tony Iommi - Guitar
Geezer Butler - Bass
Vinny Appice - Drums
Scott Warren - Keyboards
SET LIST
E5150
Mob Rules
Children Of The Sea
Falling Off The Edge Of The World
Die Young (solo intro from Tony Iommi)
I
Voodoo
Computer God
Heaven and Hell
Encore
Neon Knights
CONCERT PHOTO GALLERY
None yet. Have any? Submit 'em!.
FAN SUBMITTED TOUR REVIEWS & REMARKS
from David Highfield <davidhighfield@gmail.com>
to siegler@black-sabbath.com,
date Jul 17, 2007 4:50 AM
subject Heaven and Hell Review Graspop
Set list (not in order) (only an hour as it was a mid afternoon set)

E5150
Mob Rules
Children Of The Sea
Falling Off The Edge Of The World
Die Young (solo intro from Tony Iommi)
I
Voodoo
Computer God
Heaven and Hell
Encore
Neon Knights
My friend summed the set up with the line "they should have headlined with a much longer set" put simply an hour was just a bit to short time wise for the band. They were all on top form Tony was smiling throughout as was Geezer and Ronnie. Ronnie seemed very happy to be here and helped get the crowd involved and even helped stop the rain with his singing. Heaven and Hell was the highlight with everyone singing along to the riff and I think this song put a smile on everyoneís faces. I remember it being the extended version similar to the live evil version with another extended solo from Tony and the extra verse brought in as well. Throughout half the set the rain really down poured but I don't think it effected the crowd one bit, I was quite far back but was amazed at how good Vinny was, there wasn't time for a drum solo or a bass solo which was a disappointment but thatís life. We didn't get any new songs I was hoping for one at least which was a shame but I see them in November this year so will hopefully see all three.
Overall band members
Ronnie James Dio - His voice has definitely aged a fair bit but he still can really belt out a tune and even though his voice did falter a little I really doubt any of the crowd noticed or even cared. Did well on handling the crowd and helped everyone sing along he really is a true performer and when he ever retires it will be a loss to the industry.
Tony Iommi - A legend and he was stunning today the solo before Die Young was mesmerizing as was his performance in the title track heaven and hell, the best guitarist of the festival? Maybe Joe satriani was stunning as well but I think Tony wins
Geezer Butler - No bass solo but a very good performance, watching him for the first time play tracks like Die Young and Children of the sea made me drool, being a bass player myself this guy has been an inspiration and you can't fault him at all throughout the set, yes there was no solo but then again thatís probably because of the short set.
Vinny Appiece - I've heard him on the Sabbath records and always thought he was good but I always preferred Cozy Powell and Bill Ward in the Sabbath front but this guy blew me away. I knew when I saw his drum kit we were going to get some fantastic drumming and I wasn't wrong. I look forward to a drum solo in November
Set was awesome, wish it'd been longer and a new song would have been nice but you can't fault how much greatness they made into a one hour set. If you get the chance go see these guys it may be your last chance to see them all together in the same lineup.