Black Sabbath Concert Reviews
June 25, 2007
T-Mobile Arena
Prague, Czech Rep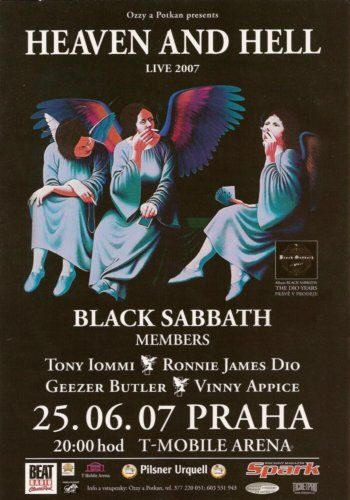 THE BAND
Ronnie James Dio - Vocals
Tony Iommi - Guitar
Geezer Butler - Bass
Vinny Appice - Drums
Scott Warren - Keyboards
SET LIST
Unknown
CONCERT PHOTO GALLERY
None yet. Have any? Submit 'em!.
FAN SUBMITTED TOUR REVIEWS & REMARKS
from "Košata Ondřej [P4]" <Ondrej.Kosata@praha4.cz>
to siegler@black-sabbath.com
date Jun 26, 2007 9:33 AM
subject Heaven and Hell in Prague
Hello Joe,

I visited Heaven and Hells show in Prague, Czech Republic, yesterday, so here are my few impressions:

Absolutely incredible :-) I think it was definitely the best show of the year.

Setlist:

1. E5150
2. The Mob Rules (Tony played white Gibson)
3. Children of the Sea
4. I
5. The Sign of the Southern Cross
6. Voodoo (white Gibson)
7. Drum solo
8. Computer God
9. Falling Off the Edge of the World
10. Shadow of the Wind
11. Die Young
12. Heaven and Hell

13. Neon Knights

The show was without support, the band started playing couple of minutes after 8 PM and finished approximately at 9,45. I've missed the only previous chance to see RJD in concert in the Czech Republic (it was in nineties during Angry Machines tour) so I was very anxious about his perfomance. I was really pleased, Ronnie is really in good shape, he's been very communicative with audience, smiling all the time and he was apparently enjoying the show as all the guys. Tony is real riff master, Geezer played with full concentration and Vinnies beats were great and heavy.

I've seen Sabbath only once before, it was when they were for the first time in our country - Cross Purposes tour - Tony Martin and Bobby Rondinelli on drums and then it was something like a conquering new land - "wow, Black Sabbath, a legend" :-)) Yesterday it was not only Black Sabbath (I know - Heaven and Hell...) but i was HEAVY METAL!!!

Sabbath Rocks!!
Still stunned!!

Ondra

PS: I've been really missing The Devil Cried on the setlist because I think it's a great one.