Black Sabbath Concert Reviews
July 4, 2007
Budapest Petofi Csarnok
Budapest, Hungary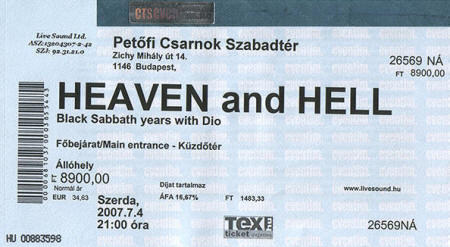 THE BAND
Ronnie James Dio - Vocals
Tony Iommi - Guitar
Geezer Butler - Bass
Vinny Appice - Drums
Scott Warren - Keyboards
SET LIST
E5150
The Mob Rules
Children Of The Sea
I
Sign Of The Southern Cross
Voodoo
Vinny Solo
Computer God
Falling Off The Edge Of The World
Shadow Of The Wind
Tony Solo (Intro to Die Young)
Die Young
Heaven And Hell
Neon Knights
CONCERT PHOTO GALLERY
None yet. Have any? Submit 'em!.
FAN SUBMITTED TOUR REVIEWS & REMARKS
from Gábor Szüdi <szudig@gmail.com>
to siegler@black-sabbath.com
date Jul 5, 2007 5:11 AM
subject concert review-Budapest
Hi!

As a 25-year Budapest-borne average Hungarian yesterday's concert was my first chance to see Black Sabbath live. (Yes, this was Sabbath! Everyone was shouting "Sabbath, Sabbath!" so why the Heaven and Hell moniker? Beats me...) I could have seen them with Ozzy 10 years earlier but I was still living an innocent enough childhood back then and didn't know such a great band exists. But now I do. And boy am I glad for that.

This was one of the greatest concerts I ever attended to. The band played perfectly tight as if they had been playing together for a very long time! Dio's voice was frighteningly perfect, Vinny's drum solo was exceptionally cool and Geezer and Tony played like hell!!

The weather wasn't very nice to us because after weeks of endless sunshine yesterday afternoon it started pouring. So most people were waiting under the roof next to beer bar while Wisdom, a Hungarian metal band was playing as an opening act.

But fortunately just before 8 p.m. it stopped raining (Wisdom played a cover version of Eye of the Tiger) and Ronnie James Dio soon appeared singing Mob Rules! The set list was A-okay! They included every great song from their previous 3 albums and added a new one, "Shadow of the wind" which sounded sinisterly beautiful. Dio seemed to enjoy himself very much. He was smiling, going regularly to the front rows, chanting and telling us how they liked Budapest during their 2-day long stay.

For me the highlights of the night were "Children of the Sea", "Falling off the Edge of the World" and the 20-minutes long "Heaven and Hell" at the end of the concert. But I cannot name any song that didn't sound awesome! My only complain is that they didn't include "Lonely is the Word". It'd have been the perfect closing for the night, I adore that song! My brother with whom I went to Petofi Hall missed "Country Girl" very much but otherwise we walked away absolutely satisfied. So did the other 5,000 spectators among whom there were teenagers and elderly couples, too.

Sabbath rules!! I hope they make an album together after this tour (even under the Heaven and Hell name) and come to Budapest soon! One time wasn't enough for this fan!

Cheers,
Gabor Szudi

---
from Sztrikinácz Róbert <sectumsempra@citromail.hu>
to siegler@black-sabbath.com,
date Aug 8, 2007 7:01 AM
subject Gig Review
Well, July the 4th...the highly anticipated day of the Hungarian Heaven and Hell gig. I got to the capitol by bus, and a guy I know from a forum was waiting for me there. We got there quite early so we checked out the place, then went to have a beer. After that a few guys (and a girl) I know were already at the place, but it began to rain...needless to say, everyone of us was totally wet and cold. Due to the rain the whole gate-opening was delayed for about 45 minutes, so we stood there in the rain and waited, and waited...Finally when they opened the gates we instantly occupied the first row. Soon after that the opening band started to play. They were a relatively new Hungarian heavy metal band, kinda Iron Maiden-like. They played for about 40 minutes, but they didn't have too much succes cause most of us were waiting for Sabbath and most of us were annoyed because of the rain. But the weather did them well, they looked cool playing in the wind and rain, it was like like a concept video.

Right before Sabbath started to play the rain started to stop and when the first notes of E5150 sounded from the speakers the rain had totally stopped.

After E5150 Vinny , Geezer and Tony came on stage. Everyone went mad, I couldn't believe that I can finally see them, then the white SG started to roar Mob Rules, and Ronnie ran on stage. They played phenomenally although it was a bit loud IMO. There have been 3 drunk jerks who were pushing everyone, but apart from that it was a great show. Ronnie sang his heart out in Children of the Sea, and after that I ruled again. It's one of my favourite songs from Dehumanizer, and it was a pleasure to hear it. Ronnie told us that they have been at Budapest for 2 days...if I had known...

The Sign of the Southern Cross was extremely good, and they have stopped right before 'I can't accept it anymore', and I waited for Heaven and Hell's bass riff as it's on Live Evil, but Dio sang the line on his own, and the song continued. Ronnie seemed to be having a really good time, he enjoyed the show very much he came as close to us as it was possible many times (there was a gap between the crowd and the stage, where official photographers stood). Tony was the usual, Geezer played like a monster but he didn't look really enthusiastic, maybe he was tired, I don't know.

I was never a big fan of Voodoo, but tonight this song rocked, it was the longer version, same as on Live Evil. Vinnie's drum solo was good, I enjoyed it, especially the part when he stood up and played with his back to us. Computer God was the killer of the night, that song is one of the heaviest Sabbath songs. I thought the show cannot be better. Boy, I was wrong, cause there came Falling off the Edge of the World, my favourte Mob Rules song, and Shadow of the Wind.

Tony played a really cool guitar solo before Die Young, and then the mighty Heaven and Hell came. We sang, we showed horns, and everything that was possible, it was insane. Tony's solo was really good, and after he finished the improvisation he played the album-solo too, which is strange cause usually after the first licks of it he starts to improvise. Then Ronnie came back on stage: "There's a little light shape looking down at me". Then every light went off only a reflector was on above him. "Then a big black shape looks up at me". Then red lights lighted Ronnie from under, it was soo cool, so mean, unfortunately by the time my camera came to life and I could take a pic that part was finished. Then the fast part was again madness, and they bowed, and went off.

After a few minutes of cheering they came back, and I was totally surprised: a black SG was hanging in Tony's neck, with mini humbuckers. I thought he found the John Birch at his attic or such, but then I saw that it has a Jaydee pickup at the bridge and the Jaydee logo at the headstock with Tony's signature instead of the Tony Iommi text on the OldBoy. I think it was a totally new copy of the OldBoy made by Jaydee. Then they played Neon Knights as an encore. The song was fantastic, Ronnie still had his voice to sing it properly. Then they bowed again, and Tony threw picks into the audience. I instantly laid on the barrier which was between the stage and the crowd, cause a few picks stuck there, and our bass player held me at the ankles, so I was floating between the crowd and the stage (between Heaven and Hell), and was able to get a pick for him, for girl-friend, and for myself.

After the gig we went to the back door to wait the band. I brought my pickguard and all the Dio-years discs' booklets. Unfortunately the band was put into a car and they were driven away, so there were no photos or anything after the gig, but they were waving at us from the car, Tony showed his thumb, and that's it...

That's the most ridiculous in this kind of security: I could have brought in an A-bomb to the gig, nobody checked my bag or anything, and the security guys were saving them from about 20 people, who wanted to take a photo with them and get some stuffs signed. All this would have taken them about 10 minutes...I was disappointed...

Another chap from the company, met them next day at their hotel, and he said that after Tony signed his Mob Rules booklet a guy told him that "Tony has to go now" and pushed him into a car...I can't understand this kinda stuff at all.

Apart from the end and the 3 drunk guys it was the gig of my life, I cannot think of anything that can be better than this gig. I got the pick of Iommi, and took a lot of great photos. So, I'm very happy that I have been there, even if I couldn't meet Tony. Well...next time, Mr. Iommi, next time...