Black Sabbath Concert Reviews
August 2, 2007
Challenge Arena
Perth, Australia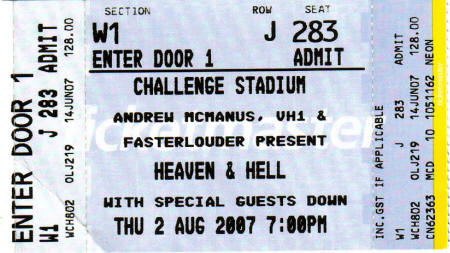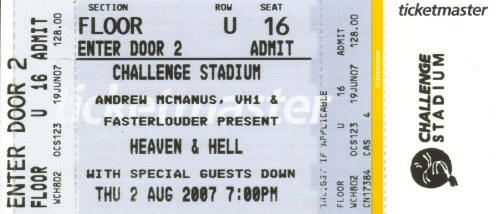 THE BAND
Ronnie James Dio - Vocals
Tony Iommi - Guitar
Geezer Butler - Bass
Vinny Appice - Drums
Scott Warren - Keyboards
SET LIST
E5150 (intro)
The Mob Rules
Children of the Sea
I
Sign of the Southern Cross
Voodoo
Drum Solo
Computer God
Falling off the Edge of the World
The Shadow of the Wind
Guitar Solo
Die Young
Heaven and Hell (extended)
Neon Knights (encore)
CONCERT PHOTO GALLERY
None yet. Have any? Submit 'em!.
FAN SUBMITTED TOUR REVIEWS & REMARKS
from S. Green <greens@westnet.com.au>
to siegler@black-sabbath.com,
date Aug 2, 2007 11:02 AM
subject Perth - Australia review
Just got back from the first Black Sabbath Australian gig in 25 years, in Perth, Western Australia (Challenge Stadium).

WOW! What a great concert. There was a great vibe from this sell out gig, all ages and walks of life.

I only caught the end of 'Down's set, due to parking hassles, but they seemed well accepted and appreciated.

Not long until E5150 intro started, then straight into the Mob Rules, I knew this meant a shorter set with no Lonely is the World, Lady Evil, Devil Cries etc. I'll have to wait for the DVD to hear these classics.

They had just come back from a break in the tour, but they were so damn tight, I couldn't fault any of the guys.

My wife and I managed to move position to Tony's side, very close and the atmosphere around us was great. The sound Tonyght was very loud with no distortion, Ronnie and Tony did keep signaling to the side for tweaks, but it sounded pretty damn good where I was.

The stage set was cut down with no screens, back-drops or lasers throughout the songs, it did have the Heaven and Hell red light and smoke jets though. It didn't matter as it was all about the music to me and they rocked tight and hard.

The highlight was personally thanking Ronnie for a great show afterwards, and for all the years of giving us his music, and getting a 'thank you' back, and a kiss blown at my wife on the way to his dressing room!

I can now die a happy man !

---
from Brodie Brimble <brodie.b@optusnet.com.au>
to siegler@black-sabbath.com,
date Aug 3, 2007 1:41 AM
subject Heaven & Hell - Aug 2 2007 - Challenge Stadium, Perth
Hi there Joe, thanks for the great web-site. I have a brief review to share with everyone of the Perth concert last night.
First of all, ANYONE could have walked off the street into that concert - through the door I entered at least. I walked in & out 3-4 times & was not asked for my ticket once. The first time I walked in ( & there was not even a queue) I went to pull out my ticket & the guy just smiled, shook his head & nodded me through the door. I later observed (due to eventually being "challenged") the same guy conveniently only checking people who were empty handed - those carrying drinks just walked straight on in! I laughed, shook my head at him & told him what I thought. So much for event security.
Anyway I didn't know much about the support band "Down" but they rocked pretty hard & seemed to have some younger hard-core fans up front crammed against the stage. It seemed though that most were waiting around patiently for the main act. A mixed 10,000+ crowd with (as I expected) many older Sabbath fans, we had a 55+ guy sitting just near us dressed in his Sunday best with his wife leaning asleep on his shoulder (during the support act) which we had a good laugh at. I saw one rowdy kid with dreadlocks getting dragged out by security but no other trouble from where we were standing by the sound-desk area.
The Sabbath act opened with E5150 (as expected), with the boys ripping straight into Mob Rules. I was expecting After All (The Dark) after reading previous reviews - fantastic song but Mob just sounds better after E5150 (as per the original album). Anyway, there followed a mixture of old & new including Children Of The Sea, Voodoo, The Sign Of The Southern Cross, Falling Off The Edge Of The World, Shadow Of The Wind (much better live than I expected), Die Young (with opening guitar solo), a very extended Heaven & Hell (with Ronnie getting the crowd chanting) & Neon Knights finishing off the show. That is roughly in the order I remember them & there were a couple of other songs I was not familiar with. There was a great Appice drum solo (around halfway through the gig) which started pretty average but gained momentum & had the crowd roaring with appreciation at his efforts. Ronnie James Dio was a great front man as always & connected well with the crowd (I envy the fan up front/centre who got handed the signed drum skin). The band as a whole seemed to connect well with each other.
One observation - the stage set seemed to be a cut-down version without the proper castle back-drop I have seen in photos - the "fence" was there but the back-drop was just big curtains painted like a castle with a "window" at each end. The show & the lighting made up for this though.
This was the first "Sabbath" concert for myself & the boys. Slightly deaf after the gig & a bit hoarse in the voice today but definitely worth it!
Thank you Black Sabbath (or Heaven & Hell - whatever) for a great concert & a great night out.
Brodie.
---
from The EO <mitri.azzam@gmail.com>
to siegler@black-sabbath.com,
date Aug 7, 2007 4:19 AM
subject Heaven and Hell Aug 2nd Challenge Stadium, Perth Western Australia
Excellent, excellent show - nearly a full house. Dio's voice was powerful and booming, more so than I was expecting after listening to some H&H tour bootlegs beforehand. That'll teach me. How a man as small has Dio can produce vocals like that is beyond me, especially at his age now.

The band was jamming away like a well oiled machine and genuinely appeared to be enjoying themselves, especially Ronnie. Ronnie even took a drum skin from a front row fan and came back out with it signed at the encore. They all had a great sound and the crowd was really into them.

One quick note I will bring up which I thought was a nice touch. After the usual Dio/Iommi exchange at the end of Voodoo, the two were making their way to the side for Appice's drum solo. As Dio catches (skips) up to Iommi, Iommi turns around, Dio jumps a little, and the two embrace, smile and have a laugh for about 5+ seconds or so on the side of the stage, and then walk off with arms over each other.

It didn't look like they were just going through the motions of touring for the sake of it. Brought a smile to my face.

Fantastic work guys, and thankyou for making the dream of seeing this incarnation of Black Sabbath come true.