Black Sabbath Concert Reviews
August 8, 2007
Entertainment Centre
Newcastle, Australia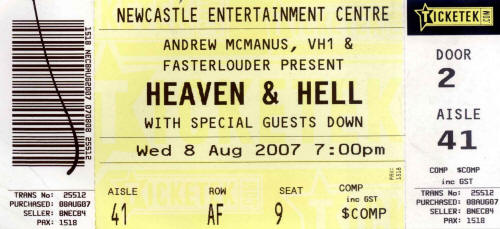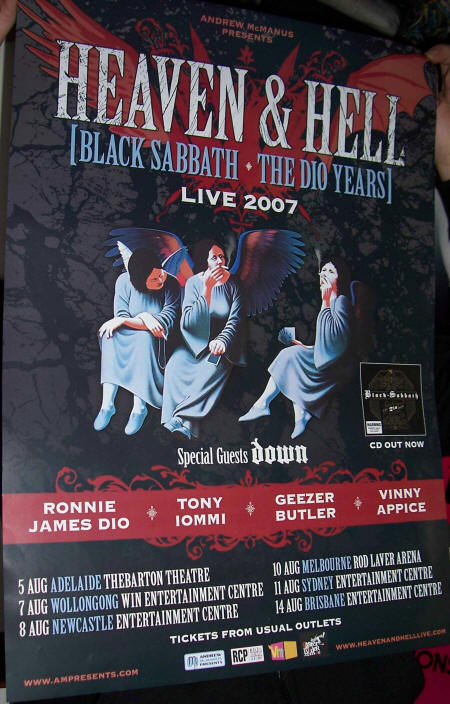 THE BAND
Ronnie James Dio - Vocals
Tony Iommi - Guitar
Geezer Butler - Bass
Vinny Appice - Drums
Scott Warren - Keyboards
SET LIST
E5150
The Mob Rules
Children of the Sea
I
Sign of the Southern Cross
Voodoo
Drum Solo
Computer God
Falling off the Edge of the World
Shadow of the Wind
Guitar Solo
Die Young
Heaven & Hell
Neon Knights
CONCERT PHOTO GALLERY
None yet. Have any? Submit 'em!.
FAN SUBMITTED TOUR REVIEWS & REMARKS
from Rob Wales <rob@robonline.id.au>
to siegler@black-sabbath.com
date Aug 9, 2007 7:46 AM
subject Heaven and Hell Newcastle NSW 8-8-07 review
Having seen Sabbath on their last two tours down under in 1974 and 1982 and then Ozzy in 1999 I hadn't thought I would see the band in any of its forms here again.

The announcement of a Heaven & Hell world tour on Joe Siegler's site with a line near the bottom of unconfirmed rumours about touring Australia and Japan after the northern summer tour got me and those around me excited and anxious to see that the down under leg of the tour would actually happen and happen it did last night.

"Down" were supporting and I got to see the last two songs and I can tell you that in not seeing the rest of their show I didn't miss one thing. I would have rather seen an up and coming Aussie band showing their wares doing the support.

The internet is really amazing and having read reviews of just about all the tour I thought I had the set list down and was expecting After All to open the set but when the house lights went out right on 9.00pm and the intro played out I was blown away to hear Mob Rules open the show. But then again isn't that the perfect opening for this band to get started with?

Having worked my way to dead centre stage right at the barrier and about 8' from Ronnie Dio I had the best sound. They weren't blisteringly loud like in 82 when I feared I would never hear again but last nigth the balance was great and us in the pit had a good clear mix right off the stage.

Each instrument could be clearly heard from the axe chopping assault of Vinnies drums through Geezers grunting rumbles of power to Tony's dynamic riffs and solos. I've always been a mad Ozzy fan since first hearing the song NIB from the first album in 1971 but Ronnie James Dio has am amazing voice and is an incredible wordsmith. His fronting of this band adds another dimension. His voice was crystal clear and soared above the band.

On reflection, when Ozzy left Sabbath we were blessed with then having two incredible bands where there had previously been one.

The show played through for exactly 90 minutes with the highlights for me was Shadow of the Wind and Die Young. They only played the one new song "Shadow if the Wind" which was a slight disappointment but who can complain. The encore was Neon Knights as expected.

One great thing about the show and life in general is that my wife and two kids were alongside me. My daughter (now 21 and a fan of Tool, RHCP, at al) hasn't forgiven me for not taking her to see Ozzy in 1999 but she couldn't get over it saying the best show ever – her partner Kristain was gobsmacked by the talent of Geezer and Tony and my son who is pretty laid back and into ganster rap was blwon away by the commanding power of the directness and immediacy of the music.

All in all, I can now die a happy and contented man...

My kids have something that they can compare to musically for the rest of their lives and my wife who has been bombarded by my devotion to this band for 25 years is now finally convinced that these guys are the answer to all the world's woes.

So, the next morning on the train to work, I am majorly sore in the throat, neck and back from the head banging (a sure sign of encroaching age!) and I am feeling confortably numb but in a deep glow for the one and half hours of magic that was the Heaven & Hell show last night.

...Now my only thought is in how I can scam a ticket to get to Saturday nights show in Sydney.

---
from trevor <tdare@g-node.com.au>
to siegler@black-sabbath.com,
date Aug 12, 2007 8:39 PM
subject Heaven And Hell: August 8th 2007
Hi Joe....
Here are some tickets and a poster from Heaven And Hell's recent gig in my home town (Newcastle NSW Australia) on August 8th 2007. Hope you can use them on your site.
I took my 12 yr old son Zac to see the band...once he found out Ozzy wasnt involved and they wouldnt be playing "War Pigs" or "Fairies Wear Boots" he was really only mildly interested....predominantly wanting to see / hear Geezer. I played him "Heaven And Hell", "Mob Rules" and "Live Evil" to get him psyched but he remained reasonably unimpressed. (Im not a fan of "Dehumanizer")
From the moment the lights went out and Tony hit the opening riff to "Mob Rules" he was on his feet and stayed there for the entirety of the show....loving it more and more with each song. (NB: "Mob Rules" was the opening song...awesome !!!) Zac is learning bass guitar and we were fortunate enough to be placed directly in front of Geezer in the 4th row. The sound was bone shaking. I gave Zac my 1980 Australian Tour T.shirt to wear to the gig and he hasnt had it off since.
Im glad to say we can add another convert to the fold. I was fortunate enough to see the original line-up in 2005 in Boston (Mansfield Tweeter Dome) and as much as I loved finally seeing Ozzy and Bill play I have to say the line-up with Ronnie and Vinny is every bit as powerful...just different. The song selection was incredible, Ronnie's voice was faultless, Vinny was awe-inspiring and Tony and Geezer were...Tony and Geezer...whayt more do I need to say !?!?
I was at first also a little concerned that the show might be cancelled with less than 2000 tickets sold...but once the guys hit the stage it was clear they were playing their hearts out and the small crowd gave them everything back 10 fold. It was a wonderful, intimate event...one neither me or my son will ever forget. The only negative part of the night was the woman who knocked my son off his feet in a frenzy to get the pick that Geezer threw out to him.
Best wishes...MAC
---
from Burke, Shane <Shane.Burke@boral.com.au>
to Joe Siegler <siegler@black-sabbath.com>,
date Aug 14, 2007 1:03 AM
subject RE: Sydney Show 11/8
Joe

Great show in Sydney last Sat night 11/8. RJD's voice as good as ever, TI, GB & VA excellent. Tony opened with a white coloured SG before his standard one.

The only glitches were 1. the sound mix from the first few songs being distorted and it wasn't until after a drum solo that these problems were fixed, from then on the sound was great. 2. For $152 a ticket the set could have been a bit longer, the guys played for around 95 minutes and 11 songs. I understand from early shows the set has been longer. Only one of the new songs "Shadow of the Wind" included. Great riff. I won't name the set list, you probably know it backwards, however the opening song mob rules after the E5150 intro was the perfect start. Why do they never play turn up the night, or tv crimes? last time i checked they were dio era songs. It would have been good to have a big guitar solo in lieu of the usual intro to Die Young, still you can't have it all and it was just great to be see them.

The length of time since the last shows wasn't lost on RJD who said "it's been 26 years since sabbath and 20 years for me to again say Hello Sydney." "If it takes another 26 years then forget it, none of us will be here". The audience responded well and you could tell the band appreciated it at the end. My son loved it and I am feeling a bit emotional today wondering if it is the last time. However I didn't think much of the support Down, plenty of power.......but no class. Any band that has to swear constantly between songs and solicit audience applause loses me. I do not know why they were included on this tour when we could have had any number of local bands and a cheaper ticket price. I don't really care who Rex and Phil are. They are unfortunately coming back next February but my son likes them and got his photo taken with the guitarist after the show, he was happy.

Look forward to the coming H & H DVD.

Regards

Shane