Black Sabbath Concert Reviews
August 10, 2007
Rod Laver Arena
Melbourne, Australia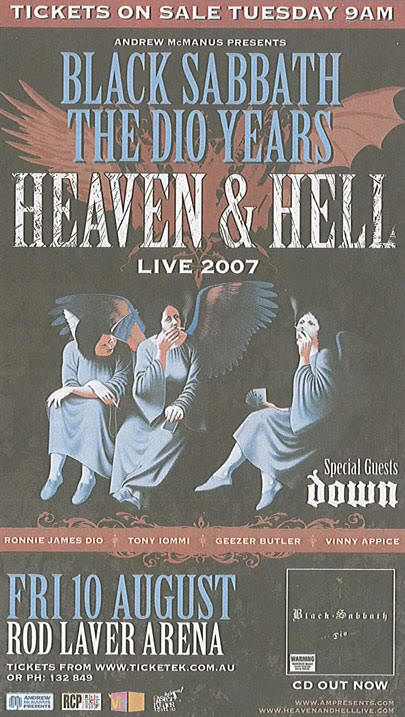 THE BAND
Ronnie James Dio - Vocals
Tony Iommi - Guitar
Geezer Butler - Bass
Vinny Appice - Drums
Scott Warren - Keyboards
SET LIST
E5150 [Intro]
Mob Rules
Children of the Sea
I
Sign of the Southern Cross
Voodoo
Drum Solo
Computer God
Falling Off the Edge of the World
Shadow of the Wind
Die Young (with Guitar Solo Intro)
Heaven and Hell (with Guitar Solo mid-song)
Neon Knights [Encore]
CONCERT PHOTO GALLERY
None yet. Have any? Submit 'em!.
FAN SUBMITTED TOUR REVIEWS & REMARKS
from Linda <linden3@ncable.net.au>
to siegler@black-sabbath.com,
date Aug 10, 2007 9:35 AM
subject Heaven and Hell Melbourne 10.8.07 Review!!
Hi Joe
Just got back from Heaven and Hell Gig in Melbourne and thought I would email my thoughts to you while they are still fresh in my mind. I have reviewed and photographed artists over the years on a frequent basis for magazines and the like, and the professionalism and talent of this lineup is just simply amazing!! The crowd ranged from a wide mix of ages on average of 13 to 65 and almost everyone was up screaming for more by the time the final song was over.
Australian crowds tend to sit in their seats alot and watch the proceedings, but the band rocked tonite. All band members absolutely amazing, Dio's voice better than it has been ever (if thats possible), and drumming from Appice amazing.
Cant remember the set list exactly but no surprises thrown in, pretty much the same set from all other gigs. Dio interacted with crowd going along front row slapping and shaking hands with fans, seemed to be alot more interaction from Iommi and Dio than reported in previous tour reviews.
Stage was set up in the middle of Rod Laver Arena which I have never seen before, but ensured a fantastic close up view for everyone. Crowd went wild when Heaven and Hell intro was played. If you havent been and get the chance, go, or regret it forever, an amazing, amazing experience that I will never forget. Cheers............Linda:0)
---
from Antony Aristovoulou <antoniusmagnus@optusnet.com.au>
to Joe Siegler <siegler@black-sabbath.com>,
date Aug 10, 2007 1:30 PM
subject Black Sabbath Gig Review, Melbourne, 10 August 2007
Beneath the constellation of the Southern Cross, there was an amazing buzz around Rod Laver Arena in Melbourne, Australia. The crowd was anticipating the first ever Black Sabbath concert there with RJD fronting the band, and the first Black Sabbath Melbourne gig since 1974!!!
Yes, due to poor form, poor promotion or bad luck, Black Sabbath, including the 'Dio Years' gig, has only visited this major global metropolis 3 times!!
Firstly, the original Black Sabbath came to Melbourne in January, 1973, and then in Nov. 1974. The three 1980 'Heaven and Hell' Melbourne concerts were cancelled because Geezer Butler broke one of his playing fingers in Japan, but irresponsibly kept on playing during the Sydney gigs until the broken digit needed surgery, and thus, the rest of the Australian Tour was cancelled. It gets worse… the proposed late Oct/ early Nov. 1989 Australian leg of the 'Headless Cross' tour was aborted, and, finally, the Nov. 1995 Australian leg of the 'Forbidden' tour was cancelled by the promoter.
Memorable and successful solo gigs, however, included Dio in August, 1986 for 'Sacred Heart'; and, Ozzy Osbourne for 'The Ozzman Cometh' in Feb.1998.
The stadium set-up for the 2007 Melbourne concert was rather intimate. Only a third of Rod Laver Arena was used, with the large stage situated beyond the middle of the floor. The area allocated for ticket-holders was filled to near-capacity, so there were probably around 4500-5000 fans on the night.
The stage comprised of a variation of the church motif, with the church "wall" featured across three curtains in the background – the two side "walls" each featured a quartered church window. The church yard fence featured in the mid-ground, with the drum set behind, and the rest of the band in front.
Based on what the band played in previous 'Dio Years' gigs, it was expected that, 'After All (The Dead)' be played after the 'E5150' intro, and two of the new tracks be played. Neither happened, but what the Melbourne crowd received was an 100 minute gig, whose main aim was to present a selection of choice tracks, but each in an expanded and embellished format – the major example being a 15+ minute version of 'Heaven and Hell'.
A razing rendition of 'Mob Rules' logically followed 'E5150', and was in turn followed by a 'Heaven and Hell' album favourite 'Children of the Sea', and the razor sharp 'I'.
Other highlights include: a mesmerising rendition of 'Sign of the Southern Cross', which RJD dedicated to the Australian crowds, since he claimed it was during the Australian leg of the 1980 'Heaven & Hell' tour that he was inspired to write this song; and, 'Voodoo' where RJD gave one of his best live performances ever, with an rapturous, entranced, ecstatic, and repetitive invocation with the word 'voodoo' towards the end of the song. After 'Voodoo', as the rest of the band took a toilet break, Vinnie Appice remained on stage performing a drum solo in two parts - first on his own, and second with accompaniment by Scott Warren. The first part I thought was, although energetic, rather sloppy, incoherent, and uninventive. When the hypnotic synthesizer sounds kicked in, however, Appice's solo transformed into a structured, positively powerful, and even emotional piece. How Appice's drumming could evolve from mediocrity to sheer virtuosity within the one track is beyond me.
'Computer God' and 'Falling off the Edge of the World' were other powerful moments, with RJD happy to highlight them as realised prophecies regarding the current state of society, and the world in general.
Only 'Shadow of the Wind' was played from the 'Dio Years' album, and it was played essentially as heard on the recording. Nevertheless, it was a great track for them to play, since, in my humble opinion, it is the best of the 3 new songs.
The Sabs hit top gear with 'Die Young' and 'Heaven and Hell' both, of which, were augmented by glittering guitar solos provided by the master, Mr. Tony Iommi. Also, during 'Heaven and Hell', some awe-inspiring demonic vocals from RJD were heard, along with fire-filled special effects, and the obligatory crowd participation. Although long, I never felt bored. Instead, I felt I was taken on a journey. These were the final songs played before the encore - a razing, but fun rendition of 'Neon Knights'. In fact, the crowd saw RJD and Iommi in a very jocular mood, especially when RJD, having such a ball with the crowd lining the front of the stage, threw professionalism to the wind and mixed up the lines and the verses, leaving Iommi smiling broadly, and showing some happy teeth in the process. No one cared. This whole gig was a fantastic celebration, and a welcome back party for Black Sabbath. The 'Neon Knights' encore showed that the band we're having a ball, and that they were sincerely happy to be back. The affection which RJD consistently showed, and the recognition the rest of the band gave to the crowd during the course of the gig was well received. Of particular interest was the flushed, humbled and courteous reaction Tony Iommi had to the adoring crowd, which was actually quite heart-warming.
A cynical bastard may feel a little duped that the Sabs didn't play a two hour gig, and that, there was only one song played during the one and only encore, but the quality of the musicianship – Appice's enthusiastic drumming, Geezer's rock solid, yet sophisticated and technically superb bass playing, Iommi's mind-boggling guitar work, RJD's flawless execution of vocals, (quite amazing for a 65 year-old), and, the inventiveness heard on all the expanded songs, left me with a feeling that I saw something unique and special. I truly hope this particular concert gets bootlegged - I have never heard Black Sabbath play with such passion and gusto. Even more, I hope these four men, in one form or another, come back to play in this city again – much sooner, rather than later.
---
from Tony <ingve@optusnet.com.au>
to siegler@black-sabbath.com,
date Aug 10, 2007 8:30 PM
subject Heaven & Hell, Melbourne Show Review
Just thought I'd share my opinions and observations of the show at Rod Laver Arena, Melbourne on 10th August. I hope you can use it on your website.
In a somewhat scaled-down arena (it looked to be set up to approximately 50% of the full size available), I witnessed one of the most enjoyable concerts I have ever attended. The place was sold out and the crowd enthusiastic - I don't know why they had set up the arena with such a limited capacity, I'm sure they could have easily sold hundreds more seats. But enough of that - on with the show.
The expected intro tape of 'E5150' set the mood as the house lights dimmed. Out of the darkness strode Tony Iommi, and the band ripped into 'The Mob Rules'. The sound was almost perfect, just a little Geezer-heavy in the mix from the side of the stage where I was seated. The stage setup was fairly simple and unembellished, which allowed you to focus on the performers. And what a performance they gave! The place was in an uproar and the crowd responded fanatically to every gesture Ronnie James Dio made. Next up was 'Children of the Sea'. Close your eyes and you were back in 1981, it was that good. In fact I'd dare to say it was better, the performances crisper, the sound clearer....
I can't recall the exact running order, but songs played included 'I', 'Voodoo', 'Falling off the Edge of the World', 'Shadow of the Wind', 'Computer God', 'Sign of the Southern Cross' (which received an ecstatic reception from all of us fans born under the Southern Cross!), 'Die Young', 'Heaven and Hell' and closed with 'Neon Knights'. Every song was played to perfection, Tony's solos were inspirational and Ronnie's voice has never sounded better. Vinnie also had a drum solo that showcased his ability to be entertaining behind his kit, pulling huge pylons of drums toward himself to be played in turn. Many of the songs were extended and several had different arrangements (in particular, different endings) to what I've heard being played on previous tours. 'Heaven and Hell' itself was very long, but always interesting, and the crowd stayed well involved throughout. It also had the only real use of effects in the entire concert, namely the intensely red lighting used on Ronnie's face for the "There's a big black shape looking up at me" section, along with some voice processing and pyro effects. I liked that there were minimal effects, when they did come it made more of an impact than if they were being overused and gimmicky.
So overall an excellent show. My only small complaint is that they could have fit in one more encore - the crowd was demanding it, and the show ended nearly 15 minutes before curfew. But being there to see, what is to me, the ultimate Black Sabbath lineup give it all for over 90 minutes is something I had never expected to experience. It was worth waiting almost a quarter of a century to see them at their peak!
---
from George Votzourakis <george.votzourakis@bigpond.com>
to siegler@black-sabbath.com,
date Aug 10, 2007 10:56 PM
subject Review Rod Laver Arena, Melbourne Australia Show
I have waited twenty seven for this show, since the cancellation of the Palais Theatre show due to Geezer's finger.
In essence a very professioanl show, the diverse audience lapping it all up. The audience ranged in ages from 4 years of age to 50++.

Dio as always a consumate professional, having a great deal of fun with the audience. The due of Butler and Iommi solid as always, but if I do have one gripe that there was probably too much bass. Vinnie Appice made it all look so easy, in much the same way as the last time I saw him with Dio in the mid 80's.

The entire band seemed to be having fun, which belies any issues of the past.

However, after years I expected a bit more in the set, 1.5hours and the standard encore was a bit to short. Not sure how long they play at their overseas gigs.
Apart from that I was happy and so was everyone else.
Yours sincerely
George
---
from Bill Davis <billcbs@tpg.com.au>
to siegler@black-sabbath.com,
date Aug 11, 2007 3:48 AM
subject Melbourne Review
I went to the Heaven & Hell tour show In Melbourne Australia, and wanted
to pass along my thoughts on the show.

1. It was a kickarse rock & roll show.
2. The set was good, clean, and the band mix was very good, stadium setup was very good, all up close & personal, Iommi played extremely well and I liked very much, drum solo kicked.
3. The set was solid, and believe set list to be the same as US set list.
4. I would have appreciated one or two songs from any of the first 5 Black Sabbath albums, but I do not know how Ronnie would have handled that? (maybe a special consideration to War Pigs, or something like that??
5. Glad I went!!!!!!!!
6. DOWN also kicked some Melbourne arse.

Go see this show!!

---
from George Fotis <cozyp98@yahoo.com.au>
to siegler@black-sabbath.com,
date Aug 12, 2007 5:17 AM
subject Melbourne Friday 10/8/07
When i heard the 3 new songs from the Dio years CD i couldn't believe how good they sounded not to mentioned Dio's strong voice . So i knew going by that i had to see them Down Under. Who would have expected Sabbath to be in Australia again or Dio , i was so glad i was there .
Amazingly i managed to get a ticket on the floor area a few rows from the front , so i knew i was in for a great show. But never expected Dio's voice to be sounding so well & powerfull . You would have expected his voice to be rough & worn out now at 65 but he still sounds & moves around like on the Rainbow Munich 77 DVD , he was amazing. A great front man another Mick Jagger . He was definitely the highlight of the concert.

Vinnie Appice was another great one , i loved the way he was drumming with power , he had a great drum kit set up & sound . He reminded me of the late great Cozy Powell the way he was drumming .

Tony the hard rock riff master he played some awesome riffs & solo's very heavy sounding at times particularly on Shadow Of The Wind . Only kept thinking i wish Ritchie Blackmore can take a leaf out of his book & get back into playing heavy rock & ditch the silly 16th century medieval stuff.

You heard a strong presence coming from Geezer Butler's corner his bass sounded strong. It was a one of the best shows i`ve have been too, the band were in form & playing strong & hard . You felt like you were back in time not in 07 they band were not playing like an old bunch of hasbeens.
I wish Deep Purple can played this hard sounding.
Some of the songs played were , Mob Rules , Children Of The Sea, I, Computer God, Shadow Of The Wind , Neon Knights, Sign Of The Southern Cross, Falling Off the Edge Of the World. Computer God , Die Young .
They could easily go back into the studio & make another Dehumanizer type of album if not better. I hope they can keep up the good work & do just that.
---
from michael pace <paceman_ssxgto@hotmail.com>
to siegler@black-sabbath.com,
date Aug 12, 2007 6:46 AM
subject melb review
Hi Joe, the name's michael, great website, extremely extensive. Here's my short take on the heaven and hell concert at melbourne australia aug 10 2007.

Like a lot of people, i entered Rod Laver Arena slightly skeptical (as i am a fanatic Ozzy fan), however, as soon as the band powered into "mob rules" i was hooked. There was so much raw power (my ears are still ringing!). They played all the songs i wanted to hear and then some, my favourite was by far "Voodoo", with ronnie telling us to be careful with pins when practicing voodoo because they're sharp. It was such an amazing feeling just to witness Tony, Geezer, Vinnie, and Ronnie perform, as i have only witnessed sabbath on DVD and VHS. I have now witnessed history and the phenomena that is Black sabbath. I wouldnt trade the expeirience for anything in the world. Ever since i was five listening with my dad to every vinyl record Sabbath produced i have wanted to see the live. I can now die a happy man/teenager.

---
from Hales, Mark G <Mark.Hales@team.telstra.com>
to siegler@black-sabbath.com,
date Aug 12, 2007 7:41 PM
subject Concert review - Melbourne 10th Aug, 2007 - Rod Laver Arena
Joe,
It has been a long time, 26 years actually, that any form of Black Sabbath has graced the shores of OZ. I have followed the band since I brought 'Black Sabbath' and 'Paranoid' and 'Master of Reality' together back in '72 and have missed them each time they came to Australia (1974, 1979, 1981). I am one happy fan to finally see the next best line-up of the band.
DOWN came on at 7:30 pm and got the crowd rocking. I was disappointed in the sound quality, but I guess the support band is not allowed to out do the main act. Don't think they could have even if their sound equipment was superior. I had not heard DOWN before the night and even though the sound quality was poor, I thought they were quite good. I will be getting my hands on some their albums. They played for 60 minutes and included such tracks as 'Ghosts of the Mississippi' and 'Rehab' and there was a slow ballad which I thought was really good, can't remember the bloody song though.
Heaven & Hell came on at 9:00 pm with the eerie sounds of 'E5150' and strobed lighting giving a stormy night in a grave site. The crowd just went fucking mad at this point and never stopped until an exhausting 100 minutes later. 'Mob Rules' followed by 'Children of the Sea' and 'I' all played to perfection. Bit of a breather here as Ronnie thanked the crowd for the support and apologies for the long absence of the band from the shores of Australia. This brought in the next couple of songs, 'Sign of the Southern Cross' then an extended 'Voodoo' followed by an awsome drum solo by Vinnie. During the extended 'Voodoo' Tony played a short solo which included the lead from 'N.I.B' or 'Sleeping Village', well it sounded like it anyway. 'Computer God' , 'Falling of the Edge of the World' and 'Shadow of the Wind' came next with an extended 'Die Young' and extended 'Heaven & Hell' to finish of the main course. Tony played an extended intro for 'Die Young' and the band played an extended lead break and I was watching Geezer and his fingers were going fucking nuts during this break. 'Heaven & Hell' included Tony's solo.
Normally before an encore the crowd shout the bands name for them to come back on but it didn't happen this night, I guess we were all confused about wether we yell out Sabbath or Heaven&Hell, so we did the only other thing and that was scream, whistle and make one hell of a racket until they came back on and treated us to 'Neon Knights'.
What a bloody great night, never to be forgotten. I have included some pictures of 'DOWN' and 'Heaven & Hell', which are not the greatest, but not bad for a mobile phone. I did record the show on an mp3 player but the sound quality is pretty crap, but you can hear bits and pieces every now and then. The recording allowed me to at least but some time lines to the play list.
E5150 0:00
Mob Rules 2:18
Children Of The Sea 6:34
I 13:20
Sign Of The Southern Cross 20:30
Voodoo (Extended) 28:50
Drum Solo 37:30
Computer God 42:30
Falling Of The Edge Of The World 50:00
Shadow Of The Wind 56:35
Die Young (Extended) 1:02:00
Heaven & Hell (Extended) 1:10:00
The main course finishing at 1:31:30
Encore:
Neon Knights 1:33:05
The arena lights on at 1:40:50
---
from gftaylor@postoffice.utas.edu.au
to siegler@black-sabbath.com,
date Aug 17, 2007 1:45 AM
subject black sabbath concert review, 10 august 2007, rod laver arena, melbourne australia
I discovered Black Sabbath relatively late in the game in the early 1990s. After the obligatory self-education and self-indoctrination on all matters pertaining to Sabbath, it was the Dio incarnation of the band that I seemed to gravitate towards. For me, the name `Black Sabbath' had always evoked a certain mysticism but I felt it was only the Dio line-up that really encapsulated this.

In 1992 at the time of the `Dehumaniser' release, I was defiantly living in a parallel musical universe to my teenage contemporaries. At a time where Guns n Roses' popularity was at its apogee and the advent of grunge was upon us, `Dehumaniser' was my musical sanctuary. I could not have been more out of step with the `zeitgeist'.

Living in Australia, which has historically been neglected by iconic bands of the metal genre, I never entertained any outlandish thought of ever actually seeing, well, any incarnation of Sabbath in the flesh and with my own eyes. Needless to say, the announcement of an Australian tour by Dio-Sabbath left me numb with disbelief.

On the basis of such a preamble, one would now be anticipating an unreservedly glowing review of the concert that I just attended. Look, I won't hear a bad word about Sabbath, particularly Dio-Sabbath, but if I'm to be honest, it wasn't quite the momentous, transcendental experience that I had anticipated. Was it the criminally short setlist comprising just 11 songs? It breaks my heart to say it but I can't help but feel slightly short changed. It was by far the shortest set list I've ever seen by a major headlining act..

Was it the fact that only 4000 or 5000 turned out for the gig in a 15,000 capacity venue (3/4 of the arena was closed off) that prompted the band to play such an abbreviated set? Were they uninspired by the lacklustre atmosphere that resulted from such a disappointing turn out?

Musically it was rock solid and if the set list was drastically truncated, at least they managed to retain the cream - `Children of the sea', `Sign of the southern cross', `Die young', `Mob rules'. The closest I came to being elevated to a state of Sabbath euphoria was when `Computer God' was immediately followed by `Falling Off The Edge of The World' - two absolute `corkers'(as we say down here) back to back.

I thought Ronnie Dio stole the show. If Iommi and Geezer looked slightly disinterested with proceedings (although that is part of the Iommi enigma - his lack of animation), Ronnie gave it his absolute all. Best on Ground (Australian football equivalent to MVP) without a doubt.

Another thing that puzzled me was the inclusion of only 2 songs from the mighty `Dehumaniser'. Yet after performing `I', Ronnie himself said that `Dehumaniser' was an album that they all still liked very much and lamented that it was underrated and overlooked by so many. Instead of playing a slightly tedious 30 minute version of `Heaven and Hell', why not include 3 or 4 more songs from `Dehumaniser' - `TV Crimes', `Time Machine', `Buried Alive', `After All'? I'll still give the concert a 7 out of 10, but I was expecting nothing less than a 9.

Interestingly, The Cure (another musical inspiration for me) was playing at the same venue 2 days later and unfortunately I didn't have the finances to see both groups. I had to make a choice of one or the other. Did I make the right choice? The Cure promised a 3 hour set (twice as long as Sabbath) and for $30 less.

Gabe Taylor, Tasmania Australia
---
from gftaylor@postoffice.utas.edu.au
to siegler@black-sabbath.com,
date Thu, Oct 18, 2007 at 11:29 PM
subject heaven and hell concert review
I discovered Black Sabbath relatively late in the game around the early 90s. After the obligatory self-education and self-indoctrination on all matters pertaining to Sabbath, it was the Dio incarnation of the band that I gravitated towards. For me the name 'Black Sabbath' had always evoked a certain mysticism but I felt that it was only the Dio line-up that really encapsulated this.

In 1992 at the time of the 'Dehumanizer' release, I was defiantly living in a parallel musical universe to my teenage contemporaries. At a time where Guns n Roses' popularity had reached its apogee and the advent of grunge was upon us, 'Dehumanizer' was my musical sanctuary. I could not have been more out of step with the 'zeitgeist'.

Living in Australia, which has historically been neglected by iconic bands of the metal genre, I never entertained any outlandish thought of actually ever seeing, well any incarnation of Sabbath in the flesh and with my own eyes. Even a tour with Tony Martin on vocals would have been a momentous event for me! Needless to say, the announcement of an Australian tour by Dio-Sabbath left me numb with disbelief.

On the basis of such a preamble one would now be anticipating an unreservedly glowing review of the concert that I just attended. Look, I won't hear a bad word about Sabbath, particularly Dio-Sabbath, but if I'm to be honest it wasn't quite the momentous, transcendental experience that I had anticipated. Was it the criminally short set list comprising just 11 songs? It breaks my heart to say it but I can't help but feel short changed given that it was by far the shortest set list I've ever seen by a major act.

Was it the fact that only 4000 - 5000 turned out for the gig in a 15,000 capacity venue (3/4 of the arena was closed off) that prompted the band to play such an abbreviated set? Were they uninspired by the lacklustre atmosphere that resulted from such a disappointing turn out?

Musically it was rock solid and if the set list was drastically truncated, at least they managed to retain the cream - 'Children of the Sea', 'Mob Rules', 'Sign of the Southern Cross', 'Die Young'. The closest I came to being elevated to Sabbath euphoria was when 'Computer God' was immediately followed by 'Falling off the Edge of the World' - two absolute 'corkers' (as we say down here) back to back.

I thought Ronnie Dio stole the show. If Iommi was characteristically enigmatic displaying little animation and Geezer somewhat stationary throughout the show, Ronnie gave it his absolute all - vocally, theatrically and with his audience interaction. Best on ground (Australian Football equivalent to MVP) without a doubt.

Apart from the brevity of the concert another thing that puzzled me was the inclusion of only 2 songs from the mighty 'Dehumanizer'. Yet after performing 'I' quite early in the set, Ronnie himself said that 'Dehumanizer' was an album they all still liked very much and lamented that it was underrated and overlooked by so many. Instead of playing a slightly tedious 30 minute version of 'Heaven and Hell', why not include 3 or 4 more songs from 'Dehumanizer' - 'TV Crimes', 'Time Machine', 'After All' or 'Buried Alive' would've been most welcome additions.

I'll still rate the concert 7/10 but I was expecting nothing less than a 9. Interestingly, The Cure (another musical inspiration of mine) was playing the same venue 2 days later. I unfortunately didn't have the finances to see both bands and was forced to make a choice of one or the other. Did I make the right choice? The Cure played for 3 hours (twice as long as Sabbath) and for $30 less!

Gabe Taylor, Tasmania Australia