Black Sabbath Concert Reviews
August 14, 2007
Entertainment Centre
Brisbane, Australia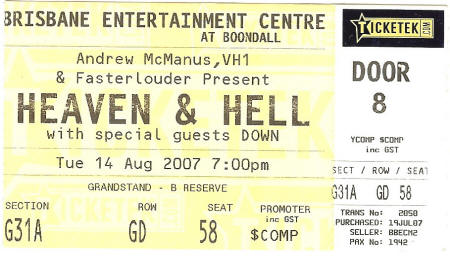 THE BAND
Ronnie James Dio - Vocals
Tony Iommi - Guitar
Geezer Butler - Bass
Vinny Appice - Drums
Scott Warren - Keyboards
SET LIST
E5150
Mob Rules
Children Of The Sea
I
Voodoo
Sign Of The Southern Cross
Computer God
Falling Off The Edge Of The World
Drum Solo
Shadow Of The Wind
Die Young
Heaven & Hell
Neon Knights
CONCERT PHOTO GALLERY
None yet. Have any? Submit 'em!.
FAN SUBMITTED TOUR REVIEWS & REMARKS
from Tones Abyss <tonesabyss@gmail.com>
to siegler@black-sabbath.com,
date Aug 14, 2007 7:08 PM
subject Brisbane Australia14 August 2007 Gig
Hi Joe, just thought I would submit a concert review as no-one else in Australia has appeared to do so!
An excellent gig, although from the 2nd row a little too loud for my liking, I mean there is loud & then there is LOUD. After playing drums for 25 years, my ears are not the same as they used to be.
The Heaven & Hell tour of Australia does not appear to have been supported as well as I had hoped, according to what I have read & also judging by the size of last nights Brisbane concert crowd!
What a shame some people do not appreciate quality rock music from the best in the business, especially as we in Australia are somewhat starved of great bands gigging here at times.
I witnessed this incarnation of Sabbath in concert in Sydney, back in November 1980, so it has been a long time between drinks.
Iommi was in fine form & what a guitar sound, his playing is superb & as he was directly in front of us, we thoroughly enjoyed the view & that 'wall of sound'.
Dio has to be one of the greatest front man in rock with his presence & aura, I would rate him along side Ian Anderson from Jethro Tull as a mesmerizing & definitive storyteller to behold, & his vocal was brilliant to say the least, what a vocalist!
From where I was positioned, I could only hear Geezer when Iommi was soloing & when there were quieter sections in some of the songs! I still enjoy Butler's bass playing, he is a workhorse & a melodic player, but Iommi's Laney amp rig was too powerfull from where I was standing to appreciate Geezer's playing during the riffing & heavier sections of the music! Vinny Appice was as solid in his playing as was his setup, I really enjoyed his drum solo as well, I wonder what it all sounds like from where he is seated?

The only slight disappointment was that they appeared to drop 3 songs from the setlist, from what I have read at other concert reviews prior to landing in Australia! Lady Evil, After All & Ear In The Wall, what a shame as these songs are awesome.
Thanks for travelling downunder guys, the fans that were there appreciate it big time, although I still heard comments after the gig "they didn't play Iron Man' etc, I guess you cannot please everyone, especially the people with certain expectations that are totally unrealistic!
Now if I can just get this ringing in my ears to back off a little! Cheers, Tony Greig.

---
from Ross Turner <Ross.Turner@mrworks.com.au>
to siegler@black-sabbath.com,
date Aug 15, 2007 9:14 PM
subject reveiw of Brisbane August 14 Gig
AWESOME!
Dio can sing! He was awesome, didn't need to introduce as many songs as he did but his singing was simply senfriggensational.
Tony Iommi…wow what a guitarist. He nailed everything….just brilliant heaps of awesome solo's
Geezer Butler….thumped the house with the bass all night.
Vinnie Appice – best drummer I've seen in years. A kit of about 30 skins and cymbals and he used em all.
Sound was brilliant, paid $130 to see it, will pay $200 if they come back again.
My life just completed another chapter of great wonders….seeing Black Sabbath live!
They ROCK.
---
from Michelle Cook <cheeky_butt_nice@hotmail.com>
to siegler@black-sabbath.com,
date Aug 17, 2007 6:29 AM
subject Review & concert ticket stubb for Brisbane Au show:
What can I say, or rather how can a review encompass how enthralled and honoured I was to witness 4 true legends on stage. The magnitude of this event to a fan such as I was definitely a highlight of my life.
I was not alone. As I map the Brisbane Entertainment Centre I found myself amongst fans that are true fans of the 1970's era of Blues Roots Metal Music, you know, those that appreciate bands such as Deep Purple, Led Zeppelin and of course the purpose of our gathering this night, Black Sabbath, the Dio years.
Metal heads young and old, an entourage of bikers and metal enthusiasts flocked for a piece of memorabilia at this momentous event. After a few chilled brews with my fellow metal heads we made our way to our pews as the church bells beckon us.
Like an introduction to a gothic thriller, the chords of the church organ summoned the congregation to a black mass, hands raised to worship the princes of darkness - \m/ \m/
Violet light lit the stage and the curtains drew back to reveal a medieval church setting, with the drums as its altar and Vinnie Appice the high priest.
With the "moonlight" streaming through the stained glass windows, Tony Iommi launches into the opening riff to "Mob Rules". Geezer Butler and Ronnie James Dio complete the line up for what is a reunion that has taken over 15 years to witness – Black Sabbath, The Dio Years - Heaven and Hell Tour 2007
Performing since the 70's, Dio has fronted legendary bands such as Elf, Rainbow and had a successful solo career as Dio. Black Sabbath - the Dio years formed in 1980 and released multiple albums - "Heaven and Hell" (1980), followed by "Mob" (1981), Dehumanizer (1992) and Live Evil (1982). The success of these albums took the Sabbath legacy to new heights and away from the commercial riff-raff it was caught up in. With Dio as the front man, Sabbath began to reignite and was achieving global recognition.
"Children of the Sea", which was the 1st song ever written by Dio's Black Sabbath, was belted out through the massive PA system. Another classic, "Voodoo", had Dio enticing the crowd to chant "Bring me your children, they'll burn! Never look back, never turn! Cry me a river, you'll learn – Voodoo!" This was followed by a 10 minute jaw dropping drum solo by Vinnie Appice who joined in 1981, replacing Bill Ward. I'd lost count on how many pieces the kit consisted of, and to be honest didn't really care as I was mesmerised by his talent to boot; his original technique and set-up had every drummer in the house drooling and making mental notes for their next drum kit setup. This was signed off with pyrotechnics letting off a mass of smoke to give the impression that the magician had left the room - "Shazam" - leaving one and all spellbound!
From here the highlights just kept coming. Tony Iommi (who I should mention is the only member to have remained in Black Sabbath throughout the band's entire lifespan) broke into a solo for "Die Young", with blistering licks and fastidiousness; the pioneer of heavy metal riffing was once again God to every guitarist in the room This solo led into another, with the spotlight glinting off his Gibson SG. Tony carved through the solo on the fabled tale ballad of "Falling off the edge of the World".
Master of death and destruction, wizard of mantra - Geezer is known for revolutionising the bass playing technique by de-tuning below the standard E. Pounding his 4 string Lakland, Butler stood firm to the ground and front of the stage, hammering with his fellow Gods of thunder.
Riding on the wing of an encore, and farewelling their song to never be chanted no more, Dio announced their bon voyage to Brisbane, and "Neon Knight".
"Bloodied angels fast descending moving on a never-bending light. Phantom figures free forever out of shadows, shining ever-bright".