Black Sabbath Concert Reviews
September 1, 2007
Arena Monterrey
Monterrey, Mexico
THE BAND
Ronnie James Dio - Vocals
Tony Iommi - Guitar
Geezer Butler - Bass
Vinny Appice - Drums
Scott Warren - Keyboards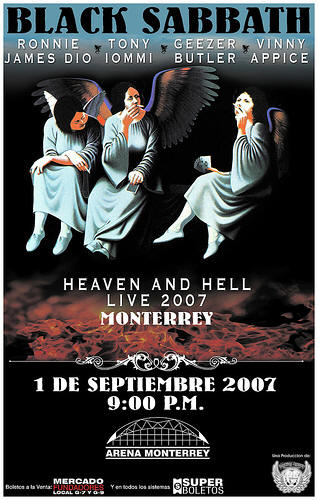 SET LIST
E5150
The Mob Rules
Children of the Sea
I
The Sign of the Southern Cross
Voodoo
Vinnie Solo drum
Computer God
Falling of the Egde of the World
The Shadow of the wind
Die young
Heaven and Hell (Gutar solo of Tony Iommi)
Neon knights (Encore)
CONCERT PHOTO GALLERY
None yet. Have any? Submit 'em!.
FAN SUBMITTED TOUR REVIEWS & REMARKS
rom Fabian.Cerrillo@white-rodgers.com
to siegler@black-sabbath.com,
date Sep 7, 2007 1:56 PM
subject Adding concert review please..
Hi .....!!!

Regardless the web site doesn't mention a date on Monterrey Mexico on 9/1, I would like to contribute with my personal concert review, let you know I bought my tickets by the internet that's why I do not have the carton one they provide at the venue counter....
Review:

The venue was a new hockey-like arena, it has a capacity of 17,000 when all the seats are offered, for this concert they only put on sell the 75% due to stage area, that means about 12000 tickets were available, I got to the venue by 8.00 p.m...the show was supposed to begin by 8.30..many people got into the arena to close to the start time because it was raining in tons outside, show actually started until 9.30..so the audience was desperate....there were around 20% of empty seats out of 12,000 offered so we were 10,000 people at the show, my guess about the stage was that it was gonna be the same I have been seeing on previous concerts photos on the website..and it was, but it only missed the Frames at the top of the main stage wall with images of some characters of BS songs like Neon knight etc......it had the fence and the castle windows, the stage was really nice and appropriated for the show...right after the lights went down E5150 started to play with a pale red light to the drum kit..as ever BS fan have to say it was an hard to tell emotion, I had seen other BS versions but any like this one..

They opened the show with Mob Rules..Tony and Vinnie where kind of static just fitting their responsibilities..but Ronnie was relentless since the first step he put on the stage, Geezer was o.k too, had seen Ronnie a year ago with Dio but he is something else with Tony and Co. I think it is because Craig Goldie does not do anything with Tony Iommi you know...was obvious they got surprised by the amount of people crowded in there...just the Mob Rules finished and Ronnie asked the staff to lit the audience to see our faces but he actually scanned the arena to find out how many people were there, he got surprised and thanked...Children of the sea came after..it was a really nice song but some people started to calm down -if you're not hard core BS fan you may got tired of slow songs- I think they were expecting a fast one.. it was equally enjoyable to listen the band performing slow and fast songs..a light fan may not understand that -I think-
I from Dehumanizer came on, wonderful, much better than the DIO version I listened alive a year ago, next Sign of the southern cross was announced, was delightful listen this song it was the full version not a medley a remarkable note is the bass distortion played by Geezer right after the solo..it appeared to be the song played directly from original long play released on 81' ..Voodoo was next, it was O.K but kinda out of sequence than the latest dramatic songs they had just played....

Next people from the audience in front the stage threw to the a billboard saying Happy birthday..I am still wondering who from the musicians was turning that date.
Ronnie took the thing and hug Geezer but as I long as I know Geezer birthday is in October I think...the only one possible turning that date was Ronnie...????

Vinnie..started a brand new drum solo, I applauded he had moved to a different solo from he had played for decades..it was played along with Scott Warren keyboard. was ok.

Next Computer God sounded....

A outstanding performance came after with Falling of the edge of the world..this song by itself worth it the show... a tremendous synchronization a precision by the four..very nice song I ever wanted to listen alive..the new shadow of the wind sounded next....

Tony took over an intermission time by playing a majestic guitar solo that rather sounded like guitar harmony extended very long just to enter into Die young intro...

The wonderful Heaven and hell next played...by this time in the concert Tony and all the guys were already attuned to audience...Ronnie said the famous paragraph about kings and Queens to announce the song and ask to chorus the starting riff of the song..they got chocked by listening the enormous chorus we made..Tony had to get rid of the guitar to be able applaud both hands..they were fascinated with the audience response for the song......the dismiss for a while only to get back and play
Neon Knights for closing the concert.....

Remarkable facts of this concert:

1-. The almost sold out in quite Big arena to see HH

2-. The audience response to the band.

3-. Ronnie's setting Mexican Flag on drum kit as gratitude for people's response (don't remember the timing of this fact).

4-. The Outstanding performance of Falling of the edge of the world..

5-. The audience chorus on Heaven and Hell.....this is the most fantastic

Regards..your Friend Fabian Cerrillo Lozano

---
from Christopher Laisequilla Mayer <shaolindoc@hotmail.com>
to siegler@black-sabbath.com,
date Fri, Sep 21, 2007 at 8:27 PM
subject CONCERT OF HEAVEN AND HELL IN MOTERREY NVO LEON MEXICO
Well i send you my expirience in this concert. I live in Mexico city and i
travelled to Monterrey for to visit to my friend Ingeneer Rafael Aguilar
Garagorri and his family and also to see again the concert of Heaven and
Hell (Black Sabbath).
I arrived to Monterrey at 09:30 am to the bus station, then I went to the
house of my friend Rafael Aguilar Garagorri. We breakfast quickly and we
wento to bougth the tickete to the concert.
Inj the evening we wento to tha Arena Monterrey but it was raining a lot so
we arrived at 08:35,. but the concert began one hour later for the weather.
But at 09:30 pm the lightos out and we listen the sounds of E5150 and I
shout a lot. And the began the mob rules, the voice of Ronnie was wonderful
with a lot of energy, the sound was wonderful with a lot of power specialy
the sound of the drums of Vinnie and the bass of Geezer was powerful also
the guitar of Tony. In general the concer was better than the concert that
they played en November of 1992 I the Sports Palace in Mexico city. The
concer finish with Neron Knights at 11:15 pm. I hope that6 they recorde a
new album and return to mexico soon thanks
Dr. M. Christopher Liasequilla Mayer