Black Sabbath Concert Reviews
September 7, 2007
Mohegan Sun Arena
Uncasville, CT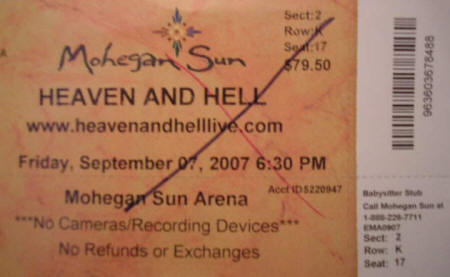 THE BAND
Ronnie James Dio - Vocals
Tony Iommi - Guitar
Geezer Butler - Bass
Vinny Appice - Drums
Scott Warren - Keyboards
SET LIST
Unknown
CONCERT PHOTO GALLERY
None yet. Have any? Submit 'em!.
FAN SUBMITTED TOUR REVIEWS & REMARKS
from Eric Goldberg <egoldberg@hubgroup.com>
to siegler@black-sabbath.com,
date Sep 8, 2007 8:43 AM
subject Review of Heaven & Hell from Mohegan Son on Sept 7, 2007
I left work early and rode my motorcycle the nearly 100 miles to Mohegan Sun in southern Connecticut to see H&H for my fourth time this tour.

The doors opened about 30 minutes late with an explanation from the security guard over the PA that there were some technical difficulties that they were still working out. When I was escorted to my seat about 10 rows back in on the left-hand aisle of the middle section on the flor, I knew I would have great views of Geezer later in the night.

When the lights dimmed, Queensryche opened with Welcome to the Machine by Pink Floyd, and Geoff Tate played a saxophone solo. Queensryche have never really been my cup of tea, but I certainly appreciate their talent and musicianship. They rock pretty hard live. One guitarist had glow-in-the-dark skulls on his guitar, and the other had glow-in-the-dark-beads in his mowhawk. "I don't Believe in Love" was one of the few songs I knew during the rest of the relatively short set.

During the intermission I talked with some of the people around me, most of whom claimed to be "friends" with Alice Cooper. Since many of them had back-stage passes, I believed them. Cooper hit the stage and stole the show with a tight and powerful band, including Sabbath alum, Eric Singer, who was unstoppable. Here is the set:

1. Hot tonight - during which Alice dressed in black kills a mock Alice dressed in white. The "dead" Alice stays on stage for a few songs until some men in black robes and hoods carry him away on a black stretcher later.
2. No More Mr Nice Guy
3. 18
4. Billion Dollar Babies
5. Is it My Body?
6. Be My Frankenstein
7. Dirty Diamonds
8. Halo of Flies - An Asian woman with a long cigarette does a sultry dance on the drum riser before pulling a gun on Alice and chasing off the stage. A long jam ensued. The men in robes held the guitarists' guitars while they beat on some snare drums set up just outside the drum kit and shared Eric Signer's cymbals. This led right into the drum solo which ended with the guitarists and ultimately concluded the way the song "Black Sabbath" ends on the first album with the pause and the final notes.
9. Welcome to my Nightmare. People or corpses with what looked like colored plastic bags on their heads danced and beat Alice.
10. Only Women Bleed featured another female dancer who actually y may have been the same dancer as the Asian woman, but without a wig. I was also told at this time that this dancer was Alice's daughter.
11.Steven
12. Dead Babies Alice Pushes a dark gray stroller with a microphone attached to the handle. He pulls a doll /baby from the stroller and it has his black make-up around the eyes. The baby bites Alice on the neck like a vampire, so after Alice manages to wrestle the baby back into the stroller, he drove a stake through its heart.
13. Ballad of Dwight Fry - The men in black robes then come out and put Alice in a straight jacket for this one, and he manages to escape.
14. There was a medley of songs including Devil's Food, Killer and Love the Dead during which Alice was put back into the straight jacket and then executed by hanging in the big gallows that was rolled onto the stage under a black robe. We weren't sure if it was the gallows or the guillotine until it was revealed.
15. School's Out - Alice returned to the stage in a white jacket with a top hat. and stage hands released about a dozen enormous balloons which were designed to pop easily.
16 Poison First song of encore
17 Elected was the final closer, and Alice claimed to be running for President while people ran around with campaign signs. His theatrics were a little hokey, but they were tongue-in-cheek and a lot of fun. The band were phenomenal, and Alice had no shortage of energy.

Heaven and Hell took the stage while E5150 played via tape. Here is their set with comments:

1. Mob Rules - Ronnie asked who was here last time they came here (May 15, see my review) and there were huge cheers. He then asked who was not here, and the cheers were much less. He thanks those of us who returned.

2. Children of the Sea - Geezer really cements this song, and tonight was no exception.

3. I - This song just works so well live.

4. Sign of the Southern Cross I will never tire of watching Geezer play this song. He uses his finger like a pick playing both the up and down stroke. There was an extra-long pause before Ronnie sang, "I can't accept it any more" going into the song's instrumental break. Tony caught some mean feedback in the third verse, but this seemed accidental. sometimes accidents work in your favor. Tony was smiling a lot at Vinny at the end section of the song.

5. Voodoo - Ronnie sang part of the song with Geezer who was on fire. Not only did Ronnie trade licks with Tony at the end of the song, but he also traded them with Vinny and then went back to Tony before closing the song.

6. Drum Solo The screens above the stage showed Vinny's name and a stylized cartoon image of him after the solo. There was no 5-4-3-2-1 countdown to close the solo as there had been earlier in the tout: Ronnie announced his name, an Vinny hit the last "gong".

7. Computer God - Ronnie was over by Geezer again for part of this.

8. Falling off the Edge of the World - Tony caught some more feedback here when he turned up the volume for the heavy part of the song (when it is still slow, before the main faster riff takes over). Tony flashed the "horns sign" while letting his guitar ring prior to beginning the fast part of the song.

9. Die Young - Tony's intro was nice and long. He was also shown on the screens above the stage, but for part of the intro the camera missed him and was on the back of the set. During the song itself, Tony and Vinny were smiling together a lot.

10. Heaven and Hell - I noticed that Tony was chewing gum while the crowd was singing the riff. During the instrumental jam, Tony and Geezer were playing off one another really well. The jam was a little on the cool and restrained side at first until Vinny joined in the dynamics as well by doubling the time and raising the tension and energy to the next level. The song was allowed to slowly die down while Tony played with his own echoes/delay. This may be my favorite version of this song so far this tour. (I'll see them again tomorrow night and make my decision.)

After that , the band left the stage and we cheered for the encore until the house lights came up. My guess is that there was no encore because it was 11:15 PM, and due to the technical delays earlier in the evening, the arena had to stop the show. Again, this is just my guess.

As I was leaving, I asked the man who was sitting in front of me if he could send me a copy of the digital recording he made of the show. He took my email and said he would send it I hope he does.

Vinny Appice was on fire all night. He was like a renewed man, hitting harder and heavier than he had been hitting previously on the tour. Geezer was a little more energetic this show than previous shows, but he still reserved raising the bass into the air while playing (one of my favorite of his "moves") until "Heaven and Hell", which again turned out to be the last song.

This was definitely a shortened set as missing were After All (the Dead), Lady Evil, The Devil Cried, and Shadow of the Wind, in addition to the absence of Neon Knights, and no new songs were added to the set. In previous reviews, I had mentioned that I thought After All was an odd way to start the show given that it was a slower number with a relatively quiet introduction. But as I was riding to the show I was thinking that After All was actually an appropriate opener for a few reasons. It allows Tony to saunter coolly onto the stage to thunderous applause. It also epitomizes the band's understated style. There is no pyro during the set, there are no dancing girls or theatrics, there are no major set changes: it's all about the music, which is one of the reasons I love this band so much. It figures that as I come to this realization, they pull the song from the set, as if they know what I am thinking and want to keep my on my toes. It worked. The whole night worked. Even though I was a little let down by removal of some of these songs and the shortened set, I still rank this as an overall excellent show and solid performance all around.

I will be sending you 2 separate emails of pics if you would like to post them on the site. Thanks again for giving us Sabbath / H&H fans a forum to share our experiences.

---
from jimsheridan@yahoo.com
to siegler@black-sabbath.com,
date Sep 8, 2007 10:19 AM
subject review of Sept 7 concert
Just got home from the Queensryche/ Alice Cooper/ Heaven and Hell triple bill at the Mohegan Sun Casino's arena in Uncasville CT.

I am deaf! That music beat the hell out of me!

This venue is a small arena that you enter right through the casino, enabling you to sample several vices in one night!! The arena itself made me think of our old New Haven Coliseum.

Queensryche were excellent; they opened with a cover of Pink Floyd's Welcome to the Machine (I think they have a covers CD out or coming out) and then did a good mix of their own stuff - I recall "The Needle Lies," "I Don't Believe in Love," "Hostage," "Building Empires" off the top of my head. I was sort of surprised that they were the opener of the 3; I assumed Alice Cooper would be! They played for maybe an hour at most, sounded excellent, Geoff a bit low in the mix (we were straight back, a few seats behind the sound and light boards - Section 20, row H, for what it is worth).

Alice Cooper was next and was the crowd favorite. VERY theatrical, played all of the hits plus a lengthy "Welcome to my Nightmare" suite, and a handful of new tunes too. Heavy metal drum solo #1.

Sabbath came on and brought the doom! They opened from the instrumental tape of E5150 into the very excellent opener "The Mob Rules." Dio kept bantering about how much of the crowd came back from last night's show - did they really play at the Casino last night also? It was tough to tell if he was pleased or displeased with this night's crowd. He did do a sing-along over the intro riff of "Heaven and Hell." Alice Cooper sure got more crowd response though. Songs included "Children of the Sea," "Voodoo," "I," "Computer God," "Sign of the Southern Cross," heavy metal drum solo #2, "Heaven and Hell," "Die Young," and "Falling off the Edge of the World." Their sound was not great; Tony's guitar kept feeding back in the PA and was tinny and lost on a few of the solos. It was oppressively loud at times. Dio was nice and loud and energetic, though, and the epic "Heaven and Hell" solo was terrific.

What was LAME was that they ended at 11:10 and did no encore. What the....? Just as they had gotten the crowd all fired up. It was a pretty darned short Sabbath set, especially unfortunate because Dio was in great voice.

Oh well. It's heaven and hell.
---
from Rick Sheridan <rick831@snet.net>
to siegler@black-sabbath.com,
date Sep 11, 2007 8:15 PM
subject Heaven and Hell Uncasville Show
First I would like to say that I enjoy your web site.
I attended the show this past Friday 9/7 in Uncasville CT with my brother-in-law and I hate to say I was slightly disappointed. We both had attended the May 15th show in Uncasville as well and thought that show was tremendous. It had been roughly 25 years since I had seen the band play and it was well worth the wait. We were really pumped up to see them again.
I thought that band played well on 9/7 but something was missing on stage and in the crowd. The first show they played close to 2 hours but the latest show they played only 70 mins and the most disappointing thing was they did not even come out for an encore. They finished with Heaven and Hell and then left the stage. I know that with 2 headliners the bands cut back on their play list but the no encore thing really bothered me and the rest of the audience. Also they did not have any TV screens next to the stage to give you closeups of the band. The show on 9/7 was filled to about only 60% capacity at best so I am not sure if that had any influence on the mood of the band. But in my opinion don't take it out on those who did go to the show.
To be honest I thought Alice Cooper was better. Alice was entertaining and really cranked up the volume (probably the loudest show I ever remember) and his band was really tight. It was the first time I had seen Alice in concert and I have to say I was really impressed.

---
from Tony DeCecco <Tony_DeCecco@colpal.com>
to siegler@black-sabbath.com,
date Fri, Sep 14, 2007 at 1:02 PM
subject Sep 7th review
Joe

I've written in a few times with reviews over the past few years....most of them from very good to excellent shows.....however...the Sep 7th show at Mohegan Sun was a major disappointment.....as it turned out Alice Cooper ended up playing a longer set than Black Sabbath. The sound for Sabbath was horrible. It was if the sound grew just turned up the volume to 10 (maybe I should say 11, as in Spinal Tap) and then did nothing after that for adjustments. The seats were vibrating from the distortion....and Tony had to fight constant reverb and feedback noise.... ..you could tell his frustration increased as the show continued..... he kept making a motion to the side to the road crew...and while Dio's voice seemed good, you could hardly hear him over the music........they were playing an abbreviated set as it was.......AND THEY DID NOT COME OUT FOR AN ENCORE. That was only the second time in the dozens of Sabbath shows i've seen since 1975 that they did not do an encore....the last being the Seventh Star tour at Meadowlands Arena in NJ with the Glenn Hughes disaster...he was fired the following week.....

They played 9 songs...not sure if the order is correct, but i think so...here they are

The Mob Rules
Children of the Sea
I
Sign of the Southern Cross
VooDoo
Computer God
Falling off the Edge of the World
Die Young
Heaven and Hell

Sign of the Southern Cross was probably the best effort ....but all the new songs were cut out as well as After the Dead, Lonely is the Word and Neon Knights (which was very surprising)

From my vantage point, Tony didnt seem pleased when he left the stage....it probably would have been a good show if the sound was right...don't know who is to blame. Everyone we spoke to after the show had the same opinion.....and quite a few people left during the show, which i've never seen before.....even a Mohegan Sun usher said we should ask for a refund because the sound was so horrible.

I probably should have gone to Jones Beach show instead...hopefully this is not the last time I see some version of Sabbath play...it would be a disappointing last show experience to have in my mind.

Deech