Black Sabbath Concert Reviews
September 15, 2007
Bank Atlantic Center
Sunrise, FL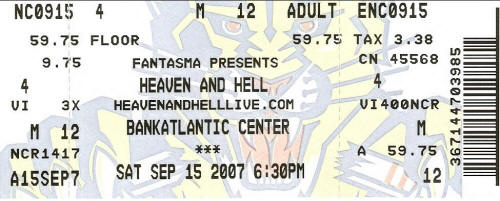 THE BAND
Ronnie James Dio - Vocals
Tony Iommi - Guitar
Geezer Butler - Bass
Vinny Appice - Drums
Scott Warren - Keyboards
SET LIST
E5150
Mob Rules
Children of the Sea
I
Sign of the Southern Cross
Voodoo
Computer God
Falling Off the Edge of the World
Die Young
Heaven and Hell
Neon Knights
CONCERT PHOTO GALLERY
None yet. Have any? Submit 'em!.
FAN SUBMITTED TOUR REVIEWS & REMARKS
from Alfonso DeGaetano <al.degaetano@gmail.com>
to siegler@black-sabbath.com,
date Sun, Sep 16, 2007 at 12:39 PM
subject Concert Review - Sept. 15 - Florida
Hi Joe,

First of all, I'm a huge fan of the site. You do such a great job keeping us up to date. The boys should put you on the payroll!

I was fortunate enough myself to interview Tony and Cozy Powell back in '89 when they were trying to resurrect the Sabbath name. I wrote for a small music paper in New York City right out of college. I got to speak with some cool people, but Iommi was the ultimate interview for me. Ok, enough of that.

Although I've lived in FL for 15 years now, I was in NYC for the Radio City show. It was a great event, and a great way to kick off the reunion in the US. I've been married for 13 years and my wife has never seen Sabbath, and would never be interested in seeing them if it weren't for the fact that she knows most of the music simply by osmosis. We went together last night, and she had a great time. Here's the set list in no order (except when noted).

E5150 intro into Mob Rules
Children of the Sea
I
Sign of the Southern Cross
Voodoo
Computer God
Falling Off the Edge of the World
Die Young
Heaven and Hell

Encore:

Neon Knights

Review:

I was happy to hear a few months back that the guys would be making a stop down here in South FL. I landed a couple of floor seats and figured a crowd of about 5,000 or so would show. That was about right. The BankAtlantic Center is home to the NHL's Florida Panthers, therefore capacity is about 20,000. The crowd was alive and ready to hear the songs that they expected to hear. In the end, we got what was expected; a greatest hits package along with some cool improvisation and some nice interaction between Ronnie and the rest of the band.

The big difference between this show and Radio City (which I attended) was of course the length, and also the intro. "E5150" led right into "Mob Rules." The way it should be! The NYC show started with a segue into "After All (The Dead)." Next on the docket was "Children of the Sea." By the time those 2 numbers were history the crowd was firmly entrenched into the show. I also noticed that the volume of the show, though loud, may have been toned down a bit. Either I'm dreaming or just getting old! Even my wife, who's never been to anything close to a metal concert thougth the volume was good enough; not too out of control. Usually a first-timer leaves a Sabbath show twitching from the volume. As a matter of fact, I remember seeing the Headless Cross tour in NYC and my ears rang the whole following day. With all this said, the sound was excellent. You could discern all of the note and chord changes with no problem. My first thought was, "not bad for a hockey arena."

Many folks had their camera phones going, but I'm not that advanced quite yet. I concentrated solely on the band and thought that they had a great time considering they just played the night before and are going to Orlando the night after. They played for exactly 90 minutes, and as usual, were gracious to the fans. Sorry that I didn't mention Queensryche or Cooper. I didn't see them. We only planned to see Sabbath. We arrived just as Cooper was saying goodbye.