Black Sabbath Concert Reviews
September 20, 2007
Copps Coliseum
Hamilton, ON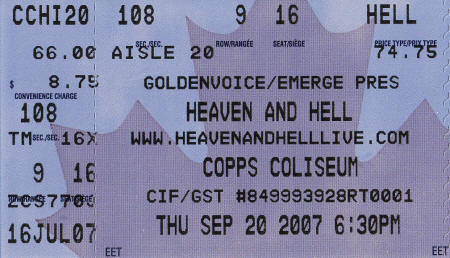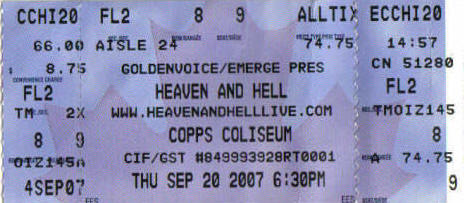 THE BAND
Ronnie James Dio - Vocals
Tony Iommi - Guitar
Geezer Butler - Bass
Vinny Appice - Drums
Scott Warren - Keyboards
SET LIST
Unknown
CONCERT PHOTO GALLERY
None yet. Have any? Submit 'em!.
FAN SUBMITTED TOUR REVIEWS & REMARKS
from Site <pear_tree@hotmail.com>
to siegler@black-sabbath.com,
date Thu, Sep 20, 2007 at 10:56 PM
subject Hamilton, Ontario, September 20, 2007
Hi Joe, I've been a fan of the site for years and check it out whenever I can.
I just got home from the Heaven and Hell performance and I'd thought I'd give you my two cents.
Not only was it an amazing show but this was actually my first real concert (I've only seen bar bands and outdoor festivals). Getting musically "deflowered" by Alice Cooper and Sabbath was a real treat. It was like losing your virginity to a dominatrix - overwhelming at times but worth it.
I missed the Queenryche performance (not a big fan, sorry) so I can't really comment.
Alice Cooper did a magnificent job of following them. Both he and his backing band had lots of energy. Even in the cheap seats, we got to see enough of the theatricality of Alice. The dark one played mainly his hits from the seventies (Billion Dollar Babies, Welcome to my Nightmare, Schools Out, I'm 18, etc) His sole new song, Women of Mass Distraction, was great. He touched on the eighties with Poison during the encore. The band was tight and Eric Singer's drum solo was superb The guitarists actually got an up and started pounding the drums as well. I've never seen anything like it!
The Heaven and Hell show was also excellent. There were minor sound problems in the beginning but they soon went away and the band was back on track. All the major hits were there (Neon Knights, Heaven and Hell, Children of the Sea). My faves were Computer God and I (what can I say? - Dehumanizer is my favourite album - go figure). Falling off the Edge of the World was a song I only kinda liked but the version Dio and the gang did onstage just blew me away.
My only complaint about the performance was that they only played one of the new songs (Shadow of the Wind, during the encore) and Time Machine was nowhere to be heard (like I said - Dehumanizer fan).
The worst part had to be the crowd. There were quite a few empty seats (There seemed to be more people at the Cooper performance) and only the guys in the front section really went very wild and crazy.
It was my first time and they weren't gentle but I loved every minute of it!
Thanks
Luis P