Black Sabbath Concert Reviews
October 20, 2007
Loud Park Festival
Saitama, Japan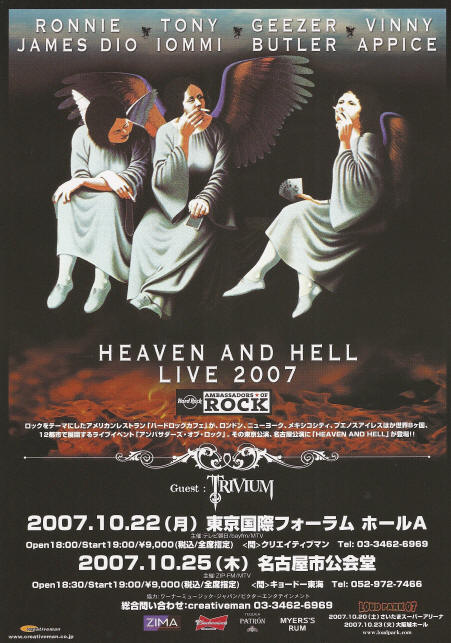 THE BAND
Ronnie James Dio - Vocals
Tony Iommi - Guitar
Geezer Butler - Bass
Vinny Appice - Drums
Scott Warren - Keyboards
SET LIST
E5150
Mob Rules
Children Of The Sea
I
Sign Of The Southern Cross
Voodoo
Drum Solo
Computer God
Falling Off The Edge Of The World
Die Young
Heaven & Hell
Neon Knights
CONCERT PHOTO GALLERY
None yet. Have any? Submit 'em!.
FAN SUBMITTED TOUR REVIEWS & REMARKS
from Romulo Ehalt <romehalt@yahoo.com.br>
to Joe Siegler <siegler@black-sabbath.com>,
Rob Dwyer <sabbathlive@gmail.com>,
date Sat, Oct 20, 2007 at 10:03 PM
subject H&H Saitama Oct 20t
Yesterday went to Saitama Super Arena to see Heaven & Hell. Even though it was a really tough day for me I managed to get there early enough to catch the band before them, Blind Guardian. Not one of my faves, but it was good.
The set list was incredibly short! No new songs at all! Thankfully I'll get to see their other three japanese concerts as well, hope they make it longer.

The long jams during Voodoo and H&H were cool enough to worth for the whole show! One thing that caught my attention was that Dio was visibly tired and unsatisfied with some of the audience reactions, like the chanting during H&H (which maybe the audience wasn't doing right, for what the band expected, maybe). Dunno how to explain that, you'll have to check for the boot (of course there will be tons of it! It's Japan!).
Let's see what the band reserves for the audience monday.