Black Sabbath Concert Reviews
November 6, 2007
SECC Hall 4
Glasgow. UK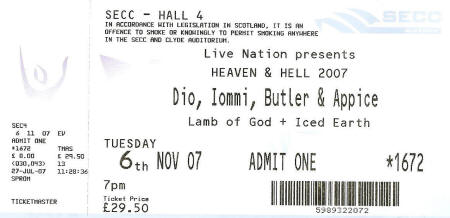 THE BAND
Ronnie James Dio - Vocals
Tony Iommi - Guitar
Geezer Butler - Bass
Vinny Appice - Drums
Scott Warren - Keyboards
SET LIST
E5150
The Mob Rules
Children Of The Sea
I
Sign Of The Southern Cross
Voodoo
(drum solo)
Computer God
Falling Off The Edge Of The World
Die Young
Heaven And Hell
Shadow Of The Wind
Neon Knights
CONCERT PHOTO GALLERY
None yet. Have any? Submit 'em!.
FAN SUBMITTED TOUR REVIEWS & REMARKS
from Stuart Lang <stoogylang@yahoo.co.uk>
to siegler@black-sabbath.com,
date Wed, Nov 7, 2007 at 9:04 AM
subject Heaven & Hell Glasgow Secc 6 November 2007
I couldn't wait for this concert, first time Sabbath have played in Scotland since the Dehumanizer tour in 1992.

Just missed Iced Earth due to heavy traffic on the M8 enroute to the SECC but just in time to catch Lamb of Gods set. Good solid set reminding me very much of Fear Factory.

You could sense the air of anticipation in the Arena as E5150 rang out, the 4000 or so Sabbath fans cheering on and wham the band smashed into opener Mob Rules. Songs like Sign of the Southern Cross, Children of the Sea, I, Computer God and Falling off the Edge of the World were excellent but heres comes my slight criticism.

Drum Solo lasting almost 20 mins, boring. Also killing Heaven & Hell with a 10 min widdly diddly bit in the middle, Metallica done a similar thing with Seek & Destroy for years and fans got a bit cheesed off. I also noticed a lack of interaction between Geezer and the others, he just kind of turned up, played and that was it. Anytime I've seen the original Sabs its been all smiles and laughing between all 4 but Geezer seemed kind of detached.

To be honest with you both myself and my father were both ready to leave by the time Shadow of the Wind and Neon Knights were ringing out, and yes we are both Sabbath diehards who would love to see the Tony Martin era Sabbath reform too, love the music but I'm afraid I'd be giving this a 4/10.

---
from Jim Speirs <jimspeirs@talktalk.net>
to siegler@black-sabbath.com,
date Wed, Nov 7, 2007 at 9:31 AM
subject Sabbath Glasgow
Hi Joe, just seen an awesome show at Glasgow SECC last night! . The guys were definitely on form. I was worried about whether Ronnie's voice would hold up but he was truly brilliant. They started off with Mob Rules , unlike the DVD set. The sound at the SECC is sometimes a bit ' wooly' sounding and boomy , but the sound last night was perfect, the air was ripping with Tone's riffs! It was VERY loud and very clear . I've seen Dio with Sabbath before in May 1980 at Glasgow Apollo on the Heaven and Hell tour when I met with Tony,Ronnie, Geezer and Geoff Nicholls at the side door on the afternoon of the gig .I've still got the ticket with their autographs on it ! I also saw them at Newcastle City Hall in January ' 82 on the Mob Rules tour . That year their Edinburgh show was cancelled due to heavy snowfalls in the area. The Tony Martin Era was excellent and produced some classic albums as well and I seen them various times with him, Ray Gillen and Ian Gillan and Ozzy, but with Ronnie James Dio it is definitely special.
I don't usually send e-mails much but I had to send this to let you know that my friends and myself are regular watchers of your fantastic site , if not daily, then every other day . I understand that you were having some personal stuff happening some time ago and thought about winding up the site ,but we're sure glad you didn't.
THANK GOD FOR JOE SIEGLER !!!
Cheers , keep up the great work......Jim , Kilmarnock ,Scotland
---
from Neil Foster <neil.foster103@ntlworld.com>
to siegler@black-sabbath.com,
date Thu, Nov 8, 2007 at 6:40 AM
subject Heaven & Hell
Hi
I was at Heaven & Hell show on tuesday night in Glasgow, Scotland and just wanted to let you know the band were superb best live band i've ever had the pleasure of seeing. Dio's vocals were stunning and i was standing right in front of Tony Iommi just watching him was amazing. I'm still a bit Deaf from his guitar sound and haven't come down from ceiling yet.
I was supposed to see this lineup on the Dehumanizer tour in Belfast were i live but unfortunately it was cancelled so it has taken 15 years to see this lineup but the wait was worth it.
I was a a big Ozzy era fan but after seeing Heaven & Hell on Tuesday night im converted. This band should stay together and do what they do best Rock and i hope a new Heaven & Hell album will be made. I personally think Tony & Geezer are wasting their time & talent waiting for Ozzy to make a new Sabbath album
Neil Foster
Newtownabbey