Black Sabbath Concert Reviews
November 10, 2007
Wembley Arena
London. UK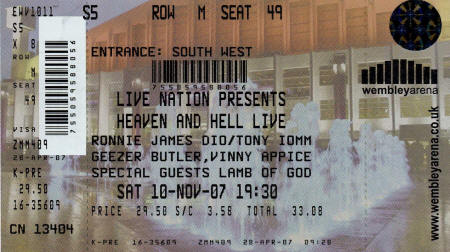 THE BAND
Ronnie James Dio - Vocals
Tony Iommi - Guitar
Geezer Butler - Bass
Vinny Appice - Drums
Scott Warren - Keyboards
SET LIST
E5150
Mob Rules
Children Of The Sea
I
Sign Of The Southern Cross
Voodoo
Drum Solo
Computer God
Falling Off The Edge Of The World
Die Young (with guitar solo from Iommi as intro)
Heaven And Hell
Shadow of the Wind
Neon Knights
CONCERT PHOTO GALLERY
None yet. Have any? Submit 'em!.
FAN SUBMITTED TOUR REVIEWS & REMARKS
from Alison Davis <jnksmum@btinternet.com>
to siegler@black-sabbath.com,
date Sun, Nov 11, 2007 at 5:18 AM
subject Heaven & Hell review - Wembley 10 Nov
Dear Joe,

Saw Heaven and Hell last night at Wembley Arena and just had to drop a line to say how great they were. I love the Dio era Sabbath stuff, but never got to see them tour (did see Dio when they toured with "Holy Diver" which was some compensation), so this was 25 years overdue for me.... Was so excited that I was a bit worried about whether I'd be disappointed, but needn't have worried - they totally rocked. The set list was slightly changed from the earlier gigs (below is my list) - Shadow of the Wind having moved to the encore. Personally, although I like After All (The Dead), I'm glad that they went straight from E5150 to Mob Rules, it's just such a great opening. From that start, I was in a state of "pinch me someone, I'm finally seeing this live" (I've got Live Evil - vinyl & DVD - and the Radio City CD/DVD, but it's nothing like being there...!).

It's been said before, but what's so great is that it's not all about one musician - it's the fusion of all the skill that really makes it. I've been a fan of RJD since Rainbow and through Dio and they're all great, but the person who really impresses me is Geezer - I have to confess to rather underrating bass guitarists, but not him; his playing just underpins that whole "Sabbath" sound.

I'm really glad to hear that they're going to do another album - looking for more of that wonderful contrast of lyrical intros and pounding heavy metal.

There is an American word, which I normally tease US colleagues for using, but in this case, it is totally appropriate and in its correct dictionary definition sense - Heaven and Hell were AWESOME!

Alison.

---
from Bob McBob <pjpk1111@googlemail.com>
to siegler@black-sabbath.com,
date Sun, Nov 11, 2007 at 11:13 AM
subject Hi :)
Hey Joe!
I'd just like to say that last night I attended the greatest gig of my
life - Heaven and Hell at Wembley Arena - and I would never have heard
about this whole tour without your great site. :D
Seriously, NO other band has a fan-site this precise and dedicated,
and not many band's official sites are this good either.
Keep up the great work :D

Rock on,
Patrick (Cambridge, England)
---
from Patrick Varney <RICK@lundbeck.com>
to siegler@black-sabbath.com,
date Tue, Nov 13, 2007 at 7:01 AM
subject Heaven and hell review Wembley arena 10november
Outside the new Wembley Stadium, on the way to the Arena, I could already hear the high pitched screams of Ripper Owens of Iced Earth and the booming bass lines rumbling in the concrete surroundings.

The first thing that struck me about this gig was the sheer diversity of fans. Old bearded rockers, men in leopard skin, sexy wives shoe horned into leather trousers, young punks, Eastern Europeans, Russians, Americans. They were all there. Merchandise included Vinny Appice signature sticks and Heaven and Hell thongs. They had it all. By the time I had arrived, the arena was about 75% full.

Iced Earth tore through their set brilliantly, followed by Lamb of God who seemed to play the loudest set I have ever heard. Randy Blythe, vocalist, asked everyone if they were "ready for Black Fucking Sabbath??". The answer was undoubtedly yes.

The lights went out and eventually the computerised sounds of E5150 blasted out. Geezer butler and Iommi's shadows could be seen at the corner of the stage and the crowd roared. Iommi went into the opening riff of Mob Rules. The lights came on and the crowd went crazy! Vinny's unconventional drum kit, with vertically stacked drums at the back came into view. Ronnie Dio came running onto the stage and the crowd went crazy again.

Next up was "Children of the Sea" which Ronnie said "was the first song we wrote together". This song was amazing and powerful. Like the rest of the songs to come, it was clearer and more powerful live than from the CD recording.

The set was impressive, with 3 cathedral-like windows displaying computerised images that changed with each song. Before Heaven and Hell the red lights were turned on Vinny's kit and other lamps created an eerie feel to the show. Iommi was dressed in a long black coat and stood menacingly to the right (as usual) of the stage.

Vinny hit out the drum intro to "Computer God" and sounded great. The cathedral windows were filled with a blue electrical glow. I was never a fan of the Dehumanizer production, but live this song was a stroke of brilliance. The other song from this album was "I" with its crunching guitar riffs. Ronnie was in great form, never dropping a note.

Soon the band were to leave the stage, with Iommi reappearing to churn out the slow riff to Falling of the Edge of the World. He went into the main riff like a mad man possessed. The crowd loved this one.

Heaven and Hell was extended with a jam in the middle. Iommi played a blues solo which showed what a great player he is. Vinny's kits was illuminated with red spot lights and the cathedral back drop turned red, with the lanterns flickering menacingly. It was during this song that Ronnie was to jump on to the 3 podia at the front to give devil horn signs to those in the front row. Rather amusingly he was shadowed by a big security guy who stood to the side of him. This song was extended with Ronnie adding some extra lyrics in at the end, like he did on Live Evil. His face was illuminated by a red light while telling everyone they would burn in hell.

The only rarity to be played on that Saturday night was "Shadow of the Wind" which Ronnie said had a "snowballing" effect and ended up reuniting the band for this tour.

As a Tony Martin fan who last saw Sabbath on their "Forbidden" tour over ten years ago this show was a shock. I feel the bands credibility has been truly restored. The band gave a powerful and solid performance. Ronnie didn't have to change the songs for a live situation, in fact he sang them better than he did on the albums. Vinny beat the crap out of his drum kit and didn't run out of breath. Geezer played like he always does.

One major difference between the Forbidden gig and this one was the fact that Tony couldn't stop smiling the whole time. You could see he was proud of what they were and are accomplishing.

Patrick Varney.