Black Sabbath Concert Reviews
November 13, 2007
NEC
Birmingham. UK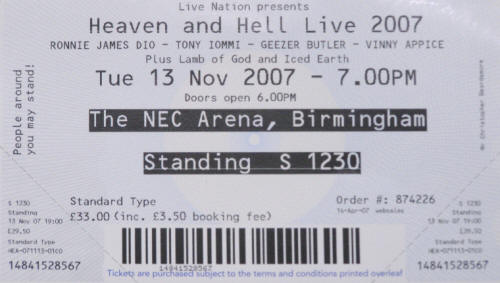 THE BAND
Ronnie James Dio - Vocals
Tony Iommi - Guitar
Geezer Butler - Bass
Vinny Appice - Drums
Scott Warren - Keyboards
SET LIST
Unknown
CONCERT PHOTO GALLERY
None yet. Have any? Submit 'em!.
FAN SUBMITTED TOUR REVIEWS & REMARKS
from Paul Sharred <paul_sharred@hotmail.com>
to siegler@black-sabbath.com,
date Mon, Nov 19, 2007 at 5:05 PM
subject bham gig uk review
birmingham nec 13-11-07
set list not in any order - the mob rules
children of the sea
I
Voodoo-drum solo
the sign of the southern cross
computer god
falling off the edge of the world
guitar solo-die young
heaven and hell
encore-neon knights

this was my first time seeing this version of the band as it was for my dad and brother. we didnt catch any of the warm up acts as we arrived abit late but we were bang on time for the main event. looking around the arena before the lights went down i noticed that the back section was blocked off by a large black curtain, so it wasn't a sell out but still a very healthy crowd. there were supposed to be some local celebs in the crowd but i never saw any but i did see members of lunarmile in the crowd. the show kicked of with mob rules and the show just flowed from then on. the band looked well up for the gig and Tony Iommi was bouncing up and down the stage smiling and winking to the crowd he seemed alot more annimated then usual. geezer was his cool self and dio never missed a note . highlight of the show for me was voodoo with a cool little jam at the end of the song before vinny's drum solo which i also enjoyed. the crowd seemed mostly middle aged so it wasnt as rowdy as expected until they played die young and heaven and hell and then it livened up a lot more. the song heaven and hell was performed perfect as was all the songs. before the encore dio grabbed an england flag from the crowd and held it up to show tony and geezer and then thanked the crowd, he also said its always special doing a show in tony and geezers home town . when they went off it seemed a good 2-3 mins before they came back on to perform neon knights but it was well worth the wait. i have not one complaint each member of the band were on top form. my younger bro was never a big fan of the dio years but since this gig its all he listens too. it was a top show, one i'll always remember.