Black Sabbath Concert Reviews
November 15, 2007
Nottingham Arena
Nottingham. UK
THE BAND
Ronnie James Dio - Vocals
Tony Iommi - Guitar
Geezer Butler - Bass
Vinny Appice - Drums
Scott Warren - Keyboards
SET LIST
Unknown
CONCERT PHOTO GALLERY
None yet. Have any? Submit 'em!.
FAN SUBMITTED TOUR REVIEWS & REMARKS
from Steve Beach <steve.beach@btinternet.com>
to siegler@black-sabbath.com,
date Sun, Nov 18, 2007 at 5:36 AM
subject Heaven and Hell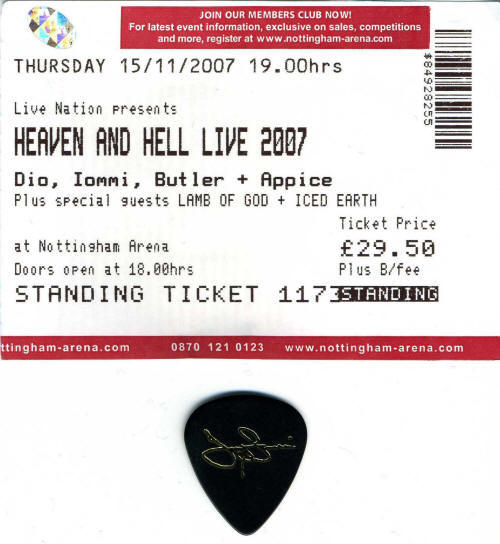 Way, way back in 1980 I was a spotty sixteen year old who spent all his spare money on vinyl offerings by The Clash, The Pistols and their ilk. I was fortunate enough to live in Aylesbury in England, a smallish market town. Although it was small it boasted Friars, a club which had a capacity of only about 1,200, yet somehow managed to attract most of the name bands of the day. There I had seen my first gigs, including the aforementioned Clash, as well as other such luminaries of the day including The Police, Siouxsie, The Jam and many more.

One day I was round a friend of a friend's house. I wouldn't normally have associated with this type of person as he wasn't a punk, he was into rock. At that time if you didn't like the same music as someone else, you just didn't go near them: you were into punk, you hung with punks. You liked ska, fine as long as you kept it within your group and stayed with the Rude Boys. Boundaries were not crossed. So it was fortunate in the extreme that fate conspired to place me in this house on this particular day. This friend of a friend had just purchased 'Heaven and Hell', the brand new Black Sabbath album, which he insisted on inflicting upon me. Of course I had heard of Black Sabbath, but being just too young to have appreciated them in their hey-day I had never given them any attention at all. And, of course, they weren't punk, so there was no way I would waste my time on that crap.

My life was instantaneously and irreversibly changed. How could I have been missing out on music such as this? It was fast, furious and heavy, all things I liked in punk, but it was also melodic, musical and subtle. I found it was infinitely more complex than what I had been listening to up to that point and I loved it.

My world was in turmoil. How could I admit to my peers and friends my Paulian conversion? Simple – I didn't. I kept quiet but covertly gradually sought out other music of a similar nature. This gradually over ran my collection. I acquired contemporary material by such groups as Maiden and Leppard as well as exploring the classics such as Purple and Sabbath. Whilst I found that I enjoyed the earlier Sabbath material, nothing surpassed that first experience of listening to Heaven and Hell. When Mob Rules came out the following year I eagerly devoured that, and again found that I preferred it to the Ozzy era Sabbath. I started to see groups of this type as well as punk groups and discovered that they were musicians, not merely, as was the case with a lot of punk bands, kids barely older than me standing on a stage shouting anti-establishment slogans to a backdrop of discordant guitars.

How things have changed since those days. I'm now 'a suit' in a major telecoms company – something I could never have foreseen when I was sixteen. Much to my colleagues' and work associates' amusement, and my wife's exasperation however, I still love and follow all things metal. A few years ago I returned to the same club in Aylesbury and was at the barrier to see Sabbath (with Ozzy) play an unannounced, un-advertised gig (you published my review of it on the site, Joe) Last Fall I and three friends of old went on a four day three city tour of Europe with the Iron Maiden fan club. I already have my three day ticket for next year's Download festival booked.

So this brings me up to date. And two nights ago found me and two friends in Nottingham, England, to see Sabbath with Dio. At last. I never had seen them in the '80s or '90s and so could barely contain myself.

First up was Iced Earth. Fantastic. I have long admired them and they did not disappoint. Playing a mix of songs from Framing Armageddon and earlier albums, they were awesome. Schaffer, Owens et al performed admirably. My only complaint was that they were only on for half an hour, which was way too short.

Next to take the stage was Lamb of God. I'd never really heard a lot of their material prior to this. The riffing was awesome and from where we were, at the barrier in front of centre stage, it was obvious why they had been included in the line-up. The young kids went mad to them and the mosh pit just behind us was a frenzy.

Then, the main event. Sabbath came on and rocked. Never having seen the Dio version before I had high expectations. These were certainly fulfilled. I sang along with every word to every song. Iommi and Butler were on fire, tight and note perfect, and Dio had the crowd in the palm of his hand. At long last I had seen the band that was responsible for my lifelong love of metal and they had not disappointed. Again, my only criticism was that they were not on long enough. They didn't play any of the new songs, and I'm sure there are other songs on the Heaven and Hell live album that didn't make it into the set list. I may be mistaken because I was having such a ball I didn't keep track of exactly what songs they did play.

At the close of the encore – they came back to perform Neon Knights and that was it, definitely a case of leave the crowd wanting – Iommi threw out plectrums, and I was lucky enough to catch one. It's now gone into my collection of precious things that includes James Hetfield's wristband from Wembley last July and Dave Murray's plectrum from Paris last year. I'm now nursing knackered vocal chords and can hardly speak, but it was well worth it.

<<...>>

Just thought I'd share that with you,

Regards,
Steve Beach.

---
from Steve Labram <steve.labram28@ntlworld.com>
to siegler@black-sabbath.com,
date Mon, Nov 19, 2007 at 5:05 PM
subject Review: Nottingham, UK, 15/11/2007
Joe and everyone,
So they finally made it home to the UK. I know, 2 of H&H are American but you know what I mean - The spiritual home.
First though, lets deal with the support acts. Obviously chosen to appeal to the younger metalheads, Lamb Of God were quite frankly...awful. If you wanted to portray a comedy metal band, this would be it. The only vocal I caught was "Wooooooooaaaaggghhhh, Mother f*cker !", and that was at the end of every song. The outside of the arena was littered with the bodies of 30-something rock fans who had risked a quick glimpse inside and retreated with a knowing smile on their face. Would these guys be going in 20 years? Doubtful.
Nothing to say about Iced Earth because they didn't turn up (for reasons I haven't found out yet). Not only was I disappointed, but it meant Lamb Of God got to play an extended set !!
But onto the main reason for us attending. The return of Ronnie in my favourite Sabbath line-up. I can't help it - I like singers! The set design was tremendous, the sound excellent down at the front, and big Ron grinning like he was really loving it. I was worried for the first couple of numbers as the voice showed the strain of a gruelling 9 month tour, enough for a youngster let alone.....well, you know. But come "Southern Cross", the voice had warmed up nicely and the rest of the set was excellent. "Voodoo" was extended, I've always loved "Computer God" and even the dreaded drum solo was fun as Vinnie pummelled his surround-sound kit. Lost classics and familiar favourites. Geez and Tone playing beautifully - watching Geezers bass work at close range was incredible. Unfortunately, the ever shortening set (9 months on the road, I'll forgive them) meant we had none of the 3 Dio years tracks, and after Neon Knights, with Dio wearing a Welcome Back Ronnie banner thrown from the crowd, they were gone.
Lets face it, after seeing them in 81/82, I never thought I'd see them again. After seeing them in 92, I assumed that was it. So this was a real bonus, and an excellent night. Now I can buy the Live at Radio City DVD and wait for another 10 years. Or perhaps not. Thank you Ronnie, Geezer, Tony and Vinny. What a great band.

Steve L