Black Sabbath Concert Reviews
November 18, 2007
Bournemouth BIC
Bournemouth, UK

(Last Gig of Tour)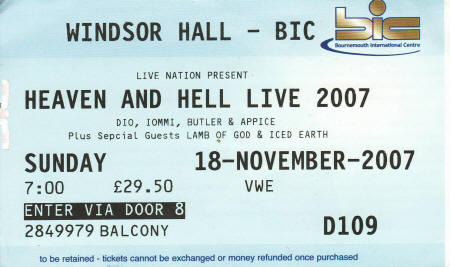 THE BAND
Ronnie James Dio - Vocals
Tony Iommi - Guitar
Geezer Butler - Bass
Vinny Appice - Drums
Scott Warren - Keyboards
SET LIST
Unknown
CONCERT PHOTO GALLERY
None yet. Have any? Submit 'em!.
FAN SUBMITTED TOUR REVIEWS & REMARKS
from Matt <matt@itls.co.uk>
to siegler@black-sabbath.com,
date Mon, Nov 19, 2007 at 10:18 AM
subject Review Of Heaven & Hell Gig - Bournemouth 18/11/07
Having seen the band perform in London and having missed the Dehumanizer tour, I was determined to get to another UK gig and what better than the last date of the tour.

I was hoping to see a longer set than the 11 songs played at London, but this wasn't to be and utimately we lost "Shadow Of Thw Wind" to take the number down to 10 (making 5 songs lost in transit from City Hall to Bournemouth!). It was a fair spilt with 4 a piece from H&H and MR with two from Dehumanizer. However, i'd have liked at least one more from the 3 studio albums (Wishing Well, Country Girl, Too Late) and at least one of the new songs. Anyway, that's just my wish list!

The band played approximately an hour and a half, coming on at roughly 9.05 and all over before 10.35.

Not sure of the capacity, but it certainly wasn't rammed, which enabled me to get about 10 people back mid stage for the perfect view.

Mob rules kicked in and everything was going well. There wasn't much talking from Ronnie and they breezed through COTS ("this is the first song we wrote together"), I and SOTSC (few words about star constellations). Again (like London), vocally there were no problems and musically they were crushing. Don't think i've heard many stronger drum sounds as Vinny was smashing his kit to bits.

Around the first few songs a few drinks were thrown towards the stage and Ronnie angrily kicked one away. However, on the whole the crowd response was fantastic and the band were giving it back.

I moved to Iommi's side for Voodoo which was jokingly introduced with words along the lines of inserting pins into dolls and not to be confused with blow up dolls etc. Everyone was having a laugh and they quickly launched into the superb up tempo version. Midsong Ronnie was up and personal with the audience, switching sides and mixing with the front few rows. There was also great interplay at the end with Tony and Ronnie - lots of high pitched screams to counter the guitar bursts before a bit of back and forth with Vinny; again with lighthearted banter. This to me was Ronnies showcase bit of the night and he didn't disappoint.

Next up was Vinny's solo which kept everyone going and enjoyed plentry of crowd participation.

When Ronnie came back for Computer God, he was still dressed in black and snarled his way through the song. This was hard metal at its finest - Relentless riffing from Iommi and in your face power.

FOTEOTW and Die Young followed and severely upped the pace. Die Young could arguably have stolen the show, sending shivers down the spine. From the introduction to Tony, he owned the stage as he crossed sides, took in the crowd response and played the extended intro.

Only Heaven & Hell could have followed the last two songs and take things higher. Every thing was in place for this colossal masterpiece, which showcases the beauty of Dio Sabbth. You still have the power of the music, but now you have the ability of the voice to soar above.

Interspersed with an Iommi solo, all to soon this was over.

I came back into the hall for the encore expecting to hear SOTW, so was a touch disappointed for Neon Knights to be playing. I imagine a few words were also said about it being end of the tour, but again, I missed that. I was thinking we may get Lonely Is The Word, or something else, but it wasn't to be. A further round of namechecks was done by Ronnie before the show came to an end. Amusingly, there was a little dual between Vinny and Tony who would play the last bit, which went on for a while and was entertaining.

There was a great reception at the end and Tony and Ronnie were all hugs and smiles. Ronnie went over to Geezer and the same there. He then rushed up to Vinny, had a few words (looking slightly more serious), was back down waving to the crowd and then he was first to leave the stage.

It was a brilliant evening and effortlessly the band showed their combined and individual talents. I hope I get to see them perform again, but i'm not holding my breath.

However; even without live performances, it is essential we get some more studio recordings as this line up is the best Black Sabbath you can get.